And Then God Said, "Let's Liven Things Up A Bit"
Perhaps I was becoming too content.
The weather coming out of Hot Springs on Saturday was perfect, my belly was full, and the view of the French Broad River picture perfect.  Most trails coming out of Hot Springs were still 50 percent up and 50 percent down, but they were a bit smoother.  In my ultra days, I would have called them "runnable."  North Carolina even seemed to believe in switchbacks! 
Sunday
Unlike back home, when I knew what day of the week it was, my days on the trail have become a bit of a blur, but I think it was Sunday when I overcame my first real fear at Big Firescald Knob. Standing at 4530 ft, this 1.5-mile rocky ridge sports several breathtaking viewpoints, but it's a strenuous and somewhat scary scramble to get to them. I turned off my music and found myself truly engaged in each and every cautious but thrilling step, sometimes even having to use my hands to pull up on the boulders.   My adrenaline soaring, I decided to call it at Jerry's Cabin Shelter and needless to say, I slept well that night.  
Storms roll in
Monday, we were blessed with a bit of rain to cool us off, and I decided to stay the night at Mother Marian's Hostel so I could get a few more miles in that day, and avoid overnight rain.  The forecast on Tuesday was 70% chance of thunderstorms, but with a breakfast of eggs and sausage in my belly, I set off from Sam's Gap (mile 320ish).  A storm hit right away, but lasted only an hour or so.
The sun peeking behind the clouds, I decided to sit on a log for a while to enjoy the cell service I was receiving and another cup of coffee. This, however, was to be the false calm before the storm.  About eight of us leapfrogged each other on this section of the trail, all wondering if we could make it across Big and Little Bald before the next storm hit.  
The answer would be, no.  About a mile before we hit Big Bald, driving winds brought thunderstorms our way and the trails became a muddy mess.  The trails that I described above as pleasant, turned into a slippery ice rink as we slid our way across both balds in the pouring rain.  I breathed a huge sigh of relief coming into Big Bald Shelter and then burst into laughter at the craziness of it all. 
"What the hell was THAT?" 
"How many times did you fall?"  Everyone was asking, but they didn't have to. We were all covered in mud. 
Decision Time
We all discreetly changed into dry, warm clothes and hung out at the shelter for a while to eat lunch, and make a decision on what to do next.  It was only 1:30 in the afternoon, and I knew I would die of boredom if I had to set up my tent and stay here all day.  When the rain turned to a medium trickle, I donned my raincoat.  
"I'm out," I said, and was able to get in another 7ish miles for a total of 15 that day.  
Making it to Erwin
Today (I think it's Wednesday), I got up early with the plan to get to Uncle Johnny's Hostel in Erwin as fast as possible.  Enjoying the pleasant descent of the downhill, I was rolling right along, until a rattlesnake lying across the trail stopped me dead in my tracks.  
"Thank God that I saw you!" I said to him.  
Encouraging him off of the trail with my hiking pole, he curled up.  I threw a pine cone at him as he sat coiled on the trail.  He didn't move.  Deciding to make a quick dash past him,  it wasn't long before I could see the magnificent Nolichucky River in the distance.  
Tonight I have my own room here at Uncle Johnny's hostel, and I have to say it's alright.  The people have been nice to me, and as I write this I am washing my muddy laundry and drying my tent. Tonight they will shuttle us in for a hot night on the town with a trip to Wal-Mart, and to eat Mexican food. I am clean, dry, and happy.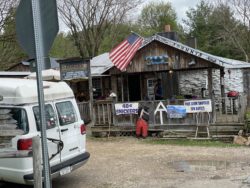 I'm starting to get the hang of this, hitting each curveball as it comes.   Nine more days until Trail Days in Damascus, where I will also be able to see Greg again.
I asked for an adventure, and boy am I getting one!
Affiliate Disclosure
This website contains affiliate links, which means The Trek may receive a percentage of any product or service you purchase using the links in the articles or advertisements. The buyer pays the same price as they would otherwise, and your purchase helps to support The Trek's ongoing goal to serve you quality backpacking advice and information. Thanks for your support!
To learn more, please visit the About This Site page.