Angels and Magic in New York, Connecticut, and Massachusetts
Trail magic continues through the mid-Atlantic and into southern New England.
I'm constantly amazed and always pleasantly surprised when I come across trail magic. I'll admit that I often arrive at a road crossing with a faint hope in my soul that there will be something… anything… to lift my spirits. After all, this hike is getting really long. The end is in sight, but it's still about six weeks away. Homesickness is real. The weather is turning colder at night and the days are getting shorter. Rainy days are just plain miserable.
But when I come across a cooler filled with snacks in the woods, or a dude with a trunk full of pop tarts and Gatorade on a road crossing, or a church grilling burgers and hot dogs for hikers, the weather no longer matters. My joints stop aching. My heart is cheered.
New York
I believed I was at the back of the hiker bubble and honestly didn't expect much trail magic heading into the northern states. Once the bubble goes by, the magic tends to dry up.
As it turns out, the bubble has stretched out and is about 300 miles long. Due to the crazy weather, hikers took time off, skipped ahead, dropped back, and are pretty much all over the trail after taking detours and waiting for high water to recede.
Trail angels are still out there
The water sources began to clear up, but trail angels still left clean water at road crossings. I'm always grateful for water that I don't have to take the time to collect and filter and that I know isn't contaminated with the giardia parasite.
Clean water courtesy of the "Tuxedo Trail Angels."
As the temperature and humidity soared in NY, I found myself fantasizing about iced anything—water, lemonade, tea, Coke. And then I came upon a tote filled with ice water. What a treat!
Ice water thanks to some of the bottles having been frozen before being left on the trail.
A little way uphill from a parking area, a cooler of goodies and a garbage bag was another excellent treat on a humid day. There was no indication as to who had left it, but they did leave an encouraging note taped to the top that read, "Congratulations on your amazing trek so far. The best is yet to come. Have a treat, discard trash, sign the log."
 I downed a Coke and took a Snickers bar for later.
Paddy O
I stepped into a parking lot to find a tall Irishman happily serving up snacks from his truck. With his New York accent and mannerisms, Paddy O reminded me of my late father-in-law. As he served up root beer and hostess cupcakes, he told me all about his ancestors who fought in the Revolutionary War. He then loaded a bagel with cream cheese for me to take on the trail.
Great conversation and awesome snacks were served up by Paddy O.
Capping off three crazy days of rain and rocks…
At Fingerboard Shelter (which I was told by Paddy O is the oldest shelter on the AT), I stopped inside to get out of the rain and Queen of Hearts said, "You look exhausted. Is there anything I can help with?"
Fingerboard Shelter—the site of some unlikely trail magic.
I laughed and said, "All I really need is a tall glass of ice-cold lemonade."
She said, "Yeah, we could all use that!"
I got my tent set up and my sweaty clothes on a line and a hiker came down the trail toward me. Assuming she was looking for a tentsite near another person, I said, hey, there are tentsites right here.
She said, "Would you like some trail magic?"
I said, "Absolutely!"
And wouldn't you know, she had a cooler bag in her backpack, and she pulled out a quart bottle of ice-cold pink lemonade. She also gave me an apple.
I saw the sign
Sometimes trail magic is a simple hand-written note on the trail warning of a hornet nest ahead. Having already tangled with hornets, I was extremely grateful for the note.
Another cold treat
At Canopus Lake, a hiker named Buffalo treated me and a group of hikers to ice cream bars at the concessions stand. Hikers are some of the most generous people I've ever met.
A mango fruit bar, compliments of Buffalo.
Connecticut
Stepping into Connecticut, I encountered trail magic in the first mile from the Ingmanson family. They decided to make the trip to the AT from their home a couple of hours away and spend the day treating hikers to hot dogs, chips, candy, fruit, clean water, and more.

Trail magic from the Ingmanson family.
More water near Kent
There were many signs warning against drinking the water from the Housatonic and Ten Mile rivers. Someone in the Kent area was aware and left this water cache.
As I did my town chores in Kent, I came across a quilted heart hanging on a bush next to the visitors' center. My mom was an avid quilter, so this little heart made my own heart happy.
Quilted heart in Kent
I was facing a long walk back to the trailhead outside of Kent and was about a half-mile into it when trail angel Bob pulled up in his pickup.
"Hop in the back!" he said. I looked and two other hikers were already in the truck bed.
Bob (center) gave Pizza Hands, me, and Mander a lift back to the trailhead.
Backyard camping in Falls Village
After a 15-mile day, a group of us were relieved to find out that a trail angel allowed hikers to pitch tents in her backyard. She even provided water and an outlet to charge our phones.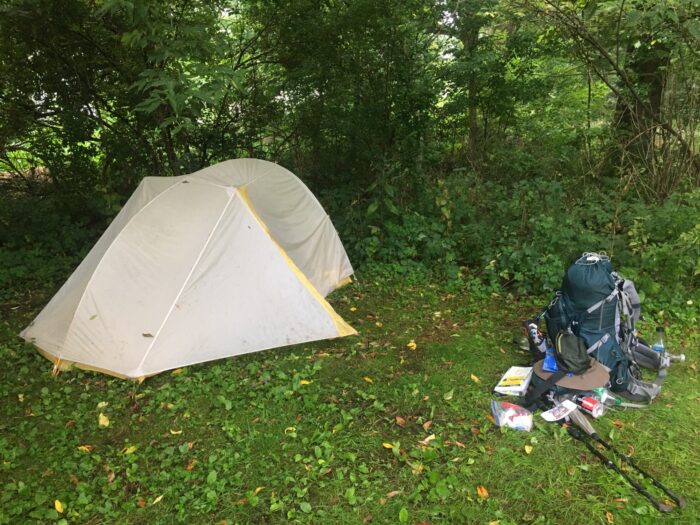 Massachusetts
A surprise trail magic came at a dirt road crossing. Steve had a cooler with soda and Gatorade as well as a trunk full of goodies—fruit, pop tarts, water, and a garbage bag.
Steve and his trunk full of goodies
Rollie lucked out when he joined me in MA. We hit a few trail magics in our two short days together. Of course, he brought trail magic in the form of homemade cookies and donut holes from Dunkin', which he passed out to other hikers.
The first magic that he got to enjoy was courtesy of the Christ Trinity Church and the First Congregational Church of Sheffield. They had a huge tent set up with all kinds of snacks, but best of all, they were grilling burgers and dogs.
Church magic
Trail magic always seems to arrive just when you need it. In Rollie's case, he had forgotten his trekking poles at home and was missing them. Walking through the swamps and bogs is dicey without the steadying support of trekking poles.
So, what should appear but walking sticks!  Made by 87-year-old Harry H. Sano, the walking sticks are provided free for those who need the assistance a hiking stick provides.
Rollie chose a walking stick.
Sister Bear had a table set up in a trailhead parking lot and treated us to Gatorade, oranges, bananas, and hard-boiled eggs.
A friendly smile and treats from Sister Bear.

More water
We made it to Upper Goose Pond and spent the night out of the rain and safe from the marauding mosquitoes. The next morning, the caretakers made blueberry pancakes for all of the hikers. They provided some much-needed energy and gave my spirits a lift.

Pancakes at Upper Goose Pond cabin.
Trail Angel Sky
Sky is an aspiring thru-hiker who will start her trek in 2024. She was kind enough to let Rollie park his car in her driveway for the weekend while he hiked with me. Then she picked us up, allowed me to shower in her home, and even did my laundry. To top it all off, she grilled burgers for us! I can't thank her enough for her generosity!
Trail angel Sky went above and beyond for Rollie and me.
The Cookie Lady
The Cookie Lady is a popular stop as she provides free cookies for hikers. When I arrived, she also treated me to a glass of hibiscus lemonade and made me an offer I couldn't refuse: an exchange of a little work for dinner. I picked blueberries for her and enjoyed a burger with a salad that came from her garden. She also allows hikers to tent in her lawn, which I took advantage of.
Cookie Lady & the cookies and hibiscus lemonade.
The final trail magic of MA was anonymous and came in two coolers at a trailhead. I opened the coolers to find gallons of lemonade, peanut butter and jelly sandwiches, trail mix, granola bars, and bananas.
I sat down and ate a PB&J breakfast and took some trail mix to go.
Affiliate Disclosure
This website contains affiliate links, which means The Trek may receive a percentage of any product or service you purchase using the links in the articles or advertisements. The buyer pays the same price as they would otherwise, and your purchase helps to support The Trek's ongoing goal to serve you quality backpacking advice and information. Thanks for your support!
To learn more, please visit the About This Site page.