AT goes Digital
 Day 27
Up and out early.  The excitement of town food and meeting Eric's Dad lured us out of our sleeping bags.  The terrain was incredibly easy and we cruised the 6 miles to the road in less than 2.5 hours. Even the hot morning couldn't slow us down when we knew cold drinks were waiting for us.
Note from Eric: I would like to formally state that I was wrong and Hayley was right.  When deciding on a guidebook, Hayley wanted to go with the FarOut mobile app and I preferred the thru-hikers companion (in book form).  This is the same guide I used in 2011, I was often writing notes and enjoyed having the physical paper in hand. Coupled with the shelter registers (notebooks left in each shelter or lean to on the trail that hikers could write in) and talking with other hikers, I had all the information I needed to successfully thru-hike the AT.  In my defense, Hayley and I didn't even have smartphones in 2011 and getting cell service back then was spotty at best in the woods (it was even spotty in some suburban towns).  Well it's no longer 2011 and technology has evolved incredibly in the past decade.  We have now purchased FarOut which offers a treasure trove of up to date information.  It seems that I was representing the "old" in "Old Bay" for an old school mindset. Now that that is cleared up, back to the adventure…
Eric's Dad, Kurt, arrived at the trailhead a little before 10:30am.  We were relieved to see him as it was not the easiest spot to find and we did not have cell service. We had a nice little reunion (Kurt even gave us dirty smelly hikers some hugs!) and headed into Andover.  Unfortunately, the market didn't have the breakfast we had hoped for but made due with the sandwiches provided by Eric's Dad.
The roast beef three-way might be greatest sandwich ever created.  For those unfamiliar with this savory goodness, it includes thinly sliced roast beef, bbq sauce, mayo, and cheese on an onion roll.  Most commonly found in New England. To those who think, oh that's not really my thing… this sandwich will make a believer out of you.
We enjoyed a long 4.5 hour break, in the shade, while we packed up all the food Eric's Dad provided.  We also changed out our shoes in preparation for the Whites.  We will pick our original shoes back up from Kurt when we get to some gentler terrain as they still have some miles left in them.  And of course we ate…we ate A LOT! Hayley impressed everyone with her ability to consume large quantities of fresh baked goods. Eric drank 2 sodas in record time, blink once and you'll miss it.
We got back to trailhead around 1:30pm and continued our journey southbound, for about a quarter of mile.  We found a beautiful stream with a tiny waterfall pouring into a deep pool. We took advantage of this oasis and enjoyed a quick dip which cooled us off (still incredibly hot and humid in Maine) before slowly heading up the 4.5 mile climb up Surplus Mountain to our campsite.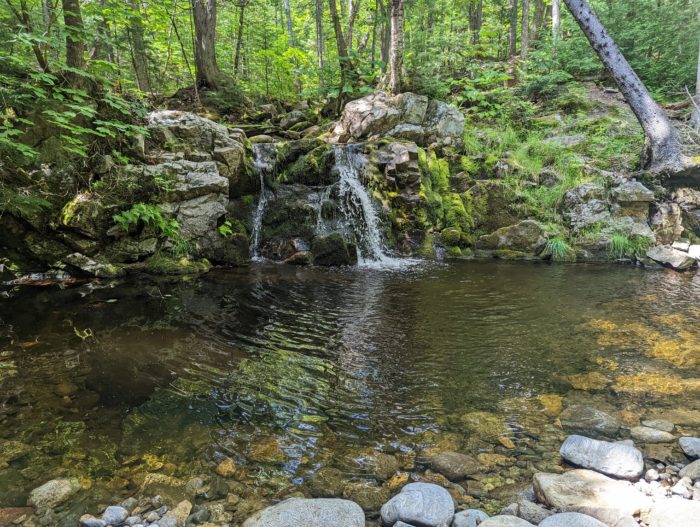 We got in to the Frye Notch lean to and enjoyed a delicious dinner of another roast beef three-way, more fresh baked goods and some tiny wine bottles. Cheers to a productive day in town!
Affiliate Disclosure
This website contains affiliate links, which means The Trek may receive a percentage of any product or service you purchase using the links in the articles or advertisements. The buyer pays the same price as they would otherwise, and your purchase helps to support The Trek's ongoing goal to serve you quality backpacking advice and information. Thanks for your support!
To learn more, please visit the About This Site page.