Call Me Pony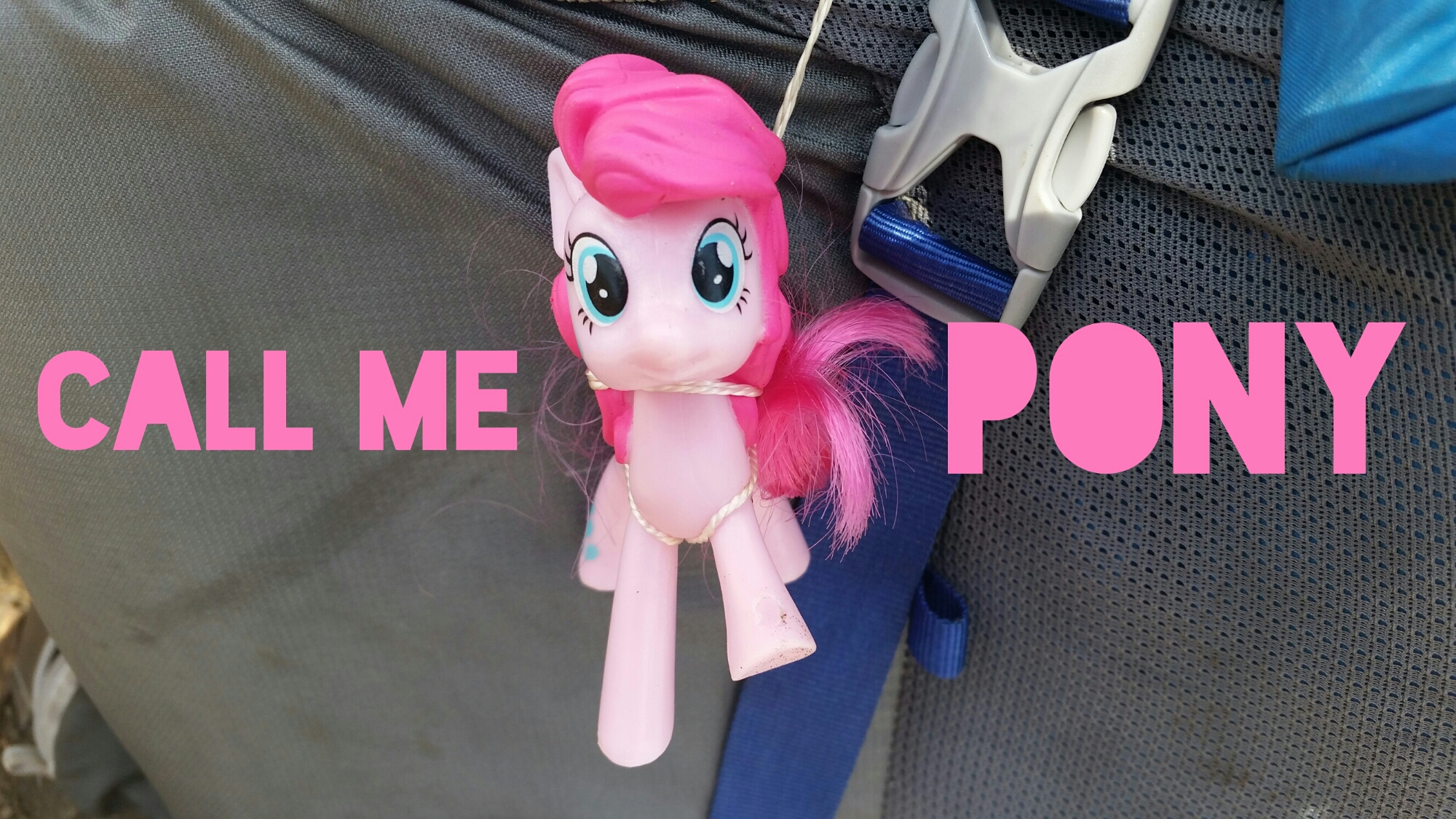 For the benefit of those unfamiliar with hiking culture, I'll explain the concept of trail names briefly. Trail names are nicknames, usually chosen for an individual by fellow hikers, that are indicative of an individual's personality, appearance, background, actions, or experiences.
I'm one of the rare hikers who chose their own trail name pre-trip.  I decided to call myself Pony, in reference to my dyed pink hair, which is reminiscent of the brightly colored manes and tails from the children's cartoon phenomenon, My Little Pony.
I love my trail name. It makes me feel both lighthearted and scrappy. I even have a Pinkie Pie figurine (a character from My Little Pony: Frienship Is Magic) hanging from my pack as a mascot.
Waiting to allow a trail name to develop organically has its merits, too.  Finch and I have been travelling for over a week with a hiker, Otis, who goes by Papa Oats. The name evolved from Father Otis, which sprang from Father Mickey. The story behind the name is like norovirus. It's spread all along the trail and is kind of gross.
We were at a shelter, prepping for the evening, expecting rain showers. I wanted to experience sleeping in a shelter at least once, so I set up my stuff inside the three-sided structure, getting a good ribbing for how early I get ready for bed. (I'm a firm believer that nine is hiker midnight.) It wasn't even dark yet before the mice started to gather, in Finch's words. To quote her exactly, "The mice are gathering."
Suddenly I discovered in myself a serious fear of mice, of their needle-ish claws, their pittering, scampering feet, their long, bald tails, and the filthy microorganisms that fester in their dun coats.
Repulsed, I fled to set up my tent behind the shelter, far away from the hoard of mice collecting themselves in droves, I told myself, inside the shelter in anticipation of the storm.
When we woke up, it was raining. I left camp very early, underneath my GoLite umbrella, and so missed the entire, weird event.
Otis, breaking camp that rainy morning, was shaking out his pack when a tiny pink thingy fell out. He shook the bag again. Out came more pink thingies. They were newborn mice. Overnight, a mouse, who was embarazada, as they say, took a liking to Otis's personal space. She chewed through the plastic rainsack that his bag lay within, crawled into the backpack, chewed through another plastic bag, made a little nest within, then gave birth.
As the remaining hikers gawked at the nude, alien-ish baby mice, their mother scampered about nearby, apparently incensed at the outrage happening before her eyes.
Addison, a hiker with a gentle soul, took charge of the situation, crafting a little nest out of shredded materials, and placing the infants by the shelter.
Otis, having been scouted out by a knocked up mouse, was now adjusting to the shock of surrogate  fatherhood. Of course, he was immediately christened with a trail name to honor this stunning event. Father Mickey. (He altered the name slightly to Papa Oats. Apparently, mickey, along with being the name of an adorable cartoon mouse, is also the street name for a date rape drug.)
So, wether you pick them yourself or they are given to you, trail names are a special part of thri-hiking. They allow you to set aside your old life for a spell and grow into a new side of yourself.
So call me Pony.
Affiliate Disclosure
This website contains affiliate links, which means The Trek may receive a percentage of any product or service you purchase using the links in the articles or advertisements. The buyer pays the same price as they would otherwise, and your purchase helps to support The Trek's ongoing goal to serve you quality backpacking advice and information. Thanks for your support!
To learn more, please visit the About This Site page.