Why We Can't Have Nice Things
I'm happy to report that this post has much less vomit in it than the last one. You can put the tums away now.
Day 29: Rich Mountain Lookout Tower to Jerry Cabin Shelter, 18.6 miles
I spent the entirety of last night trying to keep my tent on the ground. Apparently we camped out in a tornado? Ok not really but that's how it felt. I woke up at one point and the side of my tent had become the roof of my tent. I couldn't get out and re-stake it, because it would have flown away, so I just moved my body over to that side of the tent to keep it on the ground. Problem solved.
I was out of camp today before anyone else was even out of their tent. Slackers. I hiked relaxed, took my time and as many pictures as I wanted. I visited places just off trail.
My longest detour so far was 0.5 miles down a road to a hostel. I didn't stay here tonight but I wish I had. The place was a little hiker oasis. There was the main building that had food and resupply and a porch that overlooked a river. The river had a calm section that was about waist deep, and probably heavenly to swim in on a hot day. You know I took advantage of that to soak my feet. Across a bridge a little further up river there were cabins where hikers could stay. They were really cute! They even had a bathroom cabin. I found this place adorable. Definitely would stay here if it wasn't only noon.
About an hour from the next shelter the boys caught up to me. Silently cursing my need to go a mile out of my way, I let them pass. I have not yet grown accustomed to being the slowest person in the group.
A little ways down the trail I came to a sign that warned of an exposed ridge line up ahead. Excited, I started to climb. About a mile into it, still surrounded by trees, I began to silently write a review of this "exposed" ridge in my head. "Exposed my ass," I thought. "North Carolina really needs to rethink its definition of the word exposed." Of corse, shortly after I had mentally written and edited my one star yelp review, the trees dropped away and afforded us 360 degree views.
I arrived at the 300 mile mark just before the shelter. Wahoo! Today was a long day, and I had to force feed myself before passing out.
Pro Tip: never go to bed without dinner. You'll regret it when you can't sleep two hours later because your stomach is eating itself.
Day 30: Jerry Cabin Shelter to Hogback Ridge Shelter, 15.5 miles
Rivers trail name is now Big Mama because according to her that's what Leonardo DiCaprio calls her.
I was again out of camp before anyone else woke up. Super slackers. How dare they sleep in.
Big Butt mountain did not have a summit sign, and that was pretty disappointing. I also accidentally took the bypass trail thinking it was the summit trail. Oops. River – I mean, Big Mama – sang the big butts song at the summit.
I again took today slowly. I hike much more relaxed without a goal in the forefront of my mind. Knowing where I want to go, but not hurried about getting there, I can appreciate the world around me while also avoiding stubbing my toes on rocks. I stop to take breaks whenever I damn well please. I do whatever I want simply because I want to. My wants are simple things too, like eating or drinking or going pee. They've almost become synonymous with my needs. There's so much less noise out here, for lack of a better way to say it. Less people causing less drama, less objects worth having, less "needs" crowding your head. It's dumbed down to the simplest things.
I camped with the usual suspects tonight and a few new faces sprinkled in as we catch up to people. Before the sun goes down, I'm in my tent. I find that the less time I spend around the same people the easier it is for me to tolerate them. I love crawling into my tent at night. It's like going home after a long day at work. If I wasn't introverted before, I definitely am now. I get the sense that being alone allows me to recharge my batteries, so to speak. Is that high maintenance? Don't answer that.
Day 31: Hogback Ridge Shelter to No Business Knob, 20.7 miles
I was the last one out of my tent this morning. Now I'm the slacker! Damn… I was also the last one out of camp. This doesn't bother me much today. As long as I get to hike alone today I'm happy. This morning the hiking was easy and I felt great. Coming down into Sam's Gap there were a couple of people I had camped with last night. Their friends had driven out to meet them, and they gave me cookies and chocolate milk! It was so good, people are so nice out here.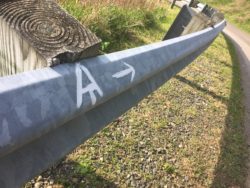 As you leave Sam's Gap you walk along the highway. You can see the sign that says "Tennessee Welcomes You!" right in front of you. You then promptly hit a switchback and start walking the other way. Dammit. Still in North Carolina.
Just before you get to the shelter you have to go over Big Bald. The views up there were awesome! The wind was crazy though! Hair in my face, and pack straps whipping my body, I turned into the 80 mph winds. "That all you got?! Bring it on!!" I yelled, laughing maniacally as I staggered across the grassy peak. Then the wind tried to steal my bandana. I guess that's what I get.
I had already decided that I'd be doing 20 miles today to No Business Knob shelter, but at the half way shelter the rest of the crew decided they'd be going too. Wahoo! Our first 20 mile day!
I sang and danced my way over the next 10 miles. Feelings of exhaustion and discouragement didn't stand a chance against the smooth beats of Suburban Legends, Reel Big Fish, and Streetlight Manifesto never failed to lift my spirits. I probably looked ridiculous, jumping over roots, spinning in circles, and using my trekking poles as a microphone/air guitar, but I didn't care. I walked into camp happy, telling all the white boys to play that funky music. It did not bother me in the slightest that I was the last one to camp. I probably could've gone on a couple more miles like that. At the end of the day, I'm still laughing and I love that about being out here. One month down and many more to go!
Pro Tip: never keep hiking if you're completely miserable. If you can't think of even one thing to be happy about, pitch your tent and try again tomorrow.
Day 32: No Business Knob Shelter to Erwin, 6.2 miles
I was one of the first to leave today but had to go back. I had forgotten my bandana in the shelter, and there was NO WAY I was leaving that behind. Eventually everyone passed me and I was the caboose again. I don't mind it, since there's no pressure to keep a pace. I danced and sang away the miles to Erwin, making sure to have fun with it.
We called the Erwin Shuttle Service to bring us into town from Uncle Johnny's. They sent a guy named Doug, who basically became our personal chauffeur. Whenever we needed to go anywhere all we had to do was call and he'd show up to get us. He took us to the hotel, then to the Walmart and back.
In addition to our Walmart resupply, we went to Taco Bell to celebrate Cinco de Mayo. Yes, I know it's not real Mexican food, but it was glorious. I ate five meximelts and I'm not sorry. All in all, it was a pretty low key Nero day.
Day 33: Erwin to Beauty Spot Tentsite, 12.3 miles
As per the usual on our "get out of town" days, we were not quick to get moving. It probably didn't help that there was a Star Wars marathon on TV either. Once the hotel kicked us out we made our way to a small town festival. There was music by a young local group and vendors lining the streets. All of the people were really nice and welcoming.
Doug picked us up and brought us back to Uncle Johnny's. White Walker bought a new pair of trekking poles. During our 20 mile day he tripped over a root. In a fit of rage he turned and smacked the root with his trekking pole, breaking the pole and doing very little to teach the tree not to trip hikers. This is why we can't have nice things.
I looked for new boots because mine have been eating my feet, but apparently that's the one thing the hostel didn't sell. I had called one of my professors whom I respect as an expert in this area. She told me that the toe box on my current pair of boots is sized small. That, in combination with me melting them back in the Smokies and the fact that they're no longer waterproof was not doing me any favors. She also regaled me with the drying power of a warm body in a sleeping bag.
After procrastinating as long as we could, we hauled our food laden packs on to the trail. The rain held off today for about an hour, then the light drizzle started. I hiked fast, solely because it was the best way to stay warm. Temps promised to be the lowest on the trip so far. For all of you that might be reading this planning your trip, DON'T SEND YOUR COLD GEAR HOME UNTIL MID MAY. I had sent most of my layers home back in Hot Springs, thinking that I was good once I got out of the Smokies. Nope. Not smart. Luckily I still had a hat and my puffy.
As I got to higher elevation, the rain turned to snow. Truth be told, this scared me a bit. I was confident in my sleeping set up, I knew I'd be warm tonight, but I was worried about my friends. They had also sent home some cold gear in Hot Springs. Rivers sleeping bag has never been warm enough. LD and Carolina Red didn't have the best cold gear to begin with.
River and I decided to share a tent for the night. We kept our gear in her one person and slept in my two person. Never have I ever regretted carrying the extra weight of a two person tent, and tonight I was all the more thankful to have it. Two bodies = more heat = no dying of hypothermia.
Pro Tip: don't listen to those people that tell you you're good to get rid of your cold gear after the Smokies. Go to Damascus, at least.
Day 34: Beauty Spot Tent site to Clyde Smith Shelter, 13.9 miles
I cannot say enough good things about my sleeping bag. Temps were below freezing last night, yet I still was warm. I even took off my socks and puffy at one point, and had no issues sleeping comfortably. For anyone who's looking for a sleeping bag, check out the REI Joule.
We waited until about 9 to crawl out of our sleeping bags. The sun was trying to make an appearance, but it was still cold. We didn't actually start hiking until about 10:30.
Unaka Mountain was topped with a beautiful spruce forest. Water was coming up off the ground as steam in any place the sun could break through. Where there was shade, there was also snow, still stubbornly sticking from the night before. There was a tree just south of the summit that served as a memorial. It was decorated like a Christmas tree would be and there was a log book. I'm not sure what the story is behind it, but it was a really beautiful spot.
We camped tonight with a new group of people, including Legs, Monty, Jose, and Bird. LD and Carolina Red got ahead of us yesterday and still are. Not sure when we'll see them again but I'm sure we'll catch up soon.
I'm taking the advice of my professor today and trying to dry out my boots in my sleeping bag. The scientists in me wonders where all that moisture goes when they dry, but I'm not too worried.
Day 35: Clyde Smith Shelter to Overmountain Shelter, 15.6 miles
My boots were dry this morning, yay! Sharing my sleeping bag with them was not the most comfortable thing in the world, but it worked!
Today was still cold, but warmer than yesterday. Hooray for not dying! I got a late start after drying out my ground sheet in the patches of sunlight available. First, I ascend to 6000+ feet of elevation, back into the spruce forests. I love the scenery up here because it reminds me of the woods in New Hampshire. I eat lunch in the highest shelter on the AT, the Roan High Knob Shelter. Next, I descend into the balds of the Roan Highlands. Panoramic views and clear skies for miles. This was by far my favorite hike of the trip.
We stayed at Overmountain Shelter tonight, a renovated barn on the side of the balds. I had heard a lot about this shelter and being there was so exciting! Definitely a bucket list place to stay on the AT. When I get excited I tend to do crazy things, like sprint back and fourth to my friends tents and do pull ups on the shelter door.
I hope you're all enjoying reading these things as much as I enjoy writing them. As always, you can follow me on instagram at erica.runs or shoot me and email at [email protected]!
Affiliate Disclosure
This website contains affiliate links, which means The Trek may receive a percentage of any product or service you purchase using the links in the articles or advertisements. The buyer pays the same price as they would otherwise, and your purchase helps to support The Trek's ongoing goal to serve you quality backpacking advice and information. Thanks for your support!
To learn more, please visit the About This Site page.