Captain Fantastic's Diary of The Whites
Back when people listened to music on 45 style records, one song per side, you'd have a popular tune on the A-side and then a B-side with a song destined to receive a little less attention from the public but which the artist had an affinity for. So this time around my readers get two blogs. Hope you enjoy!
A-Side
The Whites began when my hiking partner Firewalker, who is now the hiker I've spent the most miles with on this trip, plopped to the ground as we reached the boundary of the park- a road crossing known as 25c. I stood by the highway with my thumb out trying to hitchhike to a restaurant several miles away. After being passed by several dozen cars we finally scored when Chris stopped to pick us up. Little did the three of us know we'd be spending most of the next 24 hours together.
Chris lives in Massachusetts but was visiting a friend in the area. He had planned on doing a day hike from the nearby parking lot but took pity on us and drove practically 20 miles to get Firewalker and I to a fantastic little diner for heaping plates of food. He then drove us to Dollar General for a much needed resupply and even played tour bus operator by showing us an historical covered bridge over a local swimming hole. Afterwards he hiked alongside for five miles to the shelter we'd planned on staying at that night before going back to the last road crossing and calling his friend to shuttle him back to his car. Somewhere along the way he casually mentioned we were officially in the Whites, though it looked about the same as Vermont to me.
The next morning Chris showed back up at 7am. He'd said the night before he'd try to join us on the White's first big climb, the ascent of Mount Moosilauke, but I didn't really think we'd see him again. I felt bad since both Firewalker and I had barely packed and he was raring to go. While we hurried to be ready Chris explained he'd been up Moosilauke one other time in winter, but that there'd been no view due to the weather. Unfortunately history repeated itself and we gained the top under cold, wet and windy conditions. The summit was obscured by fog. But we did have great conversations about Chris's future goal to thru hike the AT, and we introduced him to lots of our friends. Oh yeah, and we got a good look at a bear cub on the way up! Thanks Chris!
After two days in the Whites I was left wondering what all the hype was about. That would change the next day as the weather finally took a turn for the better and the skies became clear. Even better Sapling and her boyfriend Brennan had come to join Firewalker and I. They'd flown in to Boston and my cousin Jenny, who lives in Littleton, New Hampshire, picked them up at the airport. Following our steep and technical descent of Moosilauke we all met up and Jenny hosted us back at her house, where we were greeted by her pet goat! Of course there was a McDonald's stop on the way there and then we ate ourselves silly again that night as Jenny's husband, Mark, put on a wonderful summer bbq of sausages and burgers.
Sapling and Brennan, who took the trail name Savage, came prepared for the hiking. They'd been training a bit back in Raleigh with day hikes and swimming as I'd warned them of the White's reputation as the toughest section of the entire AT. And it's a good thing they had as the first of their three days with us was the long, hard climb up the Kinsmans to Mount Liberty. Firewalker and Savage set the pace as Sapling and I brought up the rear. Eventually they separated from us and it felt like old times again as my daughter and I were back on the AT together.
The Kinsmans is one of the most challenging mountains on trail, and the first real climbing test of the Whites. It is not easy with a heavy backpack and requires much tossing forward of the trekking poles and then using both hands and feet to pull yourself up and push forward. The mountain pretty much redefined steep for us. I was so proud of Sapling after we emerged at the top to find Firewalker and Savage resting there.  After celebrating this first victory by collapsing and then basking in the late afternoon sunshine we realized the climb had taken longer than expected and we'd have to hike in the dark to Kinsman Pond Shelter. It was a relief to arrive intact with our rechargable headlamps still burning strong.
The next morning I was awake before the others and made my way to the eating area. Soon I was joined by a 4th grader named Ruby and her father, Dan. She was extremely smart and entertained me with stories about their late summer hiking trip and asked me all sorts of questions, ranging from where I was from to what kind of stove I was using. I asked her if she had a trail name, which she did not. When her father came back over from getting water at the pond they spent the next ten minutes trying to name each other, eventually settling on Moss for him and Stream for her. It was a full circle moment to witness their father/daughter relationship while my own "little" girl slept in the nearby shelter.
We had a short hike to the first of the Huts in the Whites, Lonesome Lake. The huts are unique to an AT hiker as they are a cross between a simple shelter and a motel. They have a staff of mostly twenty somethings running them. Unfortunately they're also very expensive and for a whopping $150 you get to share a bunkroom with seven other people and have dinner and breakfast. Almost all of the hikers staying at the huts are day and section hikers. Thru hikers are welcome to hang out and drink coffee, eat leftover pancakes and oatmeal, or just take a breather in a charming and rustic setting. But since almost no thru hikers want to shell out that kind of money there is a feeling of not truly belonging there, much like you might feel sitting in the lobby of a Hampton Inn all day before having to move on to find somewhere else to sleep.
Lonesome Lake Hut was fun though, mostly because Savage put his musical talents to work by pulling down a guitar that was hanging from the wall and singing several tunes including some Bob Dylan, 90s pop songs, and a couple originals. He's really talented and the staff enjoyed the musical energy.
While at the hut we made the decision as a group to have a short hiking day. Sapling and Savage were pretty much toast from the Kinsmans, so we mutually agreed to stop at Liberty Springs campsite just five miles away. Once we got there and set up we toted our suppers to the top of Mount Liberty for an amazing evening together and a spectacular sunset. It was easily one of my best and most memorable nights on trail.
Sapling and Savage's final day with us was a real gem… the hike of Franconia Ridge. The weather was sunny and perfect, and this iconic stretch of trail provided hands down the most spectacular scenery imaginable. There were throngs of dayhikers out too, but that just added to the excitement like the buzz of seeing an awesome new movie in a crowded theater.
After several miles the realization came that Sapling and Savage needed to turn around and go back almost ten miles to the parking lot where my cousin would pick them up. We said our goodbyes and while it was sad, something was different this time from the others in which my daughter had joined me. Mainly that we weren't leaving each other alone. She had Brennan, while I would be hiking on with Firewalker. Pippa and Katie, two young women on vacation from England that we'd gotten to know, were hiking past and offered to snap a picture for us. I hugged Sapling goodbye and told her I'd see her at Katahdin, which brought a big smile to her face.
The rest of that day found us hiking some really tough terrain. Firewalker and I seemed to want to pick up the pace and get to the Presidentials, another legendary mountain range. We hiked many long and hard miles before stopping at a stealth site for the evening, building a fire and roasting hot dogs. It began sprinkling just after dark so we called it a night, trusting the rain to put out the fire blazing just beyond our tents.
I'm mindful I haven't officially introduced Firewalker within my blogs. We began hiking together pretty often as we entered New York, and over the past couple months we've been full-on hiking partners. He was born in Denmark, raised in Kansas City, but for the past three years has been living in Denmark again. He's a tough guy with a very fun sense of humor, a penchant for singing 90s pop songs, and he never shies away from telling you what's on his mind. I like his bullish approach to hiking the trail and find the plethora of items in his 45 pound pack fascinating, including his telescoping hot dog roasting stick; trinkets, magnets and a stuffed animal he's picked up at various state park gift shops for his family; and up to four summer sausages because it's his favorite hiking food!
The good weather Sapling and Savage enjoyed left with them. The next day was a soaker as we crossed Mount Zealand in fog and a steady drizzle. The only thing of note that happened was running into a fantastic group of students from Yale University at Galehead Hut. It was the third different Yale group we'd encountered and it turned out there were 80 groups total spread across the US doing different freshman orientation activities. These young people had chosen to do a little hiking in the Whites. They were fun to talk to and had tons of questions about us and our thru hikes. Then one of the leaders pulled out his guitar and played Firewalker one of his favorite songs, John Denver's "Country Roads". We all sang along to the chorus together, and after polishing off my third piece of chocolate cake we said our goodbyes.
I'm lucky to have a lot of family support on trail. Day 7 of the Whites was all about getting to a road crossing known as US 302 by noon so that my Uncle Elton and cousin George could pick Firewalker and I up. We had a seven mile hike but it was relatively flat as the trail followed a river flowing down the mountain. The obstacle of the day was having no cell service the entire hike, and George was waiting at his hotel for me to call before he left. Luckily I was able to get a hitch from a nice guy named Donald over to a store where I made the call. Donald even brought me back and gave Firewalker and I all the cookies he'd baked for his grandchildren since they'd bailed on coming by to visit him. Thanks Donald!
By the time George and Elton arrived at the trailhead parking area I was on my second beer. BigFoot and Swift Feet, a successful 2022 thru-hiking couple, were doing trail magic. It was a hoot watching my octogenarian uncle entertain everyone, but he's an amazing guy that knows how to work a crowd. Once in the car the four of us headed over to Fabyan's Family Restaurant for some great food and conversation. Afterwards they drove us to Littleton to do laundry and then to the Walmart for a resupply. Before retiring to our hotel we had supper at an awesome restaurant called "Rek-less" where everyone got a kick out of the drawing of a stinky thru hiker drawn on the bathroom wall! Next morning they got us back on trail after a hearty breakfast of blueberry pancakes at Munroes. Thanks George and Elton, for flying all the way to New Hampshire and playing Trail Angels!
A long hard day of hiking began with the steep climbs of Mount Webster, Jackson and Pierce. We did sixteen miles that day and arrived at the trail's most famous hut, Lake of the Clouds. It's getting dark early these days and I fell four times over the last mile as the lack of light was being compounded by a cloud that fogged up my glasses. Fire and I were pushing so hard to get through this twelve mile stretch of Alpine Zone since the weather forecast for the next two days was good. Mount Washington is infamous for having the worst weather in the United States, boasting huge temperature swings and hurricane force winds.
We looked a bedraggled mess as we stepped into the crowded hut of fifty or so hikers, and a young man named Garrett took pity and let us sleep on the dining room floor for ten dollars. It was good to be in a warm, dry room and I actually slept pretty well despite all the racket from shifting bodies on inflatable mattresses, snoring, and the creaky floor as people shuffled their way to the bathroom all night.
The ascent of Washington from the hut next morning  was steep and otherworldly, and the landscape looked rather lunar. But at only one and a half miles we were there in an hour. I was prepared to be greeted by excited tourists as it is a huge attraction. It did not disappoint. There is an auto road leading to the top, or you can ride up on the cog railroad for $70. A train had just pulled in and as the passengers disembarked most were making a beeline to the signpost on the mountain's actual summit for smiling selfies.
A lady and I were crossing paths and upon seeing my backpack and trekking poles she asked how long it had taken me. I told her since March, which left her flabbergasted. Then I realized she meant how long had it taken to climb Mount Washington from the bottom, because it's a popular day hike using another trail. I tried to explain I meant the whole AT but she had no idea what I was talking about! But another woman just behind her had listened in and she knew how far I'd come. She began bowing repeatedly with hands clasped. We all had a laugh at that.
I checked out the museum and gift shop and learned all about the weather extremes of the region. But what  Firewalker and I were most excited about was the small cafeteria selling hot food in the visitor center. Just as we found it we heard the lovely accents of our English friends Pippa and Katie, who Sapling adored and had run into us literally everywhere we went for the past couple weeks. We quickly caught up on their latest adventures and sadly learned this was it as they were heading back home the next day. Happy trails Pippa and Katie… here's the selfie I promised to post!
While eating pastries and sipping coffee I overheard a couple talk about the observation deck. I hadn't known there was one so once my cup was drained Fire and I sought it out. It was basically tiles laid out across the roof of the entire visitor center. While strolling around and gawking at the incredible views I felt my watch buzz. When I glanced at the notification all I saw was, "I see you!"  I looked on my phone and saw my wife Lori had sent the message, and quickly followed it up with, "On the webcam." I told Fire and we both looked around for a camera while goofily waving in every direction. A guy saw us and told us if we were looking for the camera to go stand on the X taped to one of the tiles, and then showed us where it was mounted. I called Lori and she explained she had just wanted to check the weather on Mount Washington to be sure I was safe and saw a link to see through that camera. What are the odds she would click it just as I walked past?
After more hot dogs, soda and a phone recharge I was antsy to get moving. Looking at FarOut I knew the rest of the day was going to be tough. I wanted to get across the entire Presidential range, and I'd been warned that Mount Madison had one of the most dangerous descents we'd tackle. Firewalker was still eating pizza and said he'd see me in the evening, which isn't uncommon since sometimes we hike on our own and meet up later. As I made my way down Washington I realized I was paralleling the train tracks. There is a thru hiker tradition of mooning the cog railroad as it passes by and I considered doing it until I saw a bunch of kids and their parents waving enthusiastically at me. My pants stayed up and I hiked on.
The Presidentials require walking a dozen miles above tree line in the alpine zone, completely exposed to the elements. I had a beautiful day to work with and the knowledge that in a couple days time the forecast was calling for cold and wet conditions, which potentially leads to hypothermia. Almost every bit of this stretch is loose rock and every step that afternoon had to be carefully considered or else I would have fallen. It was like the Pennsylvania Rocks all over again, only this time with huge ups and downs and spectacular scenery as my backdrop.
By the time I'd come to the final hurdle, Mount Madison, it was 5:30 and I knew it would take every bit of the remaining daylight to get over the top and down the other side. I refilled my water bottle in the Madison Hut at the mountain's base before scarfing down a slice of cake and a cookie. As I began I realized the difficulty level had gone up and since I'd not seen or heard from Firewalker I called and warned him not to attempt Madison until tomorrow. Trying that in low light conditions as Dew was settling on the rocks would have spelled disaster.
On rocky mountains without trees it can be difficult to spot the usual AT marker's of white blazes. So the trail maintainers use rock cairns instead. They are simply rocks piled a few feet high in a cone shape, but you can see them from far off. Unfortunately there was another trail running up Madison and where it met the AT at the top I got confused and followed the wrong cairns since there is no distinguishing between them from far away. I descended for ten minutes down the wrong path before realizing my mistake and then having to retrace my steps. When I got back to the top I noticed a blaze had been painted on the first cairn I should have followed. I was so pressed for time I kept my frustration in check and carefully began picking my way down the mountain. I caught up to a hiker in his 60s named Squirrel who I'd passed earlier and stayed with him all the way down since we could watch out for one another.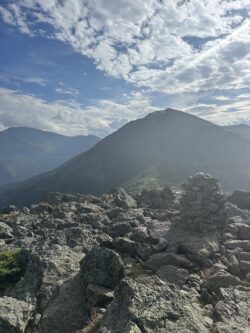 Squirrel took a stealth spot once we'd come below treeline, but I was determined to put the Presidential's completely behind me so I made it to the Osgood Tentsite. I checked in with Firewalker by text and learned he was tenting a half mile down a blue blaze from the hut. We made a plan to rendezvous the next day around noon at the Pinkham Notch Visitor Center.
The next morning I was able to sleep in before hiking the five miles to the center. I arrived in the late morning and was delighted to see they had a cafeteria with deli sandwiches, beverages, chips, ice cream and more. I charged up my devices and pigged out while hanging with my friend Ninja. Firewalker showed up around two and as he ate we began planning the final phase of the Whites, the mountain ranges known as the Wildcats and the Carters.
Step one was to get up the AT's steepest mile, Wildcat D Peak. We're both strong climbers and though we were confident we'd make it to a stealth spot at the top by dark we did raise the eyebrows of some other hikers when they learned of our plan. That made me a little nervous but also served us to power upward, and we had our two tents jammed in a tight spot behind a large rock at the summit as the sun disappeared from view.
The next morning the forecasted rain had not yet begun so we took advantage and hastily packed since it's so much easier when dry. As we hit the trail the first drops appeared on my raincoat. It was a wet day with steady drizzle and fog that obscured any views we may have had. It was quite chilly and the only thing we had to look forward to was finding our way to the remote hut known as Carter Notch, nestled quaintly between two ponds.
As we entered we stripped off our wet shoes and gear and put on our camp sandals so our feet could dry out. I was quickly aware that our shoes stunk so we repositioned them in a vestibul area to minimize the damage to anyone's noses. We ended up having the place to ourselves with the exception of two young women from the Forest Service who had been sent to make repairs to the facility, and the "croo" as they call themselves, which in this case was a lone fellow named Asa. He was great and kept the coffee pot filled and even gave us free leftovers of eggs, oatmeal and real maple syrup from the breakfast he'd served earlier that morning. As an added bonus he had a nice playlist going and Firewalker and I ended up hanging out with him for a couple hours before accepting our fate and getting back out on the rainy, muddy, rocky, overgrown, steep and rooty trail. Thanks for your hospitality, Asa!
We put in seven more miles on a dreary trail before arriving in the dark at the Imp Campsite. There were wooden decks there called tent pads that you had to use since the surrounding terrain was so sloped. While setting up the tent my foot slipped on the slimy wet wood and I gashed my shin badly on the edge of a board. Without looking I already knew it needed stitches, but I had to work quickly in cold, wet and very windy conditions to get my Shelter in place. My fingers were so frozen by this point they could barely move to manipulate the guy lines holding it in place. Somehow I managed to get it done and I climbed in my tent to warm up and deal with the wound, falling asleep quickly thereafter.
Upon waking the next morning it didn't take long to realize how cold it had gotten. I checked my watch and it showed 32 degrees and snow pellets. It was tempting to just lay there and stay warm in my quilt but there was certainly motivation to get going. First, we would essentially finish up the White Mountains with a long downhill after the climb of Mount Moriah, and second my cousin Jenny was picking us up again at US Route 2- this time for a zero day to celebrate, plus to get my injured leg looked at.
It's crazy how fast sunshine can change your attitude. Both Firewalker and I began the hike in yesterday's soggy attire, sullen and quiet. The uphill to Mount Moriah had many views which provided hints as to what we'd missed the day before in the dense fog. By the time we reached the summit we were happily snapping pictures and soaking up the sun's rays. Though the climb down was technically difficult in the beginning it became easier by the middle and turned relatively flat for a quick run in to the parking lot, which also happened to be the spot of AT mile marker 1,900.
Jenny picked us up and drove us straight to an AYCE (hiker speak for All You Can Eat) Chinese buffet in Gorham. From there I visited Urgent Care in Littleton, where my leg was professionally cleaned and bandaged and I was prescribed antibiotics to prevent infection. We resupplied at WalMart where I also picked up the pills, then went back to Jenny's to begin our first day off in almost two months. I had been in the habit of taking a day off per week but somehow fell out of it as Firewalker and I joined forces, which is okay because it moved my likely finish date up almost a whole week.
Jenny has two houses at the moment so she dropped us off at the one we'd stayed in last time, also giving us the use of her car. I'd driven a couple times when I'd been injured or Sapling had come to visit, but Firewalker hadn't been behind the wheel in five months so I offered to let him drive. That was funny because he initially kept pressing the gas pedal way too hard and we'd go shooting off as he wrestled the car back under control.
During our short Vacay we dined twice with Jenny and Mark, once at 99 Steakhouse and the other time at their new home, a beautiful house built in the 1800s that Mark is fixing up. Mark's mother Elaine joined us and we had plenty of fun answering her questions about the trail. Thanks for all the help, hospitality and fun times Mark and Jenny!
Other than that Firewalker hosted a FaceTime chat with family and friends while I washed clothes and cleaned and repaired my gear. My hiking partner and I ended our zero day on Jenny's couch, a beer in my hand and a cider in his, toasting our successful adventure through the Whites and thinking about the final hurdle coming up- Maine!
***
Feng Shui is the Chinese practice of arranging physical objects around you in a way that provides harmony and balance. I'll admit I'm no expert as practically all my knowledge comes from watching the Bejing Olympics fifteen years ago and listening to the announcers explain how Feng Shui experts worked with architects while designing the various grounds and sporting venues. But Time, especially in the seasons of Nature and the predictable movement of the sun and moon… it all seems deeply intertwined.
Based on my interpretation, the arrival of New Hampshire's White Mountains within the course of my hike certainly contained elements of Feng Shui. It brought together the two pillars of my trek, Nature and People, into a proximity that was overwhelmingly synchronous. There was the Timing of sticking up a thumb at just the right moment to come across Chris; Lori without intention opening a webcam at the very moment I walked by; the notoriously spotty weather being perfect for Sapling and Savage; and the gifting of time throughout the Whites by Jenny and Mark, Uncle Elton and George. Thank you Feng Shui!
My Time on this trip feels like it's drawing to a close. I'm a week into Maine with around two hundred miles to go. I hope I can finish, but whether I do or not I probably have less than twenty more days of hiking ahead of me. This will be the final Time I write this blog from my phone on trail. I usually wake up early in the morning while it's still dark and type away. When the bird chirping begins I consider it a sign to get going and make breakfast.
I'll be back one last Time to let you know how it all turns out.
***
B-side
The iPhone killed it. There was a Time when timing was an art, not a sneak peak at your Lock Screen. Everything was looser and depended less on precision and more on feel. People's wristwatches didn't exactly run like clockwork and could vary wildly within a week of setting them. Deciding "when" was a learned skill and doing so successfully required an ability to read a room. I remember sitting in a wooden church pew as a kid and looking around at all the men in their baggy suits sneaking glances beneath their cuffs as their wives leaned in and spoke to them in hushed tones. The preacher simply sat up at the altar smiling patiently at the congregation while occasionally thumbing through his notes. A natural ebb in the whispers, and the tension of it'll be lunchtime soon, signaled the pastor to stand and commence the proceedings.
It's a natural progression of one's life to feel as if the world at large is moving too rapidly as Time rolls by. Older folks always yearn for the simpler Times of their youth, though I'm sure their own parents felt the same way even then. And the blame for these feelings pretty much lies in the inventions and science and curiosity of the human spirit within their own generation. The pace of life these days is tied to working from home on computers, Amazon shopping, Google Maps and Venmo; just as in my parents' and grandparents' day it was the automobile, television, cable tv and Polaroid cameras. 
We always know we're hiking slower than the group behind us. That eventually the Time will come and we'll be caught and passed. Some have the skill and cunning to stave off the inevitable a while longer. But eventually everyone needs to step off trail to let the whippersnappers by. That's just the way it is… some things will never change.
And so I find myself somewhat frustrated with THE hiking app of my times- FarOut. It's an amazing piece of tech that lets me know how long until I reach water or where I am on a climb; the number for a shuttle driver or how many miles I've hiked; where this blue blaze will lead or whether I can expect to deal with mice in a shelter.
So what's not to like?  Hmmm… maybe information overload? Feeling like I've watched a movie trailer that gave too much of the plot away? Sensing inadequacy when I can't remember what half the waypoint symbols stand for? Feeling like I didn't do my homework while seemingly every hiker around me has the next four resupplies planned?
My Time has come… go on by young bucks. I'm right behind ya!
Happy Trails! Captain Fantastic
Dedication
I'd like to dedicate this blog to Hot Pursuit, who went above and beyond to help me today. I was doing my resupply at the IGA grocery store in Rangely, ME when the guy behind me in line asked if I was Nobo or Sobo. I learned he had thru hiked fifteen years ago. He offered if I needed a ride back to the Trailhead, which I did. 
Hot Pursuit waited patiently and talked all things AT while Firewalker and I stuffed six days worth of food into our packs. He gave us plenty of finishing advice and tips, and when we were finally ready drove us the seven or so miles back to trail. Unfortunately, as I grabbed my stuff from his trunk I realized, to my horror, I'd left my hiking poles back at the IGA! Without batting an eye Hot Pursuit told me to wait and he drove off to retrieve them, claiming he'd been careless with his own poles once and had them stolen in a situation similar to mine. Thanks for Trail Angeling for us today Hot Pursuit!
Affiliate Disclosure
This website contains affiliate links, which means The Trek may receive a percentage of any product or service you purchase using the links in the articles or advertisements. The buyer pays the same price as they would otherwise, and your purchase helps to support The Trek's ongoing goal to serve you quality backpacking advice and information. Thanks for your support!
To learn more, please visit the About This Site page.