Coco and Magnus — Days 36 through 46 — Cribbage, a Barn, and Old Man Slip & Squish
4/12 Sunday – Day 36
On this cold morning, Magnus and I were greeted with a pleasant surprise. Luna and Mad Hatter caught up to us before we left camp and Luna gave us a chorizo weighing in at a hefty 8 oz that she had been carrying for days for us. True friendship! This might not sound like a huge feat, but I assure you it is. Imagine carrying around eight pounds of delicious cake for three hours after having run a marathon. You'd just want to eat it or leave it somewhere and pretend bandits stole it. Not Luna. This firecracker provided us with the food unscathed. How did they know we hadn't left our campsite yet? Their logic: cold morning prior to 8am means the Texans won't be gone. Well played, Mainers.
Near Bald Mountain Shelter there is a long stretch that feels like hiking through an enchanted forest with fairy streams. For future hikers, there are a lot of gorgeous, flat, unmarked campsites in this area.
4/13 Monday – Day 37
In our great inspiration that can only come from a town day, Magnus and I hiked over six miles in just over two hours and arrived at Uncle Johnny's Hostel in Erwin, TN at 10am. To give reference, we typically average just a hair above 2mi/hr. Essentially, we ran into Erwin. We were rewarded heartily. After coffee and the obligatory shower, a shuttle took us to a salad bar and pizza buffet. Let me be clear. I don't like buffets. I can think of two buffet experiences (weddings don't count!) that I have enjoyed. I just don't like 'em. The trail has changed me. I was so psyched about this buffet. Pizza Plus (must be pronounced with a French accent — Peesa Ploo) made me so very happy and I am happy this internal barrier has been broken down with the power of pizza and salad. Long live pizza and salad.
At the hostel I was able to spend about two hours on the phone with my mom and sister, which is one of my favorite things. I love those women! If you don't know them, you should meet them! Smart, funny, thoughtful, kind, loyal, silly. You can't go wrong. (Same goes for my pops and brother, but I couldn't catch either of them so I just left voicemail. Love those men, too!)
This gem of a movie was unearthed in our cabin — Rabid Grannies. It's every bit of wonderful awful you can imagine. The previous viewers cued up the movie to the moment when the grannies go rabid. It involves a weird formal birthday dinner and fog from a hell box floating over some white wine. You'll have to watch to find out what happens next… in case the title eluded you.
4/14 Tuesday – Day 38
Unending rain the night before and the early morning rain meant over 17 miles of hiking in rainy, then hot and humid, then lovely weather. We waited out the heavy rain with coffee at the hostel. Hiking-wise, this has been one of my favorite days so far. Hiking out of a town usually means an immediate steep climb, but this climb was gradual and just right. I think red wine, Rabid Grannies, and coffee all helped. Life lessons. At Beauty Spot Gap, the rain cleared just enough to reveal gorgeous clouds of varying size, color, and shape in the mountains. There is no possible way we could have experienced the high we did had it not been raining on us moments before. The understanding of the experience of the balance of good/bad, easy/rough, elation/despair has been embodied physically during this trip in moments like this.
A little later, we hiked to the summit of Unaka Mountain. It was positively outstanding. At the spruce-covered summit, Magnus and I started speaking in hushed tones. It felt like walking through the live inspiration of La Sagrada Familia in Barcelona. Sacred sanctuary within the forest. It was so dense and sparse at the same time that we would have lost our way if it weren't for the frequent white blazes. It only added to the surreal surroundings.
4/15 Wednesday – Day 39
Cold and rainy? But of course! Even though we only hiked a little over nine miles, slipping and sliding through mud for hours takes a toll on one's body and senses. (Ground conditions like this are now referred to as "Old Man Slip & Squish." He's like the understudy guy who follows Old Man Winter.) We cut our hike short and were very happy with our choice. We ended up learning how to play cribbage from Mad Hatter — love this game! — and drinking tiny rum and cokes. For those hikers who question why I still have my dumb mug: this is why. I will carry it until it breaks or Katahdin.
4/16 Thursday – Day 40
What the heck?! Old Man Slip & Squish released the stage back to Old Man Winter for a spell. It required hiking in all of the gear — rain pants, rain jacket, mittens, and neck gaiter. Then it cleared up long enough for us to dry our tent and its accompanying pieces while we feasted on gummy worms. The rain and cold returned immediately after.
At Round Bald and Jane Bald we hiked through cold and fog and for the briefest moments the fog would clear so we could see the views. We sat on a large boulder for about twenty minutes eating peanut butter and tortillas watching the mist flow across the trail temporarily unveiling unobstructed views of what surrounded us.
Roan Mountain summit — no views. Go Team Fog Force! Regardless, the climb to the summit was a beautiful climb and we played "Stream or AT?" for a large portion of the descent.
Our place of residence for the evening was a large converted barn known as Overmountain Shelter. It was drafty, damp, and beautiful.
4/17 Friday – Day 41
After the night sleeping in the loft of the barn, my belongings were wetter in the morning than the night before, but it was lovely. The fog had lifted and we were greeted by a fantastic sunrise over the valley. The change in weather seemed to change the social atmosphere, as well, and there was a collective sense of camaraderie that felt more distinct than before.
Approximately halfway through our day's hike, Magnus and I were confronted with a dilemma: hitch into town for BBQ with other hikers and try to hike nine miles before sunset or skip the coveted town food knowing we'd have a little more money and a little more cushion for making it the rest of the way. We ultimately decided to skip the town visit this time and made it to Mountaineer Shelter with ample time.
The beginning portion of the hike (after Highway 19) for the afternoon was odd. Creepy feeling, bear warnings, and trash everywhere including a can for 100% deer urine (none of that imposter deer crap). After several miles, the trail resumed its usual demeanor.
We took a blue blaze to Jones Falls when a hiker-made sign informed us "Totaly bitchin'!" How can you argue with that? True, it was totally bitchin'.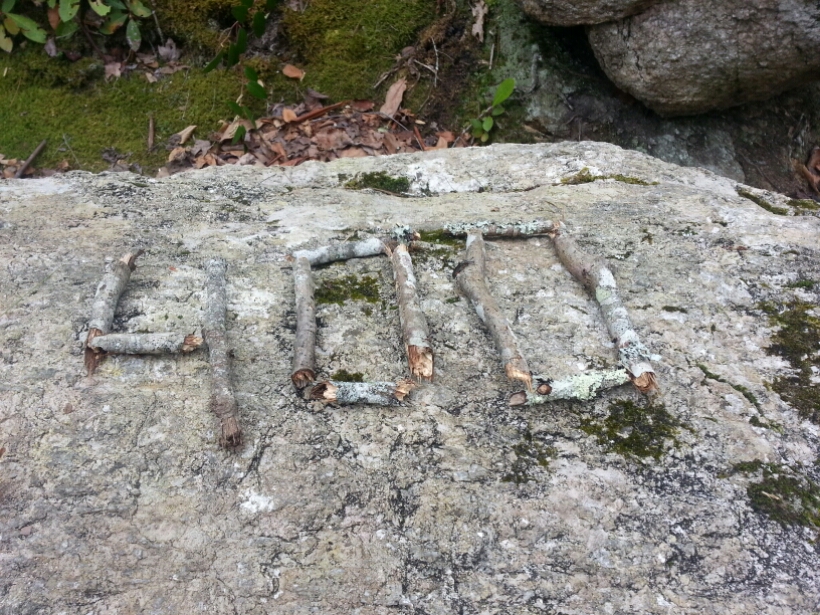 4/18 Saturday – Day 42
Town daaaayyyy! I always wondered how hikers miscalculated their distances. Well, I still don't know how but I now know I, too, am susceptible to these follies. Magnus and I thought we had a 12 mile day into town but it was a little over 16 miles. It was unfortunate, but we rallied and made it to Black Bear Resort just as the rain was beginning to fall.
We received a wonderful package from one of our friends that made me happy, hungry, and homesick. Dried peaches, hatch-flavored cashews,  dried meals all of Texas and Louisiana varieties, and even a Texas-shaped sticker that now lives on my backpack. Thank you, JLowe! The other hikers seemed to be amused by Magnus and my system for requesting and receiving care packages: we have a private Facebook group for people who have outright asked to send us goodies while we're on the trail. We make an announcement that we'll be in a town within a certain number of days and the first person to respond with a positive response "wins." It's been a great system for us and I hope fun for our incredibly supportive friends and family.
Magnus may have a stress fracture in one of his feet, so we decided to take a zero the next day that would coincide with the impending thunderstorm. So, we ate a lot and drank a twelve-pack.
4/19 Sunday – Day 43
Zero day! We ate even more and watched three movies. Sadly, Spaceballs does not live up to my memories of it as an eleven-year-old. Happily, Three Amigos does.
4/20 Monday – Day 44
The forecast was all rain and the morning sky seemed to agree. Until we left! The skies cleared and we had dry conditions all day until right after we set up camp and it poured quickly and intensely. It forced us to abandon our plans of a cooked dinner and into our tent, but no other harm was done. Little did we know, there was a tornado warning and that was our experience of it.
We hiked around Watauga Lake with all of its warnings of bear activity but saw no bears — just a turtle, a snake, and some birds of prey.
4/21 Tuesday – Day 45
We finally broke the threshold of 20 miles! Many other hikers have boasted of their long mileage of anywhere up to 32 miles while Magnus and I simply sat by contemplating our distances that hover more in the 15-17 range. This is a small accomplishment for others it seems, but we've been taking a conservative approach with our hiking with the mindset of marathon not sprint. Interestingly enough, we've kept pace with many of the hikers who hike further distances. I wonder if those miles require more recuperating so that we end up averaging the same distance. All I know is we have far fewer injuries and blisters than many of our peers (and all of our toenails). I hope we continue to find strategies that work for us.
4/22 Wednesday – Day 46
For those who are wondering or are future thru-hikers, there are no springs at Double Springs Gap. It's a rather unfair name but a pleasant campsite.
We crossed into Virginia! Three states down! Already things appear greener as though to prepare us for the infamous Green Tunnel.
At the post office in Damascus, Magnus and I received three packages — Darn Tough socks from my mom (these are the best!), a package from Magnus's dad, and a package from ourselves. We may have been a little premature in requesting our own package. It contains the second half of our AWOL guidebook which starts at roughly 1,100 miles. We are at 468.8. The package also contained a laminated picture of our fantastically large cat, Jacquemo. As I have not misplaced the first laminated copy of said picture, we graciously donated the second picture to the hiker box at Dave's Place hostel. You're welcome, hikers who are also fat cat lovers.
Affiliate Disclosure
This website contains affiliate links, which means The Trek may receive a percentage of any product or service you purchase using the links in the articles or advertisements. The buyer pays the same price as they would otherwise, and your purchase helps to support The Trek's ongoing goal to serve you quality backpacking advice and information. Thanks for your support!
To learn more, please visit the About This Site page.