Coexisting with Rain
Day 42
From the motel the AT blazes went right along the paved roadway, past two gas stations, and under I-81. Then we were back in nature, the trail alternating between grassy pastures and trees. Cricket and I started out together, but she drew ahead. I felt low energy all morning and put on an audio book to help me move forward. Shortly into the day I passed the 1/4 milestone for the entire trail!!
Occasionally the trail climbed triangular, steeply pitched, wooden slats to cross the barb-wire fence enclosing a pasture. I ate lunch beside a wide creek. Surprisingly soon after (decent pace despite my struggles) I came across the road to Bear Garden Hiker hostel. My next box was there and I ran into Serendipity, who was staying the night.
Oooh, surprise box! It contained vacuum sealed cookies, brownies, cherries, and a piece of cornbread; plus sunflower seeds, spicy tamarind pulp candy, and hard candies. Fun! Home-baked GF baked goods are such a treat, though it was the cherries that I soon devoured. Forrest sent the box and most of the goodies while Leo made the brownies. I have awesome friends!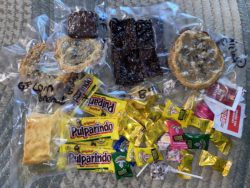 I hung out at the hostel for over an hour to use the WiFi and wait out the rain. Of course, I headed out and ran straight into more rain. It wasn't heavy though and even stopped shortly before I reached the shelter. Inside I joined Cricket and two guys, Tigger and Sparkles. I hadn't met them before, but they were friendly and talkative. Tigger told us about fording a river in Alaska to visit the Chris McCandless bus.
Day 43
I had one of my best nights of sleep on the trail! I didn't even hear the lady who arrived in the night and took one of the spaces we left in the middle. Cricket and I got up early so we could get a head start on the rain. It was a good thing as the rain started early and didn't stop for the rest of the day. Our plan was 20 miles to get two shelters ahead. Gotta do something on a rainy day; might as well hike!
At Lick Creek, the footbridge had washed out in a past flood, the twisted wreckage still visible off to the side. Luckily the water level was low enough to cross on a series of rocks.
A little over a mile past that we came upon trail magic: sodas, water, and fruit in a cooler. I enjoyed a banana. Then we began a 2,000 ft. climb. About half-way through I took off my rain pants and opened my jacket, I was turning into a sauna under my clothes.
Toward the top of Chestnut Ridge it looked like England or Ireland, rolling green hills with mist at the periphery. We ran into Serendipity slack-packing the opposite direction and stopped to chat. Chestnut Knob shelter was a cool stone building with an actual door and bunks inside. Cricket & I stopped for lunch. Tigger and Sparkle were also there. I put all my rain gear back on before we left the shelter, which was good as it rained harder in the afternoon.
When we reached Jenkins shelter it was full so we set up our tents in the rain under some trees. My tent floor, backpack, and hiking clothes were all wet. I created a dry zone on top of my Thermarest and got into my warm, dry clothes. Then I made a hot dinner followed by cocoa. My feet and toes were so wrinkly, it was ridiculous. I snacked on hard candies from Forrest while I watched a Netflix show and slowly dried out my feet.
Day 44
It rained all night long, finally ceased shortly after I woke. My sleeping bag stayed dry, yay! During the night I really had to pee and I didn't want to get my dry clothes wet so I peed in a Ziplock freezer bag leftover from a meal. They hold boiling hot cook water so why not? It worked perfectly and I placed it in my vestibule to empty in the morning.
While fetching water from the creek I noticed it had risen at least a foot overnight. This was a theme during the day. We encountered two raging creeks that luckily had bridges and a small one which we forded. One of our friends crossed Lick Creek, the one we rock-hopped, yesterday, and it was a waist high ford! It's crazy how much the water rose within 24 hours.
Cricket & I hiked 11.5 miles then took a shuttle to a motel in Bland. Our room was on an upper story with a long length of banister perfect for drying tents and clothes. We walked to Dairy Queen/ Circle K for ice cream and snacks. Then l took advantage of the early afternoon and called my family. My mom had hip surgery this morning and I was happy it went well.
Our tramily (trail family) has a chat group called Outdoor Cats as people tend to get spread out across many miles of trail. In the evening we discovered that High Route ended up at the same motel. Cricket and I went to his room and caught up on the past few days.
Day 45
I heated water for oats on the bathroom counter. While eating breakfast I packed up, then walked down to the Circle K for a couple more snacks. Cricket and I hung out in front of the motel with High Route and Pack A Lunch. When the shuttle driver arrived the four of us squeezed into the pickup and were soon back at the trail. It felt nice to hike with dry feet and shoes once again.
The morning was misty, but it didn't turn into rain. It stayed overcast all day and slightly on the chilly side. Cricket and I hiked separately and listened to audio books. We met up for lunch at a stream shortly after the 600 mile point. Later in the day she waited for me to catch up at a cool suspension bridge which stretched across Kimberling Creek. We walked the last two miles together, chatting about overseas travel.
We camped shortly up the trail from Dismal Falls in the midst of rhododendron bushes. While we ate dinner, Cricket commented on our bodies adapting and how the 20 mile day felt easy. It really did and I'm curious to see what new mileage goal becomes a normal day. I enjoyed a delicious Leo made brownie with my dinner! It was nice to be back in my tent with the sounds of a rushing creek and chirping birds.
Affiliate Disclosure
This website contains affiliate links, which means The Trek may receive a percentage of any product or service you purchase using the links in the articles or advertisements. The buyer pays the same price as they would otherwise, and your purchase helps to support The Trek's ongoing goal to serve you quality backpacking advice and information. Thanks for your support!
To learn more, please visit the About This Site page.