Day 160 – The End Is Near
I woke up to an empty shelter. It was mildly alarming, not because I knew anyone in the shelter. But rather when I went to sleep it was full, and when I woke it was empty. That juxtaposition as the bookends of my unconscious mind was jarring.
It was a chilly morning and I did not want to leave my TBC. However the intense heat of an actual fire sounded better than the suboptimal warmth of my sleeping bag. I got up and piled some sticks on the embers still glowing, albeit mildly, from the night prior.  I stoked up a morning fire and made breakfast next to it.
While getting ready Wiki, Feral Goat, Orphan, and Hays came to the East Branch shelter from further back on trail. We all left and crossed the small stream right next to the shelter. Hiking today was pretty flat and easy. A few miles in, along a dirt road, we came across the most unexpected trail magic. In the 100 mile wilderness of all places!

It was a group of former 2017 thru-hikers and their dogs. I had Gatorade, chips, and even a pizza they baked with their pizza oven and fresh made dough. It was the most pleasantly random thing I may have ever experienced.
We continued on down the trail after that. The trail in the 100 mile wilderness seems to ebb and flow. One minute it's through a forest, pine then oak, then evergreens. Then you're in a muddy bog, crossing a river or walking next to a pond. It happens seamlessly and dynamically, multiple times throughout the day. Today was a meandering meld of everything Maine had to offer.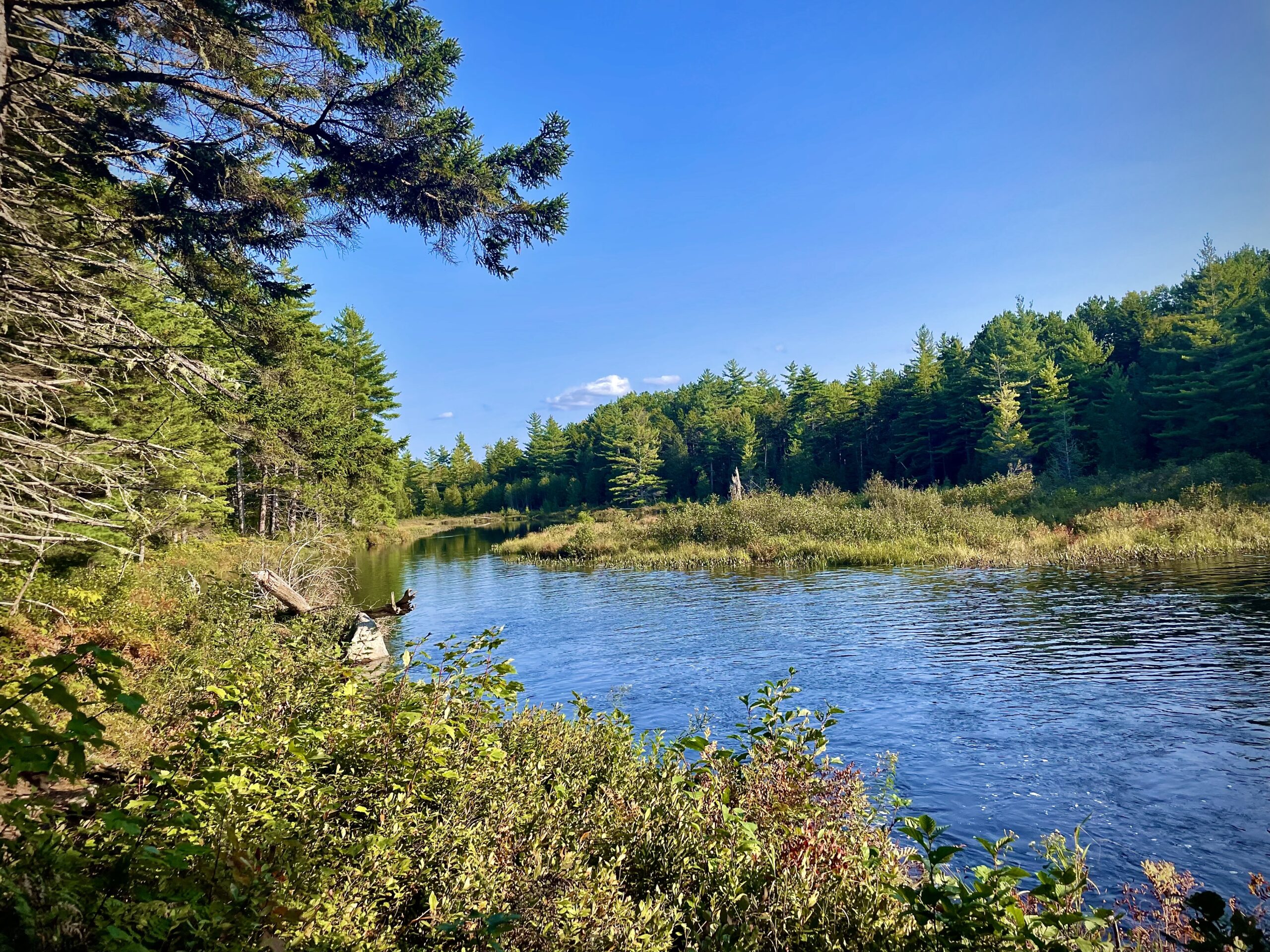 The goal was just to get as far as possible by sundown but the late start, constant water crossings, snack breaks, and impromptu stops seemed to hamper our intended progress. One such stop that we ran into was (and I shit you not) a full film crew in the woods, with a boom microphone, multiple cameras and like 8 support staff around. Purple pioneer and I found Hays, Wiki, Orphan and Feral Goat by the road with their food drop resupply. Shaws can drop you off additional food if you need some, at one of a couple locations in the wilderness.
Late in the day, I finished Brave New World. It had a depressing ending. But the commentary on so many topics was impressive: suicide, eugenics, conditioning, consumerism, sex, science, and state control. It was getting late and I not looking forward to night hiking for the 3rd night in a row, I set up camp next to a pond and watched the sunset. Today ended up being a 17 mile day despite all the welcome distractions. Katahdin campground is 45 miles away.

Im looking at a potential summit in just 3 days! Where does the time go? Maine has absolutely snuck up on me. The same could be said for Katahdin (as much as a destination you're walking towards for 5 months can sneak up on someone).
It's a weird feeling. It's been this far off distant thing I've been hiking and working towards all this time. Something you know you're getting closer to everyday, yet it's here before you know it. I'm not saying that because I don't want it to end either, it's time.
It's absolutely time. But that time used to appear to move so very slowly, but now with the finish line so near at hand, every movement is magnified. Every mile so dramatically more meaningful because it signifies the end. It's a surreal feeling. It's like I'm crashing into a personal victory in slow motion.

The end of this trail is finally starting to hit me. I've been so blessed to be able to hike this trail. To meet some of the kindest souls and lifelong friends along the way. To see a side of nature that changes your perspective on all things. And to remain (relatively) healthy throughout it all. I feel so lucky to be here. I go to sleep 97.7 percent complete with the Appalachian Trail.
Stow away in my pack for Day 161 on the Appalachian Trail
Affiliate Disclosure
This website contains affiliate links, which means The Trek may receive a percentage of any product or service you purchase using the links in the articles or advertisements. The buyer pays the same price as they would otherwise, and your purchase helps to support The Trek's ongoing goal to serve you quality backpacking advice and information. Thanks for your support!
To learn more, please visit the About This Site page.