Day 23 – Rain Dodged
I woke up in good spirits. I found a cool group of folks to hike with today. But yesterday was going to be tough to top though.
Breakfast was the usual pop tarts and protein bar. I've managed my resources through the Smokies pretty well. I'll run out of food, ibuprofen, and Tylenol tomorrow (day 6) just in time for my next resupply. Mornings are always better with dogs around. And while you're technically not supposed to have dogs in the Smokies, apparently service animals might be ok? Either way, I wasn't mad about it. Stan is a good boy!
When the hiking commenced the body felt good again. I'm thinking to myself "Just a few more light 10-12 miles days, and I'll be right as rain" (I've never said "right as rain" before, but you know what I mean). We made quick work of the first 7 miles and had lunch at Tri-Corner Knob Shelter. It started to sprinkle rain when we left so we donned our rain gear just in case and set out. I hiked a bit with "Sip" who also lived in California so we had a lot to talk about. I also saw a bunch of  pink tags along todays hike. They look like instructions for improvement areas along the trail. Props to all the volunteers who help maintain the AT.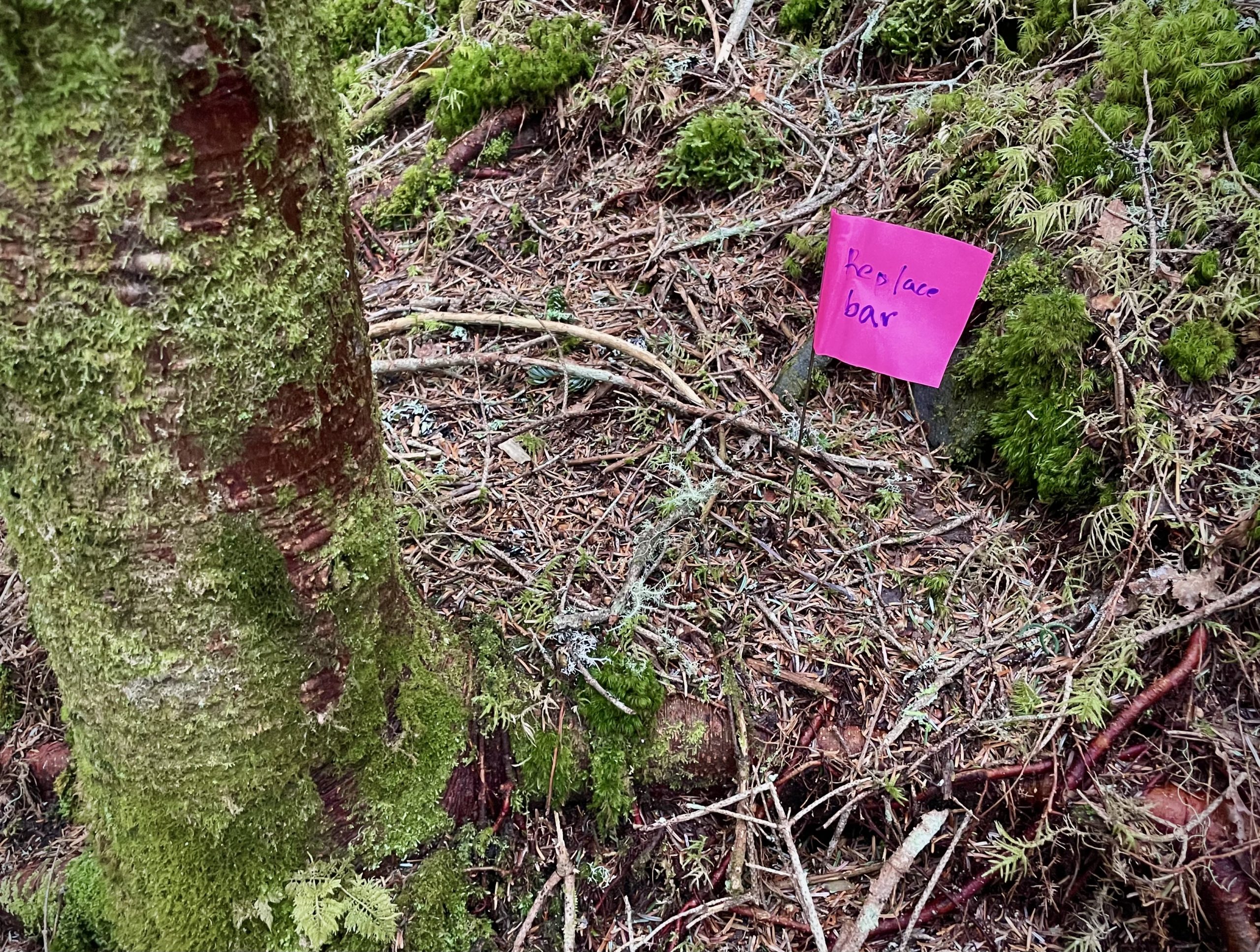 Our destination was Cosby Knob Shelter, another 6 miles for the day, light work. Or so I thought. I stopped a bit to social media. When I got started again everything hurt. My L Achilles, my R knee again, my R Achilles, my big R toe. It was an unpleasant last 2 miles. Why? Idk? The day started off with so much promise.
I also find the remnants of a military plane crash (ie: it was listed on my map and I looked for it). It made me think of the helicopter crashes that happen far too often in the Army. I've been fortunate to have never been in one but I've been on investigation boards for crashes before when I was a flight surgeon in the Army. The devastation is unreal and you feel for everyone involved. RIP brothers.
I arrived at Cosby looking for my new crew. They aren't here. There's a lot of tents and the shelter looks mostly full. Nobody has seen a group with a dog.
I find out from another hiker they've went another 2.8 miles to sleep at a fire tower. Damn, dilemma time. Do I have 2.8 left in me? It's 5pm, will I get there before sun down? A Firetower would be awesome place to sleep. There's room in the shelter here and I could probably use the rest, is the prudent answer. Am I a prudent person? Generally not, but today I was.
My laziness overtook me and I couldn't muster the energy to recompose myself and go on. I claim the last spot on the bottom of the shelter. I eat a hurried dinner of my options that are left. Taking a muscle relaxer to help me sleep, seemed only fitting because after all, I'm staying at Cosby Knob Shelter (too soon?)
As I crawl into my sleeping bag to write this, it start raining. Slowly at first, then more, and more. It dances and streams off the tin roof shelter. The intensity increases now as hail begins to shatter on the roof. It's an utter downpour when the lightning starts to strike. The entire deluge lasts probably 45 minutes. I could have been out hiking in that. Shortly after it ended another hiker arrived in the shelter, soaking wet. I'm going to start listening to my intuition more.
Sleep is nearly here. It's still light out at 6:50PM. Ive become THAT person (I'm disgusted with myself). Tomorrow should be (key word "should") an easy 10 mile day to stay at a hostel. I'm due for a shower and laundry. I look up and see an 11% scribbled on the beam of the shelter. 11% done with the AT, time flies.
Stow away in my pack for Day 24 on the Appalachian Trail.
Ryan – we go way back, one my longest running friendships. Thanks for making it so easy to pickup where we left off, even when there's years in between. I truly consider you a brother and your family like my own. Let's get everybody together soon!
Affiliate Disclosure
This website contains affiliate links, which means The Trek may receive a percentage of any product or service you purchase using the links in the articles or advertisements. The buyer pays the same price as they would otherwise, and your purchase helps to support The Trek's ongoing goal to serve you quality backpacking advice and information. Thanks for your support!
To learn more, please visit the About This Site page.