Day One: Rain and Rattlesnakes
I spent the night on Springer Mountain and while driving up there I managed to see a ton of wildlife: a ground hog, a hawk (chillin' 10ft from me at the parking lot) and a fox. I also saw a young rabbit by the water source at Springer Mountain shelter. I arrived close to dark and It was packed. Tom, the caretaker, had a hard time finding me a spot but we finally found a spot just big enough to fit my tent.
Then the night and morning gave me a proper welcome to hiking the A.T. as a thunderstorm rolled in loud and wet. I packed up my soaking wet tent and proceeded to take some pics at the 1st blaze and sign the log book. The person who signed right before me was from Jacksonville and wrote a proud "Duuuuuvaaaal" and "Go Jags". I noted "what are the odds" in my entry below hers (I live just outside Jacksonville in Florida). Then, I set off!
The four miles were great and then my energy tanked. Hard. A little rest, which felt like too long, and some water/food had me up and running again. Well, walking slowly anyway. Something which would NOT stop bugging me was my glasses. Between fogging up or getting smudged clearing the fog I was annoyed beyond belief. I felt like I was practically missing everything the trail had to offer. I wrote a separate article on this topic alone which you can read HERE . My destination for the day had changed as I found out there was no camping at Woody Gap (my original day 2 destination). So, to avoid a LONG day 2, I would be headed for Cooper Gap (12.3 miles) instead of hawk mountain (8.1 miles).
Past Hawk Mountain, I discovered Sassafras Mountain; wow that is a steep climb. Aside from somewhat of a let-down view at the top (at least In summertime) Sassafras would hold other surprises. You see, some nice hiker ahead of me left a small sign taped to a tree. As I approached and tried to read it, I discovered it said "SNAKE…". I didn't get a chance to read the rest of the sign because just as soon as my brain registered "snake" as being what was written, the silence of the trail was broken by the distinctive rattle of a rattlesnake. A rattlesnake I nearly stepped on trying to read the warning sign. Perhaps I would have seen the snake had I not been so focused on the sign. Ironic. I did not get a picture of the sign because the snake was moving toward me and away from the sign (and taking his dear sweet time!). I ended up having to go up the hill off trail a bit to go around him. Still, he only rattled and didn't strike: crisis averted.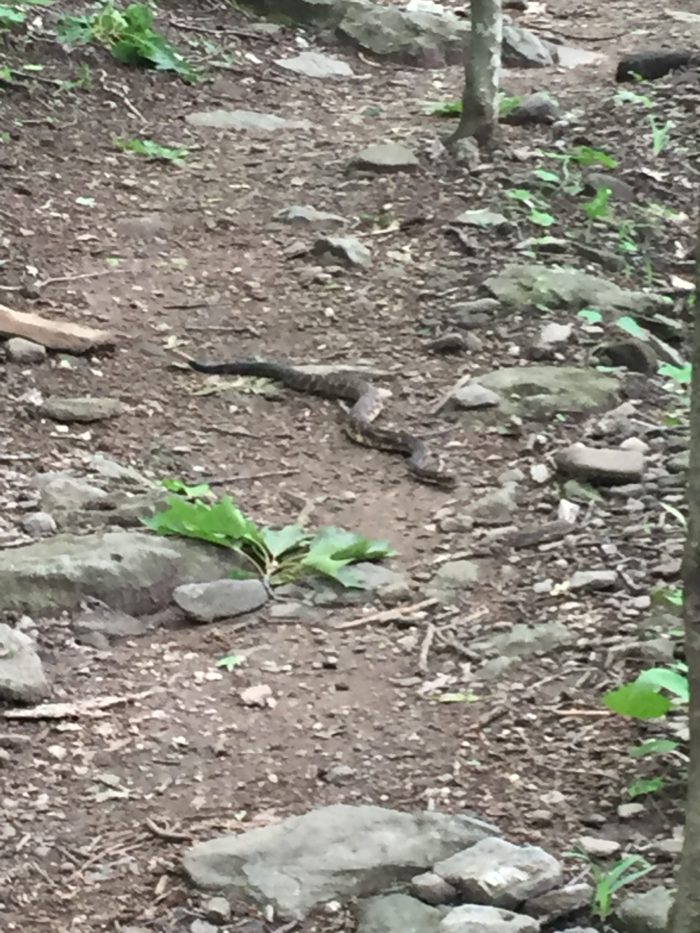 Fast forward a few miles and I ended up at Cooper Gap around 6pm with enough time to hang my stuff out to dry a bit. A nice older lady named Debbie was there and already had her stuff out on the line as well. She was taking her time hiking north to the tune of about 5 miles per day. No more rain today, including at night. Thank goodness.
Affiliate Disclosure
This website contains affiliate links, which means The Trek may receive a percentage of any product or service you purchase using the links in the articles or advertisements. The buyer pays the same price as they would otherwise, and your purchase helps to support The Trek's ongoing goal to serve you quality backpacking advice and information. Thanks for your support!
To learn more, please visit the About This Site page.