Days 7 to 13 of my 2023 AT Nobo Thru-Hike
Day 7
We made it to North Carolina! It was honestly a fairly easy day, as we only hiked 13ish miles to Standing Indian shelter. Lots of climbing, and physically I felt pretty well, however my stomach felt absolutely terrible. I'm starting to think that I should not eat breakfast like I normally do, and wait to eat until after I warm up a bit. We met many new faces at the shelter today, and saw only one or two that were familiar. We ended our day early to snag spots in the Standing Indian shelter so that we can avoid drenching our stuff in the deluge that is forecasted for tomorrow morning. Fingers crossed the storm isn't too bad and that it blows through quickly so that we can get to Franklin sooner. A town day/zero sounds wonderful. As a final side note, unfortunately I had my first piece of gear break, sort of. I noticed when I was handing my phone to Christian to take my pic at the state border, that the screen protector for my phone camera lenses shattered. Thankfully it's only the protector. So I'll try and get it replaced when we go to town. Crazy to think that it's already been a week! My mental health has been at its highest in months, and I have been continually amazed at how incredible this community is!
Day 8
Today was a mixed bag. We got absolutely soaked last night from that wild storm that lasted for nearly 12 hours. We had a late start due to waiting the storm out, and waiting on our quilts to dry out. After that, we hit the trail, and I then proceeded to spend the day mostly hiking solo. The scenery was gorgeous with the mist, and it felt like I was walking through Endor. I ended up cranking out 16mi, summiting Mt. Elbert, seeing my first ever fire watch tower, and crossing 100 miles! I think I'll reassess what my hiking plans/goals are during the zero in Franklin as I'm tired of hiking alone. Overall though, we are sort of falling in with a crew that seems to be solid, and most of them are at Long Branch shelter tonight. I'm going to see if I can hike with them during the day and continue to meet up with the guys in the evening, post Franklin.
Day 9
Pretty great day! We hiked a quick and easy 10ish miles to Winding Stair Gap where we took the shuttle into Franklin. Along the way we encountered 2 different instances of trail magic, which meant more hot dogs. We took the shuttle to what we thought was a hostel, but when we got there it was just someone's house. After knocking on the door, we met a lovely woman who told us that it was indeed a hostel, but that it was booked out. She felt bad, despite it clearly being our fault for not calling ahead, so she offered us freshly baked cookies, and then drove us to a motel in town! After checking in, we knocked out chores, and then grabbed food and drinks at the local brewery with River and Darren. Overall, an excellent town day!
Day 10
Today was meh. Started off the day sick as hell to my stomach. That sketchy quesadilla did me dirty… Because of this, I slept poorly, and I wasn't really able to enjoy my town bed or breakfast this morning. After breakfast, we checked out a local outfitter before catching a shuttle back to the trail. Due to my gut, I was moving slowly, and I got stuck hiking alone again for most of the day.. It was also incredibly cold and windy… Despite all of that, my spirits were heavily lifted when I arrived at Wayah Bald and saw the absolutely fantastic view there. After taking a snack break out of the wind, next to the tower, I was able to crush the remaining 5ish miles quite quickly despite the climb. We're staying at Cold-Spring shelter tonight, which is a fitting name considering that it's below 20 degrees! Going to see how tomorrow goes, but I might stop at the NOC for a night. I grow tired of hiking solo everyday, and would love to find some new people who hike my speed. Despite it all, it was still an awesome day!
Day 11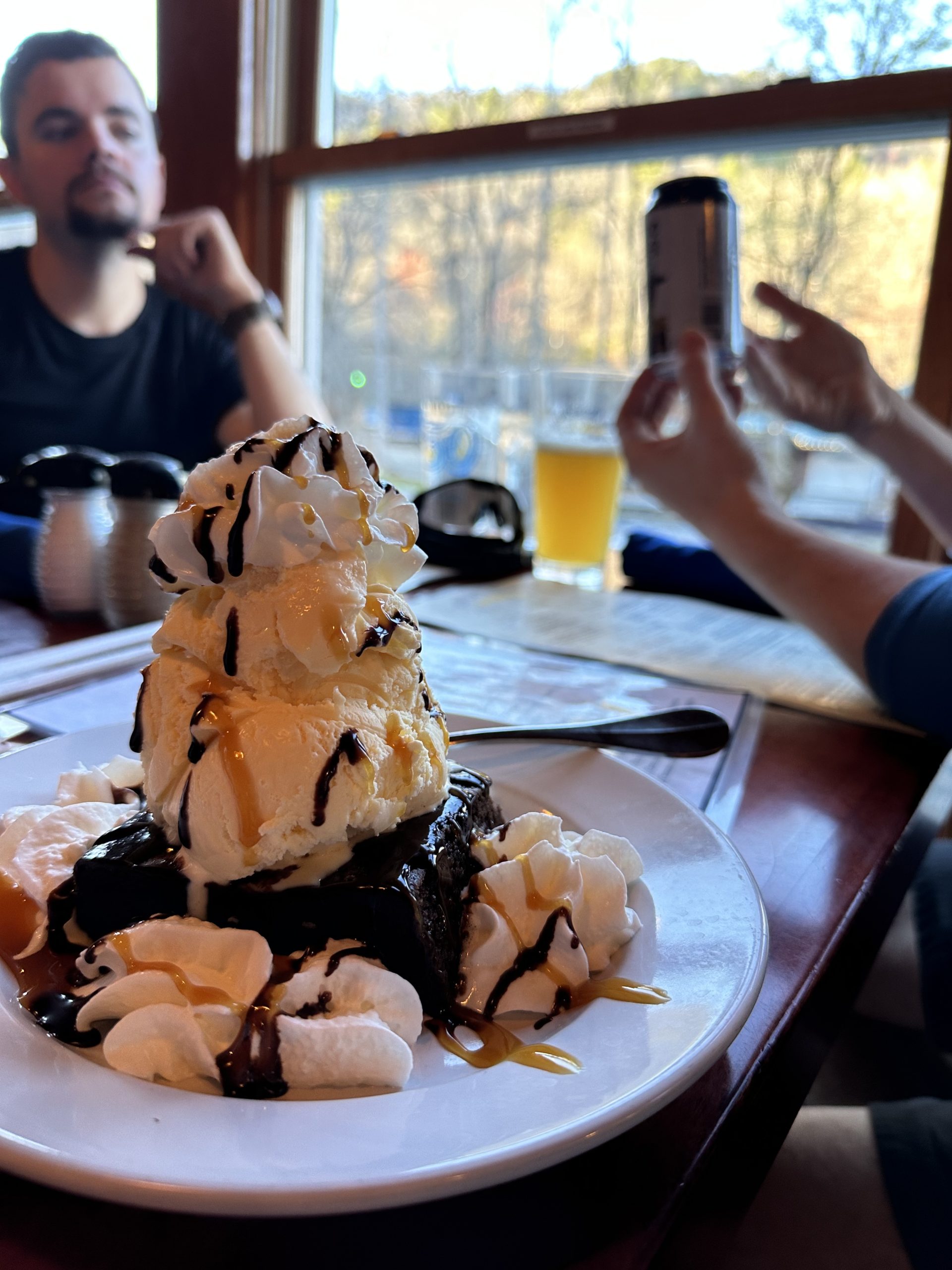 Another cool day! I got up early due to the bright sunrise on the ridge, and ended up crushing some early miles. I had my breakfast on top of the Wesser Fire Watch tower, which had an absolutely amazing view. After that I completed the epic ridge line descent down into the NOC. Towards the end of the 2000+ft drop, my knee started to bug me a bit. Once I arrived at the NOC, I went to the restaurant to grab a meal and noticed the white water rafters paddling past. I then made the decision to stop for the night, and to sign up to raft the following morning. This also would give my sore knee some time to rest, in order to avoid a potential injury. Stairmaster and Catch caught up, had lunch with me, and then decided to hike on. I was able to rope a few more hikers in to go rafting tomorrow, so fingers crossed it goes well. I also had an amazing brownie sundae at the restaurant here, which I strongly recommend to anyone else who passes through!
Day 12
I ended up taking my first zero today in order to go white water rafting!!! I managed to snag Dough Boy, The Alchemist, Stealth, and Blue's Clues into freezing themselves and joining in the fun. We sang sea shanties the whole time and had an absolute blast. Afterwards, I set up on the bank of the river with a pack of ciders and my kindle, and enjoyed the day. Eventually, a number of other faces I recognized rolled into town, and we had a massive dinner together at the restaurant. Overall, an absolutely fantastic day, and I am incredibly happy that I took a zero for it!
Day 13
Today was a wet and cold one. It started with a tough climb out of the NOC in the drizzling rain, and then it very quickly turned cold and windy. When I stopped for lunch at Sassafras Gap, I ended up having to throw on my fleece, gloves, and glove liners, and I was still freezing. After another few hours of slipping and sliding in the mud I made it to Stecoah Gap, where I met up with Sour Patch, Major, Gonzo, Dough Boy, The Alchemist, and Darren. I was incredibly thankful that we had made plans to stay at a hotel that night, so after 8ish hours of slogging through the rain and mud we were able to dry our things out. When we arrived at the hotel room, I quickly discovered that I had once again tore a hole in my pack liner, and part of my quilt was soaked along with some of my clothes. This made me even more thankful for the booked hotel! Still having a great time on trail, especially with the camaraderie built with those around me. I'll need to address the pack liner situation as it is not working for me. Likewise, I'll need to figure out how to resupply tomorrow before we hit the Smokies. But those are both problems for tomorrow!
Affiliate Disclosure
This website contains affiliate links, which means The Trek may receive a percentage of any product or service you purchase using the links in the articles or advertisements. The buyer pays the same price as they would otherwise, and your purchase helps to support The Trek's ongoing goal to serve you quality backpacking advice and information. Thanks for your support!
To learn more, please visit the About This Site page.