Desperate Measures In Heavy Rain And High Wind
A Week Of Rain
When I last wrote, I explained there were three reasons I hiked a 22-mile slack pack out of Glasgow, one of them being the week's forecast for rain and wind. The forecast has been accurate! During that slack pack, the howling rain and heavy wind did not start until after 3:30 p.m. and then let up some before PBJ, Toothless, and I completed the hike a few hours later, were picked up and shuttled back to Stanimals in Glasgow. The photo below shows the leaves on the ground which were torn off trees by the wind.
Cooking And Eating Dinner While Sitting In My Tent
The weather the next few days did not follow the same pattern. After our night in the hostel, we were shuttled back to the trailhead. We  started out in light rain, but I didn't need to put on rain gear. PBJ planned to hike more than 22 miles to Reid's Gap and shuttle to Stanimals in Waynesboro. I knew I wasn't capable of hiking that distance with a fully loaded pack over the terrain ahead.
I planned to hike to a dispersed site near Spy Rock, about 16 miles.  Toothless may have stopped at the Seely-Wentworth shelter before that. After seeing him at a morning break at the junction of the trail to the Cow Camp Gap Shelter I didn't see him again.. I don't think he passed me.
Like the day before, around 3:30 p.m., it started raining heavily  The wind was also very strong. As I approached the tentsite st Porter's Gap, I decided I did not want to ascend further into the worsening  weather. There was one tent already set up and I stopped.
I set up my tent in the rain. Because it is a single wall tent, it doesn't get wet inside while setting it up. What a benefit. Once I had the tent inside, I threw in my backpack, changed into dry clothes, got into my sleeping bag, listened to the wind and rain.
I never saw or heard the other hiker come out of his tent. I decided I couldn't cook and eat dinner outside in the rain. I considered eating a cold meal but knew  I needed a good, hot meal. So while sitting inside my tent, I was able to cook outdoors. Then I ate in my tent, something that was previously unthinkable. I also didn't brush my teeth that night, only the second time I skipped that on the trail.
The wind and rain let up some during the night, which was encouraging. I hoped to hike over 19 miles to Maupin Shelter the next day.
Sleeping In Harpers Creek Shelter
The next morning was quite misty and foggy. I started out in my rain gear so my clothes wouldn't get wet from the blowing moisture in the air and to stay warm. Soon it started raining, but as I was ascending, I stayed warm.
Two people passed me that morning. One was a young man who had tented at Seeley-Wentworth Shelter. The other was the man who had rented at Porter's Gap. He said he stayed in his tent because of being cold.
I stopped at The Priest Mountain Shelter to get out of the wind and rain to eat an early lunch, The young man was there taking a break from the weather also. He left soon after I arrived to stay warm.
Many hikers don't wear rain gear because they get wet from sweat or the rain soaks through anyways. He was of that mindset. I suppose if one hikes fast enough, one can stay warm. I can't hike fast enough to stay warm so wear rain gear.
I started to cool down so headed back out into the foul weather. I continued to ascend to Priest Mountain but had no views. I couldn't even stop to photograph the gray void.
I soon realized my destination for the night would be Harpers Creek Shelter. I did not want to ascend higher into the weather to get to Maupin Shelter. While I hiked, I heard trees crash down twice. At about 4:00 p.m., I happily arrived at the shelter. No one else was there.
I left my pack and gear at the shelter and went to set up my tent. After getting the tent set up, I returned to the shelter to cook dinner inside the shelter, out of the wind and rain. To my horror, I heard a snap and saw a tree come crashing down across the creek. Below is a photo of the downed tree.
I quickly decided I would not spend the night in my tent. Even if no other trees came down, each time I heard the wind roar, I would be anxious. I changed into dry clothes and ate dinner in the shelter in my sleeping bag. When the rain let up, I pulled up my tent and hung it up  to drip dry.
I had a good night's sleep. I heard a critter scratching about at some point. I turned on my headlamp and it disappeared. This was my first night  sleeping in a shelter on the trail.
Shuttle From Reid's Gap To Stanimals In Waynesboro
My plan the next morning was to get a weather report and decide what to do. The weather report was dismal—more rain and possibility of thunderstorms. By 10:00 a.m., I was wetter than I had been at 4:00 p.m. the day before. I had to get off trail at Reid's Gap and spend the night indoors.
Thankfully I was able to arrange for a shuttle to Stanimals in Wsynesboro. Below is a photograph taken by Super Tramp, my shuttler. Wet and cold to the bone and so happy to be getting into a warm car.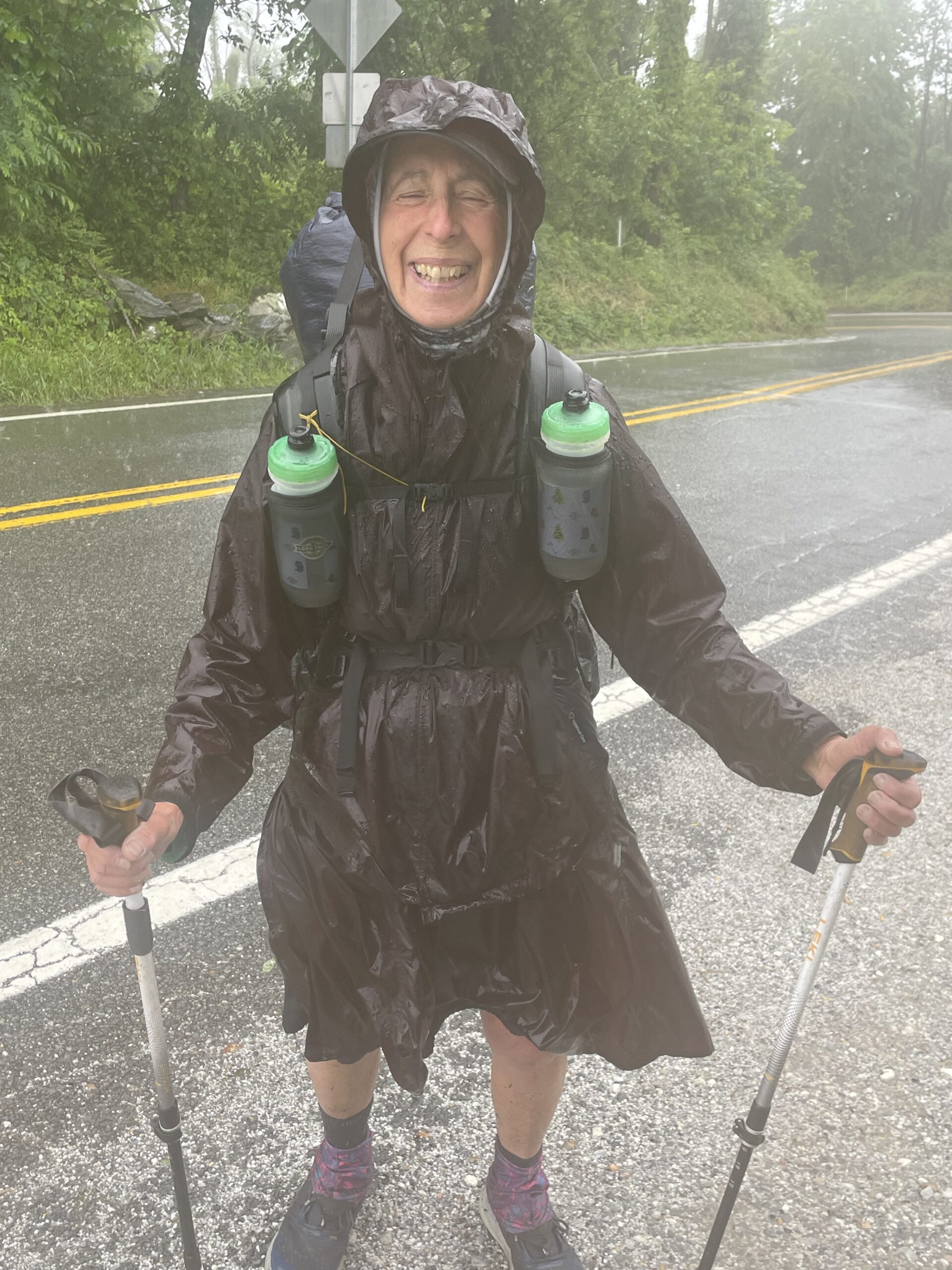 Affiliate Disclosure
This website contains affiliate links, which means The Trek may receive a percentage of any product or service you purchase using the links in the articles or advertisements. The buyer pays the same price as they would otherwise, and your purchase helps to support The Trek's ongoing goal to serve you quality backpacking advice and information. Thanks for your support!
To learn more, please visit the About This Site page.