Folks Along the Way
---
---
The holidays are over.   Now there is not much to do but watch the calendar and deal with  itchy feet syndrome.   We've weighed every pack item a dozen times.  We've considered and, hopefully, decided on the bounce box-mail drop-resupply as you go question.  We've figured out  the logistics of getting to the trail head.  We've played with different pack loading techniques so much we're in danger of going blind.  (It may be fun but we shouldn't over do it.)  So I thought I would tell you a little about some of the Pilgrims I met on the El Camino del Norte and maybe offer a little distraction from watching the calendar.
The Camino is similar to the AT in that there are overnight accomodations spaced about a days walk apart.  One of the most well known hostels is Father Ernestos Place which is pictured above.  There were a lot of people staying there so I was allowed to pitch my tent in a green area behind the complex.  (Big Agnes Slater Two if you're curious.)  Father Ernesto has been serving communties around the world for many years.  A symbol of that service is his green Land Rover which is now retired and living in a museum-like garage on the property. Father Ernestos' travels in the Land Rover are depicted by a pictorial time line on the walls of the garage.  It is inspiring to see the amount of good a man of good will can do in his lifetime.  And that trusty Land Rover helped facilitate that work for many years.
The gentleman on the left below is a Hospitality Executive in the restaurant business.  I believe that means he is the guy who takes care of all the details that make fine dining a pleasant experience.  I met him on day one leaving Irun.  He looked and behaved like a very civilized sort so I tried to keep my language in check and not scream vulgar invectives at the incredibly deep rutted, rain soaked quagmire we hiked through most of the day.  His comment that night was "We can't expect perfect conditions all the time."  For the next three days it was more of the same.   Falling frequently had become routine and the mud, rain, and slow going was taking a toll.  About mid day on day five we took a rest break at an intersection of trails.  When we got saddled up again my Aussie gentleman turned to me and shook my hand.  He then told me it was a pleasure meeting me but "I am f****ing tired of this f****ing mud and I'm heading f****ing south to the f****ing  French Way.  Lots more women and lots less mud."  That was the last I saw of him.
The fellow below is Garreth, a member of the Irish Armed Services.   He is kind of quiet until you get to know him.  He was between deployments for the UN peace keeping forces in the Middle East and had some very scary stories about encounters with the locals and  the non-locals.  (Read bad guys.)    We ended up hiking together off and on for a good portion of trail.  The photo below was taken at the intersection of Camino del Norte and Camino Primitivo.  The Primitivo is supposed to have some of the most spectacular views on the trail, but unpredictable weather as well.
We went our separate ways and met up again in Santiago.  I asked how the hike over the mountains went and he replied, in his usual understated way, "I can't really tell you much."  After a couple of pints his description of the pass crossing went something like: "As soon as we started up it began to rain.  Then came the wind and falling temperature.  Conditions got worse all the way to the summit of the pass.  There was no shelter and the only choice was to press on. By that time visibility was almost nil with heavy rain, driving wind and frequent lightning."  When I asked him what happened next his reply was; "We hiked down the mountain and found a pub."
I hope he is safe and I thank him for his service.
That's all for now.  I think I'll go try a new way to load my pack.
Ed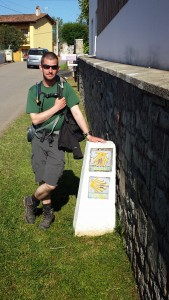 Affiliate Disclosure
This website contains affiliate links, which means The Trek may receive a percentage of any product or service you purchase using the links in the articles or advertisements. The buyer pays the same price as they would otherwise, and your purchase helps to support The Trek's ongoing goal to serve you quality backpacking advice and information. Thanks for your support!
To learn more, please visit the About This Site page.