Highlights of the Whites: People and Places
The People: NOBOs
Since I flipped north to Katahdin and have been hiking southbound, I have missed  being in community with the hikers with whom I shared early trail experiences. I started seeing hikers I knew in Maine, such as Mimi, whom I met at the NOC; Bubbles, a section hiker I met near Hot Springs; Hiawatha, whom I met in the Smokies; and a hiker whose  government name is Morgan, whom I last saw in the early days.
To my delight, I began seeing hikers I knew in droves in the Whites. First, in the section of trail between Pinkham Notch and Route 2, came Mander (wearing salamander-decorated shorts), who was in my orientation group at Amicalola Falls. I may have last seen him at the NOC. Then I saw Honeybun, whom I met at Jenny's Knob with Chia, now off trail because of getting bitten by s brown recluse, and Lasso.  I last saw Honeybun at 4 Pines Hostel. I also saw Raz, whom I knew from the first couple of weeks of hiking.  He was interested in wildflowers. and edible plants, as am I.  I last saw him at Mountain Home Hostel.
On the way to Madison Hut,  I saw Deadbeat (so named because she came into camp late and left early), whom I last saw in Shenandoah National Park and remembered my hiking partner WMG. On the way to Mt. Washington, I saw Dottie, an Australian or New Zealand hiker whom I last saw at 4 Pines Hostel; Mowgli,  whom I last saw near a bridge; Peppy, last seen earlier with Mowgli; Retro, whom I often confused with Theme Song (sorry); and Shiner, whom I met at 4 Pines.
At the stealth site on the Webster Cliff Trail, I saw Build-A-Bear, a Belgium hiker named for building a bear out of legos.  I can't remember when I saw him last.
On the way to Zealand Falls Hut, I saw Dragon Born, named after building a fire, whom I remember meeting negore Pearisburg and seeing him afterwards. He was hiking with Goldie, whom I may have first met in Glasgow. I enjoyed an evening with Phoenix (Rising) at Zealand Falls Hut. We had met at a hostel in Oen-Mar.
On the way to Galehead Hut, I saw Lucy, whom I met the first few days of hiking.  Her hiking partner Seth is off trail, as planned, attending medical school.  I last saw them in the Smokies.
I also saw Chia Pet, whom I  met the first few days of hiking and last saw in Damascus.  At Galehead Hut, I saw Swiss Chis (yes, he is from Switzerland),. whom I last saw at Mountain Home Hostel, and Hagar, whom I met at Woods Hole Hostel.
On the way to the Franconia ridge line, I saw Turmeric and Scrubs, who have been hiking together for most of the trail.  I first met Tumeric at the NOC.  I first met Scrubs at a stealth site before Fontana Dam, when he was hiking with Buckeye Boy and Torch.  All 3 men are from Germany and met on the trail within days of starting.  I was glad to hear that Buckeye Boy has recovered from a foot injury and is back on trail.  Torch has returned home.
On the Franconia ridge line,   I saw Griffin, whom I met the first couple of  weeks and discussed picking and eating ramps (wild leeks) and other edible wildflowers. A hiker who is carrying a fishing pole remembered meeting me at Clark Valley Road in Pennsylvania where my sisters were providing trail magic. I also saw Backed Up, with whom I leap frogged for awhile and last saw at Trail Crossings Hostel.
At the Notch Hostel, I saw PBJ and Secret Sauce. I met PBJ (platinum blaze John)  when he was hiking with Anonymous south of Damascus. I last saw Secret Sauce and PBJ in PA, the day before I flipped north.
On the way to Lonesome Lake, I met Triple A, so named because she provides  trailside assistance!  She recognized me.  We met last year descending Mt. Washington on the Lions Head Trail while I was serving as a Volunteer Alpine Steward for the AMC. At the time, we had a long discussion about the outdoors and  natural sciences. Last year, she was hiking with students from the University of Connecticut. Coincidentally, the day we recently met, U Conn students were again hiking in the Whites.
Descending from South Kinsman, I saw Mosey, who hikes in a sleeveless dress. We first met at Stanimals in Glasgow.  I leap frogged with her often until Pine Grove Furnace, where I watched her down a half gallon of ice cream. I last saw her at Clarks Valley Road in PA.
I later saw Cheeks.  I  first met her in the Roan Highlands with Sweet Potato.  I last saw them at 4 Pines.  Cheeks told me that Sweet Potato is off trail due to an injury.
Descending to Kinsmans Notch, I saw Hamilton, whom I had enjoyed talking to about the natural sciences. He is the only hiker I've met who is also posting on iNaturalist.
I also met Snap Pea, a section hiker, who is following my blog! She recognized me! What a chance encounter!
Descending Mt. Moosilauke, I saw Frog Spirit and CD, whom I met before Cross Trails Hostel and last saw at the Backpackers Campsite.
At Hikers Welcome, I saw Air Quotes, Theme Song,  Jersey Girl, Gadget, LST (Late Start Tom, previously Mouse Bait), Blast Off, and others. Near Jacobs Brook, I saw Hairball.  At a road crossing, I saw Gone, Snack Bar, Bird, and another hiker whose name escapes me. Later, I saw Two Minutes, then Happy Feet.  Huff and Puff recognized me. I also saw Magic Falcon.  These are all people I encountered early on the trail.
Near Smarts Mountain, I saw Patch McCracken.  When I first met her months ago, she was hiking with Lt. Dan. We leap frogged for several days.  When I last saw McCracken at Cross Trails Hostel, she told me Lt. Dan was off trail.  I learned recently that she also knew Georgia!
Finally, near the summit of North Moose Mountain, I saw Viking.  I first met Viking when he was hiking with SheRa, who he told me is still on trail. I last saw Viking at 4 Pines.  I last saw SheRa at Cross Trails Hostel.
It has meant so much to me to come across hikers I knew when I was a NOBO.  I apologize if I missed anyone. Thank you all for your companionship.
The Places:  The Wildcats
Wildcat Mountain is an alpine ski slope. I had back packed the Wildcats northbound when I section hiked it and at least one other time when I  day hiked it.  I knew that I wanted to backpack it northbound because of the section of exposed rocks north of Lost Pond.  Georgia was willing to follow my lead.
It took us 4 hours to ascend 3 1/2 miles from Pinkham Notch.  From the gondola, there was a great view of Mt. Washington and Mt. Madison. Continuing on was also slow going. We knew we would not reach Imp Campsite before dark and instead found a stealth site.
It rained  overnight,  but  cleared by morning. However, as we were going over the Carters, which I found difficult,  and Mt. Moriah, it rained fairly steadily. Thankfully the last 3 miles before Route 2 were on a much gentler grade in the woods. When we arrived at Route 2, where  we were met by my daughter Eve, trail name Monster, Georgia and I were soaked to the skin.
The priorities:  take off wet rain gear, turn on the car heater, drive to the Mt. Madison Suites to shower and change, eat dinner, and do laundry. Note:  The Mt. Madison Suites offers a discount if you pay in cash and an additional discount if you are a repeat customer.
The Presidential Range
The next morning, with Monster joining us, we resumed backpacking southbound as we started the Presidential Range, which covers over 17 miles of trail above treeline. The first two miles from Pinkham Notch were a lovely walk in the woods.  That was followed by a reasonable climb to Osgood Tentsite, including clambering over some rocky spots.  Next it was delightful to cross the West Branch of the Peabody River on a bridge. Then the fun began.
After we forded Parapet Brook, pictured below, the trail steepened.
When we got close to treeline, it started to rain. I didn't think the rain would amount to much.  Although I put on my rain jacket, I did not put on my rain skirt.  That was a big mistake as my hiking skirt was quickly soaked.
The wind picked up, the rain increased, and there was a bit of hail.  Up and over the steep rocks of Mt. Madison we went.  Monster was in the lead, followed by Georgia.  I trailed behind, slowly navigating the slippery rocks. Madison Hut provided welcome refuge from the rain.
Dinner and breakfast at the hut were delicious! The Croo's humorous morning skit, reminding guests to fold their blankets, carry out trash, and tip the croo, was based on The Wizard of OBS (i.e., Mt. Washington Observatory).
Since rain was a possibility, Monster decided to hike the Valley Way to the Appalachia Trailhead, from where she planned to take the AMC shuttle back to Pinkham Notch, where she had left her car. (She ended up hitching a ride to her car because the shuttle would have taken her hours). Below is a photo of the three of us in front of the Hut before our departure.
Georgia and I continued on to Mt. Washington.  We had a few limited views along the way, including sitings of the cog railway.
But there were no views on the summit due to cloud cover. We stood in line with others, who had driven up the Auto Road, to take a summit photo.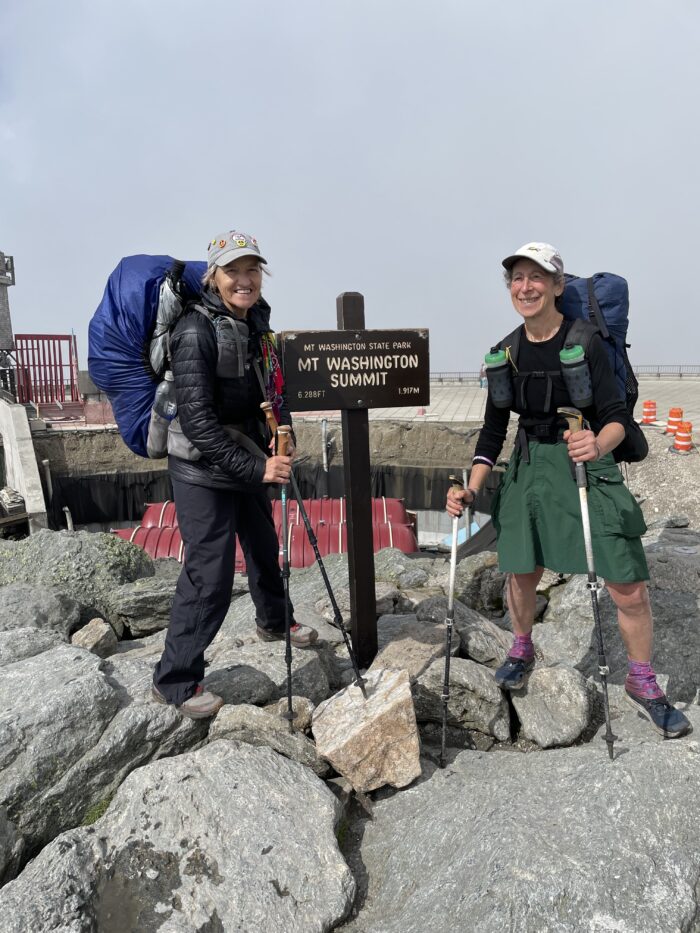 We spent that night at Lake of the Clouds Hut and enjoyed another delicious dinner and breakfast.  There I spent time talking with Liza, whom I recognized from Craftsbury Outdoor Center in Vermont.  It was delightful to get to know her! Leaving the Hut the next day, we had some excellent views.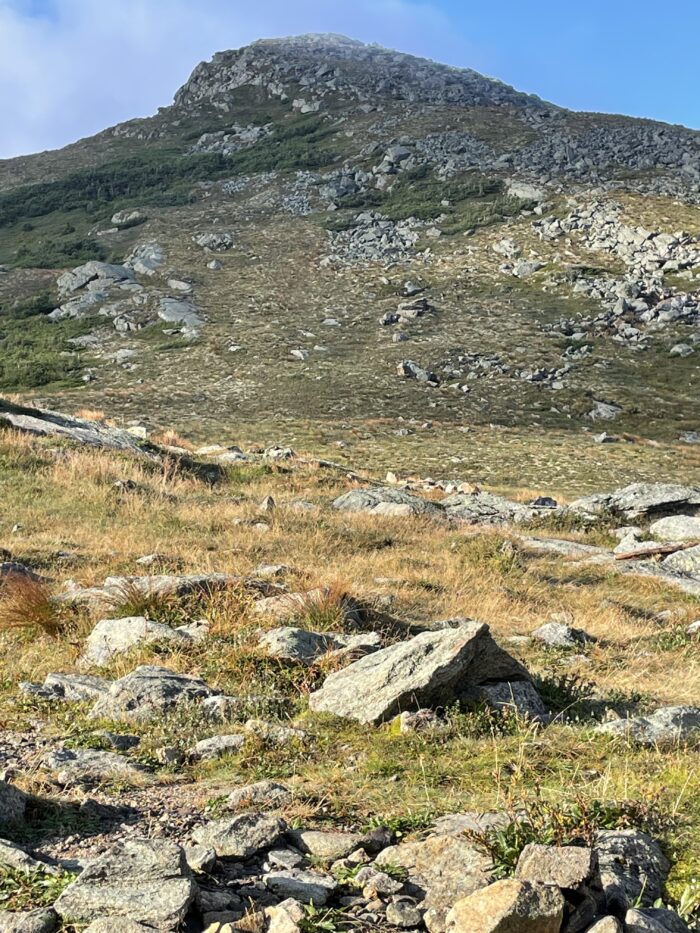 We stopped at Mizpah Springs Hut, where we enjoyed a bowl of soup and cornbread with our AT Thru Hiker Passes and then continued hiking.  We camped at a stealth site on the Webster Cliff Trail. Another NOBO had arrived before us.  Build-A-Bear, a Belgium hiker whom I had met in the south, arrived just after I set up my  tent. Minutes later, it started to rain.
Georgia and I left the next morning before the other two hikers had gotten up. As we hiked, I thought that my meager breakfast of 2 packages of granola bars (4 bars) with peanut butter was not enough to sustain me.  They say the trail provides.  Sure enough, we found trail magic on the Willey Station Road provided  by Bacon Wrap at his Ottada Way Cafe, pictured below.  Thank you!
Next we stayed at Zealand Falls Hut, where I soaked my feet and legs in the falls.  I also got to spend time talking with Phoenix (Rising). It was wonderful to reconnect. I enjoyed two more delicious meals.
The forecast for the next day was for ongoing rain.  About 15 minutes into our hike, the rain began.  It rained steadily with few  breaks. We had planned hike to the Garfield Ridge Campsite.  Instead we were fortunate to be able to stay at Galehead Hut.   I felt terribly sorry for the many NOBO's who left the hut during a lull in the rain.
The next day, the clouds lifted. We had gorgeous weather for hiking the Franconia Ridgeline, but for the wind which nearly knocked us over. The views were outstanding.
In the early evening we arrived at Liberty Springs Tentsite, which was full. In the fading light, we set up our tents  in an overflow area, where a hammocker was already in  bed.  Then we cooked our dinners in the dark at the cooking area and stored our food in a bear box.
The next day we were picked up by Colin, manager of Snow Chasers Hostel in Lincoln.   He was very accommodating, as he drove me to the Notch Hostel, to where I had new Topo Trailrunners mailed, but was full.  We enjoyed a relaxing day in Lincoln, doing laundry, resupplying, and eating in restaurants.
The Kinsmans and Moosilauke
All the NOBOs we met talked about how difficult the Kinsmans were.  From my earlier section hike and another weekend hike, I had no memory of the challenges of that section of trail.
At the outset, we had to cross Cascade Brook, which was running pretty high.  Georgia was able to rock hop it successfully.  I went upstream a bit.  Although the footing was easier upstream, I got a wet foot on my rock hop.
We stopped at Lonesome Lake Hut for our last free baked good.  There were also leftovers from breakfast and stale but delicious baked goods for free.  We filled up!
The ascent of North Kinsman was slow.  Once there, it wasn't too long before we arrived at South Kinsman.  I had remembered being there with friends perhaps 20 years ago.  Georgia and I re-enacted my memory of my friends and I putting our legs up against the cairn.
We realized we weren't going to make it to Eliza Brook Shelter before dark and instead camped at a stealth site about a mile north of it. The next day we hiked to the Kinsmans Notch Trailhead where we were delighted to receive trail magic from Yolo (You only live once).  He recently completed the AT and is now bicycling home to Ohio!  Congratulations and best wishes.
We had arranged to be picked up at the trailhead by the shuttler at Hikers Welcome in Glencliff. We stayed at the hostel for two nights, as we slack packed Mt. Moosilauke.
I was last on Mt. Moosilauke when I fell descending on the Beaver Brook Trail (AT) in 2003. In 1.1 miles, the trail descends 2,000 feet.  Pretty steep! Unbeknownst to me, I had severed my right knee ACL.  What I did know at the time, was that I couldn't put any weight on my right leg.  I was fortunate to get assistance from several hikers: 2 SOBOs, a NOBO, and 2 day hikers.
One of the SOBOs carried my pack to the Kinsmans Notch trailhead while the other stayed with me as I hobbled and butt slid down the trail. When the NOBO, trail name Two by Four (he was hiking with his dog), and the day hikers arrived, the SOBOs continued on. The 3 hikers patiently stayed with me. Two by Four carried me on his shoulders the final level stretch to the parking lot. The day hikers drove me to the hospital and stayed with me until friends from home could pick me up. Thank you one and all.
Needless to say, I experienced more than a bit of trauma as I revisited the scene of my injury and marveled that I got down the mountain without using my right leg. Thankfully, ascending the trail was not as difficult as descending, and the views on Moosilauke were superb.
Continuing southbound, I know that the trail is only going to get easier! Hooray!
Affiliate Disclosure
This website contains affiliate links, which means The Trek may receive a percentage of any product or service you purchase using the links in the articles or advertisements. The buyer pays the same price as they would otherwise, and your purchase helps to support The Trek's ongoing goal to serve you quality backpacking advice and information. Thanks for your support!
To learn more, please visit the About This Site page.