A Reflection Before the Final 100 Miles
I am 100 miles from Springer Mountain. The end isn't near… it's here.
I remember seeing the 2,000-mile markers in Maine for NOBOs (there were three of them) and promising myself that I wouldn't even think about it for myself. It was so far off! And yet, here I am.
(The result of my third failed handstand attempt.)
After spending so much time thinking about when and if I would finish, it's now time to commit to how I'll finish this last week. To do this, it's helpful to look back and reflect on the phases of my thru-hike.
Hiking slow, because you have to
The 100-Mile Wilderness was an emotional roller coaster. Katahdin, meeting other hikers, swimming in beautiful streams and lakes, summiting White Cap. Looking back and seeing Katahdin in the distance was overwhelming. I felt on top of the world, and acted the part.
(Katahdin is just above my head in the background.)
But my body gave out on day five. Nausea, chills, and shooting pains down my right leg. Days of poor sleep and pushing my limits took a toll. I cried over my dinner that night and then slept 12 hours straight.
Still, I continued to do longer days to keep up with some other hikers. I had back spasms by day seven—so bad that I was stopping every mile to do Child's Pose in the dirt. I walked the last five miles of the wilderness with my pack on the front of my body. What should have been a major milestone instead ushered in a negative mental spiral. I wondered how I could ever hike 2,200 miles if the first 100 were so difficult. I never forced a smile so much as the moment I finished the wilderness.
The back pain lingered. I had to slow down. I zeroed in almost every town in Maine despite desperately wanting to push on. Maine and then New Hampshire showed me my limits. A tweaked knee in the Whites forced more zeroes and repurposing my trekking poles as crutches.
Then, just as I was hitting my stride in Vermont, norovirus knocked me off my feet. I spent four nights at the Yellow Deli, vomiting back up every bit of food that I ate. It was two weeks and a full course of antibiotics before I could finish a dinner without getting nauseous.
Hiking fast, because you want to
And then, things got better. The terrain got easier, and my body adjusted. I could hike farther, stop in fewer towns, and it was fun. My various injuries and illnesses left me feeling so grateful for each healthy day that passed. The weather was near-perfect, and I was shocked by what my body could do. Mass, Connecticut, New York, New Jersey, and Pennsylvania were a blur, but in the funnest way possible.
Even though I mostly hiked alone, I met awesome people and benefited from generous trail magic.
­
And unlike the day I finished the wilderness, each milestone was accompanied with growing measures of awe and disbelief.
(Yes, that was the only T-shirt I had.)
I reunited with a friend from my first week on the trail, and Shenandoah was a blast.
And then, things changed.
Hiking fast, because you have to
It got cold. And rainy. It dawned on me that the last six weeks of my trip would mean less sunlight, more night hiking, and a constant vigilance about the rain.
We pushed big days to beat scary forecasts. We took fewer breaks in order to stay warm. We scrambled into and out of sleeping bags as quickly as possible.
The wind came, then the frost, and then the snow.
And now, we're 100 miles from the finish.
Hiking slow, because you want to
In Daniel Kahnamen's book Thinking, Fast and Slow, he details decades of research in the field of behavioral economics—the cognitive biases and lapses in judgment that human beings exhibit on a daily basis.
The recency bias is one example. We most easily remember things that have happened recently, and when we look back on major events in our lives, like a thru-hike, we most associate that event with how we felt in the very end.
And so we're slowing down for the finish. A double zero at the Georgia border (Griffin's parents are kindly taking us off trail for two nights to watch the Ohio State-Michigan game) and then seven days for 110 miles. The plan? Short days with lots of breaks. Campfires. A wine and cheese night. I'm considering packing out a small helium tank with balloons. "Sparklers?" Sonic beamed.
Looking ahead at the final week, I am excited to celebrate.
But looking back, I realize that the whole thru-hike was about living out and practicing one mind-set:
There are very, very few have to's
The night before summiting Katahdin, I was nervous about the 100-Mile Wilderness. "I wish we could ease into the hike. Instead, we have to climb a huge mountain on day one." Another hiker countered, "You don't have to do anything. Tomorrow, you get to summit the most beautiful peak on the trail."
Since then, every obstacle has been an opportunity to turn a "have to" into a "get to."
Maine and New Hampshire were my slowest, most painful states. But every zero was a chance to grapple with my "need" to go fast. Why was I really out here?
A part of me wanted to do this to add to my list of accomplishments, to check off another box, to say I did it, to get it done. Being a thru-hiker sounded so badass. Those Katahdin (or for us, Springer) photos looked so epic.
But getting rocked in the beginning made me realize that Springer was so, so far from certain. All I had was each passing moment, each inspiring view, each beautiful sunset—the next was never guaranteed. Every day that I made it farther in good health was suddenly a gift. I got to hike another day.
Taking time off also meant connecting with family.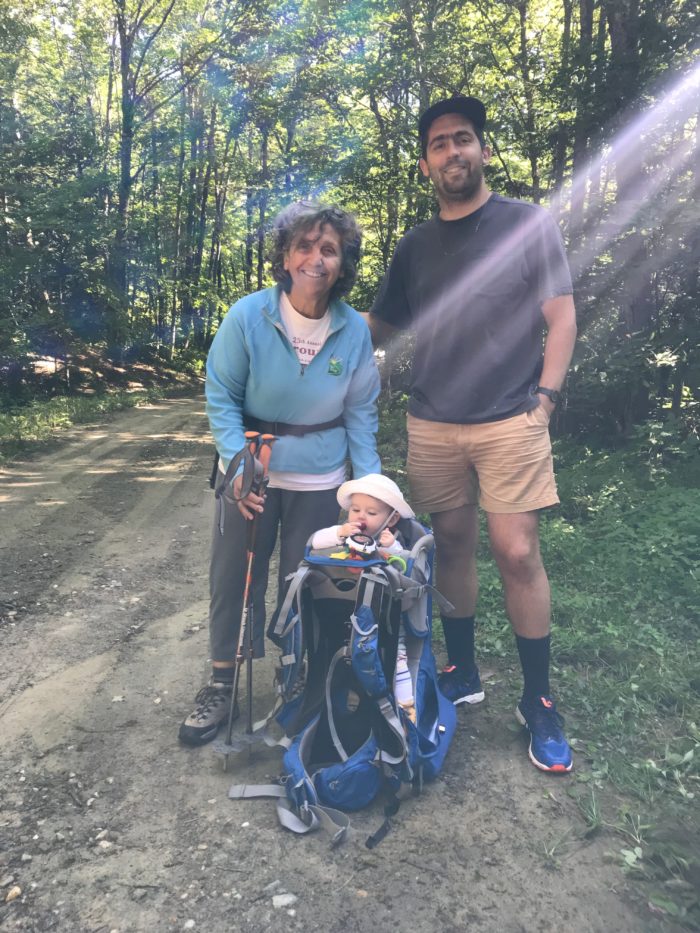 Even getting sick in Vermont provided time to reflect on how much of a privilege it is to attempt a thru-hike. I was taking a break from work, living off savings with no big responsibilities, and pursuing a lifelong dream. I had gotten noro at a donation-based hostel that let me stay four nights while I recovered. It was across the street from a Walmart and pharmacy, an urgent care was a few blocks away, and I had health insurance. I didn't have to take three days off. I got to take three days off, in relatively luxurious circumstances.
And yes, the cold is hard. It sometimes felt like something I "had to" push through. But it was also a chance to bond with some truly incredible people. They brought joy and positivity to the second half of my hike.
(Left to right: Sonic, Griffin, me)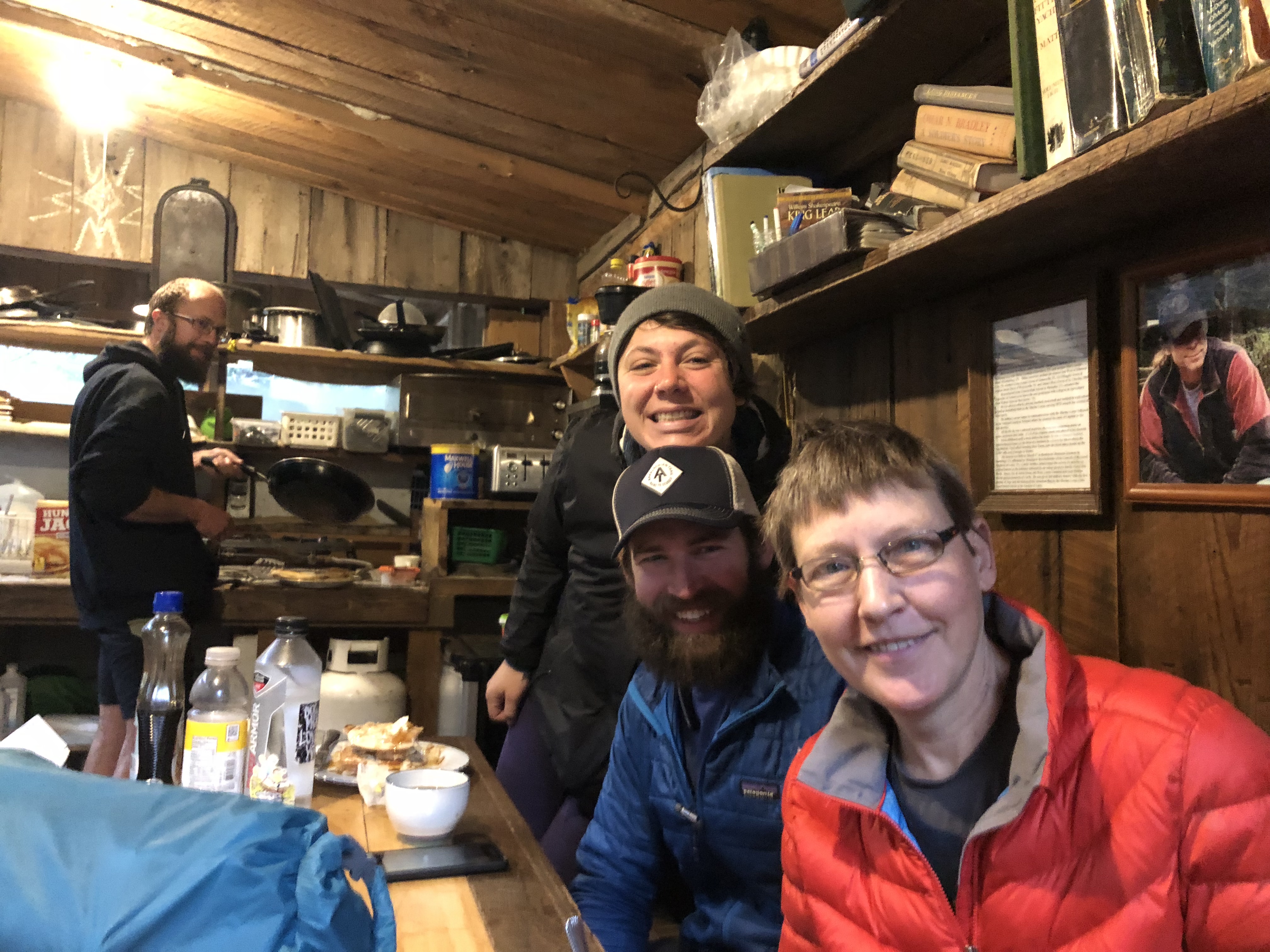 (Left to right: Sisophus, Dandelion, Griffin, Insect)
(Left to right: Breezy, me, Sincerity, Sonic)
(Left to right: me, Nate)
(Counterclockwise: me, Dandelion, Trail Dad, Du Jour, Sonic, Chug, Heart Eyes, Doc, Sisophus, Two Flowers, , Spidey, Griffin)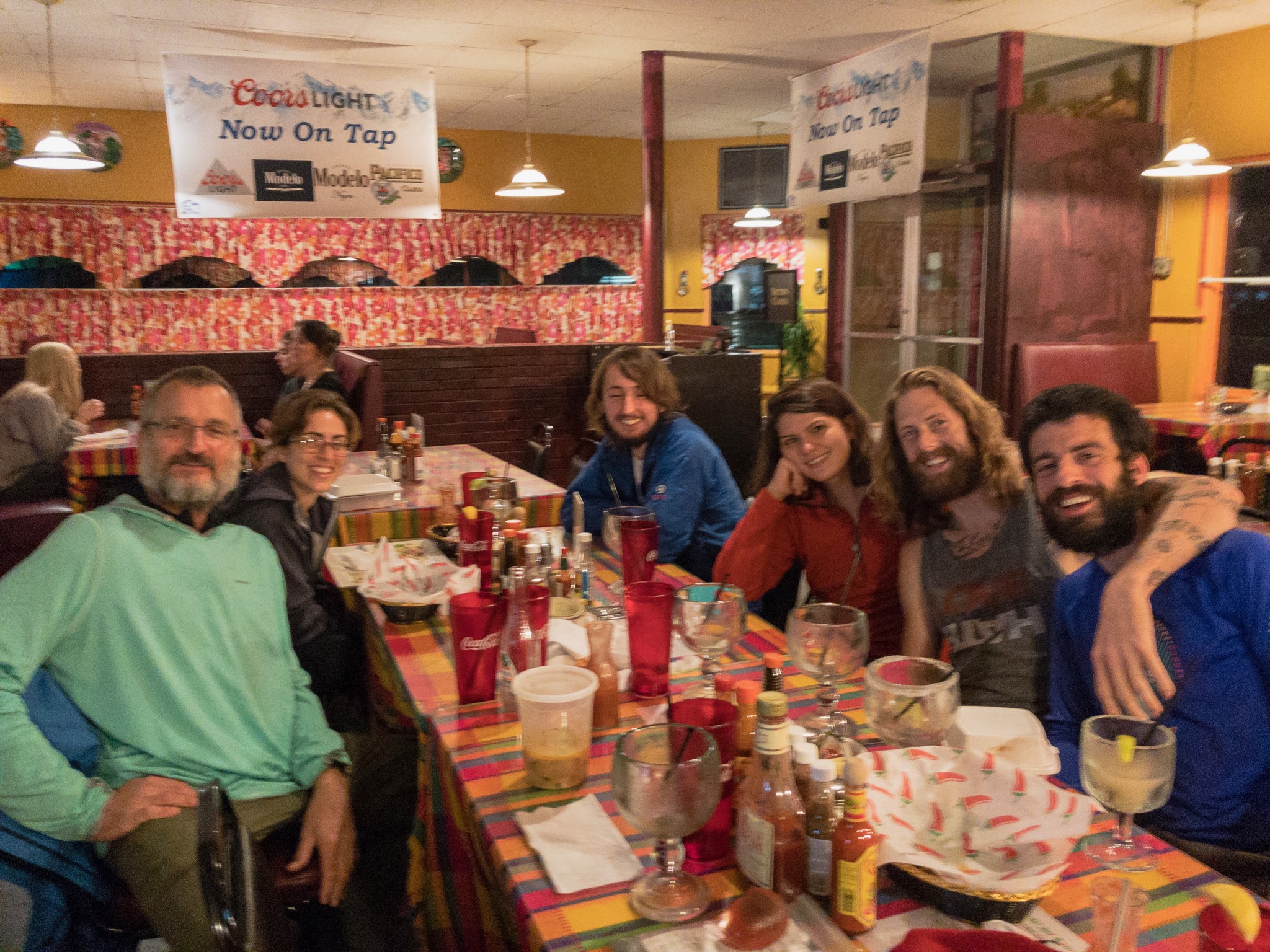 (Counterclockwise: me, Sonic, Sincerity, Bandit, Faye, Breezy)
We shared the highs and lows of Virginia. In the moments when I fell into the "have to" mind-set, someone was always around to remind me of the "get to's":
Sonic convinced me to carry holiday lights for the shelter, wear costumes on Halloween, and hang Dollar General stockings on our packs for Christmas.
Griffin brought constant energy, especially at some of the coldest and wettest moments that I was dreading.
Breezy never failed to appreciate the natural beauty of the trail while also acknowledging how thankful he was for our group.
Sincerity kept a level-headed attitude and refreshing sense of humor at all times.
Cool Boi reminded me that it's worth it to slow down and take it all in.
Smalls, with no cell phone or electronics of any kind, was a testament to the value of "less is more.
Du Jour and Heart Eyes were an unstoppable dynamic duo—bumping into them in towns always brought a smile to my face.
My friend Nate never wavered in his enthusiasm and willingness to hike a section with me, even as we trudged through snow during our first day in the Smokies.
Dandelion, Sisophus, Two Flowers, Chug, Spidey, Doc, Insect—all wonderfully positive people who I've been lucky enough to meet in these last weeks and share a few meals with.
Gratitude
I believe in the power of reflection—that writing things down and finding words to express feelings and experiences can bring deeper meaning. And after writing this, I find myself deeply grateful for everything I have seen, everyone I have met, and everything I get to do in this last week.
Springer, here I come. ?
Affiliate Disclosure
This website contains affiliate links, which means The Trek may receive a percentage of any product or service you purchase using the links in the articles or advertisements. The buyer pays the same price as they would otherwise, and your purchase helps to support The Trek's ongoing goal to serve you quality backpacking advice and information. Thanks for your support!
To learn more, please visit the About This Site page.