Finding My Rhythm, Discovering a New Normal
Greetings, folks!
I'm writing today on Aug. 7, my 108th day on this epic journey. I've gotten as into the groove of things as possible, which on trail means being good at constantly adapting and having a solid routine when grocery shopping. I know what to expect from rain, I've grown to love my personal space in my tent at the end of the day, and I've put my body to the test in more ways than I ever thought I would. Even though some parts of the day have started to feel a bit monotonous from time to time, overall I'm still loving the experience.
Since it's been so long since my last post I won't be able to cover the details of my hike as well as I have in the past, but I hope to catch up on the last month (and change) as best I can, starting with catching back up to my friends in mid June.
Part One: June 16-28, Mile 808-1,024
This was one of the most fun stretches of trail to date, being part of a tramily again after a few weeks of solo hiking. Even though I wasn't doing as many miles, the time I spent was much more enjoyable surrounded by new and old friends. Ten of us in total finished out the second half of Virginia together. We didn't always stick with the whole crew, but I was always with the majority, a little starved for social interactions with people I'd actually be spending more than just a night at a campsite with.
Some of the highlights of this section were:
–Camping at Devils Backbone Brewing.
–Cramming seven of us into a hotel room in Waynesboro and hitting a Chinese buffet (twice).
–Hike Naked Day (celebrated modestly).
–Shenandoah National Park, which included roughly 15 bear sightings.
–Celebrating the end of Big Money's flip-flop hike in Harpers Ferry with sparkling cider poured by the ATC headquarters.
–After a few weeks all together, we split up for various reasons, half of us taking some time off while others pushed on. I went into Richmond to spend time with my grandparents and recuperate a bit with the last family I'd see on trail until I finished. After this break, I met back up with Odysseus to hike with him to his finish line in the Delaware Water Gap, 300 miles later.
Part Two: July 1-13, Mile 1,024-1,300
–Odys and I kicked off his home stretch with his friend Devin joining us for a few days. He jumped right into big miles with us and even got to meet Big Money, who came out to meet us at the Maryland/Pennsylvania border with trail magic to hang out for an evening.
–We said farewell to Devin on July 4, when Odys and I came across a park and public pool, meaning we actually got to celebrate and relax a bit on the holiday. We even got trail magic when a lady flagged us down from across the pool and bought us fries. That night we met up with a few of our other friends, Jukebox, Shred, and Fedex, and hiked with them most of the rest of the next few weeks. The four of us guys (Jukebox being the lone gal in our crew) took down the half-gallon challenge when the time came. Odys's parents met up with us at one point, and I went into Lancaster to hang out with my friend Emilie from my time in Washington.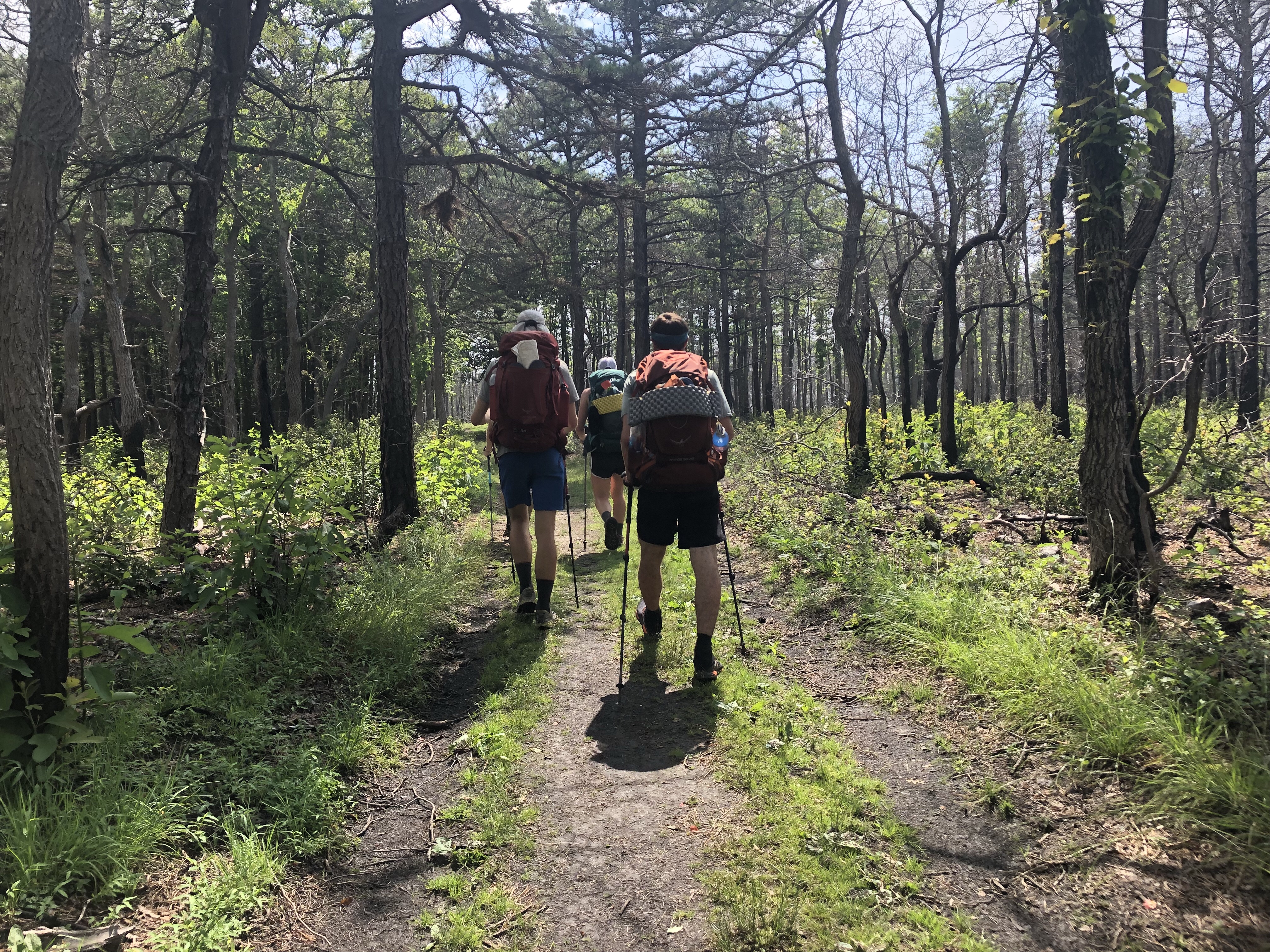 –Odys and I were underwhelmed by the rocks for the first half of Pennsylvania (it has a reputation for them) but things got pretty serious about halfway through the state. There was never any particular section that was all that difficult, but days on end of feet beating against rocks took its toll, and despite the section having few significant climbs, it really beat us up. Odys's aunt and uncle took us into New Jersey when we crossed over at the Delaware Water Gap, and from that point on every state I crossed into was (and will continue to be) the farthest north I've been on the East Coast.
–After a full rest day in NJ, I got back on trail to join up with the crew that was still around.
Part 3: July 15-Aug. 7, Miles 1,300-1,748
–The first thing I did when I started back on trail solo was catch up with an old friend from my early camp days, Erin. We had lunch together my first day back on trail, which put me behind just a little bit from catching the group. By the next day I was with them, and they'd picked up a few more hikers, putting our group at six. In addition to Jukebox and Shred, we started hiking with Peaches and Bryce, people I hadn't seen since NC, and a girl I hadn't met before, Puff Puff. The six of us clicked pretty well, and we've stuck together for the most part since mid July.
Some of the highlights of the last few weeks have been:
–Trail magic most days in July.
–Frequent gas station passings, meaning lots of ice cream and Gatorade.
–Lots of parks and lakes.
–The 24-24-24 challenge, during which Shred, Peaches, and I attempted to drink 24 beers and hike 24 miles in 24 hours. Peaches and I were even able to succeed!
–Multiple nights under roofs through Juke Box's use of the "Couch Surfer" app.
–Odys coming back to bring us trail magic.
–Lots of new states (New Jersey, New York, Connecticut, Massachusetts, Vermont, and New Hampshire).
–A healthy stretch of rain.

I stayed with the group until about a week ago through all these fun experiences, at which time I wanted to challenge myself to see how many miles I could hike in a single day before we all got to New Hampshire and the terrain become too difficult. On Aug. 1, I hiked from 4:40 a.m. to 9:45 p.m, stopping only for three 20-minute water breaks and covering 41.3 miles. This put me ahead of the crew so I took a rest day in Killington, VT. The crew ended up taking their own rest day before then, so I hiked on ahead to meet another friend from camp in Tennessee, Lindsay, and I've been staying with her and her husband for three days now in Burlington. Now behind my friends, I hope to catch up in the next few days to tackle the famously difficult White Mountains together in the coming week.
My journey has continued to be incredible and exciting, and I expect the last two states to be no different. I set out tonight to get back on trail after some major time off in a cozy, quaint Vermont city. It's only been a few days since I've been hiking, but already I've become reacquainted with rest, relaxation, and a fixed roof over head. I'm excited for the binge of rest I plan on taking at the end of my trek, but I'm not done out here yet. 440 difficult mountainous miles lay ahead of me still. Off I go.
Affiliate Disclosure
This website contains affiliate links, which means The Trek may receive a percentage of any product or service you purchase using the links in the articles or advertisements. The buyer pays the same price as they would otherwise, and your purchase helps to support The Trek's ongoing goal to serve you quality backpacking advice and information. Thanks for your support!
To learn more, please visit the About This Site page.