Journey's End: The Final Miles
Camp Or Sleep Indoors?
Over the last 18 days on trail, there was some rain, but more significantly, very cold evening and early morning temperatures.  The only situation more difficult for me than hiking in cold rain is going to bed and getting up in the dark and cold.  With fewer daylight hours and temperatures dropping to the mid-twenties, 3rd Wheel and I often chose to stay indoors.  Of the last 17 nights on trail, we camped 7 times.  We stayed in hostels 5 times, motels 4 times, and a B&B once.  Best indoors lodging in this section:  Lake Lodging Motel, Countryside Deluxe B&B, and The Lookout Hostel.
Most of the times we camped, although my body was warm, my socked feet never warmed up overnight.  When we stayed indoors, my feet were fine.  Whether sleeping indoors or camping, when we started hiking, morning temperatures usually ranged between the mid-20's to high 30's.  Starting from a campsite, it would take an hour or more for my mittened hands to warm up and longer for my feet. Brrr.
Trail Highlights
With my knees and feet squawking about rocks and steep descents, if a blue blaze trail was available, I took it.  At least one trail sign actually said: "fun way" or "easy way."  My definition of fun does not include bouldering or scrambling up, over, and down difficult, wobbly, sharp, ankle-twisting rock.    3rd Wheel, on the other hand, chose the difficult routes and enjoyed them.   Imagine that!
At age 44, 3rd Wheel is blessed with fully-flexible joints and good balance and agility.  He told me he started honing his rock hopping skills as a kid, and he made a game of rock hopping on trail.
Sometimes there was no choice, and I had to take the only route, one that was difficult for me. I longed for my younger body, when I, too, leapt from rock to rock.
The "Lemon Squeeze" is a famous spot on the trail, which is not particularly difficult and is fun.  One must squeeze through a narrow opening between two massive rock walls.  Below is a photograph of 3rd Wheel coming through.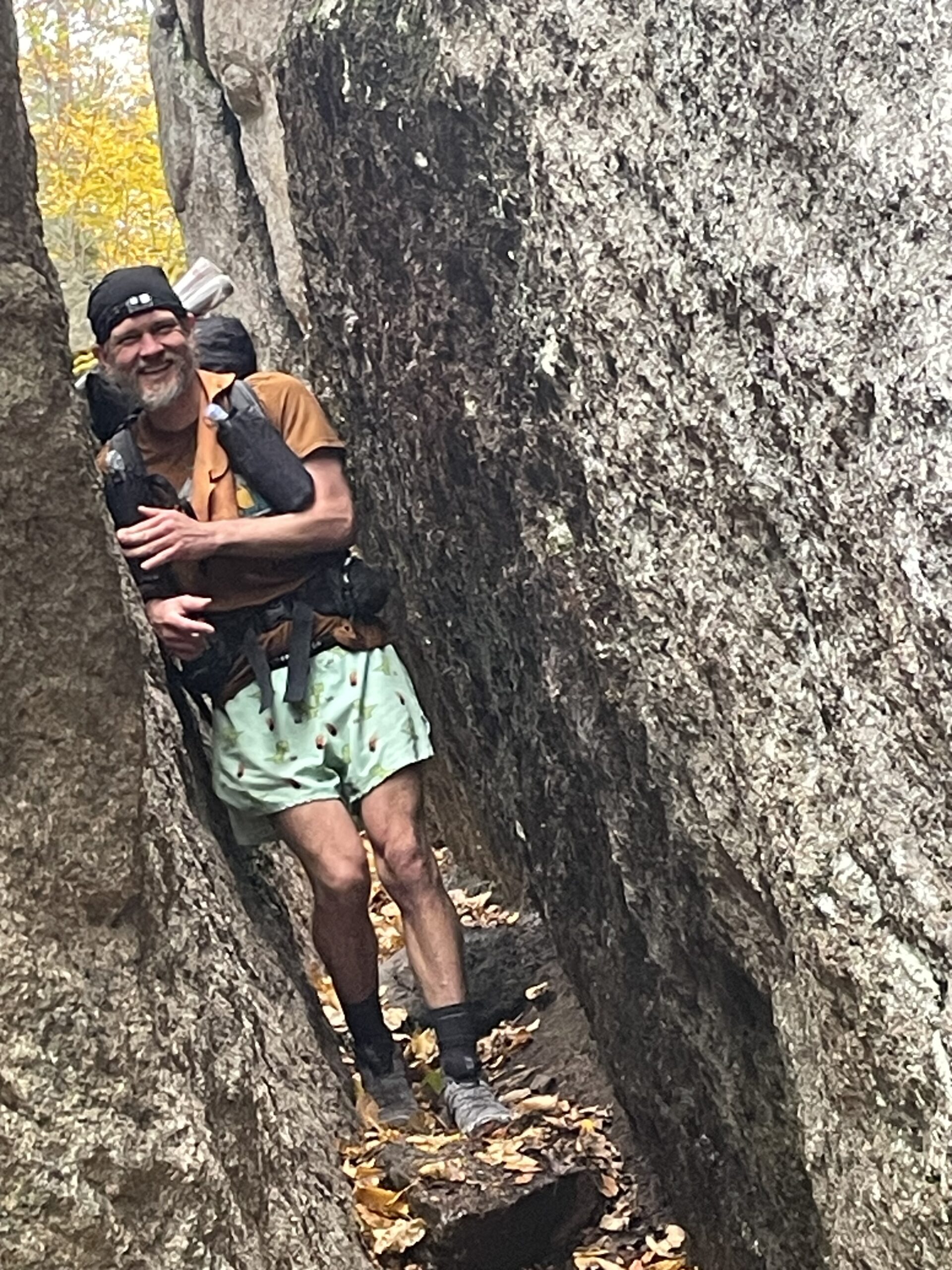 I continued to be intrigued about signs of former human habitation, such as woods roads, stone walls and stone foundations.  Below is what appears to be an aqueduct at an outlet of a pond.
Anytime we stayed indoors, we ate delicious, enormous meals, whether sitting in a restaurant, having food delivered, or buying food at a store. Sometimes we hiked very near farm stands or restaurants, where we also stopped to eat.  3rd Wheel was willing to walk a mile or more off-trail to a restaurant.  My legs and feet only had the ability to walk 14 to 16 miles per day, so I did not take side trips or wait for establishments to open.  But I enjoyed a lunch stop at Heaven Hill Farm on Route 94 south of Pinwheel Vista and eating dinner at Mountain House Tavern outside of Branchville.
We each had mail drops waiting for us in Delaware Water Gap and decided to shuttle ahead so as not to miss arriving at the post office before it closed. We spent three nights at the Church Hostel in DWG due to two days of rain.  We slack packed one day and left late in the morning on the next to minimize time hiking in the rain. While in town we had delicious meals and one night heard a fabulous jazz band at the Deer Head Inn.
At the hostel in DWG, we met Fruit Bat and Crunch, who are finishing up a thru hike they started last year, and Colossus, a flip flopper who often road walks.  He is certainly hiking his own hike.  We saw Fruit Bat and Crunch again at The Lookout Hostel, along with Matador, who was about to finish his flip flop hike at Route 501.  Hurray for Matador! Fruit Bat and Crunch will finish in Pearisburg, VA.
The day I hit the 100 mile marker, 3rd Wheel hurried ahead and creatively wrote "100 MILES TO GO" out of stones, twigs, and pinecones.  I was giddy with excitement and joy!

Last Days On Trail
As my miles to complete the trail continued to dwindle, I thought: this may be my last gorgeous sunset or sunrise, my last very steep ascent or descent, the last time I get to camp at dusk or am awake before dawn.  I marveled at plants that had not yet withered, like the fruits of the pokeweed below.
However, I also imagined returning home, sleeping in my own bed, changing into clean clothes daily,  being warm, cooking and eating a variety of foods and meals, and having indoor plumbing and heating.  I began to RSVP to upcoming social and community events and to schedule appointments.
On my last day, I only had to hike 6.7 miles to Route 325, Clark Valley Road, where I had arranged to be picked up by shuttler Mani-Pedi. (He was named while his daughter gave him a mani-pedi at Iron Master's Hostel). I asked 3rd Wheel to catch up to me in the morning so we could hike my last few miles together.  I was deliberately hiking slowly, savoring my last steps. With about 3 miles to Route 325, I stopped for a break, and 3rd Wheel caught up.
As we hiked together, we each dug up untold stories and/or spiritual or philosophical thoughts to share with the other.  At one point I said to 3rd Wheel that if I didn't have appointments scheduled, I would simply continue hiking with him. And I meant it. I could hardly believe I had already hiked almost the entire AT, and I couldn't imagine not hiking that afternoon and the following day.
About an hour later, I was ready for another break.  The GPS on FarOut indicated that I was 1.1 miles from the road.  Responding to texts I had received earlier from my sisters, daughter, and niece, I wrote that I had 1.1 miles left to hike. My daughter Eve wrote back: "Victory lap." My sister Leslie responded with a smile-face emoji.  My sister Susie wrote:  "The home stretch." I later learned that Eve had posted on Facebook that I was about to complete the trail and encouraged people to cheer me on, which they did. So sweet.
When I stepped over what was to be my last stream, I broke out into a song which my friend Julia had recorded on my cell phone before I began the hike: "Oh here is the stream, the pure flowing stream, the stream of heavenly waters; Oh come and drink and be refreshed, mothers, sons, and daughters. . ."   My emotions were running high. I was already feeling nostalgic, also joyful and triumphant. Running through my head was the line "By George, I really did it, I did it, I did it."
Then I could hear the occasional car from the road.  Soon I recognized the stream near the parking lot.  As I approached Route 325, I handed my cell phone to 3rd Wheel.  He recorded my final steps as I sang, "Hallelujah."  I couldn't have been happier.
After we ate an early lunch together by the side of the road, we parted.  3rd Wheel continued hiking, arriving in the dark at The Doyle in Duncannon. He will finish the trail in Daleville, VA.
I waited for Mani-Pedi, who would shuttle me to Love's Truck Stop for a shower and then to the Harrisburg Airport, where I would catch a flight home.
Rest, Recover, And Celebrate
There's no place like home. My first day home, I went grocery shopping and napped. The second day, I had my teeth cleaned and scheduled an appointment with the dentist to address the tooth which lost a filling and/or broke in early September. On the third day, I received structural foot reflexology to ease my achy feet and numb metatarsals. On the fourth day, I joined my Jewish community for a Sabbath morning service and received a soothing massage in the afternoon.
The fifth day, I had a party to celebrate my home coming. A crowd of friends showed up to eat, drink, and hear some of my tales. Below is a photo of an artfully decorated and delicious cake.
Then I saw my PCP. Blood work has come back normal. Left knee x-ray shows moderate to severe osteoarthritis of the medial tibial femoral joint. No wonder my knee still hurts!  I have resumed taking ibuprofen and started PT.  Tomorrow I will try swimming laps.
Next month I will see my orthopedic surgeon, who will probably give me another cortisone injection.  I hope to maintain my fitness and strength this winter by cross country skiing.
Next May, I plan to go to Trail Days in Damascus, VA.  I so look forward to catching up with everyone I met on the trail. I miss you all!
I end my account by congratulating Georgia, of Team SLOBO (that's the 2 of us), who recently completed the trail in Harper's Ferry. Bravo!
Affiliate Disclosure
This website contains affiliate links, which means The Trek may receive a percentage of any product or service you purchase using the links in the articles or advertisements. The buyer pays the same price as they would otherwise, and your purchase helps to support The Trek's ongoing goal to serve you quality backpacking advice and information. Thanks for your support!
To learn more, please visit the About This Site page.