Morale on the Trail and Dead Electronics
Waking to the sound of silence is nice when it means the sound of rain is absent. It's a stark contrast to last night's rainstorm, and I was glad to be in the lodge while the rain and thunder came down hard. I moved slower than desired this morning getting ready to hit the trail. The lodge offered breakfast and I had a toasted bagel and banana with Dad before checking the weather one last time. Forecast: More rain! If I can manage to avoid the lightning, morale on the trail should be fine.
Final Decision
Dad had made his final decision about getting off trail and I think it was the right call. I said my goodbyes before he hit the road for home and I caught the shuttle back to the trail. Steve, the driver, was pleasantly chatty and even brought me in for a hug before turning me loose on the trail. His positive attitude and the hug were great for my morale. My suspicion is that Steve planned it that way since he is both a former thru-hiker and ex-special forces for the British military; I assume he knows how to engage people with an purposeful result. It worked. He totally made my morning.
Day Hikers?
The rain followed me on my climb to the spring that is shy of Wayah Bald. On the way, I met two southbound hikers that appeared to be day hikers. Who day hikes in this weather? They stopped briefly and we discovered that we had both met H20, a hiker I met yesterday at Rock Gap Shelter. The two friendly hikers soon said goodbye and continued southbound. Seriously, it's raining too hard for them to be day hiking. I would presume they are slackpacking but it's early in the morning and the mileage doesn't seem to make sense for the time of day.
Dead Electronics
Arriving at the spring, I filter some water and decided to make good on my promise to the family that I would use my SPOT Messenger and check in. I haven't really been using it because Dad had been getting a little signal here and there, but since he's gone I promised I would check in. I pulled it out and tried to turn it on. Nothing. I pressed the power button again, harder this time. More nothing. At this point, I'm tucked inside my poncho fishing a fresh set of batteries out of my pack. The batteries in the SPOT were put it just a few days ago, but I thought I should give it a try. I keep everything dry and get the new batteries installed. My SPOT messenger is officially dead.
My morale absolutely tanked. Aside from feeling a little lonely, I was also not sure when I would be able to check in since I had been getting terrible cell service and this device wasn't supposed to fail, too. I knew my family was already worried about me out here hiking in subtropical storm Alberto and the fact that I had run into so few other hikers seems to validate their fears. That and the fact that two news anchors from South Carolina died from this storm yesterday when a limb fell on their vehicle. It's just not reassuring.
This Is Why I'm Here
Feeling vulnerable, I reminded myself that this is part of why I am out here. Not that I enjoy feeling unsettled, but there is something healing about being stripped down to the most basic things and knowing yourself deeper through experiences like this one. I question if I should even feel vulnerable at the moment. After all, I only lost an electronic device, right? Not really. I process through the fact that my Dad just left, I can't control the electronic failure, and I'm not purposefully letting my family down. I finish filtering my water. The sound of the rushing spring water, one of my favorite things on the trail, adds to my rising level of tranquility amid the storm. A long, deep breath and I'm ready for the next challenge.
I climbed toward Wayah Bald and when I stepped off the dirt path onto the pavement, I could see a map and sign with a roof and I huddled under it to have lunch. The rain and fog, I would later discover, had completely hidden the giant stone tower just a few hundred yards up the asphalt path. It would have provided much more shelter. Regardless, I had lunch in a relative lack of rain and was able to get cell service and check in with my family and explain that my SPOT messenger had died.
Changing My Mileage Plan
My original plan for today had me ending at Cold Spring Shelter, just past Burningtown Gap. Because of the rain, inclement weather and the fact that my SPOT died, I make the call to get picked up at Burningtown Gap and stay another night at the lodge. It's sort of a luxury, but it's also a chance to keep my eye on the weather and make the best decision about continuing forward or not. Not to mention, I'm hoping I can troubleshoot this SPOT device and get it working.
Besides, my friends from Virginia are supposed to be at the lodge tonight and it will be cool to drop in and hear about their hike this year.
After I had arranged the shuttle to the lodge and finished my PB&J wrap, I climbed the asphalt path and discovered the tower on Wayah Bald. Shocked that this behemoth could be concealed by the fog so well, I poked around before finding the white blaze on the other side where the AT continued. There was zero view here with visibility being somewhere around 200 yards, max.
Awareness Weighs Nothing
The next four miles go fairly uneventful. Just rain and walking. I did stop at Licklog Gap for a break. The open area was mostly under a few inches of water so I puddle jumped my way to a spot where a stump would make a good seat. I threw down my sit pad (from Dutchware gear ) and took a seat. This pad is one of my favorite upgrades to my load this year. It seriously saves my bony butt from hurting.
I pulled out some snacks and took in the soggy scenery. The sounds of the rain in the forest played like an orchestra while I ate. It's intriguing but not unsettling. Being alone and in nature, I always try to remain aware of my surroundings. The rain keeps my head on swivel and I rely less on my hearing as the sounds would be overwhelming; everything sounds like something. Despite my awareness, I'm not scared in the least. My awareness is part of the reason I don't have to be concerned. It's a tool I can carry on my hike with zero weight penalty.
Burningtown Gap
I pop out of the woods into Burningtown Gap almost abruptly, like a drowned rat that accidentally darts out of the shadows into the alley. Without taking off my pack, I busy myself trying to catch cell reception and get just enough to send off a few messages that I'm early (again) for my shuttle. Now I can rest. I sit through several bands of soft and hard rain, but still no lightning. God answered my prayers: A few distant thunder rumbles throughout the day was the worst of it.
Suddenly, another drowned rat appears. Rather, a dog and his owner: Indy and Annalise. I'm surprised both by their unexpected appearance and the fact that I assumed they would be ahead of me and I would never catch them again after yesterday. She admits to being lazy from the rain today and not getting up until 10 a.m. She also planned to stay at Cold Spring Shelter tonight. I wish her and Indy farewell and wonder to myself if they will reach Katahdin before Baxter closes. Will she decide to flip-flop her hike? I think it's her best shot at finishing the AT this year. Oh, well, hike your own hike and all that… well wishes. Another few bands of rain pass and my shuttle arrives to take me to the lodge.
Paging Virginia Hikers
When I arrived at the lodge, I showered up and made a saddening discovery: No Virginia friends. The lodge told me that they had to call off their hike and had already come by in a rental vehicle, picked up their boxes and left. Bummer. I found out later that they had an unfortunate series of events that led up to this point: there was a broken backpack, a bear got someone's food bag, the rain and, last but not least, two of them got some kind of G.I. bug. Yikes! I am now glad to be out of the rain and free of the stomach bug. Hope to see you again, Virginia crew. <3
Though my friends from last year weren't at the lodge, I did manage to make a new one. I met Bear Bait, who was about to start a section hike. I found out he attempted a thru-hike a few years ago and did 1,000 miles on the north end of the AT. He said he quit because he was lonely, which I find relatable. That's a big section hike, ha ha! Believe it or not, he had his truck on site (he was leaving it and would shuttle back later) so he took us into town and we ate at the Italian place in town. How's that for spoiled? Two nights on the town in as many days. We had some great conversation and it was a pleasure to meet you, Bear Bait.
Is Everything OK?
Before it got late, I worked on troubleshooting my SPOT messenger device. I meticulously dried out any moisture in the buttons and so forth and tried to turn it on again. Success! I wasn't sure if it would perform that way again in the field, but I figured I should see if it works while it was dry. It's only been a few days since I performed the last function test, but now I had no idea. I set it in a window so it would get GPS signal and sent an "OK" message.
Moments later, Bear Bait and I are talking and I see the lodge owner, Maggie, coming down the hill outside. "Maggie looks upset," I said. She ran in and said, "Is everything OK? Your SPOT messenger device has sent an SOS." She was on the phone with the SPOT monitoring team. Shocked, I assured her that everything was fine.
I spent most of the evening explaining the issue to SPOT and they were very understanding and wanted me to have a fully functional device as soon as possible. The device wasn't anywhere near new, but they still took very good care of me. They offered to send me the newest comparable generation device (Gen 3) at a discounted price. I'm also glad the SPOT team was smart enough to call the lodge based on my location and verify what was happening instead of immediately sending emergency services. I guess I'm even more glad that this didn't happen at the shelter I intended to stay at tonight. I feel like I would have had a surprise visit from search and rescue. Thanks, SPOT.
Issues resolved, I check the weather again and head to bed.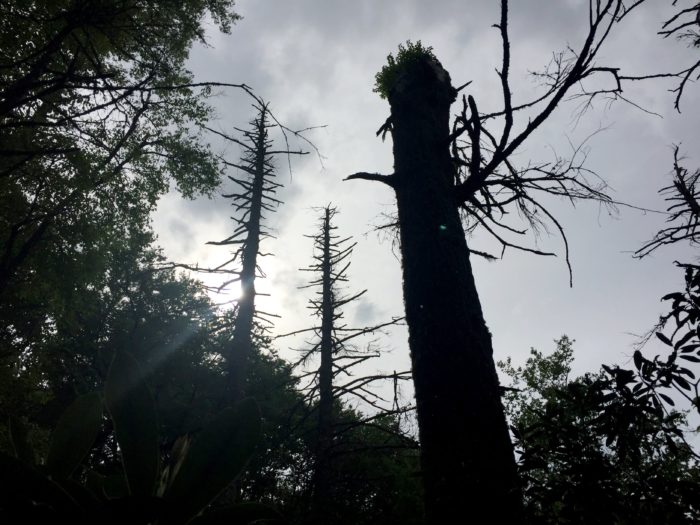 Affiliate Disclosure
This website contains affiliate links, which means The Trek may receive a percentage of any product or service you purchase using the links in the articles or advertisements. The buyer pays the same price as they would otherwise, and your purchase helps to support The Trek's ongoing goal to serve you quality backpacking advice and information. Thanks for your support!
To learn more, please visit the About This Site page.