New York: Days 28-34
WARNING: I am back to writing a long post! I have lots to say about how great New York was!
New York was a blast! From Deli-Blazing, the Lemon Squeezer (and other tricky climbs), The Trailside Zoo (yes! a Zoo! you read that right), and some absolutely gorgeous views along Bear Mountain!
As I wrote previously, hikers snake back and forth over the NJ-NY border a few times before trail-officially crossing into NY. The first town in NY I hit was Warwick, which I wrote an entire post about here. But this post is dedicated to the other parts of NY I enjoyed. First off, while in general I continued to hike with my friends Paddington and Milkman, I started picking up more and more miles, and I found that in general my pace was faster than theirs, so it seemed that we would naturally part in the future, but we enjoyed our time together while we had it.
The Lemon Squeezer
There are a couple of notable places on the trail where hikers need to do more than just hike. Sometimes we have to scramble up rocks, scurry around boulders, or climb up a ladder welded into said boulders.
Often these places are just another trick the trail throws at you. But every once and a while, the obstacle becomes so well known, it gets a name. One such place is The Lemon Squeezer. First, The Lemon Squeezer takes hikers through a tight opening between two large rocks.
Then, one must walk between another two large rocks, and as the hiker moves forward through this opening, it gets more and more narrow (i.e., it squeezes you).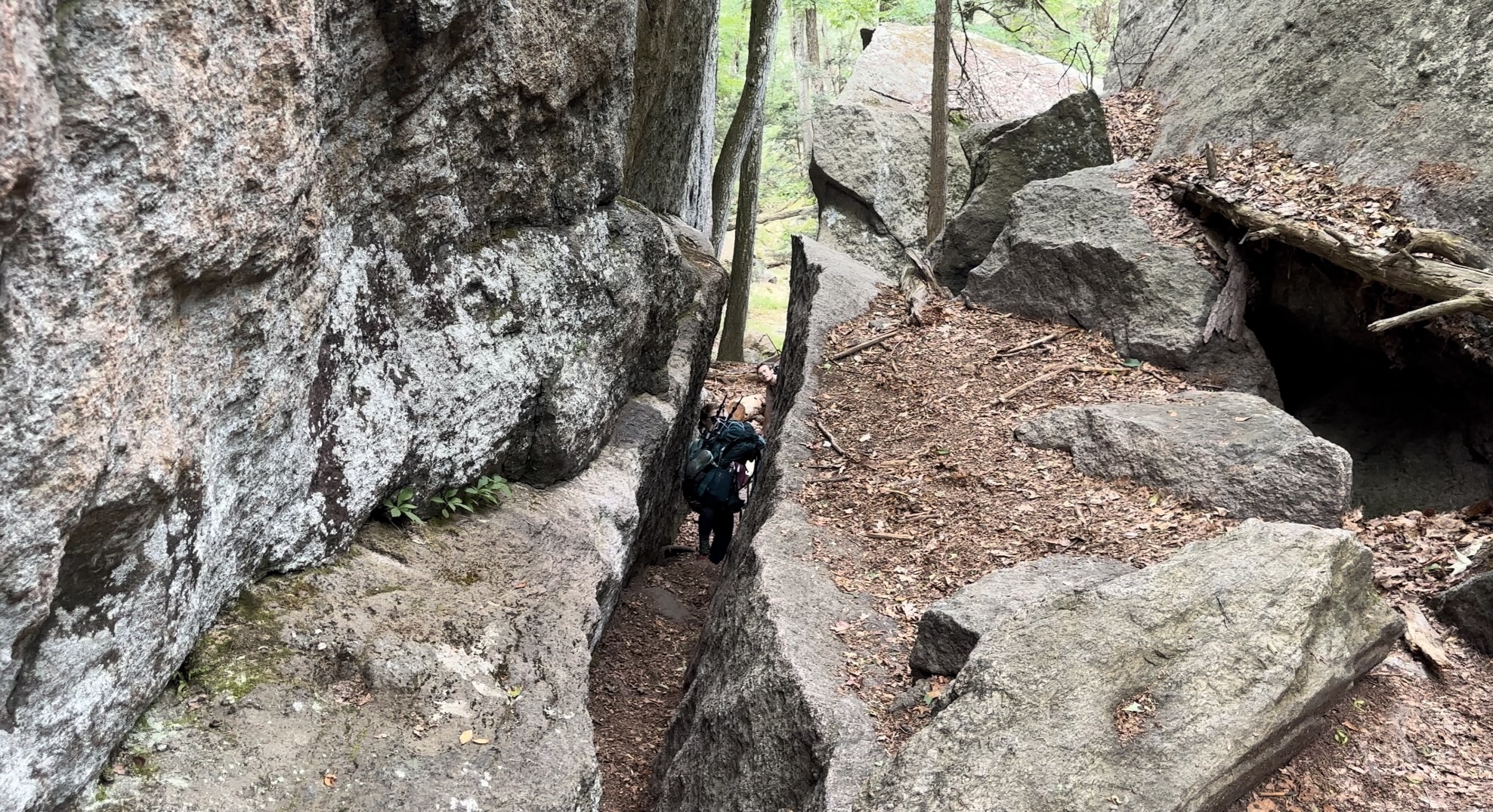 Some hikers (like myself) may opt to take off their backpacks to wriggle through.
Others, like my friend Crushing It, are more creative and just climb atop.
Even more fun in my opinion is that after the squeeze, one must immediately scale a vertical rock face. In my opinion, this climb in itself is not dangerous or necessarily hard, adding a giant backpacking pack on your back makes it much more tricky.
Deli-Blazing
Another great thing about New York (albeit not specific to only New York, because it begins a bit in New Jersey) is that hikers on the AT get to Deli-blaze. What is deli-blazing, you ask? Well, as I you may understand after reading my post about various trail terms, "blazing" is a generic term used to indicate the way in which hikers follow the path. Deli-blazing means that there are deli's close enough to the trail to be walk-able (actually, it's not only delis, but various food places of all kinds). They are so common along the trail, in fact, that hikers are known to bounce from one to the other, almost hitting a deli at least once a day. Some examples of food one can deli-blaze on the trail that is not an actual deli includes a Malaysian Food Truck and a creamery (where I went to on one particularly rainy day and it had amazing Ice Cream).
Then there are places like The Appalachian Market, which is literally right on the trail, that have a deli inside, plus they sell food and gear for resupply!

Bear Mountain
Bear Mountain is a state park in New York, and up until this point, is the most beautiful area I've hiked on the trail. I did not feel like any of the photos I took really did it justice, but feel free to click the link I included, and check out this photo of me with the Hudson and NYC in the background (which I thought was pretty cool even though you can barely see it in the photo).
I also enjoyed doing handstands on the edges of rocks at the top of the mountain (because why not add a little more adrenaline to one's day).
The Trailside Zoo
The Trailside Zoo was something I did not expect and I only heard about it a few days before coming upon it myself. It is as it sounds: a zoo right along the trail. but what was/is especially cool about it is that it is free! Donation only! and thanks to it, I can now say I have officially seen not one but two bears on the trail!
The Trailside Zoo is right after Bear Mountain. After coming down from the mountain, I met up with my friend Gyatso, and even though it was pouring rain, we decided it was worth it to check out the zoo.
We wandered through, and even though most animals were hidden away due to the rain, the bears were out, they had an indoor reptile house unaffected by the downpour, and they had a geology of the region exhibit! So I still enjoyed the zoo 🙂
Some other things
On the way, I saw this tree! I dare you to tell me that this tree does not look like it has a Jack-O-Lantern face in it.
Okay. Sorry. I know you all are not here for the trees. But I had to… Oh! I also saw THIS tree which is the largest tree I've seen on the entire trail!!! This photo does not do it justice so just trust me on this.
Okay and then we also passed mile 1,400 in NY.
Alright! There was in fact more that happened in NY. Mainly I was gifted with visiting 1) one of my best friends and 2) the mother of my study abroad roommate. But those two stories require their own posts, so keep your eyes peeled!
Affiliate Disclosure
This website contains affiliate links, which means The Trek may receive a percentage of any product or service you purchase using the links in the articles or advertisements. The buyer pays the same price as they would otherwise, and your purchase helps to support The Trek's ongoing goal to serve you quality backpacking advice and information. Thanks for your support!
To learn more, please visit the About This Site page.