Pacing Problems: Why I Split Up with My Original Hiking Partner
I always tell people that thru-hiking with someone is bigger than living with someone. Even if you share a tiny studio apartment with an intimate partner, you'll usually have some time each day during which one or the other of you is not home.  When you thru-hike with someone, you share not only every waking moment, but also every sleeping moment, i.e., lit-ruh-lee all moments. For obvious reasons, this can be challenging.   But my experience thru-hiking the AT proved that it can also be awesome.
A Pace Discrepancy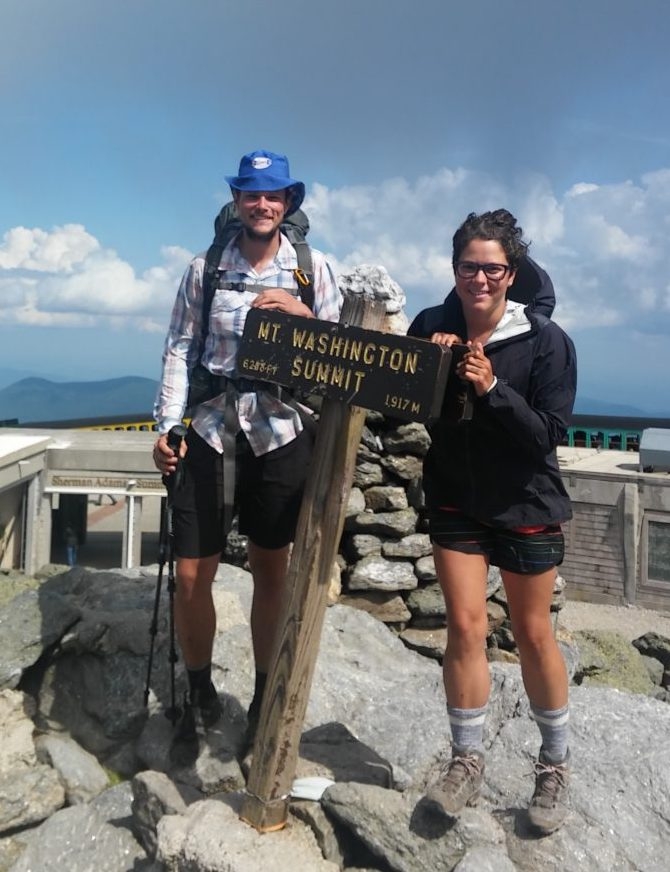 I started the AT with Matt—a close, longtime friend—and that didn't go well.  There was a lot of tension between us almost immediately, related to irritants that pop up when you are spending every moment of every day and night with another human.  If I had to boil it down to one central issue, it was this: Matt hiked fast, I did not. When we decided to split about six weeks in—six tense-as-shit weeks, dear readers—we both felt relief.  This guy went on to finish the trail in five months, while I took my slow-ass time, hitting Springer a few days after my seven-month mark.
The start of the trail for me was tough enough.  Part of that was total lack of experience, a lot of it was Maine.  (Did I mention I was a SOBO?) But I think I could have had an easier time without the added stress of knowing that I was slowing someone down.  It's safe to say that on most days we covered fewer miles than Matt hoped, which made me feel like a loser. And it had to frustrate the hell out of Matt.  We have been great friends for more than a decade, so of course we had plenty of fun times on trail, but by the end of six weeks together it was clear that the tension outweighed the fun. He has gotten a lot of flack for this, and that's not really fair because, again, we were both ready to continue hiking apart from one another.  But simple hiking physics require that the faster-moving hiker actually takes quicker steps to get away from the slower-moving hiker. So he's the one who actually had to leave me. Among my friends and family, he'll never live it down, no matter how much I insist I was behind this change. (Sorry, Matt.)
Alone
Post-Matt, I hiked alone for a while. Actually, for just shy of two months. The relief of being able to go at my own pace was so intense that the first couple of weeks were really exciting. Then my boyfriend, Brandon, came to visit in Massachusetts. He hiked and camped with me for five days. It was awesome. For the first time, I saw how great it could be to have someone go your pace and not be sick of waiting for you at the end of each day.  Not to mention that Brandon and I happen to be pretty tight friends, too. We had so much fun talking and joking, and when he left my solo hiking immediately felt lonely. Homesickness welled up and I found myself forcing to get to towns so I could charge my phone up and call my people. I started getting cell service most nights somewhere in Pennsylvania, which was convenient because I could call home (and cry) right from camp.
What kept me going?  I don't know. I'm stubborn.  Matt went ahead around mile 390 and I hiked alone until about 970.  Somewhere in there, when I started feeling lonely, I felt like I'd covered too many miles to make any rash decisions.  Turns out this is a great attitude to have if you are trying to finish a thru-hike. I would tell myself, I'll re-examine at the next town.  Or, I'll get through this next 100 miles and see how I feel then.  As many of us know, after any small milestone like this, you tend to feel pretty cool and like you are making progress, and the notion of quitting seems increasingly silly.  So even though I realize now that I sort of considered quitting through a lot of my thru-hike, I still feel like I never truly, truly considered it a real option. It was just there, lingering, like, Yes, this is something that I could do, but right now I'm too busy hiking to think much about it.
And even as a slow SOBO, I only camped alone a handful of times.  Usually I had people to chat with at shelters or campsites, which broke up the loneliness.  
I also listened to many audiobooks and podcasts.  I know some people feel like you miss out on some nature stuff with earbuds in, but for me, it totally enhanced my experience, especially when I hiked alone.  
Trail Soulmates

When I reached Port Clinton, PA, I ran into a hiker that I'd met in Maine. We leapfrogged for a week or so in Northern Maine, but then she sped up.  We joke all the time now about our lack of foresight in not sharing phone numbers, emails, Instagram handles—nothing—when we met. But both of us were in the same boat at that time; our phones were strictly used as cameras.  Service was out of the question, so it was like we both forgot you could use cell phones to keep in touch with people. When she sped up I assumed, like I did with faster hikers, that I'd never see or hear from her again. So when I sat down with a beer at the little bar in Port Clinton, only to look up and see Sara (yes, we are both Sarahs… more on that in a minute) I was stunned. Even though we were not that close at all, I ran up and hugged her for real. I'm not even a hugger.  I was just so happy to see her. We'd hit it off in Maine, but our friendship had been so short-lived at this point that it's weird that I was so pumped. My heart must have known.
Sara and I have a weird story. The first time we met, in Andover, ME, we realized that we had the same trail name and the same regular name. I had just earned "Smiles" as a trail name that very day, so I went back to Sarah; but when people ask if I had a trail name now, I can say I did, for a day.  We, by chance, had twin REI Quarter-Dome tents; it was an older model, so this also felt like a crazy coincidence. We ended up sharing the weight and space of a two-person tent after we'd been hiking together for a while.  I only ran into Sara in Port Clinton, months after Maine, because she'd gotten off trail for two weeks after a bout of Giardia. I always say, "Thank god she got giardia!" as a sort of joke, but sort of seriously, too.
Our weird beginnings led to a super weird, but also beautiful and enduring friendship.  We left Port Clinton thinking we'd hike and camp together for a day or two before Sara sped up again.  As it turned out, she was happy to lower her miles on those days to keep on pace with me. She admitted to me that she'd spent some extra time off trail, even after her recovery from Giardia, due to emotional distress. She was sick of the trail and illness provided an opportune time to head home (to her parents in NH) for a mental break. After a few slower days, she realized that a slower pace made her happier, something that I'd been blessed to realize the day that Matt hiked away from me.
Here are a few other reasons that Sara and I hiking together worked well:
–We both kept a pretty excessive snack-break schedule.  
–We are both proud feminists.  
–We both enjoyed watching HGTV, eating, and laying in bed all day… simultaneously… on zeros.
–She taught me the art of peeing while standing (women, this is pretty easy during shorts-season, harder with pants on).
–I helped her master the hanging of the bear bag.  
–We were both flippant enough with our medical histories to share them with one another, in their entirety, somewhere in VA.  (Come on, though, this was a safety move.)
–We could both spend an hour plus in a Rite Aid or CVS, weighing carefully the pros and cons of any given skin care product, and leave having made no purchase.
–We had tons to talk about, on most days, for three and a half months.  
Gotta get cliché here and say that on many occasions we laughed together and, on a few others, we cried together.  By the end of our journey, my biggest anxiety about leaving the trail and heading home was not having Sara by my side 24/7.  
In the End
There are so many things that make thru-hiking worth the time and effort.  All of the people you run into out there can leave an impact (even if you don't end up hiking half the trail with them).  Not to mention, nature. All I can say is, don't be too bummed if plans change along the way. Personal preferences about hiking alone vs. with others can vary.  Pushing and/or slowing down to stay on pace with friends is certainly worth it in some cases. This is just one gal's experience with all of that. I feel tempted to call the friendship between Sara and me a happy ending, but really, it's a full-on happy story.  
Affiliate Disclosure
This website contains affiliate links, which means The Trek may receive a percentage of any product or service you purchase using the links in the articles or advertisements. The buyer pays the same price as they would otherwise, and your purchase helps to support The Trek's ongoing goal to serve you quality backpacking advice and information. Thanks for your support!
To learn more, please visit the About This Site page.