Hitting the High Points on My Way Through Virginia
Day 36 (15 miles) Partnership Shelter to Davis Path campsite
So my one night I get to sleep in an actual bed, the room next door has a drunken hillbilly party until 3:30 a.m. Loud laughing, fighting, door slamming, horns honking, arguments, blaring television, and wall-thumping sex. Geez, I can't wait to get back out into the woods and get a peaceful night's sleep in my tent.
Virginia's number one trail angel, Mr. Sparks, shuttled me from Marion back to Partnership Shelter and I was on the trail by 9:30 a.m. My backpack is fully loaded with enough supplies for about five days. Averaging about 18 miles per day that's roughly 90 miles. Probably aiming for another resupply around mile marker 600, maybe Trent's Grocery. From there it's two days to Pearisburg, Va., which might be a good place for a zero.
The weather was sunny and cool and the Virginia hills are turning green with occasional flowering trees. Met Pancakes on the trail today; she's a very interesting and energetic lady. I stopped and had lunch at Chatfield Shelter, then pushed on past the Settlers Museum and stopped for a brief visit to an 1890 schoolhouse stocked with trail magic. A jaunt through Atkins, past the Relax Inn and The Barn Restaurant to the other side of I-81 and I was nearing my target for the day.
I pitched my tent at Davis Path campsite, and later Pancakes joined me. Eventually we were three when a thru-hiker from Cleveland, Ohio, joined us. Dinner, some friendly chatter, then hang the bear bags and crawl into the sack.
Day 37 (18.7 miles) Davis Path campsite to stealth campsite at south end of Chestnut Ridge (mile 565)
Last night was cold. I'm usually a warm sleeper but considered adding a layer in the night. At least it was peaceful and far better than the previous night. Being the first one up, I packed quietly and quickly started hiking up the trail.
The early mornings are wonderful because if you move along quietly you are likely to see more wildlife. I saw several deer standing in the trail and dozens of chipmunks and squirrels. A large hawk sailed by, casting a shadow over me, I took that as a good sign for the day ahead.
I had hiked several miles and came to the quarter way point. It was the perfect place to stop and enjoy a hot breakfast. Several miles later the Appalachian Trail took a reroute, which was not in the guide book or Guthook app. Fortunately, it was clearly marked with fresh blazes so I felt confident. It did, however, add a mile or two to my day and probably to the overall mileage to Maine. What's another mile or two when you're talking thousands.
Found my destination stealth campsite just below the south end of Chestnut Ridge, a few miles south of Chestnut Knob Shelter, and pitched my tent, cooked dinner, and hung the food bag. Relaxed for a while then crawled into the sack as the sun was setting.
Probably going to aim for Jenkins Shelter tomorrow and camp somewhere nearby.
Day 38 (19.7 miles) Chestnut Ridge campsite to Laurel Creek campsite (mile 584.4)
Another night brightly lit by the full moon, but cold. I woke around midnight and put on another layer. Early-morning breakfast at the campsite but was slow getting into the hiking mode. When I did get started, it was straight uphill for four miles, through varied forested sections and wide open balds, to Chestnut Knob Shelter. That shelter is unique because it is an enclosed stone building perched way above a small town, maybe Burke's Garden, Va.
Next was a five or six mile hike along a rocky ridge, where I noticed a large hawk sailed back and forth, tracking me the entire way. Coming down from the ridge line I walked within ten feet of a bear and we startled each other. No picture because those guys can run straight up a mountain at 40 mph.
Just before the bear encounter I had crossed paths with Flash, who was in Damascus waiting for someone but decided to flip flop from Bland to Mt. Rogers while waiting. First met him back at the NOC.
I stopped in the shelters and read the logbooks today. Farmall is two days ahead, Beaver Pelt and Bluegrass are moving fast, Mr. Peanut Butter is a few days up the trail, Moose was doing 30-mile days so he's long gone.
Laurel Creek campsite is home for the night. Several day and section hikers are camped in the vicinity. Many campsites around here plus a gravel road and parking lot nearby so it's easy access.
I'll be crossing the 600-mile marker tomorrow and probably land around Jenny Knob Shelter, then Trent's Grocery the next day.
Day 39 (22.2 miles) Laurel Creek campsite to campsite north of Lickskillet Hollow (mile 604.7)
Darn near freezing last night; even my water bottle had crystals forming on the edges. Otherwise it was a fine campsite, even had a few neighbors. Cowboy, 54, from Perry, Ga., was there, and in another tent were Finn and Happy Feet, from northern Pennsylvania. They had all been thru-hiking since early February and had been through some epic weather.
Cowboy was first out of camp and said he was headed to Jenny Knob Shelter, about 20 miles up the trail, which will set him up for a short hike to Trent's Grocery the next day. That was my plan as well so I figured we would meet somewhere later in the day.
After a hot breakfast with Finn and Happy Feet it was time to saunter through the woods. The sun was shining, not a cloud was in the sky, and things were warming up.
Several hours later Klaus No. One and Doughnuts caught up to me. Hadn't seen Klaus since Hot Springs and Doughnuts since Boots Off. They pulled off in Bland for lunch at Brushy Mountain Outpost.
I met up with Cowboy just before the climb to Helveys Mill Shelter. By now it was midday and starting to get hot. Cowboy and I did the steep and long walk to get water at the shelter. A quick lunch on the trail and then a sweltering, three-hour walk toward the 600-mile marker and the next water source.
Klaus and Doughnuts arrived at the water source as I was leaving, and they looked as cooked as I was. I pushed past Jenny Knob Shelter a couple miles up the trail to a stealth campsite across a gravel road and halfway up the hill from Lickskillet Hollow. About 4.5 miles to Trent's Grocery in the morning. Maybe nero there if I like it, otherwise just shower, resupply and maybe laundry, then push a couple more days up to Pearisburg, Va.
Day 40 (22 miles) campsite north of Lickskillet Hollow to Trent's Grocery to Woods Hole Hostel (mile 624.8)
Klaus and Doughnuts must've started early this morning because they passed by my trailside campsite while I was still packing up. My pace in the morning was slow because the early sunlight was tempting me with many photo opportunities.
Trent's was only about five miles away so I was the first hiker there and took a shower, did laundry, and recharged my electronics while eating lunch and picking up some supplies. Hung out on the bench in front of Trent's with Jackrabbit (aka Spliff); he used to be a lead singer in a metal band. Back on the trail I caught up to Cowboy, passed Cheesesteak and his friend. Cowboy was stopping at Wapiti Shelter and I decided to go to Woods Hole Hostel.
The AT was rerouted a couple miles before Woods Hole due to a prescribed burn going on. Apparently the Forest Service folks don't want a repeat of what's happening farther up the trail. I heard the section around McAfee Knob is not open because of fire. Hopefully they get that under control soon.
Woods Hole Hostel is beyond wonderful and many cool folks here working and visiting. Tangerine, Rampage, Blue, Cheesesteak, Future, and a dozen more. They have a nice guitar with new strings and Neville thanked me for playing it. My pleasure! Dinner was amazing and breakfast in the morning will be memorable too, I'm sure.
Pearisburg tomorrow, not sure where, maybe Angels Rest Hiker's Haven. Maybe zero, definitely resupply and figure out how to get to Daleville.
Day 41 (13 miles) Woods Hole Hostel to Angels Rest Hiker's Haven in Pearisburg (mile 635.4)
Woods Hole is a magical place; nobody wants to leave and everyone wants to come back soon. They had some nice guitars that I enjoyed playing.
The prescribed burn was dying down and the air was not too bad as I left the hostel.
I eventually ended up hiking with Dave and Crazy Brit, 70 years young, fit and fun. We flew along the trail to Pearisburg and enjoyed all the scenic views.
Landed in Pearisburg and checked into Angels Rest Hiker's Haven. Lots of hikers there, too many to name. Again they had some guitars, one I enjoyed playing was a Córdoba travel guitar. Jammed with Future for a moment
Hydro was there, Santa has been healing an injured knee, Prophet was with Minnesota, Napoleon is a former boxer from Baton Rouge, Tangerine, Rocket Man made cookies. I did laundry, showered, resupplied at Wally World, and slept in a nice bed in a private room.
Day 42 (22.2 miles) Pearisburg to Stony Creek campsite (mile 657)
Angels Rest Hiker's Haven shuttled Tangerine, Crash, Belle and Lynn (aka Montreal ladies), and myself back to the trail at Cross Avenue. We started hiking at 8:30 a.m. out of Pearisburg and up to the ridge line. We were stopped by the forest patrol warning us to stay on the trail. Apparently there is a pipeline protest going on up there and we were not to get involved.
Stopped and had lunch with Future, who was slack packing, and a young couple with a white dog, I don't recall their trail names. Crash joined us while Belle and Lil continued. Tangerine had dropped back early and I never saw her again.
Water was scarce up there and the sun was heating up the day. We cameled-up at the last water source and proceeded to hike. Passed the protesters' campsite; it was quite elaborate and even had a portable toilet out there. I'm sure their cause is admirable but I'm not informed enough nor have the time to get involved right now.
Caught up to Crazy Brit and his partner; they were aiming for Pine Swamp Branch Shelter, which is supposedly closed. When I went past that shelter Belle, Lynn, and someone else was already there. I let them know that I was continuing on. I wanted to camp at the Captains Place, which is a zip line ride across Stony Creek to a guy's backyard. Unfortunately, I got there and it was closed. Future, the young couple with the dog, and several others were sitting there disappointed, too. We set up camp on this side of the creek and had dinner just before the rain started.
Day 43 (17.5 miles) Stony Creek campsite to Laurel Creek campsite (mile 674.3)
Packed up and started hiking by 7:45 a.m. The Crazy Brit and Dave had passed by while I was getting up. Which reminded me of my favorite quote heard back in Georgia: "You old folks get up too early."
Belle and Lynn came along just as I hit the trail. I passed the older guys as they had a late breakfast at the first shelter, and didn't see them again. Rampage and Jeremy, a young, ultralight hiker who is hiking from Key West to Montreal, met me at a water source and we chatted briefly. Belle and Lynn arrived at the water as we were leaving.
Made it to the second shelter in time for lunch and stayed there while a rainstorm went by. Jeremy and Rampage were there, and the Montreal ladies arrived soaking wet. Met some section hikers and all of us hung out. Rampage and Jeremy were making big miles and left in the rain. I started again as the rain subsided and headed toward Kelly Knob.
Kelly Knob was a demoralizing climb, straight up, no switchbacks. Every time you looked up, the trail appeared endless. It started raining at the top so the climb down to Laurel Creek Shelter was a muddy and slippery slope. Fortunately, it stopped raining when I got there because the shelter was full and I had to set up my tent. Got water, fixed dinner, then relaxed with a hand-rolled Bugler cigarette. All is well… but wet.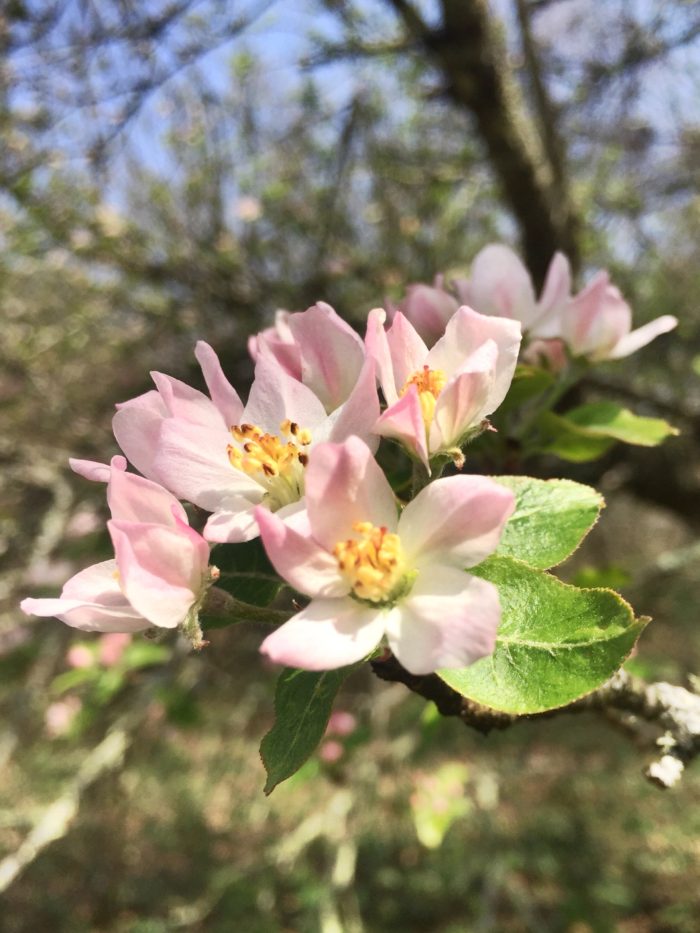 Day 44 (15.2 miles) Laurel Creek Shelter campsite to Craig Creek campsite (mile 689.1)
Hard rain last night and more this morning dampened my spirit to start hiking early. Didn't break camp until 9:30 a.m. and decided to stop before getting too tired. Right knee has been tender the past couple of days; put a brace on and it's beginning to feel a little better now.
The trail was easy as it crossed some pastures this morning. The 300-plus-year-old Keffer oak tree was an early-morning highlight. Next was a tough climb that took me up to Bruisers Knob. The walk along the ridge line was interesting because it was raining on one side of the mountain and sunny on the other side, and the trail kept going in and out of the showers. Finally it stopped raining as the trail passed through a mysterious section of large stone piles. The views from the rocky ledges were amazing and some of the climbing was like rock scrambling. Walked past the Eastern Continental Divide and started the three-mile descent off the mountain.
Stopped for a break at Niday Shelter, where two section hikers were settling in for the evening. I perused the logbook and noticed Bluegrass and some others were two and three days ahead.
I set up camp in a quiet spot at the foot of Brush Mountain. My plan is to tackle Dragons Tooth tomorrow, McAfee Knob and Tinker Cliffs the following day, and then walk into Daleville with an empty food bag on the third day.
Day 45 (22 miles) Craig Creek campsite to Johns Spring Shelter (mile 710.4)
Got an early start from the most awesome and quietest campsite yet. Last evening a deer walked right through my campsite while I was cooking dinner. It didn't seem to care at all that I was there.
As I was packing up a day hiker passed by. I caught up to him as he had stopped to make a wardrobe adjustment. Stephen, from Philadelphia, ended up being a good hiking partner and we sailed along the smooth trail making good time.
Water was scarce on this section so I decided to stop at the shelter that was a half mile off the trail. Stephen decided to push on. Luckily I heard some water about .2 miles down the shelter trail.
After a quick refill and cameling-up, I got back on the trail and eventually caught up to Stephen, who was regretting not getting water. I gave him some of the water I had.
We hiked on and visited the Audie Murphy monument and later stopped to climb up Dragons Tooth. What a rush that was; great views and challenging climbing. The walk back down from Dragons Tooth is a rocky, technical descent. I thought it was fun but wouldn't want to do it in bad weather.
Stephen was done after we got down from Dragons Tooth so we said goodbye. I went a few miles farther and stopped at a creek for a late lunch and a short break
I had one more mountain to climb and a ridge walk that took me directly into a rainstorm. Thankfully the rain subsided as I got to my destination a few miles short of McAfee Knob.
Empty shelter! Really? I was wet and chose to sleep in the shelter. Not one of my better decisions because it ended up being a full shelter by dark-thirty.
Some folks I met were Nancy Drew, Mr. Snickers, Bear, Scrambled Legs, Backwards Hat, a couple of section hikers, who happened to be musicians; organists, actually, with their young dog, Ginger.
Day 46 (10.5 miles) Johns Spring Shelter to Lamberts Meadow Shelter campsite (mile 719.8)
The shelter was empty last night until about 6:30 p.m. and then the place filled up. I had already staked out a spot in the shelter, hoping it would be quiet, but ended up with Mr. Snickers, Nancy Drew, Bear from New Zealand, and Scrambled Legs all in there with me. Probably half a dozen more were in tents nearby.
People got up early, like 4 a.m. early. There was no sleeping late because the place was buzzing with anxious hikers. I made a hot breakfast and was soon on my way up the trail to McAfee Knob.
It was only a few miles to the famous AT landmark and in spite of it being a cloudy day there were more than a few folks already there. I got the required iconic photo on the overhanging cliff and was soon on my way.
I had already decided to take the advice of John Muir to "not hike through the mountains, but to saunter in the mountains reverently." It felt good to walk quietly and stop often to enjoy the different places.
Eased my way up to Tinker Cliffs and sat down for lunch and a FaceTime call with the wife.
I could push on through to Daleville, but with one dinner and one breakfast left, I decided to stop early, set up camp and relax.
Again no one else was at the shelter so I picked a nice spot, put up the tent, got water, hung a bear line, and lay down. Eventually, hikers began arriving, Belle and Lynn, Backwards Hat and partner, some section hikers, and at least a half a dozen others. They're still arriving now. So much for a quiet evening.
Day 47 (9.6 miles) Lamberts Meadow Shelter to Daleville (mile 729)
Up with the sun and off to do chores in town. On the trail you mainly just walk, eat, and sleep, but in town you have to hustle to get laundry, showered, electronics recharged, update blogs, and resupply. This time I also needed to get new shoes (pair number three), send cold weather gear and clothes back home, and eat as much food as possible.
The air was cool and the terrain was not too tough, so I made good time. Couldn't resist taking some photos of the scenic views coming into town.
Went directly to Wendy's and ate two Double Dave burgers. Next was the outfitters, where I found most everything I needed: shoes, fuel, meals, bars, and a new sleeping pad. Next door was a coffee shop so I had to have cheesecake, cookie, and latte. Ran through Kroger to get some more groceries. Checked into the hotel, did laundry, showered, and recharged electronics. Walked to UPS store and sent cold weather gear home. Went back to Wendy's, ate dinner, and met Napoleon. He came back to my room and showered, sorted and packed his resupply, then hit the trail. On the phone with my wife, we mapped out the next six or seven days to Waynesboro, Va. Now I'm working on blog updates and getting ready to call it a day.
Affiliate Disclosure
This website contains affiliate links, which means The Trek may receive a percentage of any product or service you purchase using the links in the articles or advertisements. The buyer pays the same price as they would otherwise, and your purchase helps to support The Trek's ongoing goal to serve you quality backpacking advice and information. Thanks for your support!
To learn more, please visit the About This Site page.