Riding the Roller Coaster with Nard (Days 78 to 81, Front Royal to Harper's Ferry)
Day 
78
Start: US Route 522 / Front Royal
Finish: Dick's Dome Shelter
AT Miles Hiked Today: 15.2
Overall AT Miles Hiked: 984.3
Miles To Go Until Katahdin: 1,204.8
I'm excited to hike this section of trail with my good buddy Lucas, AKA Nard! Nard is the guy who bestowed me with my trail name on our 6-day Pacific Crest Trail section hike last year. It's amazing we made it out of that trip alive. We literally had no idea what we were doing.
Nard and his awesome girlfriend Kate came in and met me at the Quality Inn in Front Royal, and we headed over to a local pancake house for some food. We swapped stories and caught up, it's been about a year since I've seen them.
We finished up breakfast, and Kate dropped us off at the trailhead around 10. It was a later start than I usually get, but I don't mind – it's just great to be hiking with a friend!
Nard brought me some new trekking poles to replace my broken ones. It's amazing to be hiking with poles that actually work properly. My old pair had both tips broken, and the right pole locking mechanism was failing a few times each day, resulting in me sliding down my trekking pole as I tried to brace against the ground. That's my first piece of gear to fail me on my hike, but I'm sure it won't be the last.
We made great time up and out of the gap. Since Reindeer, Crusher and I split up, I've been hiking listening to podcasts and audiobooks almost the entire day. So, it felt good to hike and talk to someone. The time seems to fly by when talking with someone else.
We took our first break of the day at the spacious and beautiful Jim and Molly Denton Shelter. Lots of hikers lounging around eating lunch, including Google and Littlefoot.
Today and tomorrow are supposed to be pushing 90 degrees. This entire section is at low elevation, so we can't count on the mountains to help avoid the heat. Nard and I chugged water all day, but still I felt myself getting dehydrated.
Despite the heat, it was easy hiking for most of the day, including going through a few beautiful fields that reminded me of southern and central VA. I let Nard set the pace. He is coming from a cubicle job out to the trail, so I expected him to be pretty slow. I was actually really impressed with his pace for most of the day!
About halfway through the day, Nard suddenly turned to me and said "Bears!" I looked ahead to see two big black bears scurrying away through the brush to the east. I'm psyched that Nard got bears on his first day! I think that's his first ever bear sighting.
As the day wore on, Nard started to slow down, and the terrain started to get much steeper. We were crawling up the mountain. The terrain turned from smooth to rocky, and I was worried about Nard's ankles. Fortunately he pulled through, and we hit the turnoff to Dick's Dome shelter around 6:30.
We had to go about a half mile off the trail to get to a spot where we could camp. The campsite was full of thru hikers, section hikers and weekenders – including a group of 9 with two small children! Nard and I ended up pitching on a fire road way behind the shelter, along with Shovel and Stumble, two other thru hikers who rolled in late.
Nard packed out some bourbon – the section just got more interesting. I haven't been drinking on the trail, but, well, when life hands you bourbon, you drink it down and don't ask questions! (That's a saying, right? No?)
We ate dinner in the shelter under construction, with the family of 9. The two little girls were solving riddles that their dad was telling them. I'm ashamed to say they solved every riddle faster than me. Apparently this thru hike is slowing my brain.
Despite the late day, we still managed to climb into our tents around 9.
Day 79
Start: Dick's Dome Shelter
Finish: Sam Moore Shelter
AT Miles Hiked Today: 15.3
Overall AT Miles Hiked: 999.6
Miles To Go Until Katahdin: 1,189.1
We were both up early, and hiking by 7:45. Nard was surprisingly feeling good as we got moving, and set an aggressive pace.
We managed to clear 9 miles by 11am! My plan for the day was to do 13 miles. The last thing I would want is to injure Nard, but he was feeling good and cruising right along.
That is, until we hit the Roller Coaster.
The Roller Coaster is a famously difficult section of trail. The ascents and descents are no more than 600 feet, but they happen in quick succession. The trail went from smooth and well graded to rocky, steep and choppy – a terrible combination!
The trail beat the crap out of us! Luckily we only had 2 hills to crest until the planned campsite. Honestly, the terrain was the worst I've hiked on in at least 200 miles.
As we approached the planned campsite, Nard and I decided to keep rolling another 2 miles to the shelter. That would leave us back to back ~11 mile days into Harper's Ferry. We were worried about the back end of the Roller Coaster tomorrow, so we were glad to have shorter days coming up.
It was a very slow and very rocky 2 miles, but we made it to the shelter before 5. We were able to set up in the best tenting spots and hang out with the other hikers nearby. There are two trail dogs at camp tonight! Moe and Frita. They are adorable.
No bear poles here tonight, so we had to toss a bear line for the first time in a while. Lots of subpar bear hangs from the other hikers, just barely tossing them over bushes. My rule is as long as I'm not the worst bear bag hang in the camp, my food is probably safe!
Nard and I proceeded to put back a good amount of that bourbon over the ensuing few hours. Apparently I have lost all semblance of a tolerance, because I was very tipsy and excused myself to go to bed at 7:30.
Also, today was the summer solstice, which meant it was also hike naked day. We didn't see a single naked hiker! What a disappointment. Of course, we didn't hike naked either, because I don't want to be arrested for a sex offender. Maybe everyone else is careful as well!
Day 80
Start: Sam Moore Shelter
Finish: Blackburn Trail Center
AT Miles Hiked Today: 10.9
Overall AT Miles Hiked: 1,010.5
Miles To Go Until Katahdin: 1,178.6
I woke up several times in the night to the sound of mice scuttling around the area. Sometimes you sleep soundly, and sometimes the local wildlife decides to pay you a visit. I tried not to think of mice inside my backpack as I fell back asleep in the early hours of the morning.
Nard and I got up around 6:15, and I walked over to the shelter to see Crusher! He did a 25 mile day yesterday. I was out cold from that bourbon, I didn't even hear Crusher come knock on my tent around 8:15pm.
We three ate breakfast near the shelter and caught up. It's cool to see old and new hiking buddies get to know each other. Nard and Crusher got along really well. We all hiked out of camp around 7:45.
Only 0.4 miles into our day, we hit the 1,000 mile mark! Officially quadruple digits!!!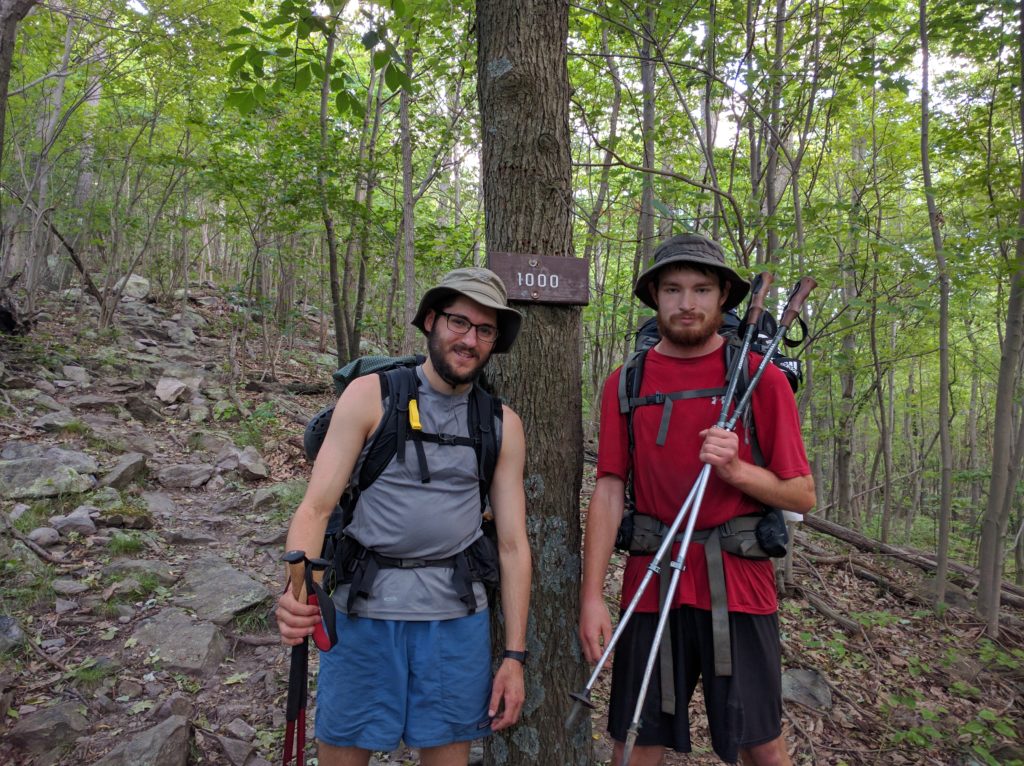 We returned immediately to the Roller Coaster. The entire morning was muggy and hot, with difficult terrain and steep climbs. Miserable hiking! Nard and I took it slow.
We crossed over route 7, and found a cooler full of trail magic! I got a Coca-Cola. The caffeine helped me power through a brief rainstorm. It looks like there is a ton of rain hitting just north of us, but we are avoiding the bad storms for now.
On and on the Roller Coaster dragged. We were taking our time between each mountain. The distance up and over the mountains averaged around 1.5 miles, and we used each gap as a rest stop to chug water.
On our way up the last hill in the Roller Coaster, we hit a monumental landmark. After a month and a week, we finally, FINALLY left Virginia!
I was paying attention to each footfall, so I actually hiked past the border sign without seeing it. Then I had to double back to see the sign. Worth it!
Shortly thereafter the Roller Coaster officially ended. Nard was psyched. And also extremely sweaty.
The thunder was getting louder and louder. We only had a few more miles to the Blackburn Trail Center, so we hiked fast to try to avoid the rain. It started raining heavier on the way down to the center, and I was maybe 30 yards away from the covered porch when the skies opened up and I got drenched.
As we were hanging out on the porch stretching and talking with the other hikers, crazy storms came and went. We made it just in time! It would be miserable to be out on the trail during these storms. Crusher came in after a few hours, soaked. It actually got chilly as the rain was falling and the wind was whipping around! Crazy thunderstorms rolled through. Later we would find out about all the trees that came down across the trail during the storm.
Nard and I pitched our tents on tent pads near the covered porch. We hope to get an early start tomorrow and have time to mess around in Harper's Ferry!
Day 81
Start: Blackburn Trail Center
Finish: Harper's Ferry
AT Miles Hiked Today: 11.9
Overall AT Miles Hiked: 1,022.4
Miles To Go Until Katahdin: 1,166.7
We woke up around 6, ate breakfast, and hit the trail around 7:30. Both of us were anxious to get to town!
The trail was smooth, but it soon became clear that the Roller Coaster had ripped up Nard's ankles. The connective tissue and ligaments just can't handle going from 0 to 100 like that. Still, Nard limped down the trail like a champ, getting the miles done despite some serious pain. Just like last year on the PCT with his crazy blisters, he remained in good spirits, cracking jokes. That's just about the most valuable trait in a hiking partner – the ability to take shitty situations in stride. So Nard, I salute you!
As Nard was limping along, I spotted some wild blueberries next to the trail, and I took the time to pick them and have myself a little feast! I love blueberries. Most of these were about a week from being ripe, but there were several clusters that were perfect.
We reached Key's Gap, about 6 miles from Harper's Ferry. This is also a pretty major road crossing, and there was a cab in the lot. Nard decided to grab the cab and meet me in town, rather than continue at the slower pace. It was probably a good thing, because the next section of trail turned a bit rocky.
As I got into town, Nard was at the ATC waiting for me. We walked in together and got the full ATC experience!
I got my picture taken out in front, and I got my thru hiker number (918)! We hung around reading the various materials provided by the ATC, including the thru hiker book of polaroids. Lots of fun speaking with the staff and the other hikers. They have a hiker lounge! And it's stocked with soda!
We went to grab some pizza nearby, then ran over to the outfitter to replace my shoes, and over to Walmart for resupply and food for my zero tomorrow. I gotta admit, it's very convenient to have a friend with a car instead of hiking everywhere.
Man, hat's off to you, Nard – you joined for a pretty rough section of trail right here. To go from zero to the Roller Coaster is seriously impressive. You earned that pizza!  I hope this didn't scare you off from doing trips with me in the future, hah. This last section with you has been among the most enjoyable sections I've had on trail so far.
I retired for the night to the Tea Horse hostle near downtown Harper's Ferry. This place is the polar opposite of Kincora! Extremely clean, nice bunks, and attentive staff. I'm a big fan. I spent the rest of the evening doing laundry, organizing my gear, and resting in the common room.
Nemo and DJ Space Gator walked in later that night, and we had a good time catching up. It's been a while since I've seen those guys! I ate a dinner of subway and a pint of Ben and Jerry's. Oh, I also weighed myself for the first time all trail – 157! I've gained 2 pounds on the trail! That's great news, I expected to lose weight out here, and I'm a really skinny dude, so that would have been bad. Focusing on eating lots of food is clearly paying off for me.
I gotta say, it feels strange to be here in Harper's Ferry. This is the emotional halfway point of the trail. After years of dreaming of this thru hike, soon I'll truly be on the back 9 of the AT. It feels like the first half has flown by. The last half will go even quicker, I expect. I hurt physically, but I expect every hiker is hurting in one way or another. I've hiked more than 1,000 miles.
Ready or not, here comes the back 50% of the trail. My motto for the next 3 months is: The last one to Katahdin wins! Time to enjoy the trail with other friends and not rush to Maine.
Until next time, happy trails!
-Slice
Affiliate Disclosure
This website contains affiliate links, which means The Trek may receive a percentage of any product or service you purchase using the links in the articles or advertisements. The buyer pays the same price as they would otherwise, and your purchase helps to support The Trek's ongoing goal to serve you quality backpacking advice and information. Thanks for your support!
To learn more, please visit the About This Site page.