Shenandoah, Family, and Friends
Day 75: Rock Point to Rockfish Gap (15.5 miles, marker 864.3)
Today was packed full of interesting and wonderful moments. Woke up a few minutes after midnight and could see the town of Waynesboro down below the cliffs all lit up and the bright moon in the sky. As I gazed out of my tent, a hiker passed by, no headlamp, just night hiking by the light of the moon. I fell back to sleep easily and awoke again just as the sun was rising. I enjoyed breakfast sitting on the edge of the cliffs with another hiker as the sun rose. The day's hiking was relatively easy with mostly gentle grades up and down.
Arrival at Rockfish Gap was celebratory. A fellow hiker I had met about two weeks earlier, Skiptown, was finishing his thru-hike that he had begun the previous year. His sister had greeted him with pizzas and snacks and soda and beer, for them to sit around and share with other hikers for the rest of the day. After many congratulations, I had some pizza and a couple beers while I waited for my ride. My cousin Kevin lives very close to here, and had offered to host me or help me out any way he could as I came through. I took him up on his generosity, and his wife Missy came to pick me up shortly after. After a shower and some laundry, we went out for burgers and beer at the Blue Mountain Brewery and then returned to their home where I crashed almost immediately.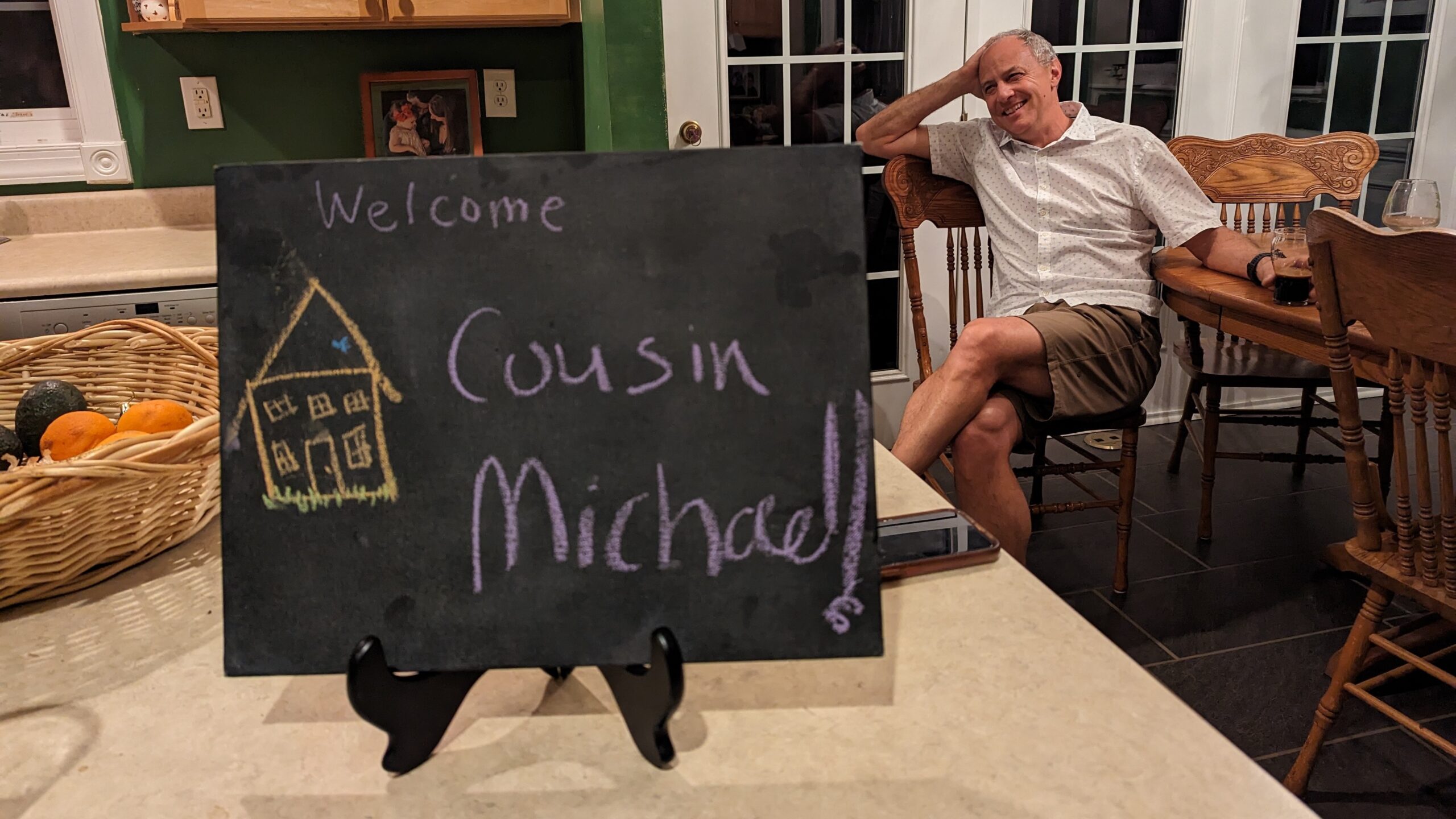 Day 76: Rockfish Gap to Stealth Site North of Sawmill Run Overlook (11.1 miles, marker 875.4)
A light day today as miles go. After awakening in a super comfy bed, having some coffee while laying about writing, and a long luxurious bath, I proceeded to have a nice breakfast and then head to the store for resupply. I had everything done by about 11:00 a.m., and Missy drove me back to the trail.
The trail in Shenandoah seems to roll up and down pretty gently. This is good, because there is a thirteen-mile water carry almost immediately. I gathered four liters of water and continued my hike a few more miles to a nice stealth site. I paused about a half a mile before I found my campsite to cook dinner. Whole having dinner I enjoyed the views at one of the Skyline Drive overlooks.
It's generally a better idea to cook your dinner away from where you're going to camp when you're in bear country. I had actually planned to hike an extra mile or so beyond here on the other side of Turk Mountain. As I hiked I could hear the thunder rolling in and decided to set up camp immediately and keep my things and myself dry instead of climbing over a mountain and risking those dangers.
Day 77: Stealth Site North of Sawmill Run Overlook to Stealth Site on Rocky Top Mountain (20.6 miles, marker 896)
Woke up this morning a little soggy after a long night of rain. The reports had been for just a few hours, but it rained most of the night and wasn't showing any signs of stopping. I broke camp without having breakfast and began to walk, hoping the rain would let up and I could stop for some tea and food and yoga. After a few miles it became obvious it wasn't going to stop, so I paused in the drizzling rain for some stretching while I ate a protein bar, threw a couple carnation breakfast essentials in my water, and continued on.
The rain continued lightly until around noon, when I reached Blackrock Mountain, so I stopped for some tea and lunch while enjoying the tease of a view. As the clouds rolled back in, I got back on trail and hiked the rest of the way to the Loft Mountain Wayside, where I had a fabulous blackberry shake, a sausage sandwich (they were out of burgers), and a plate of fries. A couple more miles and found a nice campsite, just as the sky began to clear. All in all, not a bad day for the actual hiking, as the temperature was good, but everything else left a little something to be desired.
Day 78: Stealth Site on Rocky Top Mountain to Swift Run Gap, US 33 (13.9 miles, marker 909.9)
Today turned out to be full of lovely surprises. I awoke, packed up camp, and headed out right away planning to hike a few miles to the next hut, but after a half mile I came to the Ivy Creek Overlook. It was completely socked in with fog at first, but I noticed the light image of a mountain and the sun in the distance and realized if I stopped there for breakfast, chances were it would become beautiful over the next half hour, and that paid off.
I then continued on my way, stopping at the hut just to grab some water. I continue to hike throughout the day, with my plan to stop for lunch at Hightop Mountain. Along the way I got the 900-mile marker.
Just before ascending Hightop, I ran into a group of hikers sitting around enjoying some trail magic, a simple spread of soda, beer, chips, and cookies.
After a beer and a bag of chips, I climbed up Hightop and enjoyed the rest of my lunch with a gorgeous view.
Then as I descended, more trail magic. A gentleman was making chili as well as passing out sodas and chips and a few other items. I of course stopped for some chili and a Coke. Then it was just another mile and a half down to the gap where my friend Dan was picking me up to take a zero. Met another friendly creature along the way.
Dan showed up about ten minutes after I got there, and we drove back to his lovely home where he made a fabulous dinner of chicken, potatoes, and peas for myself and some friends he had invited over who are also avid hikers.
Day 79: Zero in Harrisonburg
Today was a very relaxing. Woke up at my usual 5:30 in the morning, and laid around drinking green tea and editing hiking videos for a couple hours. Dan soon returned from some activities and made it delicious. Breakfast for us. I've known Dan since we met the summer before third grade, and he's one of the kindest people I know, so it was a pleasure to get to spend some time with him. He had to do some work on and off during the day, which worked great because I got to do video editing, yoga, and organization during that time. We went out for dinner with his wife at a restaurant named Cuban burger, and then he and I just hung late into the night catching up.
Affiliate Disclosure
This website contains affiliate links, which means The Trek may receive a percentage of any product or service you purchase using the links in the articles or advertisements. The buyer pays the same price as they would otherwise, and your purchase helps to support The Trek's ongoing goal to serve you quality backpacking advice and information. Thanks for your support!
To learn more, please visit the About This Site page.