Soup Stories: Hiking While Possessed
It has been eight days since I started the trail. I have been diligent about sticking close to eight miles a day so I don't hurt myself out of the gate.
An ambitious 13 miles is my plan for today.
I will end up hiking 19 miles.
Normally, I wake up to the sound of hikers breaking down their camp. This morning my phone alarm has use again as it stirs me awake. I have 45 minutes to finish packing my gear and get to the shuttle.
My cousin, two other thru-hikers (Joe and Jeff) and I had gotten off at Tesnatee Gap two days ago to dry out our gear and rest our legs from the first five days of hiking. The possibility of additional rain with thunderstorms made it an easy decision to take our first unscheduled zero day. But the call of the trail made it an easier decision to get back out there today.
One of the other hikers has secured a shuttle back to Tesnatee Gap. A shuttle which I am risking being late for as I shove my last loose items into my backpack.
I bound down the stairs of the hotel to find my companions waiting for me. With the driver ready to go, I give my cousin a hug and thank him for all his help. His week of vacation is up and he is heading to the airport today. Those of us heading back to the woods pile into the shuttle.
After a recap of his life story, the shuttle driver drops us off at Tesnatee Gap. This gap was boxed in with clouds and rain last time we saw it. With the fairer weather, we are now treated to the view of a sunrise over the valley.
We snap some photos and make our way up a mile of steep incline towards Hogpen Gap. Along the way, we complete a very important part of the thru-hiking morning routine:
Asking each other "How far are you going today"?
I am planning on pushing 13 miles to Blue Mountain Shelter. I usually stick to eight miles but there a number of factors pushing me to add five miles today.
I just spent 1.5 days off trail and my legs are itching to hike.
There is another storm system coming in two days and I want to get miles in before then. (I do NOT mess with thunderstorms.)
I did one 12 mile day during my first week so I know 13 is doable with enough effort.
It is a down right gorgeous day and it seems a shame to waste any of it by turning in early.
I relay this information to Joe and Jeff.
"Nice. We were gonna try and camp north of Unicoi Gap."
Unicoi Gap? That's an extra three miles. And the elevation is not friendly. More than 1,000 feet of descent into the gap and another 1,000 feet of ascent back up. I'm still new to understanding how much ascent/descent in a given length is scary, but the elevation map makes it clearer. We'd spend the first 13 miles today slowly gaining elevation, just to lose it all dropping into Unicoi Gap and then gain it all back in 1.5 miles.
This seems like a lot of hiking, rested or otherwise. I ponder on it and tell the gents that I'll see how I'm feeling about the extra three miles once I get to my intended distance of 13 miles.
The day moves on and I eventually lose Jeff and Joe behind me. We have similar mileage goals but I have a faster pace, so I plan on seeing them at camp.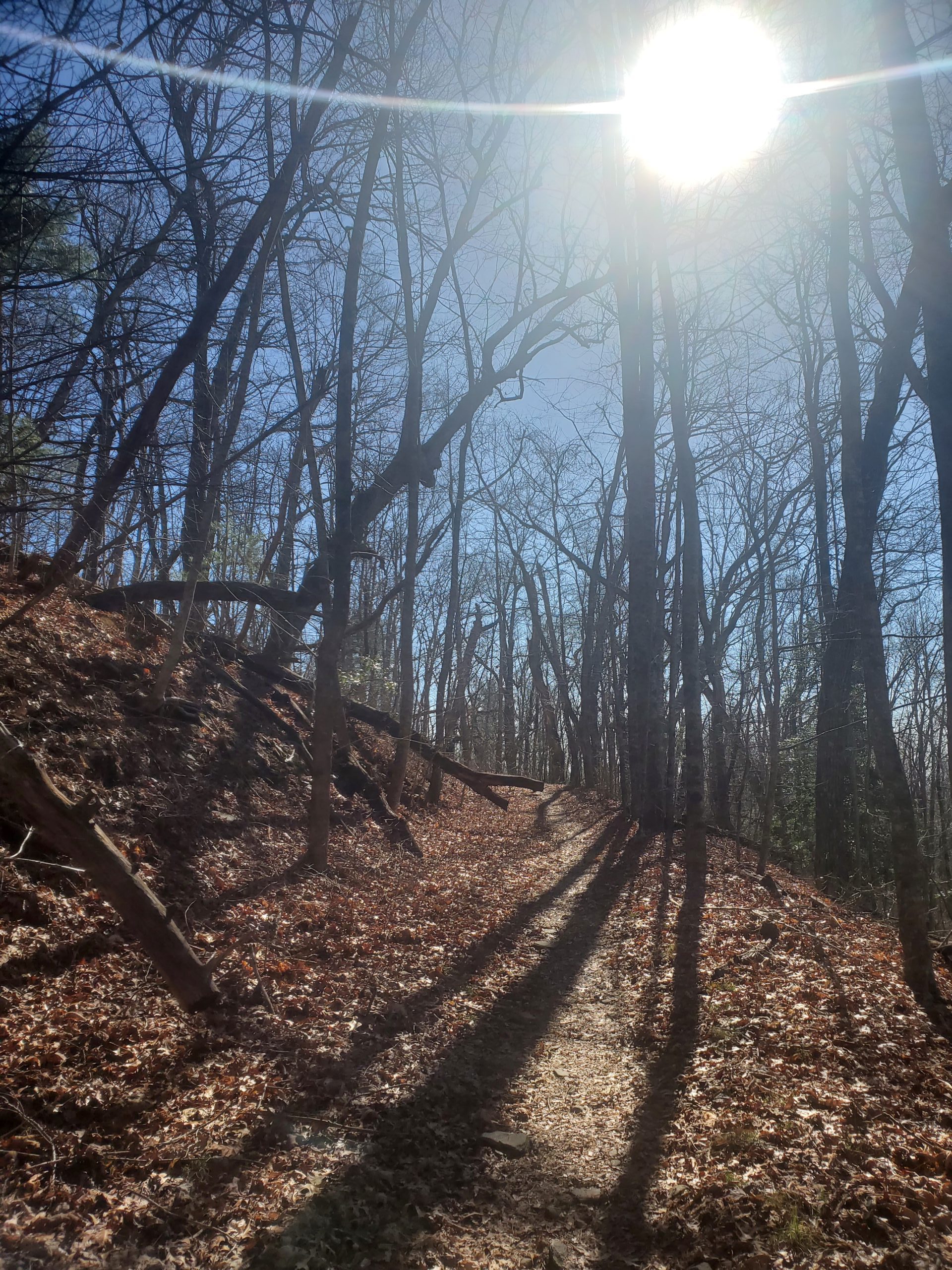 As I hike, I keep running the logistics of today. One key item on my mind is that I have two nights at Around the Bend hostel two nights from now. My intent is to be off trail by the time thunderstorms are expected to arrive Wednesday evening and leave Friday morning.
The hostel is just off of Dick's Creek Gap which is 32 miles from where I started today. Initially I was planning on doing 13 miles today, 7 miles tomorrow and then get picked up by the hostel. Then I'd shuttle back to that spot after the storm blows over and hike the remaining 12 miles to Dick's Creek.
I keep putting together different scenarios and seeing how my gut feels about them. As I spin, some facts all seem to align.
I have two days of hiking before I get off trail.
Dick's Creek Gap is 32 miles from where I started today.
Joe and Jeff are shooting for 16 miles today.
16 is half of 32
If I do two 16 mile days, I'll just be at the hostel. No need to shuttle back to make up miles.
This settles it for me. I will shoot for 16 miles today and try to camp out on top of Rocky Mountain. I close out of FarOut and my calculator and focus on the trail.
The miles start to blur. Normally I like to take in the scenario but today is different. I now have a set schedule for the next two days to beat the storm.
I make it to a stream just below Blue Mountain Shelter, my original goal for the day. A thru-hiking couple by the name of Sprinter and Thumper are packing up from getting water as I approach. We make conversation and I learn that they had started only a mile up the trail from me today. Naturally, I ask everyone's favorite question.
"How far are you going today?"
"We're hoping to get to the Cheese Factory Site."
The Cheese Factory Site? That's an extra three miles from Rocky Mountain. And the elevation is not friendly. Almost 1,000 feet of descent into Indian Grave Gap and almost 500 feet of ascent up to the Cheese Factory campsite.
"Do it"
That's not Sprinter and Thumper. They've left the stream to keep hiking. That's the voice in my head.
"Do it. What's an extra three miles?"
I start to think about how that's technically an extra six miles from my original plan but I'm cut off by the voice.
"Stop thinking. Do it."
Okay Mr. Voice, sir.
I chug my water, filter an extra liter and take off. Everything feels good. My legs are feeling fine and the trail is working with me. Every step is landing. My toes are clearing the roots and the rocks I step on don't wobble.
I make it to the top of Blue Mountain. It's all downhill from here. Then uphill. Then downhill. Then uphill again. Maybe I should just hang out at the shelter 'til Joe and Jeff catch up and see what they're doing.
"If you wait, you won't get to the Cheese Factory Site 'til dark" says the Voice.
It's got a point. I throw a Cliff bar down the hatch without tasting it and start descending.
Where I normally am cautious with each step down the mountain, whatever has taken hold of me has different plans.
I am flying.
The trekking poles are just being held in front of me, ready to catch me if I should stumble.
But I don't stumble. I am practically running downhill into Unicoi Gap.
"This is how you get hurt", I think to myself.
"Push it" says the Voice and I fling myself further down the trail.
I'm not paying attention to anything but the three feet in front of me. The sounds of traffic alert me that I'm approaching the gap. I finally look up to assess what's ahead of me.
There is a gathering of hikers on the other side of the road at the Unicoi Gap parking lot. As I approach, I see folks with small bags of chips, cans of soda and a pile of snacks on the hood of a car. Tell-tale signs of trail magic. A kind man named Smokey Bear is providing snacks and beverages for the weary travelers.
I hesitate. It's rude to turn down this kindness, but I'm 15 miles in and I have 4 more to go.
"You don't need this. Hike on." hisses the Voice in my head.
But Mom didn't raise a rude boy, so I swing over to the car. After chatting with Smokey Bear and inhaling a small bag of chips, I follow the horde of hikers up Rocky Mountain.
This mountain is taking everything out of me. I'm stopping every 10 steps or so to catch my breath. Exhausted, I get to the top. Everyone who was at trail magic has passed me on the way up. I stop at the top to assess myself. The voice bursts through.
"This is just a break. Refuel and go."
There's no questioning anymore. I'm at the whim of this insatiable urge to press on. It's Cheese Factory or bust and both options seem likely.  Every step I take sets a new record for the furthest I've hiked in day and my body feels it.
My snacks have been depleted for the day and I find myself digging out my bear can to grab what I can. I throw an amalgamation of bars and carbs into my mouth and drown it in the last of my water.
My head is empty. It's just trail now. I just do the trail now. I just hike.
I'm down Rocky Mountain, again jogging downhill. I don't know where this manic energy is coming from but I need it to last another mile or two. Just have to get to the gap and climb up to the campsite. It's feeling possible until I hit the last gap and see it.
A group of hikers. Small bags of chips. Cans of beer. Snacks in the back of a car. Tell-tale signs of trail magic.
"Walk past it. Just hike. That's all you do." sounds the Voice.
My head is really heavy and I'm not sure if I have the energy to socialize. The Voice is probably right. Time to push on.
But Mom didn't raise a rude boy and this gentleman came all the way out here to do trail magic. I cough up my last reserves of will and quelch the Voice as I step over to the car.
This is a different trail angel, providing food and beverages. He's a former thru-hiker paying the magic forward and keeping on eye on his nephew, who is doing a thru-hike this year. I gather this info as I eat a small bag of pretzels. This time I don't wait for everyone to start moving on, I start heading out.
The trail angel tries to start another conversation with me. He's asking questions about my trip as I'm slowly backing towards the trail. I'm torn between being polite and walking away mid-conversation.
"Just leave."
This time the Voice wins.
"Sorry to dip, friend. The trail is calling!" I shout and pivot my way to the nearest white blaze. He seems to understand and wishes me well as I dip back into the trees.
It's just a mile uphill left. I can just putz my way up this hill and set up camp.
The Voice stirs. "Gun it. Everyone behind you is faster. Get to camp first so you can get a good tentsite."
I'm out of control. I'm running on empty but I throw another brick on the gas pedal.
"Just a little more."
All that exists is the beaten down strip of roots, rocks and soil.
"Just a little more."
My feet are about to revolt from the unscheduled overtime.
"Just a little more."
I have no reason to push this hard this early in my thru-hike.
"Just a little more."
A clearing.
A tent.
A hiker looking at me as I shuffle my corpse into the campsite.
"Is this Cheese Site?" I manage to blurt out.
He confirms that this is the place.
I can almost see an hourglass in my peripheral vision. There might just be enough grains of sand left for me to set up my tent and sleep system before I become a pile of lactic acid and mush. I get my new Nemo Hornet 2P tent set up, so grateful that I had done a test run of building this in the Holiday Inn parking lot yesterday.
The rest is business as usual. The folks I left at trail magic catch up and make camp. I manage to chuck a Knorr rice side into my gut, punt my bear can into the treeline and fall into bed.
I am being pulled very quickly to sleep. Reflecting on the day, I'm proud of my body. There's a newfound confidence in my ability to hike these trails. There is also guilt that I put miles over smiles today. I decide that one day doesn't need to affect my perception of how my hike is going. The balance of athletic endeavor and stopping to enjoy the woods will be found throughout the coming months.
I'm just happy the Voice seems to be gone. It certainly got me here today but if I don't have to call on it again, I won't be upset.
I decide I will be conscious in hiking my own hike tomorrow and finally pass out.
Hey there, Reader!
Wow. You hung in all the way to the end. Kudos to you!
I'm not planning on making my posts this long, but this day was such an oddity to me that I wanted to capture all the details. I hope my words were able to get you into my head from that day. Or at least, provide an insight into how this hiker spent their day.
Till we meet again. Take a hike!
David/Good Soup
Affiliate Disclosure
This website contains affiliate links, which means The Trek may receive a percentage of any product or service you purchase using the links in the articles or advertisements. The buyer pays the same price as they would otherwise, and your purchase helps to support The Trek's ongoing goal to serve you quality backpacking advice and information. Thanks for your support!
To learn more, please visit the About This Site page.