Starting the journey, week one complete
Starting the journey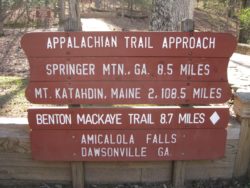 On April 10,2017,  I started my journey on the approach trail to the AT. It began with several hundred stairs to ascend to the top of the waterfall. I took my time by setting small achievable goals, like the top of the set of stairs in front of me, then the next. Then the journey begins in he woods.   Somewhere along the path, while hiking solo, I got turned around heading back towards Amicolola instead of towards Springer Mountain. Very frustrating, but I recovered and got back on track.  Night time was approaching and I was fortunate to stumble upon a group of Boy Scouts that allowed me to pitch my tent with them for the evening.
That was the beginning of a series of lessons and tests that I faced during that dirst week.  To understand your abilities and limitations, to figure out what are the necessities on the trail, and to set your mind up to always move forward, even if that is just one step at a time.  I learned that I packed too much stuff. I accepted that fact and continued, knowing that later in the week I might have an opportunity to lighten my pack by either mailing things home, putting them in a hiker box, or he owing the stuff away.
It takes time to adjust
My body is taking time to adjust to the trail.  My feet, knees, and stamina need time to adapt to carrying the pack load through the various elevation changes.   I've learned to rely very heavily on my trekking poles to assist in navigating the terrain, while aiding my body I need hiking.  That is where your determination must step in.   At first there were frequent times when I would pause to catch my breath.  I made it a point to look around and appreciate the natural beauty, like the blooming wild flowers.
You are in control
You are in total control of how you deal with living and hiking on the trail.  From the water you drink, the food you eat, and your ability to deal with the elements to have a learning and pleasurable experience along the way.
The shear pleasure of gathering your water supply directly from the streams, like the one pictured below, is amazing.  My first use of my water filter system (Sawyer Sqeeze)  produced some of the best tasting water I have ever had.
Persistence pays
I was able to lighten my load to a manageable 35lbs by reaching out to Hiker Hostel for assistance when I reached Woody Gap.  The Hiker Hostel sent a shuttle to pick me up, take me to the Hostel, and offered a mailing service as well.  After a nice sleep, and a hearty breakfast they drove me back to Woody Gap to resume my travels the next day.
It is important to walk your own hike and enjoy all of the sights, sounds, and people along the way.  I'm taking the time to listen to my body, and to be attentive to its needs. 😉
Affiliate Disclosure
This website contains affiliate links, which means The Trek may receive a percentage of any product or service you purchase using the links in the articles or advertisements. The buyer pays the same price as they would otherwise, and your purchase helps to support The Trek's ongoing goal to serve you quality backpacking advice and information. Thanks for your support!
To learn more, please visit the About This Site page.
Comments
11
Tom,

Thanks for posting !! Your journey is truly inspiring !! Thank you for sharing and be safe out there on the trail !!

I love the post. It brings back memories when you were a young boy and went with Kenny out West to camp. Stay safe. I love you Cuz.

So awesome! Keep up the awesome, positive attitude!! Happy trails!

Tom, thanks for sharing. Your journey is interesting, inspirational and educational. Continued blessings on this journey and looking forward to "the rest of the story."

Tom – so glad you are able to take this journey! Thank you for sharing your story – looking forward to more! Safe travels to you.

Thanks for sharing your journey with us – my prayers go with you guys as you progress.

Hi Tom,

So excited for you! Can't wait to hear all about your adventure!

Good luck Tom, great to see you doing this! It's on y To Do list too, so I'll be following you avidly! 🙂

Hope all continues to go well for you . When is Andrew meeting up with you ?

What an awesome adventure Tom! I'm looking forward to reading your updates and I hope the timing is right to see you in New York in late July/mid-August.

You keep those feet moving young man. We came home today from 3 days and 2 nights from Washington Monument park to Pen Mar park. 24 miles with 7 kids and did great. I was lagging on the inclines but like you I kept my eyes on the goal. Set and reach those goals. It feels great!