The One Thousandth [AT mile 859.5-1104.6]
Day 70: 12.4 miles from Paul C. Wolfe Shelter to Calf Mountain Shelter
Day 71: 6.7 miles to Wildcat Ridge Parking Area
Day 72: zero w/my best friend in Waynesboro, VA
Day 73: 12.4 miles from Wildcat Ridge Parking Area to a stealth site
Day 74: 15.3 miles to Hightop Hut (shelters in Shenandoah National Park are called huts)
Day 75: 20.4 miles to Big Meadows Lodge
Day 76: 18.8 miles to Pass Mountain Hut
Day 77: 19.9 miles to a stealth site
Day 78: 6.6 miles to US 522/Front Royal, VA
Day 79: 20.2 miles to Ashby Gap
Day 80: 13.9 miles to Snickers Gap
Day 81: 19 miles to US 340/Harpers Ferry, WV
Day 82: 11.3 miles to Crampton Gap Shelter
Day 83: 12.5 miles to Pine Knob Shelter
Day 84: 18.6 miles to designated campsite by Falls Creek
Day 85: 6.6 miles to Old Forge Picnic Area
Day 86-87: double zero with my family
Day 88: 14.8 miles to a 5-way gravel intersection
Day 89: 15.7 miles to Pine Grove Furnace State Park
How a terrible, horrible, no good, very bad day turned AMAZING
The morning of day 70 dawned rainy and a little chilly. Which I was NOT in the mood for. I had zero energy, only a single pack of poptarts left in my food bag, and very painful feet, ankles, calves, and knees due to my desperate need for new shoes. Add the rain, and I was not at all thrilled to hike that day. I took my time packing up, delaying the inevitable. While I was packing, two men arrived at the shelter and chatted with me for a few minutes. They were locals who day-hike in the area almost every weekend (apparently it was a weekend) and seemed very nice. In answer to their questions, I explained my plan for the day was to hike to Rockfish Gap, catch a ride into Waynesboro, resupply, then return to the trail and hike however many miles I had time for. After talking for a little while, they carried on with their hike and I resumed packing. When I finally finished, I stepped out in the rain, a sour mood cloaked about me.
I hurt. I was so very hungry. I had no energy to keep my feet moving, but I had to if I wanted to change my circumstances. Dread filled me with each step because I knew the rain and fog would make it harder to get a hitch (you can't pick up a hitch hiker you can't see), and I already didn't want to go into town to resupply. On the flip side, I really wanted to go into town, get a room somewhere, and just be done hiking for the day. But Savannah was coming, and I'd be taking a day off with her, so I really didn't want to stay in town that night because I knew that meant I'd take the next day off, leading to a double zero. Which I didn't want.
As I trudged along the 4.9 miles standing between my shelter and Rockfish Gap, I debated my options for the rest of the day, and prayed for an easy ride into town and back to the trail. I needed food badly. When I finally stepped up level with the roadbed at the gap, a car immediately pulled up and rolled down its window. The man inside was one of the guys from the shelter. He introduced himself (we'll call him Mr. D) and said that after he and his buddy left, they were talking about how they could tell I was really hungry and they wanted to help, but his buddy had somewhere to be. So Mr. D called his wife to make sure she was good with his plan, then waited for me to arrive at the gap. He offered to drive me to Aldi for more food, then back to the trail. I'd gotten a good feeling from him and his buddy back at the shelter, and my spidey senses weren't tingling now, so I threw my pack in the back and climbed into his front passenger seat. He called his wife on speaker phone as I was getting in, and told her he had me and we were heading to Aldi and probably a restaurant. I honestly think this phone call might have been more for my benefit than his wife's, like maybe a way to make him seem legit and not sketchy. Though I already knew I could trust him, I thought it was a nice touch.
Before going to Aldi, he suggested going through a drive-thru to satisfy my current hunger, which I thought was a great idea. He rattled off a list of places near Aldi, but I stopped listening after he mentioned Chick-fil-a. As we entered the drive-thru line, he said for me to order whatever I wanted, because he was paying. And he was paying for my groceries too. I of course told him that wasn't necessary, that I was super grateful just for the ride, but he insisted. I ordered a chicken sandwich meal (no pickles of course), which he increased to two sandwiches. Both for me.
At Aldi, I planned on only getting enough food to last me until the following afternoon when Savannah would pick me up, but he said I should get as much as I could carry. So I got a happy middle ground between those two options, about enough food for 3 days. As we walked to the car, he asked if I liked coffee and said there was a Starbucks across the street. Where he once again paid. Then he drove me back to Rockfish Gap where I showered him with even more gratitude (the words 'thank you' had been pouring from my lips since he picked me up, but he'd done so much they were insufficient) before he drove off.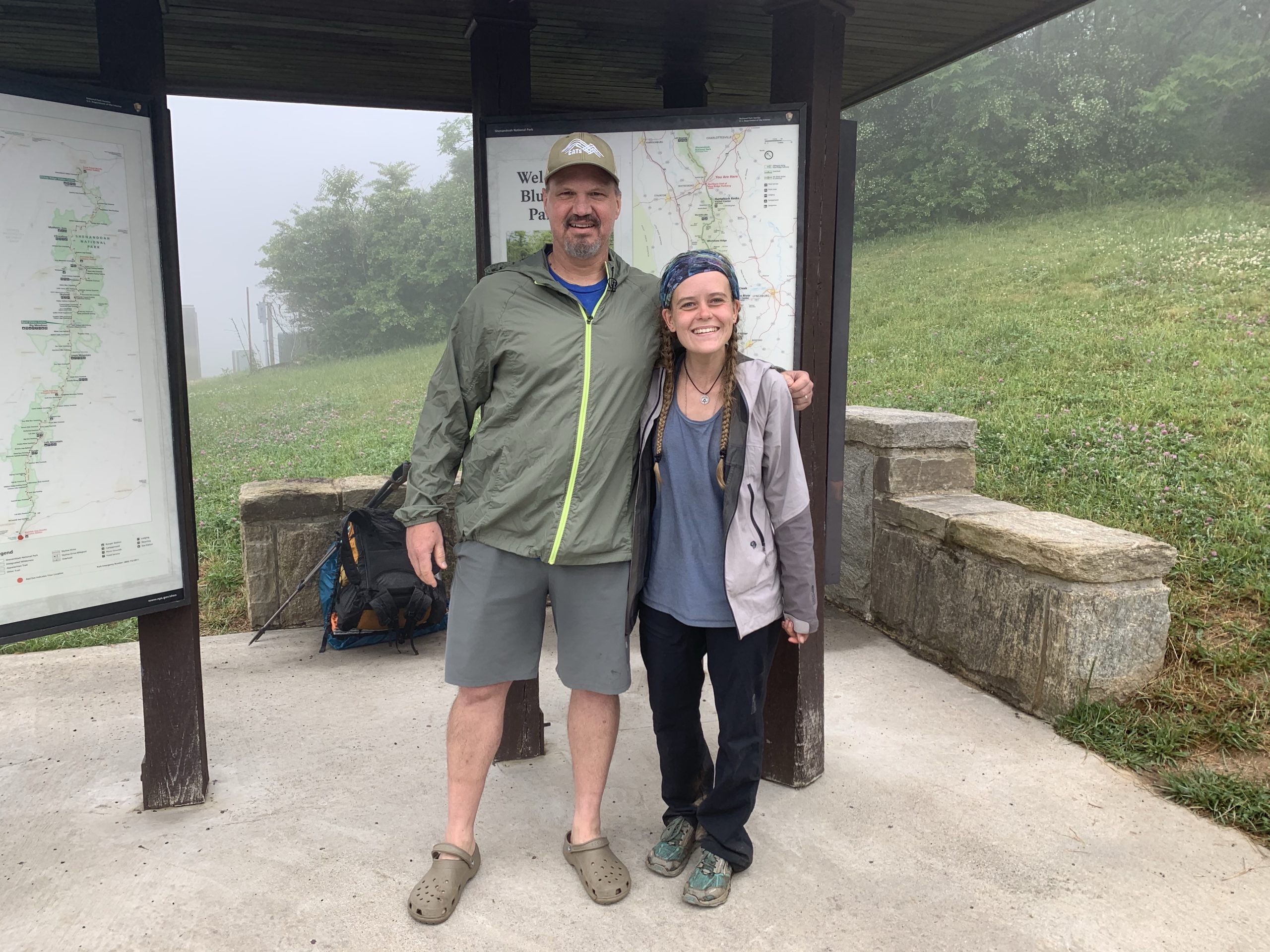 Returning to the trail, I felt like I could fly. I bounded up the trail, full of much-needed calories and the goodness of humanity that we so often forget about. Mr. D truly was an answer to my prayers, and I am so thankful for his kindness and generosity to a tired, hungry hiker.
Reunited
The next day, after hiking an easy few miles, my best friend Savannah picked me up from Shenandoah National Park. We've been best friends since middle school, but I haven't seen her since she moved to Virginia with her husband in 2019 (it's okay Joe, I don't hold that against you…too much). So needless to say, we were due for a little hangout time. Like the first shower after 12 days in the woods (which I got later that day), the first hug after two years of not seeing your best friend is one of the best feelings in the world.
And so began an amazing three days. We watched the Friends Reunion (a favorite show of ours), visited the Luray Caverns, and slackpacked 9 miles through Shenandoah. The caverns were super cool, and a nice break from trees (I do love looking at trees though). Got to hike in new shoes which felt so much better! And I loved getting to share the trail that dominates my life with my best friend.

Getting lucky at the lodge
In addition to the regular free stealth sites and shelters (called huts in this section), Shenandoah National Park has a lot of campgrounds and lodges that you can pay to stay at. I had zero intention of staying at any of these until I made some new, very lucky friends.
It all started with my decision to turn down the spur trail to Lewis Mountain Campground to refill my water bottles. At the first campsite I passed was a lady named Lexi who offered me trail magic in the form of hotdogs and cookies. Also enjoying her magic were two other hikers and a hiker pup—Rambo, Engine, and Tucker. By the end of my second hotdog, I had joined in on an eight-mile slackpack to Big Meadows Lodge, where Lexi would bring our packs once we arrived. Having already hiked 12, eight more with no weight sounded wonderful. And that was before I knew we were going to get DUMPED on by a thunderstorm.
At the lodge, we received our packs and more trail magic, this time in the form of shelter. A thru-hiking couple offered my new friend Rambo use of the other room in their suite. Apparently, it was cheaper for them to stay in the family suite, with two separate rooms and bathrooms, than a single private room. Hotel rates never make sense to me, but in this instance I'm grateful. Rambo, Engine, and I got to take the best smelling showers of the whole trail and sleep under an actual roof thanks to this lovely couple.
One last note about Shenandoah before moving on: if you ever go, you HAVE TO get a blackberry milkshake from Elkwallow Wayside. Absolutely delicious!
The Stumble Inn
If you're ever searching for somewhere to stay in Front Royal, VA, look no further than the Stumble Inn. It's their first season, and they are absolutely killing it. The owners, David and Danielle, are thru-hikers themselves and know what hikers want. The hostel itself is super comfy/cozy, with a GREAT shower and the second comfiest bunkbeds I've ever slept on (beat only by those at the Happy Gnomads hostel in Hot Springs, NC). David and Danielle are very kind and fun to talk to, and very helpful with whatever you need. And, as if all this wasn't good enough, all the proceeds from their hostel go towards a nonprofit that helps get kids on the AT who otherwise wouldn't be able to. I know I recommend almost every hostel I stay at, but this is one you definitely don't want to miss.
The Rollercoaster
Many thru-hikers will tell you that Virginia lasts forever. I get where they're coming from, it does have a fourth of the entire trail inside its borders. Many hikers will get what has been dubbed "the Virginia Blues" due to being stuck there for so long, but I never did because VA keeps throwing new things at you–Grayson Highland ponies, the glorious sights of the triple crown, and the WV gatekeeper, more commonly called the Rollercoaster.
The Rollercoaster is 13.4 miles of "tightly packed ascents and descents" as described by Awol's guide. I believe the wording of the sign more accurately conveys the appropriate warning.
Honestly, I didn't think the Rollercoaster was that bad. We hit it on a CRAZY hot day with SUPER high humidity (yes that's exactly what the thermometer and humidity-measurer said), but there's a stream in between every hill so we had plenty to drink and cool off in. And I thrive in the heat. I felt like I was FLYING up the hills. And then crawling down them, because the downhills absolutely wreck my knees. We all have our kryptonite.
During the Rollercoaster, we passed the 1000 mile mark!!!!! And kind of crossed into West Virginia! I say kind of because I'm pretty sure for the first little bit of West Virginia you're actually tip-toeing the border between WV and VA. But exciting nonetheless.
Harpers Ferry
The trail goes right through Harpers Ferry, WV, and after spending the night in a hotel room packed with friends, I passed through right on with it, stopping only to get my picture taken at the ATC headquarters. This is a tradition they do to try to track how many thru-hikers there are each year, and how many go which direction (NOBO, SOBO, or flip-flop). I saw a lot of friends I hadn't seen in a while at the HQ so that was fun. Then I left town, stopping to watch a train along the way. Oh, and entered into Maryland! West Virginia (once you stop border-hopping) is literally only Harpers Ferry. All two miles of it.
The invasion from the underworld
I'm sure you've at least heard about the massive brood of cicadas emerging into the world right now. I didn't hear or see any until I got out of Shenandoah. Apparently, there aren't any there. But as soon as I stepped out of the car at the Stumble Inn, and every day since, they've been a constant ruckus. I personally enjoy hearing them, except for every now and then when they get so incredibly loud that my head hurts.
They're not everywhere on trail, which surprised me. Small sections of forest are absent of their call, making you notice them even more when you enter somewhere with their presence. For the most part, they leave us hikers alone, though every now and then one will make a weird decision to do something like land on the tip of my ear…their legs are very spiky, I don't recommend.
A hiker birthday party, a brief hiatus, and HALFWAY!!!!
On day 85, I hiked towards a picnic area on trail to meet my family, who were coming up for my birthday and to give my body a little break from hiking. As I neared the picnic area, I began seeing little inflatable monkeys with signs announcing trail magic. I had a sneaking suspicion who was behind this. When I entered the clearing, my suspicions proved correct.
My family, two of our pups, and my sweet kitty cat were in the clearing with a table full of trail magic, a small group of thru-hikers, and a "happy birthday Monkey Toes" sign. The perfect trail celebration.
Afterward, I returned with them to my parents' RV and spent the next two days off trail, resting my wearing limbs. And getting diagnosed with an ear infection that had been causing huge headaches and high fevers. But there were good things too–swimming in the pool, playing putt-putt, and visiting the Hershey chocolate factory! I'd always heard Reese's and Hershey bars were better when fresh, but assumed that was just your mind telling you it was better. That is not the case. It is genuinely the best thing I've ever eaten. Can't recommend enough.
Over the next two days, my family slackpacked 30.5 miles with me. It was pretty easy hiking, with the most notable thing being that I CROSSED THE HALFWAY MARK!!!!!! Which is completely insane. I officially have fewer miles between me and Katahdin than I do between me and Springer. How have I walked this far? No idea. To celebrate, I got ice cream from the General Store at Pine Grove Furnace State Park, but I did not try the half-gallon challenge. Since I already had a massive headache, I decided just to eat my pint of ice cream and be happy, rather than make myself sick trying to complete a challenge. As much as I really wanted to be able to say I did it. Oh well. I'm halfway to Katahdin!
Affiliate Disclosure
This website contains affiliate links, which means The Trek may receive a percentage of any product or service you purchase using the links in the articles or advertisements. The buyer pays the same price as they would otherwise, and your purchase helps to support The Trek's ongoing goal to serve you quality backpacking advice and information. Thanks for your support!
To learn more, please visit the About This Site page.