Two weeks in, we're finding our pace
One night last week I found myself as curled up as I could get in my mummy sleeping bag, my hands tucked under my armpits for warmth. I was cold, and yet I was laughing, because there was a whippoorwill singing right beside Pennsylvania's Quarry Gap Shelter. The bird was loud, and its incessant "whip-poor-will" wouldn't let my eyes close long enough to actually drop off to sleep. But another day spent in nature was coming to a close, and it had been so great that even a bird keeping me awake couldn't annoy me. In fact, it had the opposite effect.
And that is how I will describe my flip-flop thru-hike so far: even the most frustrating moments have been beautiful in their own way. Being on the Appalachian Trail is the hardest and also the easiest thing I've ever tried. It is hard because of everything you would expect–rain, cold, the physical aches and blisters, the slight homesick feeling, the lack of everyday "comforts," the fact that something even as simple as walking can get a bit mundane. And yet there are moments when this journey is perfectly easy, because, quite simply, I feel like I was born to do this Trail. It's been my dream for so long.
Dad and I left Harpers Ferry on May 6, and since then, we have settled into a rhythm and pace that suits us. Almost two weeks into our hike, I believe we are gaining our Trail legs. It will be interesting to see if we can keep our pace up or even add to it while in the midst of the Pennsylvania rocks. I'm trying to focus not so much on miles per day, though. While it can be hard to watch the Northbounders fly past us, and even harder to not compare our mileage with theirs, I need to remind myself it isn't about keeping up. This journey is our own.
A few highlights so far:
Thanks to Eliane (A.T. Class of 2016!) for bringing me a pair of baselayer leggings to the Appalachian Trail Conservancy in Harpers Ferry after I stupidly forgot mine at the house. A mistake like that before even starting the Trail seemed like a bad omen, but it turned out to be my first taste of Trail magic.
Our first night on the Trail, we met the sweetest Belgian couple (Step-By-Step and Forest Man). They were quick to share stories and advice with us, and we were grateful for the conversation on that first night in the woods.
Our third morning began with lots of laughs thanks to a fellow flip-flopper named No Rush. He continues to be one of the happiest people I've met out here so far, and his excitement over the little things was contagious. No Rush is originally from Boston, and he told us a funny story about his reaction when he hiked past the Washington Monument in Maryland (which definitely doesn't look like the one in DC): "I thought, 'Wait a minute, that don't look like the pictures!'" No Rush, wherever you are, I hope you're having a great time.
Chris (Soggy) gave us a ride on a chilly, rainy morning to Timbers Restaurant in Fayetteville, PA, where we had a delicious breakfast and copious cups of coffee while chatting with the owners. This restaurant is a short walk from where the Trail crosses Rt. 30, and I definitely recommend it.
We met a great group of hikers at Ironmasters Mansion in Pine Grove Furnace. We were grateful for this hostel stay after dealing with some serious rain and cold, but the best part was the people we talked with while we were there. Thanks Coolio, Dixie Chick, Breeze, Wonder Woman, Quill, and, of course, Jeff, for the fun time! Check out this hostel if you're passing through; it was part of the Underground Railroad and has a fascinating history.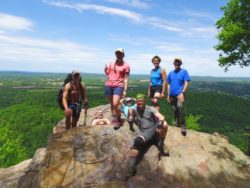 Ben and my mom have been so supportive of our adventure, with both of them driving long distances to see us some evenings and take us out for a meal in towns along the way. Thank you so much for not only supporting us, but also taking care of "life" while we're away.
Today starts Day 13, and we will continue heading north with new shoes (yes, I've already worn through the inside of the heels of my trail runners, and Dad wanted to get something more sturdier for the rocks). The terrain of Pennsylvania has kept us guessing so far (one mile you're walking through fields; the next you're hopping rocks!) but we know we're headed into the really rocky parts soon. We're ready for the challenge!
Affiliate Disclosure
This website contains affiliate links, which means The Trek may receive a percentage of any product or service you purchase using the links in the articles or advertisements. The buyer pays the same price as they would otherwise, and your purchase helps to support The Trek's ongoing goal to serve you quality backpacking advice and information. Thanks for your support!
To learn more, please visit the About This Site page.