Why I quit my job to hike for six months
A Kid in the Woods
I grew up in a small town in Michigan, so our family adventures consisted of summer car-camping trips to the State Park and an annual backpacking trip to Manitou Island. I was fortunate that my parents exposed us to the outdoors and to backpacking at an early age, even if I could only carry a few pounds in a pack made for a six-year-old. (Apparently I insisted on carrying the peanut butter and toilet paper).
A long-distance thru-hike, however, wouldn't cross my radar until decades later.
A Life Calling
When it did, it became akin to a life calling for me. I have been informally entertaining thru-hiking the Appalachian Trail since 2014, when a coworker and her husband (I see you, Laurel & Eric!) quit their jobs to hike the AT. That was the first I had heard of thru-hiking. I was amazed at the audacity of it. The idea of thru-hiking the AT myself has stuck with me since. It started as a "someday, maybe…" bucket list item for me and has grown into something of an obsession. Over the past few years, I've spent hundreds of hours researching gear, reading books, watching YouTube videos, and daydreaming about what my own thru-hike might be like one day. And every year when hiking season came around, I came up with reasons why it wasn't the year to do it. I told myself that work, finances, family and relationship obligations were all more important.
My Moment of Truth
Then in January of this year, my partner (Austin) and I decided it was now or never. We knew that if we put it off yet another year, we may never actually do it. When I broached my thru-hiking plans with a few friends and colleagues, a few people suggested waiting — doing it another time (for lots of very good reasons). But in those interactions, I got the kind of clarity you can only get in moments of truth: My heart sank, my stomach clenched, and I felt an overwhelming urge to cry. In those moments, I knew I wouldn't be able to live with myself if I didn't give the Appalachian Trail a shot. That meant quitting a job I love and stepping away from a life I had worked hard to build.
Ultimately, I'm hiking the AT this year because I've finally reached the point where if I don't try, I know I'll never be content with myself.
My list of "Why"
I'm also hiking it for a load of reasons. Like many type-A and well researched aspiring thru-hikers, I read Zach Davis's book, "Appalachian Trials", which aims to help prepare hikers for the mental and psychological challenges of hiking for six months. In it, he suggests making a list of all your reasons for hiking: your list of why. This list is meant to be a north star for completing your thru-hike, and to help prevent you from becoming one of the 75% of people who quit.
I share my list of "Why" in the hopes that putting it into the world makes it that much harder for me to quit on the AT, and quit on myself.
I'm hiking the AT because:
I want to start (and finish!) something ambitious and hard
I want to prove to myself that I can do it
I want to take myself less seriously, focus on what's most important to me, and what matters most
I want to train myself to be more present, see challenges as opportunities, and appreciate smaller things in life
I want to learn to be happier with my life, and the process of living
I want to become less cynical
I want to experience the community of the Appalachian Trail
I want to experience and participate in random acts of kindness on the Trail
I thrive in a good challenge, even if I don't enjoy all of it
The biggest challenges I've faced are also my proudest moments
I need to work through mental challenges, anxieties, and doubt more productively. That takes building new habits, and doing it again and again on the Trail
I'll regret it if I don't
I've wanted to do it for years. It's time to follow-through.
"You gotta make it somehow on the dreams you still believe…" (my favorite Grateful Dead lyric)
I want to be a thru-hiker
I want to follow in my Dad's footsteps (my dad walked to Florida from Michigan when he was 18)
I want to finish something that I can look back on forever and say "I did that" and be immensely proud of that
I want to be a happier, more grounded person
I want to have the adventure of a lifetime, with Austin
I want to unlock more creativity, figure out what excites me most, and where I want to go next personally and professionally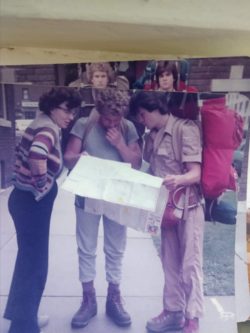 For friends and family reading this, please remind me of this list when I'm hungry, tired, grumpy, wet, cold and ready to call it quits. With your help and a little luck, maybe I'll be part of the 25% club who finishes. At the very least, I'll have given it my shot.
Affiliate Disclosure
This website contains affiliate links, which means The Trek may receive a percentage of any product or service you purchase using the links in the articles or advertisements. The buyer pays the same price as they would otherwise, and your purchase helps to support The Trek's ongoing goal to serve you quality backpacking advice and information. Thanks for your support!
To learn more, please visit the About This Site page.