Chinook Trail: Lost Lake to ALDHA-West Gathering
I was anxious to hit the Lost Lake General Store this morning—I really wanted something for breakfast other than Pop-Tarts and oatmeal. A breakfast burrito, cinnamon roll—anything but the usual! Well, no such luck. They were getting ready to close for the season and were letting their inventory dwindle down. I scoured the shelves for something different, but the best I could find was a cup of Life cereal and milk. Along with a hot cup of coffee, it wasn't a bad breakfast. Enjoyed the view of the lake from the front porch and charged up my devices, then headed back to camp to pack up and get the day started.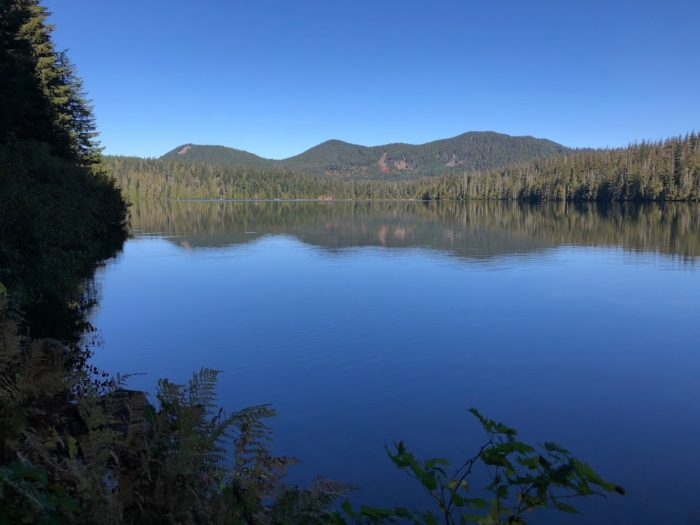 Lost Lake Resort to Muddy River Camp on the PCT
Took the two-mile hike out of Lost Lake slow and steady, then met up with the PCT, heading south toward Mount Hood. Shortly after, I heard a noise about 100 yards or so below the trail, in a small meadow. Off in the distance was a bear—my first bear sighting on the trail. I clacked my poles together and it scampered off into the woods. I have to admit, that was exactly the way I wanted to see a bear on the trail—far away and running away from me.
Shortly before reaching Lolo Pass I started seeing other hikers—the bear was really the only living creature I saw over the first two to three hours of hiking that day. There were some awesome views of Mount Hood, and some not-so-awesome views of buzzing power lines. I talked to a group of hikers about the Chinook Trail, and then met a Scottish NOBO PCT thru-hiker. We talked a bit about whether it was work going to Lost Lake or not, trail names, and the trail. He was determined to make it to Canada, although it was now almost mid-October. We fist bumped and went our separate ways.
I planned to rest and have lunch at Lolo Pass, but without any views or picnic tables (that I could find) I decided to just continue on. The route switchbacked up, up, up, but I kept a pretty good pace, determined to make it past Bald Mountain. That goal didn't turn out to be a problem—I still had a couple of hours of daylight at the point where I had to complete a backcountry permit and the trail started going steeply downhill.
Reaching the Muddy River, which was more of a heavy flowing stream, I saw a couple of large trees with a rope attached. That was one way to cross the river—but it seemed like there would be a way to cross on rocks somewhere. I looked upstream, but any possible crossings would have required changing into my Crocs, which were at the bottom of my pack. Out of laziness, I decided to just go for the tree crossing. It was actually pretty easy—the trees were wet, but having the rope to hold onto really helped.
The Muddy River PCT camp wasn't far away—I set up camp and started dinner. While I enjoyed a Good-To-Go Thai curry meal, I watched a bunch of hikers with headlamps pass—some came down the way I came, while others were likely returning from Ramona Falls. Darkness fell, as did the temperatures, so I cleaned up and went into my tent for the night.
Muddy River Camp to ALDHA-West Gathering
Finished off the last of my Pop-Tarts (won't be buying those again for a loooong time), warmed up with some coffee and oatmeal, then packed up and hit the trail. Instead of taking the PCT, I took the trail to Ramona Falls, enjoying the early-morning solitude with a bit of frost underfoot. It was slightly uphill, following Ramona Creek through lush forest. Reaching the falls around 9 a.m., I was thankful to have it all to myself—it was pretty amazing and well worth the slightly longer detour. I filled up my water bottles, took a ton of photos, and continued on to where the trail connects with the PCT. Unfortunately, I still had the slightly inaccurate NatGeo layer on in the Gaia app, which led me the wrong way—1,000 feet in the wrong direction. Thankfully it was fairly flat, and it wasn't a big deal to turn around and go in the right direction.
My pre-hike research told me that crossing the Sandy River can be a little sketch at times. Thankfully, due to the dry weather and getting an early start, it was no problem at all. One branch was easily crossed by hopping rocks, while the main section of river had a cluster of branches that formed a fairly solid bridge. It was a beautiful area, with the sun peaking over the nearby ridge and a view of Mount Hood in the distance.
However, I couldn't stay for long as today was set to be a fairly long day of hiking. Entering the forest the trail went up, and up, and up. About 3,000 feet or so, from Sandy River to the Paradise Park area on Mount Hood. As I slowly worked my way upward I was starting to get passed by day hikers and trail runners coming down in the opposite direction. As I reached the treeline the views opened up and were quite amazing—Mount Hood above, and deep glacial valleys below. The ground was frozen here—my trekking poles were unable to break through the dirt, so it was kinda like hiking on rock for a while.
Met Pop Tart, an Appalachian Trail thru-hiker who was out doing some day hikes in the Mount Hood region. Super nice guy—talked to him about his adventures, and I told him about the Chinook Trail. We went opposite directions, but I met up with him later just before I left the PCT to head down the mountain on the Hidden Lake Trail. The top half of the Hidden Lake Trail sucked—it was overgrown, with occasional blowovers. It obviously wasn't a very popular trail, but with some maintenance it would be a lot more enjoyable. Thankfully, the condition of the trail improved on the lower half, as I got closer to the Kiwanis Camp just outside of Government Camp, site of the ALDHA-West Gathering.
I passed a few attendees who were going uphill on the trail to stretch their legs a bit—they mentioned the group photo would be at 4:15. That was less than an hour away. I knew they'd make it easily—they were fresh and didn't have 30 pounds on their backs. I would have to pick up the pace. It was at this point I started to feel the emotion of what I had accomplished, along with knowing that the adventurous, backcountry part of my Chinook Trail experience was drawing to a close. From this point on it'd be a Kiwanis camp, a hotel, an RV park, a state park, and mostly road walking before I reached the end.
Upon reaching the American Long Distance Hiking Association – West Gathering I checked in at the registration desk, grabbed a beer, and made it over to the grassy area for the group photo (still with my pack on). After the photo I set up camp and enjoyed the festivities—a talk from Jennifer Pharr Davis, a dinner where I loaded up on salad and mashed potatoes (everything else was meat), and I met a couple of fellow Bellingham hikers—Swept Away and Arrow. I also met Rudy from the Cascade Hiker Podcast, as well as three of the people that have completed the Chinook Trail: Allgood, Snorkel, and Marmot. The evening closed with the Triple Crown awards for folks that have completed the PCT, AT, and CDT.
Affiliate Disclosure
This website contains affiliate links, which means The Trek may receive a percentage of any product or service you purchase using the links in the articles or advertisements. The buyer pays the same price as they would otherwise, and your purchase helps to support The Trek's ongoing goal to serve you quality backpacking advice and information. Thanks for your support!
To learn more, please visit the About This Site page.