The Great Divide Basin (Part Two)
Red Sky at Morning
…" Sailors take warning." Even though we aren't anywhere near the ocean, you didn't need to be a sailor to know that we were walking into a nasty bit of weather. The sky ahead of us, as we walked northbound, had congealed into a nasty shade of black.
The kicker was that we were now walking in soft sand that stretched for miles. A  SOBO section hiker, pushing a pet stroller that carried his water, had warned us the day before about the trail turning to soft sand.
We were in the midst of the section he mentioned and going downhill. (We can only imagine the difficulty he had pushing his weighted stroller uphill in the sand.) Being optimists we only put on our rain jackets, figuring we'd slog our way through, and out the other side of the weather. 
Hypothermia in the Desert?
So our plan to trudge our way through the storm was short lived. Sideways rain, in soft sand, with a now 30 mph headwind became too much. There was no walking out of this. We had to let it pass. We retreated to the sage brush, dug out our rain pants, and hunkered down under our umbrellas. Twenty minutes passed. Then an hour. The storm was unrelenting, but individually we starting to shiver. We had allowed ourselves to get too wet before we took cover, and were starting to pay for it. Simultaneously we both said to each other, "I'm getting cold,we need to start moving." We did our best to walk ourselves warm. A rancher and his wife passed us in their truck looking for wayward cattle. We were of no help. They asked us if we were "enjoying" our "walk."
Liquid Sunshine
The rain stopped and the rancher's truck made for better traction in the sand. By the time we made it to Brenton Springs we were gassed. Cold and wet had morphed to warm and humid. By the time we reached Brenton Springs the rain, cold and sand drained us of all the energy we needed to do the last three miles we had intended. We figured we were pretty safe setting our tent up in the middle of the trail.
All About the Water
Our fifth day in trail was all about the water. Collection and management. We nearly bungled both. We collected water early on at a clear-running stream and had our breakfast. The trail was comfortable and easy to follow. Until we got complacent, and assumed we were headed in the right direction just after passing through a gate.
We hopefully saved other CDT thru-hikers from the same mistake, by pointing them in the right direction. 
Shooing cows and a stubborn bull away from a cow pond so you can clog your filter for some unique tasting water is all in a day's hike while in the Great Divide Basin.
But betting on the veracity of a CDT water cache, to avoid another cow pond is downright daring.
Favorite Day in the Basin
Day six had us up early. We awoke to absolutely NO wind. Which was eerie considering how hard the wind blew ALL NIGHT.  We  didn't want to waste the opportunity to pack up without the "wind machine" on and we were eager to get as close to South Pass City and our resupply as we could.
By now we were getting used to the monotony for our feet, and were finding ways to enjoy our scenery. By no means did that mean that our feet were happy. They were just used to the pounding and the heat.
Breakfast with a View
We breakfasted next to a richly flowing spring that created ribbons and pools of clear water. Pronghorn headed to water were annoyed with our presence.
Wild Horses
We stopped briefly at another flowing water source, complete with a small herd of wild horses. We didn't stay long as the tick population was too great for us.
The horses were stunning and found our silver umbrellas rather curious as they cautiously pushed closer and closer to us as a group, shaking their heads and lifting their lips. Our smell must of been alarming. It was to us.
Spring Diversion
If we didn't know we were going to Weasel Spring, we would have passed it.
It's a short walk from a nondescript wooden fence. The water there is GLORIOUS, even though the top layer is "guarded" by suicidal moths. It was here we discovered how extra nasty pond water is on filters.
Paul had to sacrifice his toothbrush in order to clean our Katadyn Hiker Pro enough to filter the water we needed. (After contracting Giardia on the PCT in 2014, we filter ALL our water). The grass near the spring was warm and squishy, and soothing to our bare feet.
One Stop Had It All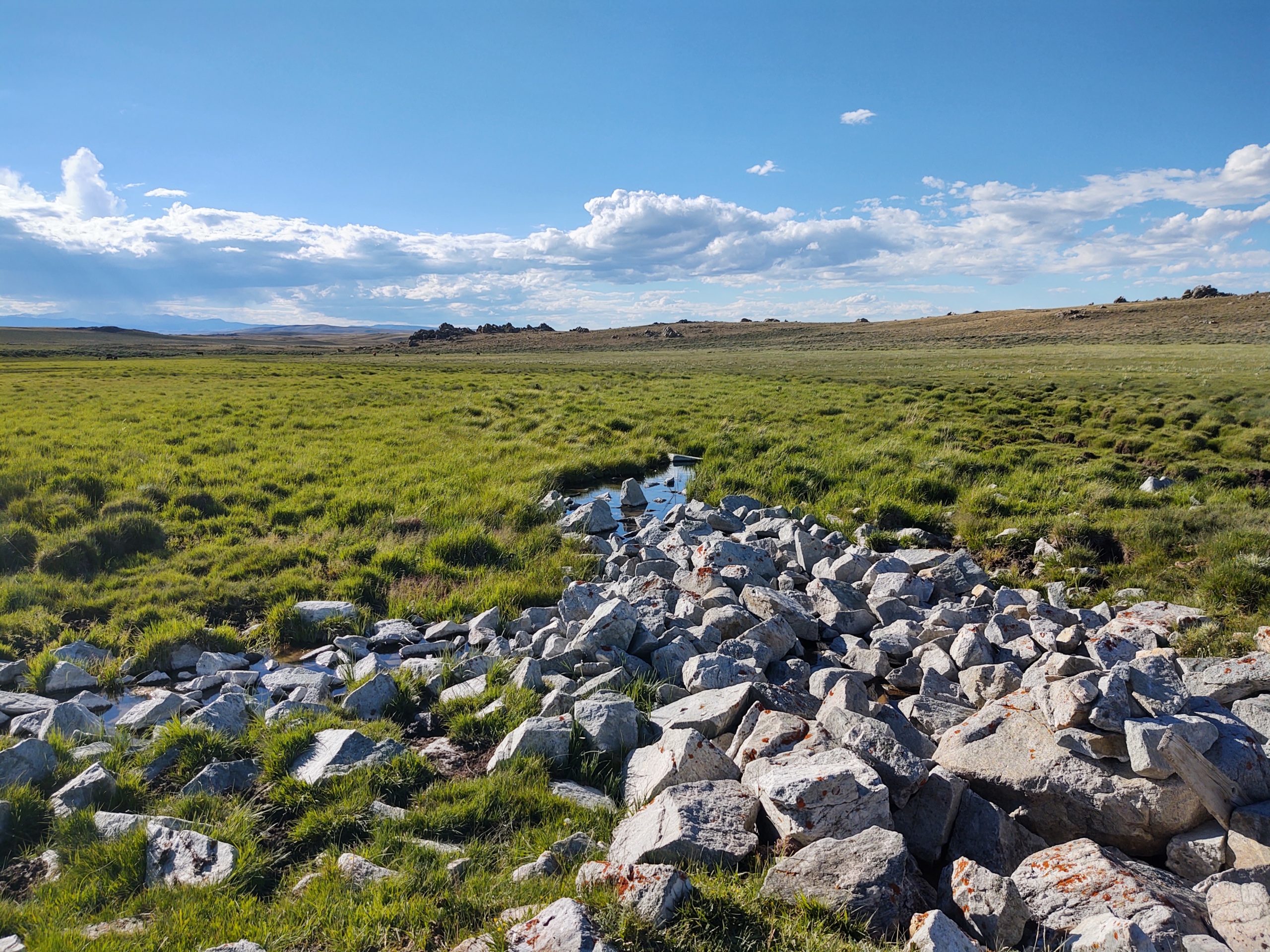 Our finishing "pad" for the day was Upper Mormon Springs. It's in the midst of a seemingly misplaced pile of rocks in the middle of a giant meadow.
One has to walk atop "grass cups" to get there. We had plenty of daylight (and energy) to walk further, but this was such a beautiful place. Here, amid green grass, there were wandering herds of wild horses, cattle, and "super chickens." The wind was nearly absent. We thought we'd end the day on a good note. Besides, we always  have tomorrow… and more miles.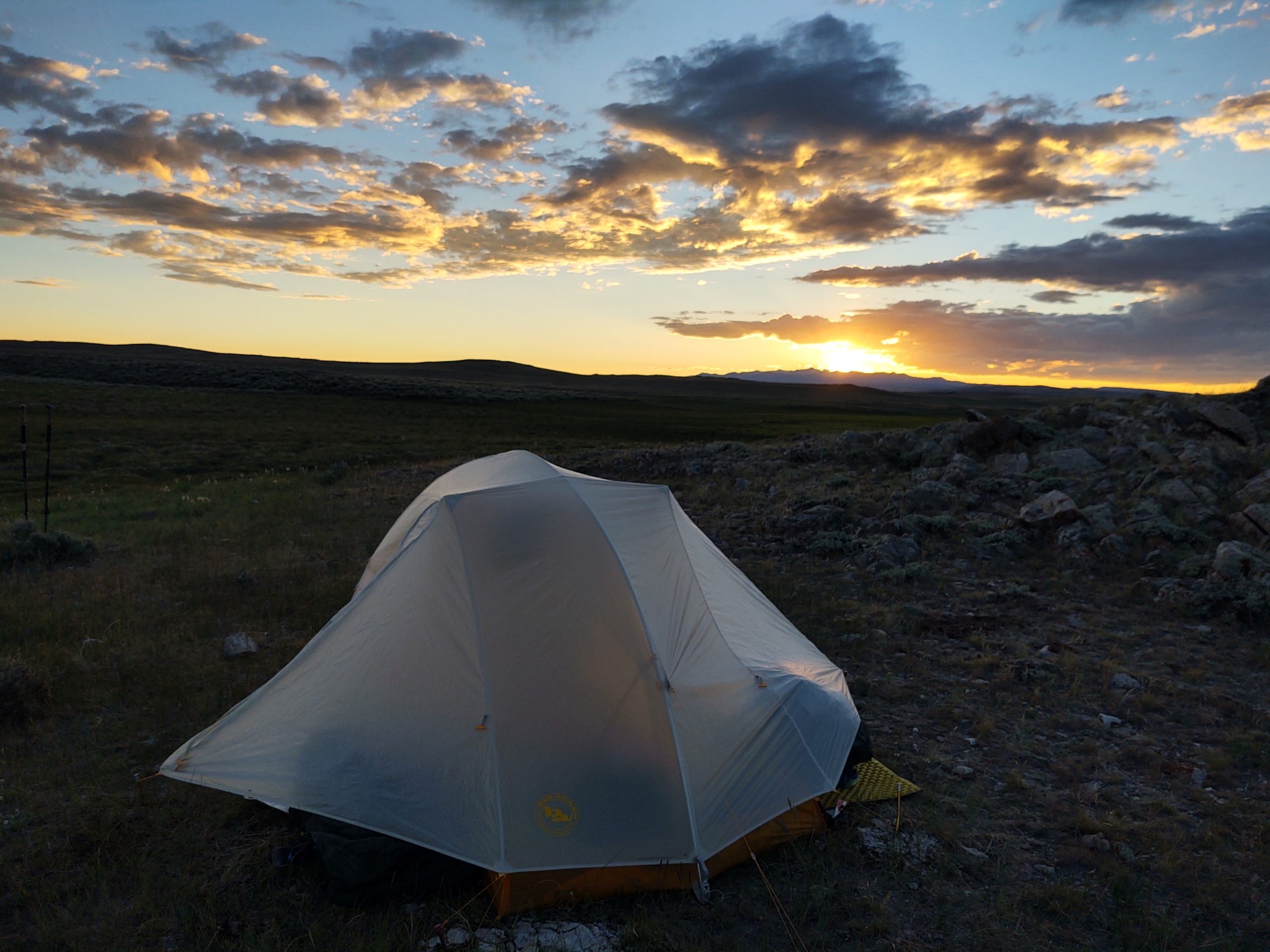 Affiliate Disclosure
This website contains affiliate links, which means The Trek may receive a percentage of any product or service you purchase using the links in the articles or advertisements. The buyer pays the same price as they would otherwise, and your purchase helps to support The Trek's ongoing goal to serve you quality backpacking advice and information. Thanks for your support!
To learn more, please visit the About This Site page.