Ups and Downs on the Idaho/Montana Border
The section of trail along the border between Idaho and Montana has a reputation among hikers as being full of PUDs–pointless ups and downs. Typically, though, that term means there are no views to be had, and that's a lie for this segment of trail. While the ups and downs were certainly numerous, so were the vistas, and it really is a section full of lovely scenery.
I think the reputation comes from the fact that whether NOBO or SOBO, the scenery is lackluster compared to where you've just come from–Yellowstone and the Winds for a NOBO, the Bob Marshall and Anaconda-Pintler Wildernesses for a SOBO. Had this part of the trail followed the Basin or New Mexico, I think people would be raving about it a lot more.
Leaving Yellowstone, most thru-hikers seem to take the Mack's Inn cutoff, which cuts about 40 miles, but since we didn't send a box there and the descriptions made it sound like an unpleasant bushwack, we decided to stay on the official CDT.  We stopped in West Yellowstone for an expensive resupply and overnight stay (tourist towns, ugh) and got a hitch back to the trail.
Our trail family through the Winds and Yellowstone split up here, so Piñata and I hiked through this section on our own. It was lovely mountain scenery, but Yellowstone is a tough act to follow, so it didn't stand out much to me at the time. I think I'm becoming a nature snob! Between West Yellowstone and Lima, we followed many little-used dirt roads along the Idaho/Montana border. Some folks in an ATV stopped to chat with us and wondered why they hadn't seen any good wildlife. I wanted to tell them they had probably scared off everything within a mile with their screaming engine, but I kept my mouth shut. Maybe they'll figure it out someday.
In Lima, we found ourselves in the biggest hiker bubble we've seen on this trail. We didn't plan to stay overnight, but the trail family was all there and we probably won't be together again for at least a few weeks, plus the room was super cheap. We had a fun time in town visiting with other hikers as well as a family biking the Great Divide Trail.
Leaving Lima, we hiked all day with another thru-hiker named Yoda, and we've been hiking with her ever since. The terrain was exposed, with constant ups and downs, as we basically just followed a fence along the border for 100 miles or so, but the weather was overcast and cool, and with good company the time flew by.
Before we knew it we made it to Leadore, population ~100. With only a restaurant and convenience store aside from the hotel/RV park, we resupplied, showered, and did laundry before heading out of town in the evening. We only walked another mile or so before setting up camp and enjoying the sub sandwiches and mini bottles of whiskey we packed out.
The next few days were surprisingly tough. Every day we had several big climbs and big descents. The weather got a little warmer, and we were under a haze from wildfires both near and far. We saw southbound hikers every day, and nearly all of them seemed pretty excited for some people to talk to. I imagine they will be seeing lots of NOBOs through this section.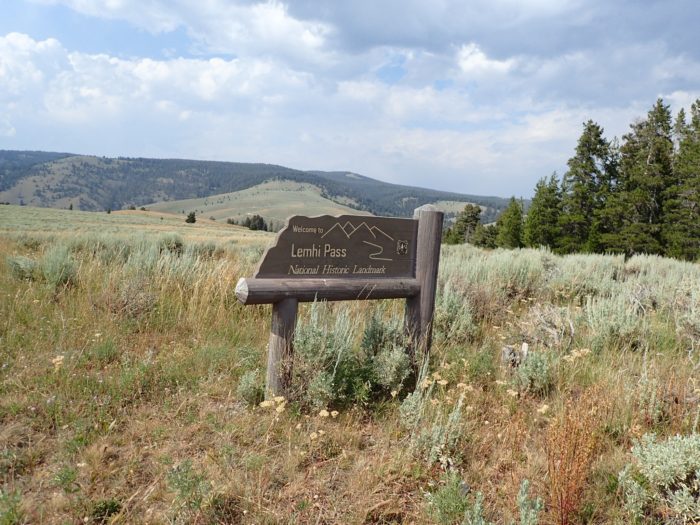 While we found this section a little boring, I do think we're just being spoiled and are anxious to get to Northern Montana. The wildflowers were in full bloom, we climbed over several scenic mountain passes, and passed through some of the same spots as Lewis and Clark's Corp of Discovery, including the headwaters of the Missouri River and Lemhi Pass, where the party first crossed the Continental Divide on their journey west. We passed very close to a wildfire smoldering below the ridge. It can be hard to judge distances but it seemed to be less than a mile from the trail. We're grateful to have made it past before it had the chance to impact the trail. Unfortunately for those behind us, they were forced to reroute around the fire. 
At last we made it to Darby, our last stop along the Idaho border. We took a zero and enjoyed some needed rest (and beer) after the ups and downs of the past week. Despite making it a half-day earlier than planned, we ate every last bit of food we packed out. I don't know if my hiker hunger has ever been so strong, but we're facing the fact that we're going to have some heavier packs from here on out. In a few miles we will leave Idaho behind for good and officially enter the final state of the trail. Only about 600 miles to go.
Affiliate Disclosure
This website contains affiliate links, which means The Trek may receive a percentage of any product or service you purchase using the links in the articles or advertisements. The buyer pays the same price as they would otherwise, and your purchase helps to support The Trek's ongoing goal to serve you quality backpacking advice and information. Thanks for your support!
To learn more, please visit the About This Site page.