Crushing Mount Mansfield and Bolton
Steepest Climb on the Long Trail
For us noble few SOBO Long Trail hikers the Mansfield range begins the final difficult stretch of mountain ranges left on the Long Trail. Mount Mansfield's north face is the steepest constant ascent we face, averaging over 1,100 feet per mile in elevation gain for almost three miles.
Onward and Upward
Climbing out of the car after a nice evening off trail with my parents, Michele and I planned to summit Mansfield and spend the evening at Puffer Shelter before reuniting with my parents for a full zero day.
A winding boardwalk greeted us out of the parking lot, showcasing the swampy ecosystem of Vermont mud and beaver ponds that hikers either love or hate. After crossing over VT-108 one final time, the Mansfield ascent begins.
My disdain for uphill portions of trail began during my AT SOBO thru-hike in 2017. I despise uphill sections so much that I plan resupply specifically for extended climbs to carry as little extra weight as possible. On occasion, I have even been known to pay extra for slack-pack services (OK, OK, I slack-pack as often as possible). I loathed every ascent and gleefully bounced down every descent on the AT, but as the damage to my hips, knees, and feet from my time in the Navy compounded the wear and tear from 2,200 miles, my hiking preferences flipped. Michele and I crushed the ascent in just over two hours (which included a lengthy snack break at the Taft Lodge). The below-treeline portion of the ascent was similar to Whiteface or Jay, with gradually increasing elevation gains and the typical Vermont roots, rocks, and mud.
As the trees began to get smaller and the rocks larger, a side trail beckoned us to Taft Lodge for a calorie boost. While investigating the lodge and retrieving protein bars, I educated Michele on President Taft, who not only was the fattest president, but also the only president to get stuck in a bathtub (that I'm aware of).
Scrambly Bits
One of the things I loved most about the AT in Maine and New Hampshire was the rock scrambles. Mansfield's north face was the first extended above treeline rock scrambling and exposed ridgeline hiking yet. We stowed the trekking poles, I donned the head mounted GoPro, and we pranced like nimble goats up through some fun rock scrambles to the Mansfield summit. Where we had… more summit candy!
Speckled with families that hiked up from the visitor center, Mansfield's summit offered unobstructed views as far as the Whites in New Hampshire to the east, Whiteface to the north, and Camel's Hump to the south. Michele and I took in the views a few moments more before continuing south.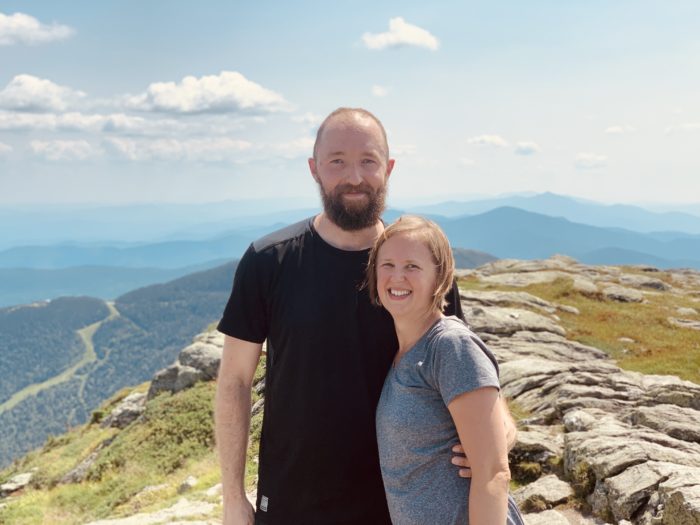 Mansfield Visitor Center, the Chin, and Beyond
A quick stop and visit to the porta-potties at the visitor center seemed appropriate before continuing south. Hilariously, Michele and I had very different experiences with the porta-potties (seriously, society needs to collectively agree not to poop in the little porta-potty urinals). While talking with the caretaker of the visitor center, we were warned that the the section of trail from Taylor Lodge to Puffer was dreaded and a terrible section to do late in the day, so we packed up and pushed south.
The decent down the southern Chin of Mansfield was rocky but much less technical than the north side. Rounding a corner before the Needle's Eye, we ran into a beleaguered and sad NOBO hiker who warned us of a very technical climbing section ahead and assured us if we fell we would die. We did neither of those things and had a great time completing a fun little bouldering section with some ladders to make it easier!
We bypassed Butler Lodge and planned to stop at the Twin Brook campsite for a quick lunch before heading toward Taylor Lodge and onward to Puffer. As we approached Twin Brook campsite, a gaggle of female teenage hikers lined the trail as their camp counselors consoled them and decided to backtrack and spend the night at the Twin Brook campsite instead, so we pushed on and decided to try for lunch at Taylor Lodge.
Taylor Lodge and a Change of Plans
A sharp downhill into Taylor Lodge proved too much for Michele's knee that, for a time, refused to bend. We sidestepped down the trail into the lodge, which, of course, was full of a herd of male teenage hikers and one NOBO hiker from Germany named Fire Girl.
Fire Girl echoed the caretaker's warnings about the trail conditions between Taylor and Puffer Shelter. Since Michele's knee was acting up and we would be hiking in after dark again, I set up the hammock for the night, and we stayed outside of Taylor Lodge.
Taylor Lodge to Duxbury Road Trailhead via Bolton Mountain
Since we hiked a shorter day over Mansfield, we were in for a long 16.5 mile day to the base of Camel's Hump. Unsurprisingly, the claims about the trail between Taylor and Puffer were wildly exaggerated as we made quick work of Bolton Mountain, ate summit candy, and started the long descent to Duxbury Road.
Michele did get her first trail magic from a group of nice day hikers who wanted to contribute to the summit candy trend!
Our deer fly escort still sticking with us, the nine-mile downhill section consisted mostly of switchbacks with very little water the entire day. Michele's knees were still acting up, so after several hours of pain, the last three miles of flat walks through farmlands (lots of chickens!) and fields was a nice end to the day.
We met my parents at the base of Camel's Hump and decided a day off the trail to rest and ice our legs was in order!
Next up: Zero in South Burlington and Camel's Hump.
Affiliate Disclosure
This website contains affiliate links, which means The Trek may receive a percentage of any product or service you purchase using the links in the articles or advertisements. The buyer pays the same price as they would otherwise, and your purchase helps to support The Trek's ongoing goal to serve you quality backpacking advice and information. Thanks for your support!
To learn more, please visit the About This Site page.