GEAR!!!
My Colorado Trail 2023 Gear List
Gear is the literal lifeline of a hiker in the backcountry. It keeps you warm, safe, and dry, and gives you escape options if needed. You can check out my full gear list above with links, but for now I'll outline some of the most important/relevant items.
---
Quick Navigation
---
My Big 4
My picks are: Durston Kakwa 55 (backpack), Durston X-Mid 1P v.2 (tent), Enlightened Equipment Revelation 10° (quilt), and Therm-a-rest NeoAir XLite NXT (pad).
I wanted the lightest gear I could find, but also still affordable as a teenager!
The Kakwa pack is made out of an innovative new material called ECOPAK ULTRA that boasts the same UHMWPE fibers as all-important DCF fabric. However, ECOPAK is produced in a more eco-conscious way and woven for more durability than DCF. The 55L Kakwa was just released, but I'm already really enjoying the light weight, waterproofness, and sturdy frame (see a review for the 40L here).
The veritable X-Mid tent has been a highly-sought after product for a long time, and I'm so excited to have my hands on one! I'm loving the cozy inner, the two seriously MASSIVE vestibules, and stormworthy design. Recently, the X-Mid was awarded "All-Around Best Tent" by The Trek, so I'm not the only one who loves it!
The Revelation is a seriously well built, light, and handmade down quilt at an affordable price. It's kept me warm many nights already, and I'm sure it'll continue to serve me well!
Lastly, the XLite NXT is a warmer, thicker air pad with an updated design that cuts out the dreaded potato-chip-bag sound (it's true) the old version was (in)famous for.
Clothing
For my upper half, I'm wearing the Patagonia Capaline Cool Sun Hoodie, with my Melanzana Fleece and down puffy, Mountain Equipment Odin, for extra warmth. I know the trend among ultralighters is to bring either a fleece or a puffy, not both, but I'm going to try both and send one back if I end up not needing it. Plus, my Melly can be used as a base layer! For weather protection, I have the Mountain Hardwear Exposure 2/Stretch rain jacket (wow, that's a mouthful).
For my lower half, I have my Patagonia Baggies 5″ shorts, with Icebreaker 200 Oasis Leggings as a merino base layer. When things get cold, I can don some Enlightened Equipment Copperfield wind pants as well.
That's it except some other odds and ends: Darn Tough Midweight Hiker Socks (I'm taking 3 pairs– 2 for hiking and 1 for sleeping), a Melanzana Hard Face Beanie, Black Diamond DWR Gloves, ExOfficio Give-N-Go Sport Mesh underwear, and a technical trucker hat from Boco Gear (there aren't any pictures of it, but I love this hat! It's the Maroon Bells colorway).
Hydration, Kitchen, and Food Storage
I'm using the Katadyn Be-Free 1L filter system to make my water safe on the trail. There are some sections of the trail that have pretty gross water sources (courtesy of cows)… in those sections I'll prefilter through a bandana and maybe add chlorine drops as a backup.
For my cook setup, I'm carrying a Jetboil MicroMo canister stove, paired with a TOAKS 450mL Mug.
Lastly, I'll have the basic Ursack for food storage, and pack my food in an OPsack to ward off those marmots 😉
Technology, Navigation, and Camera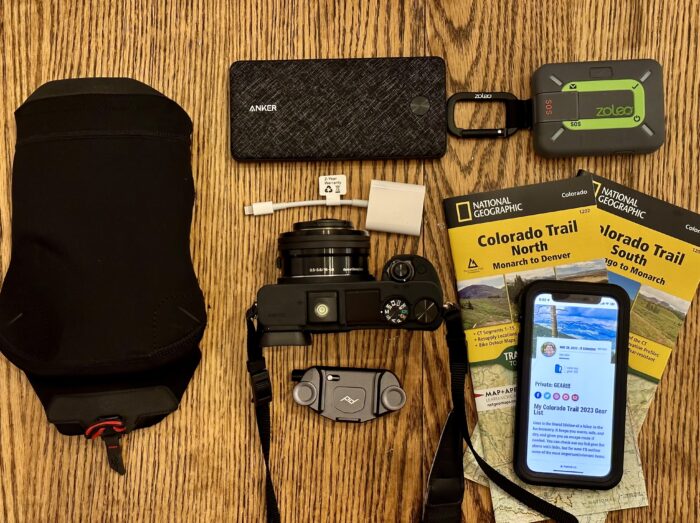 I love photography, and so I'm bringing my Sony a6000 mirrorless camera (with the kit lens). It's a compact ICLS camera that takes some decent photos. I'm storing it 90% of the time on my Peak Design Capture Clip, and for all but the heaviest rain will waterproof it with the Peak Design Shell. All these together add a sizeable amount to my base weight, but to me it's worth it to be able to take awesome pictures of this beautiful trail.
I'm also using the Garmin Instinct Solar as my ABC/navigation watch, a ZOLEO as a satellite communicator, and my Apple iPhone 12 mini as my lifeline to civilization if things go askew. As a backup (and to write on for journaling!), I'm taking one set of NatGeo TrailsIllustrated maps for the CT (one half at a time).
And lastly, I have an Anker power bank (I'm unsure of the mAh rating) to keep it all topped up.
First Aid, Gear Aid, and Hygiene
In looking for necessities to have for first aid and gear aid, I stumbled across Skurka's guide for these things. It's very comprehensive and advises specific sets of things to bring based on group size and environment. Highly recommend for anyone to read over to customize their kit! Always customize your first aid kit to your specific environment/conditions.
In case you're interested, I'm bringing Vaseline, Gurney Goo, Skin Closures, Bandages, Quick-Clot Gauze, Tweezers, Swiss-Army Multitool, Krazy Glue, Leukotape, a Maceration Salve, and a bunch of meds (Ibuprofen, Apirin, Loperamide, Benadryl). Additionally, I have Aquaseal + UV, Seam Grip + WP, Tenacious Tape, sleeping pad patches, and needle & thread for gear repairs.
For hygiene, I have a classic folding toothbrush, some truly incredible toothpaste tabs from Unpaste, sunscreen, isopropyl alcohol, and Tent Lab's TheDeuce trowel.
And everything in these lists are held by two Pack Pod Cases by Hartford Gear Co., which I'd highly recommend!
Footwear & Snow Gear
For shoes, I'm going with the thru-hiker classic, Altra Lone Peak 6. I've had versions of these shoes for a long time, and they fit my feet really, really well.
I'm going to be doing the Colorado Trail in the early season on a high snow year, and so I'm taking precautions with some snow gear. I do not plan on taking an ice axe, but can pick one up if there's more snow than expected. However, I'm bringing a set of Hillsound Trail Crampons for the first 100 miles until I can gauge if I need to upgrade to fully-featured snow shoes. The Hillsounds are more of a crossover between a microspike and a crampon, more suitable for deeper snow on steeper gradients. They fit over and flex with my trail runners, so they're more suitable for hiking than full-on crampons.
Conclusion
I find it ironic that so many hikers adventure out on long trails to "disconnect from the modern world", and yet actually just divert capitalistic materialism into gear. While I've just spent more than 900 words laying out my gear loadout for you, I don't want gear to be the most important/most interesting thing about my hike (that'd be pretty sad, wouldn't it?). Far from it. Gear is fun to talk about, learn about, and nerd out about, but it isn't the purpose of a thru-hike.
Do you have any ideas or recommendations after reading this post? Was anything helpful? I'd love to hear your feedback! Stick it down in the comments!
'Till next time!
Affiliate Disclosure
This website contains affiliate links, which means The Trek may receive a percentage of any product or service you purchase using the links in the articles or advertisements. The buyer pays the same price as they would otherwise, and your purchase helps to support The Trek's ongoing goal to serve you quality backpacking advice and information. Thanks for your support!
To learn more, please visit the About This Site page.