My First Backpacking Trip: Monadnock-Sunapee Greenway
In less than three months I'll be setting off on my first thru-hike. I'll say goodbye to my day job, strap on my trail runners, and hit the Long Trail heading southbound. In preparation for this endeavor, I chose to do an impromptu shakedown hike. Additionally, this shakedown hike would be my very first backpacking experience ever. I left my job on a Friday with the inkling of a plan rustling around in my head. By Monday, I was driving to Monadnock State Park with a 20-pound pack and a goal of hiking the 48-mile Monadnock-Sunapee Greenway Trail.
Monadnock-Sunapee Greenway Trail
The MSG (as it's known to locals) is a 48-mile trail that sits in the western corner of New Hampshire. In total, the actual mileage of the MSG is 48 miles, however the southern and northern termini sit on the top of two mountains. The southern terminus sits on top of Mount Monadnock and the northern terminus rests on top of Mount Sunapee. Additional miles to reach the termini, along with some wrong turns and side trails to shelters, brought my total mileage to roughly 55.
The weather in New Hampshire has been rough this year. We had an exceptionally high snow year and most of the White Mountains are still covered in feet of the white stuff. Melting monorails and slushy spring snow has always made this my least favorite season to hike in. However, this year I don't have the luxury of waiting until late May to hit the higher elevations. The best way to train for a thru-hike is to hike, and hike I must. The MSG was the perfect opportunity to really test out my gear and my physical abilities and avoid spring trail conditions.
I stumbled upon this trail through Instagram and was instantly intrigued when I learned that this could be a perfect opportunity for a shakedown hike. There are half a dozen Adirondack style shelters scattered along the length of this trail, a map and guidebook, and a perfect write-up on the trail right here on The Trek. Elevation gain over the course of the hike would fall around 10,000 feet and most people complete the trail in three to four days.
Giving myself very little time to rethink my big plan, I bought some food, packed my backpack, and told my husband of the plan. I opted to push myself and after looking at the map I chose to try to do the entirety of the trail in three days. This would require hiking two 20-mile days followed by a 13-mile day to finish. I have never done more than one 20-mile hike in a row and only carrying a day pack. I knew I was setting myself up for a huge challenge both physically and mentally, but I felt ready.
Day One
Monday morning, I drove into the parking lot of Monadnock State Park. The weather was overcast and cool. It felt surreal to be setting out on a three-day backpacking trip but rather than psyching myself up, I simply focused on doing what I do best: hike. By the time I reached the rocky, treeless summit of Monadnock, the weather was windy and spitting rain. I threw on my raincoat, took a few quick pictures, and continued down the opposite side of the mountain from which I came.
As the day passed, I continued to glance down at my GPS watch. The mileage was increasing slowly and it felt like I would never reach ten, let alone 20 miles. I started to second-guess my goal and began to question whether I would be able to finish the trail in three days. My husband and I had agreed that I would take as long as I needed, even if that meant staying out an extra day, but I really wanted to finish the trail in three days.
By late afternoon the mileage had finally started to rack up. I was lucky to have several road walks, which helped kill a few miles quickly and by 6 p.m. I had made it to the shelter. The daily total ended up being 21 miles due to a few wrong turns and some extra mileage leading to the shelter. I set myself up for the night, ate, and was asleep by 8 p.m.
Day Two
The next morning, I reminded myself that if I couldn't do the full 20 on day two it was OK. I had set myself up so that as long as I did 20 miles on day one, I could always break the remaining mileage up on days two and three to make the totals lower. I packed up camp and was on the trail by 7:30 a.m. The miles added up quickly at the beginning of the day due to more road walking, but as the hours progressed, I started to slow down.
My right foot had been bothering me a bit the day prior and it was starting to hurt again. I have chronic foot problems in both feet and my shoes were a half size too small. I knew I'd be facing some foot pain, that I was asking a lot of my feet, but I had hoped to make it without suffering too severely. Pushing the pain aside, I continued along the trail.
By 1 p.m. I had made it 14 miles and stopped at the only convenience store on the trail to get some food. My right foot was screaming. I knew I could always backtrack a half-mile to the nearest shelter and set up camp for the night, but that would mean pushing bigger miles on day three. Plus, that would mean diverting from my original plan. I had six more miles to go and then I'd be at the shelter. Slowly, over the course of a few hours, I pushed through those final six miles. Total mileage for day two was 20.
Day Three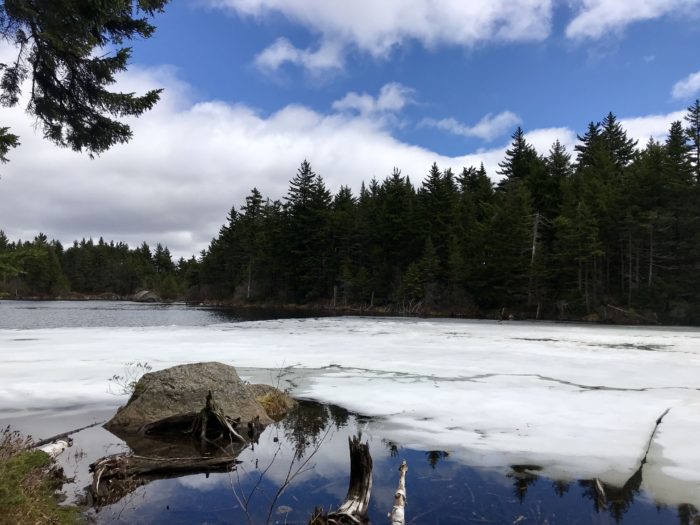 Setting out on the final day of my shakedown was tough. My battery pack had died and I couldn't charge my watch to track my mileage for the day. I have become extremely reliant on my watch as a day hiker, because it tells me how many miles I've gone. Knowing that you only have four more miles to the end of a hike can be a great morale booster. I wouldn't get that booster today. With a sigh, I set out to finish up what I'd set out to do. My feet were sore by 10 a.m. and I had no idea how far I had left to go.
The miles and hours seemed to drag by and although I kept reminding myself to soak up every second and enjoy the hike, my feet wouldn't let me. More than anything I was worried that with each passing moment I was one step closer to a stress fracture. I tried to tread lightly and at the same time I reminded myself not to change how I stepped down even if it hurt to walk normally. By the time I reached the final ascent of Mount Sunapee I was no longer excited about finishing my first thru-hike/backpacking trip, I was terrified that I had broken my foot.
Those final two miles down Mount Sunapee after finishing the MSG were slow going. The trail was a veritable stream punctuated by massive blowdowns. I finally emerged from the woods and climbed into the passenger seat of my husband's truck, relieved to be off my poor feet. All I could think about was how amazing that fabric-covered bucket seat felt, and how grateful I was to be sitting.
In the two days since finishing my shakedown my feet have made a swift recovery. I am positive that I didn't fracture my foot and my blisters are healing nicely. Looking back, I'm glad that I slowed down and was cognizant of my foot pain. I know that my chronic foot problems won't just go away, but learning to listen to what varying amounts of pain could mean is all part of living with chronic injuries.
Lessons Learned
Spending so much time preparing for a thru-hike, assessing and reassessing gear options, weighing ounces, and immersing myself in the thru-hiking culture for over three years, meant I was surprisingly happy with how my shakedown hike went. In spite of being a hardcore Injinji sock wearer, after experiencing severe blistering on my toes, and finding that taking off/putting on wet toe socks is a huge pain, I am switching to Darn Tough for my thru-hike. Carrying Smartwater bottles instead of a bladder is much easier and when there's an overabundance of water on a trail you don't need to carry 65 ounces all the time. I need to carry more food, taking care of you feet is probably the most important part of having a pleasant thru-hike, and I prefer sleeping in a tent to a shelter.
Testing out gear before going on a long hike is extremely important. Prior to going on this trek, I didn't bother testing out my portable charger. I ended up running out of battery life on day two, meaning I couldn't charge my watch for day three. I'm currently looking into alternative options and will test out my charger again at home to make sure it's not defective.
More than anything else, this shakedown hike taught me that I'm stronger than I think. It showed me that I am ready for a thru-hike, that I'll be OK, and most importantly that I'm capable of doing amazing things on my own. Three years ago, I wouldn't have been able to do what I just did. Fear would have gripped me dozens of times over the course of the 72 hours I spent in the woods. I'm not the same person I was three years ago. The person who stepped on that trail April 22 isn't the same person who emerged from the woods April 24. I'm stronger, smarter, and about to embark on the journey of a lifetime.
Affiliate Disclosure
This website contains affiliate links, which means The Trek may receive a percentage of any product or service you purchase using the links in the articles or advertisements. The buyer pays the same price as they would otherwise, and your purchase helps to support The Trek's ongoing goal to serve you quality backpacking advice and information. Thanks for your support!
To learn more, please visit the About This Site page.