7 Pacific Crest Trail Thru-Hikers Share Their Top Advice
As the 2023 thru-hiking season draws to a close, we've asked our Pacific Crest Trail finishers to share what they've learned throughout their journeys. From preparing for the adventure to dealing with the challenges of the trail, these seven hikers offer their advice to anyone hoping to embark on their own thru-hike one day.
Responses have been lightly edited for length and clarity.
I'll take a page from IBTAT (if you don't know who that is, look him up!) and say, "Just get out to the trail, you'll figure out the rest from there!" Obviously, you need to plan gear, but it's really not that hard to do. And resupply, the thing I think most people are concerned about (I know I was), is actually quite simple. The hardest part is simply committing to the trail. Do it!
Don't stress too much and send resupply packages to Oregon, White Pass, Snoqualmie, and Stehekin! Every other resupply was pretty easy on trail.
If you can, cook your own meals in advance, I would have loved to be able to do that.
Try going stove-less! I did and I really liked it. Do choose meals that you won't mind cold-soaked, like ramen with freeze-dried veggies and nuts or dehydrated beans. I ate mashed potatoes on the AT, yet found them unappealing when cold.
When I think of the advice I followed from others and what I didn't listen to, there are two very important things that I would offer:
Don't pack much food in the first section. I was carrying way too much and didn't end up eating it. There are plenty of places to get a day or two resupply when you start out and also indulge in meals at Lake Morena and Mt Laguna. Take advantage of those places and keep your food bag light in the first week.
A second piece of advice is to hike by yourself but also hike with others. I felt dragged down by the company I kept at times but also found it lonely and depressing on my own. The trick is to find a healthy balance of both.
My advice to future hikers would be to not listen to other thru-hikers when it comes to your adventure strategies on trail (but definitely for pre-trail prep if you're new to it).
Don't take too much advice; feel out what you think might work for you. Your hike will never be perfect even with all the knowledge of every thru-hiker before you. You got lots of miles to change things, perfect things, and figure out whatever you need.
Olen "Spreadsheet" Netteburg
Danae "Queen Bee" Netteburg
Lyol "Blaze" Netteburg
Zane "Boomerang" Netteburg
Addison "Angel Wings" Netteburg
Juniper "The Beast" Netteburg
Piper "Deadweight" Netteburg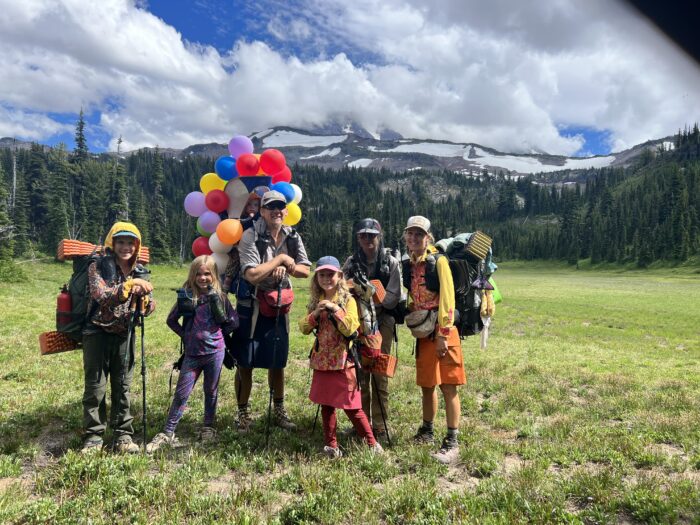 Get your permit and start. So long as you start with enough water, you'll figure out the rest. You'll figure out food. You'll figure out gear. You'll get stronger. You'll figure out shoes. Relax and go for it.
Affiliate Disclosure
This website contains affiliate links, which means The Trek may receive a percentage of any product or service you purchase using the links in the articles or advertisements. The buyer pays the same price as they would otherwise, and your purchase helps to support The Trek's ongoing goal to serve you quality backpacking advice and information. Thanks for your support!
To learn more, please visit the About This Site page.