A Roller Coaster of Beauty in the Sierra
To say the Sierra have been a roller coaster ride is an understatement. Each day there is a new pass to cross, with even more incredible views around each corner. These mountains have been a grind, but every step has been worth it. Long and heavy food carries and high altitude have forced me to slow my pace and take in this magnificent place.
The vortex of Kennedy Meadows made it difficult to leave, yet the mountains were still calling. As I heaved my pack on my back for the first time in two and a half days, I felt the weight of my upcoming journey. Each step brought me farther from the desert and closer to the mountains, but I struggled with the desolation. For the first time on this adventure, I couldn't get my mind off reconnecting with the front country. I felt conflicted as I moved farther into the place I love. Eventually there was a break in the silence, and it happened to be the summit of Mt. Whitney.
This day began like any other on trail. One of the perks of cowgirl camping is that I can literally pack my entire pack without leaving my sleeping bag (until of course I have to pack it). My plan was to hike to Guitar Lake on the Mt. Whitney summit trail to leave a short ascent for a sunrise hike. Since I had a short distance of about 16 miles to cover, I took my time. At Whitney Creek, a mile from the summit trail, I ran into a guy named Raff. Since Tehachapi, this charismatic Aussie and I have been playing a game of leapfrog on trail. As I prepared my lunch, Raff mentioned that Guitar Lake was closed for camping. That meant less than two miles of hiking left for the day. We plotted a strategy to hit the summit of Whitney and decided that we could make it up in time for the sunset.
After packing up my lunch, it was a short hike to our base camp at Crabtree Meadow. The concentration of hikers in this small area was incredible. We unloaded our heavy and burdensome gear and carried packs lighter than anything we've felt in weeks. The summit loomed above Raff and me, but we were determined to make the climb.
Despite the drastic increase in elevation and the never-ending ascent, I felt stronger than I have since leaving Kennedy Meadows. Each step closer to the summit was more beautiful—through forests and around creeks, past alpine lakes and boulder fields. With only one mile to go, the summit came into view and I knew I was going to make it. The thoughts that were going through my mind were simple, as though fatigue had made me oblivious to my basic needs. "One foot in front of the other" and "keep breathing" were common thoughts.
At last, I was on top of the continental United States and I had it all to myself. When I reached the plaque, my emotions took over and I dropped to my knees and sobbed. There have been quite a few times when I've doubted my ability to complete the trail, but reaching the summit was a reminder that I am capable of this feat.
Raff soon joined me on the summit and we enjoyed a summit beer and Twinkies. Thanks to modern technology, I was even able to FaceTime with my family and share this momentous occasion. Getting in touch with civilization, even for just a moment, was a good reset for my morale. I was reminded, however, that unplugging from society for days on end helps slow down the pace of life. As incredible as technology is, I was once again reminded not to rely on it.
Since daylight was quickly fading, Raff and I needed to start our ascent. Before we made our way down, we signed our names in the log book and found an "easy button." We couldn't help but laugh at the irony as each of us pressed it.
The descent was absolutely incredible. Raff and I did not stay on the summit for the sunset, but we were able to catch the sun fade behind the jagged mountains on the first ridge. As the daylight disappeared, the brightness of the moon lit our way. Every now and then I would pause and turn around to see the ridge line lit up by the moon, with a sea of stars above. Neither of us turned our headlamps on until we made it back to tree line at about 10 p.m.
The last hour slogged by as I began to count down the minutes until I was in my sleeping bag. What started out as a simple 16-mile day turned into close to 30. The mental and physical fatigue were overwhelming, but I knew the only way to end this suffer fest was to keep pushing. Finally, at about 11 p.m., I rolled into camp and fell into my sleeping bag. Elated and exhausted, I drifted off to sleep.
The following morning was slow going. Since I skipped dinner the night before, I ended up eating a three-course breakfast in my sleeping bag. In the back of my mind, though, the thought of crossing Forester Pass—the highest point on the Pacific Crest Trail–loomed.
After soaking up my lazy morning, I finally left camp at around 10 a.m. It was a slow and beautiful hike as I made my way to the approach. Forester Pass is notorious for being steep and snowy, and I got some funny looks from other hikers as I mentioned my plan was to cross in the evening. Despite my mountain high from the summit of Mt. Whitney, I couldn't get these skeptical thoughts out of my head.
My nerves were building, but I was determined to get up and over that day. Luckily, though, I wasn't the only one crazy enough to cross at 6 p.m. The last mile was straight switchbacks, but I felt strength similar to that when I was summiting Whitney. Before I knew it, I was staring down at the PCT thinking, it's all downhill from here to Canada… Sort of!
On the north facing side of the pass, I was greeted by a long snow chute, followed by several lengthy snow fields. My weary legs got a rest as I glissaded down the chute, but the grind continued as I navigated through the slushy snow fields. Finally the descent began and I cruised the last three miles into camp, just as the sun was setting.
The following morning, I came to the realization that my food supply was not going to make it much longer. A last minute decision was made to leave the trail at Kearsarge Pass (Mile 788) and hitch into Bishop. This was a bit of a spontaneous decision, but I'm glad I went for it.
In the final steps before the trailhead, I heard someone yell 'Go Cougs!' since I was sporting my Washington State hat. When I found where the voice was coming from, I was greeted by a middle-aged man also wearing a WSU hat. We started talking and he mentioned that he was shuttling hikers from the trail to town, and he offered me a ride. Talk about Cougs helping Cougs!
I rolled into Bishop expecting to be hiking the next day. Somehow though, I was lucky enough to get a double bed at the hostel, so I quickly decided to stay a second night. More and more people I had met along the way trickled into the hostel—I really enjoyed the reunions. One ended up being with another young solo hiker, named Blueberry. We had been running into each other since Big Bear (Mile 269), but never really hiked together. Our similar hiking pace and timing in Bishop worked well for us to create an alliance.
Another long food carry and the thought of climbing two passes in one day made for a slog back to the trail. Once we climbed Kearsarge Pass, Glen Pass was our next feat for the day. As the days ticked by, a new pass was tackled each day, starting with Pinchot Pass, followed by Mather Pass, and then Muir Pass, Selden, Silver, Island, and Donahue.
Muir Pass was especially tricky since it's known for having snow cover year round. Blueberry and I hoped to be up and over this pass in the morning, but with a steep eight mile hike and late start to the morning, we didn't hit snow until around 10:30–when it was getting soft. There was a point on the trail when you find yourself surrounded by granite walls that are over 1,000 feet tall, and you realize that the only way out is up. I thought to myself, 'this is going to hurt.'
One snow field after another under the roasting sun. I had saved my final Kit Kat as a celebratory treat at the top, but my stomach was growling so loud with just under a mile to go, I couldn't wait. The final ascent was steep and covered with snow. As Blueberry and I snacked, we saw more and more hikers make the climb. At last, it was our turn.
By now, it was nearly noon and the snow was turning to slush. With each step, I felt myself sinking deeper into the snow. And then, the shelter on top of the pass came into view and we were greeted by at least 10 other hikers. Packs were strewn everywhere and all the hikers were enjoying lunch with beautiful panoramic views.
The wind was calm and the sun was strong, especially at 12,000 feet. Eventually we all took refuge in the old stone shelter to cool down. The downside of this was the body odor of 15 hikers who haven't seen a shower in a week. Before long, the stench became unbearable and our only option to to hike.
As we got closer to our resupply in Mammoth, we began to realize how expensive a two night stay in town would be, especially due to the upcoming holiday. Although both of us were running low on food, we decided to take our time in the last two and a half days to town to avoid a rest day. Luckily, some hikers heading south on the John Muir Trail were about to resupply and emptied their bear cans into my pack. I was so excited, I nearly ran up Selden Pass to tell Blueberry the good news.
That night, some other hikers we were with decided to call it a night early at one of the lakes. It was only 5pm, but the idea of going for a swim and then having a huge dinner was very inviting. After a quick dunk all of us were literally swarmed by mosquitos. Each of us had close to 100 mosquitos following us around at any given time.
The other hikers we were with were also low on food, so Blueberry and I decided to share the massive bag of pasta primavera with them. By the time we were done eating, it was only 6:30 and the only thing left to do was go to sleep.
Hiker hunger hit hard this week. No matter what I ate, I was still hungry. My food supply continued to get smaller and smaller, but my stomach was still growling. The afternoon before going into town, Blueberry and I decided that we could make it to the trailhead that night. There was a small store and cafe there and we were hopeful, yet ambitious to make it there in time.
When I was about three miles away from the trailhead, a hiker burst out of her tent and asked 'do you want cake in a cup?' I took a double take, not quite sure what she was asking and then I realized she was offering me food. It turns out she had packed out way too much food from her resupply and was giving away the extra. I gladly accepted since I only had a pack of mashed potatoes, some tea bags, and a couple of hydration tablets.
The cafe was closed when I arrived, but the thought of dessert after dinner kept me going. I was also a little bit too excited for breakfast the following morning because I was literally counting down the minutes. In the morning, we packed up quickly and got to the cafe just as it was opening. It was finally breakfast time!
This eating trend continued for the rest of the day in Mammoth. Finally, I was full—after two breakfasts, lunch, dinner, and a pint of ice cream. My two day resupply turned into a four day resupply, mostly with candy. We set out the following day with heavier than expected packs to Tuolumme Meadows in Yosemite National Park. Both of us have some eating to do!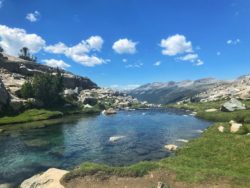 Affiliate Disclosure
This website contains affiliate links, which means The Trek may receive a percentage of any product or service you purchase using the links in the articles or advertisements. The buyer pays the same price as they would otherwise, and your purchase helps to support The Trek's ongoing goal to serve you quality backpacking advice and information. Thanks for your support!
To learn more, please visit the About This Site page.