Campo to Julian: My First Week in the Southern Californian Desert
The PCT terminus shuttle drops me and eight other hikers off at Camp Cleef, where we will spend the night before the terminus tomorrow. It's cold and misty and the camp looks apocalyptic. We have a spaghetti dinner with trail angel Legend, and he inspires us with his stories. At night I already hear the coyotes howl and I overcome my first fear by going to the bathroom right at that time. The terminus is smaller than I expected and the border wall casts a stern shadow. But I take my pictures, have a moment of thankfulness, and set off towards the first mile, the first day on the PCT. Funnily enough, of the eight hikers who set off with me that day, I only see one again.
The First Day
The first day is a steep learning curve. I hike during the hottest part of the day and do not take enough water. I arrive at camp, a couple of miles from Hauser Creek, absolutely exhausted. I make enemy number one: poison oak. A plant that looks very similar to poison ivy, but touching it can cause an awful rash or even blisters. It grows all around my first camp spot and despite my exhaustion, I decide to move. I see it everywhere in the next days. The desert surprises me. It's much greener than I expected, full of flowers and full of life. The diversity is immense. In one day I see many different sights and terrain. I'm worried I won't be able to remember it all. Many people around me see rattlesnakes but I must have an angel on my shoulder keeping them all at bay.
The Routine
I feel much better prepared by the second day, on my way to Lake Morena, and start to settle into a routine. I wake up around 5 (helped by jetlag) and get moving. The hardest part of my day is putting on the sweat-soaked shirt I have been wearing all week. I thought I would enjoy a leisurely coffee and oatmeal in the morning, as I did on previous hikes. But I want to get out of camp fast and get as many miles as possible in before it gets too hot. So I just have a bar and set off. After walking for about two hours and watching the sun rise, I have second breakfast ("what about elevensies") and rest up. Even though I have never had to filter or plan water before, it's already starting to come naturally. I love when I don't have to carry so much and my pack feels light. Around noon I try to find a nice spot in the shade where I have lunch and rest. Other hikers often congregate around these spots too, which makes it fun. In the afternoon, I set out again, many times it's still hot but bearable because I feel energized again. At the end of the day I find a nice spot to camp, preferably somewhere where I can watch the sunset. I have dinner: couscous and a packet of tuna, chicken, or pulled pork, or a Knorr side.  I end the evening with chores: writing in my journal, checking the map for the next day, preparing my tent for sleep, preparing my pack for the next day, and cleaning myself with wet wipes.
The trail
It's only week one, and the trail is already amazing. The views take my breath away. Sometimes I have to climb for a view and my calves scream. But sometimes descents are made very easy by the many switchbacks and the lenient grade. The path is very skinny, only 18 inches at times. I have to relearn how to use my trekking poles as I do not want to destroy the shrubs next to the trail. Often the trail clings to a side of a mountain with a steep abyss on the next side. I thought I would be scared of this but I love it. I see desert with red sands, cacti, and yucca. I see green undulating hills full of shrubs and manzanita. I see many wildflowers and the typical American sights of pink and yellow rocks. I see pine forests and soft grassy fields with oak trees splattered about.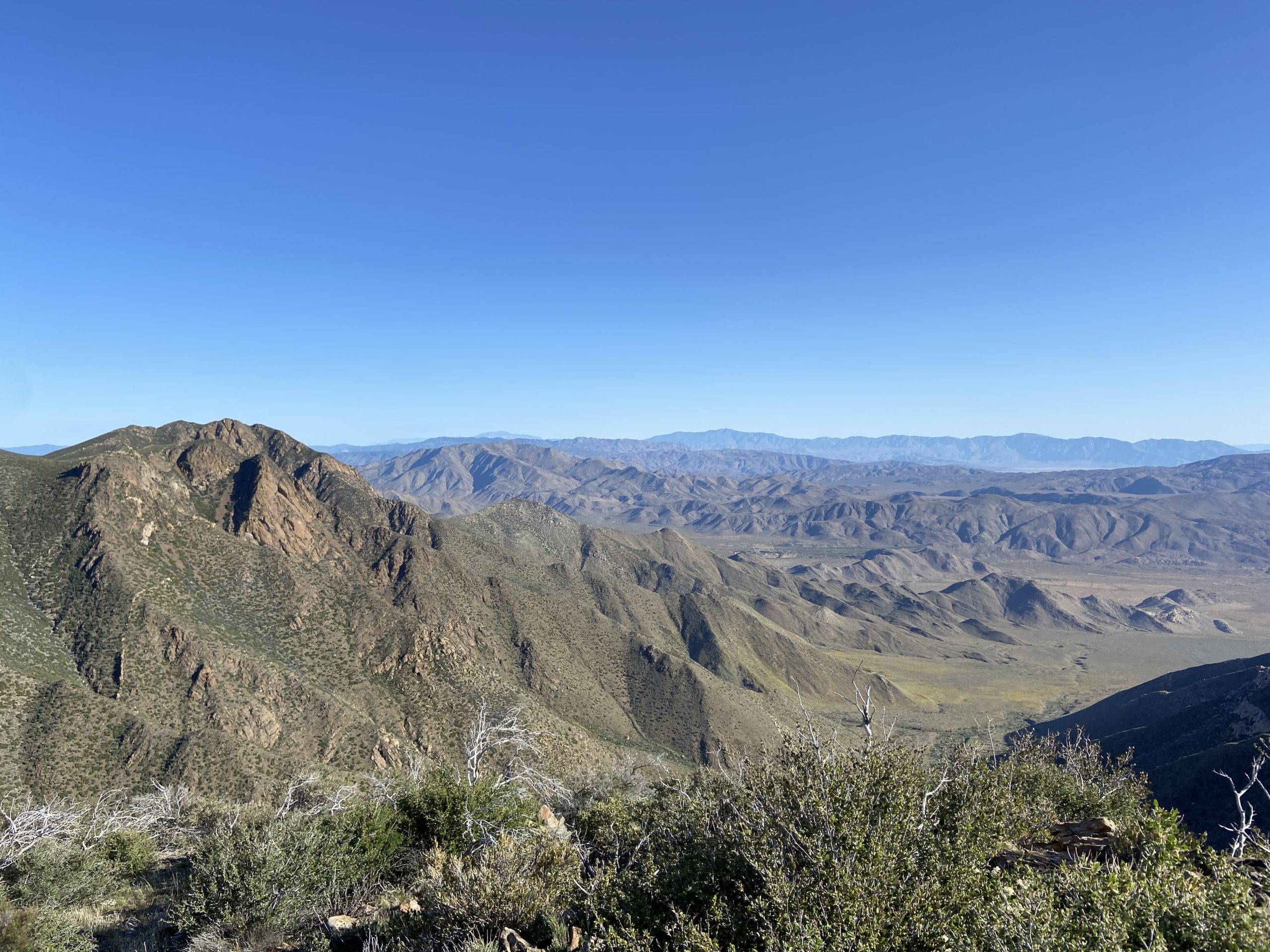 The Fears
I overcome many fears during my first week. It's funny the things you think you'll be scared of and the things you end up actually being scared of. Snakes don't worry me anymore but I'm scared of mountain lions. On my second day, I night hike for the first time. I get up so early, the stars are still out and it's pitch black. I have to use my headlamp to move. The sky is so clear, stars look like huge circles instead of the little pinpoints I see in the Dutch night sky. I hear something big in the bushes. When I stop moving, the sounds continue. I'm so scared, my legs are shaking. I continue making myself big by raising my trekking poles over my head. At one point, I fall down because I slip on a rock. An excellent moment for a mountain lion to strike but nothing happens. I continue feeling a lot less scared, especially when the sun starts to come up. I camp without the rainfly on my tent twice. The first night I do this, just outside of Lake Morena, I hear coyotes howl all around. On night five, I camp at Oriflamme Canyon with a bunch of other hikers. I awake at three to growling outside of my tent. I don't know what to do: what if it's a mountain lion prowling around? I lie awake, shaking, until the sounds subside. The next morning I realize it was probably the elderly hiker two tents down snoring. I feel better when another hiker tells me mountain lions don't growl and they wouldn't be interested in humans anyways.
The Social Aspect of the Trail
The trail is much more social than I expected. Even though I walk alone for most of the day. I run into other hikers at camp spots, water sources and in trail towns like Lake Morena, Mount Laguna, and Julian. Many people have seemed to form groups right from the start, and sometimes I feel like the new kid in class. Everyone is really friendly, though, and it's super fun to hang out with big groups of smelly hikers at the Mount Laguna General Store Porch, at the Pioneer Picnic Area, and at the brewery in Julian. We talk about the sights, trail culture such as trail names, the next town, how far we're going that day and how much water we're carrying, the animals we've seen. We don't talk about our jobs or who we were before the trail. Real names are disregarded, they are harder to remember than Rabbit, Maze, and BananaMama and we will all have trail names before we know it. Right before Julian, I become closer with a group that feels like a potential trail family. This brings a new dilemma: the group is zeroing in Julian whereas I feel an itch to go on after a night's rest.
The Hiking
I have been taking it slow the first week: only hiking 10-12 mile (15-20 km) days. It pays off because I end the first week without any blisters, injuries, or soreness. But the anxiety to reach Canada in time is always there. Especially when fast hikers who started the PCT days after me start to show up. At a water source or lunch spot, hikers watch each other anxiously: who will be the first to start moving, and does that mean I have to start moving too?
The End
It is a week of many firsts: first animal sightings, first trail magic, first trail towns, first scares conquered. I feel incredibly lucky at times: when seeing another gorgeous sunrise or sunset, watching out over beautiful views, when I'm cruising down the trail in the heat with my heavy pack. So much happens during this week, I only start processing it when I'm in bed in my Airbnb in Julian. I feel proud of myself for making it this far. Reaching Scissors Crossing, a sight I have seen in many hikers' pictures and videos, leaves me a little emotional. I decide to stay in Julian for another night to see where hanging out with this group will take me and to not worry so much.
Then I will continue into the Anza Borrego desert, reaching Idyllwild and the San Jacinto mountains. Stay tuned!
Affiliate Disclosure
This website contains affiliate links, which means The Trek may receive a percentage of any product or service you purchase using the links in the articles or advertisements. The buyer pays the same price as they would otherwise, and your purchase helps to support The Trek's ongoing goal to serve you quality backpacking advice and information. Thanks for your support!
To learn more, please visit the About This Site page.