Cutting My Teeth and Feet – Days 1-3
Getting to the Trail
I left for the trail at 4 am the day before my permit start date,  April 16th. I had to take a bus to NYC, a subway, a train to NJ, and then fly to San Diego. Once in San Diego, 2 trolley rides and one final 2-hour bus got me to Campo, California, where the PCT starts.
I got in the night before so I could camp out near the border and hopefully meet some of my fellow hikers. I got my wish when 10 of us sat down to spaghetti dinner hosted by the legendary hiker known only as Legend. It was the perfect start to my journey.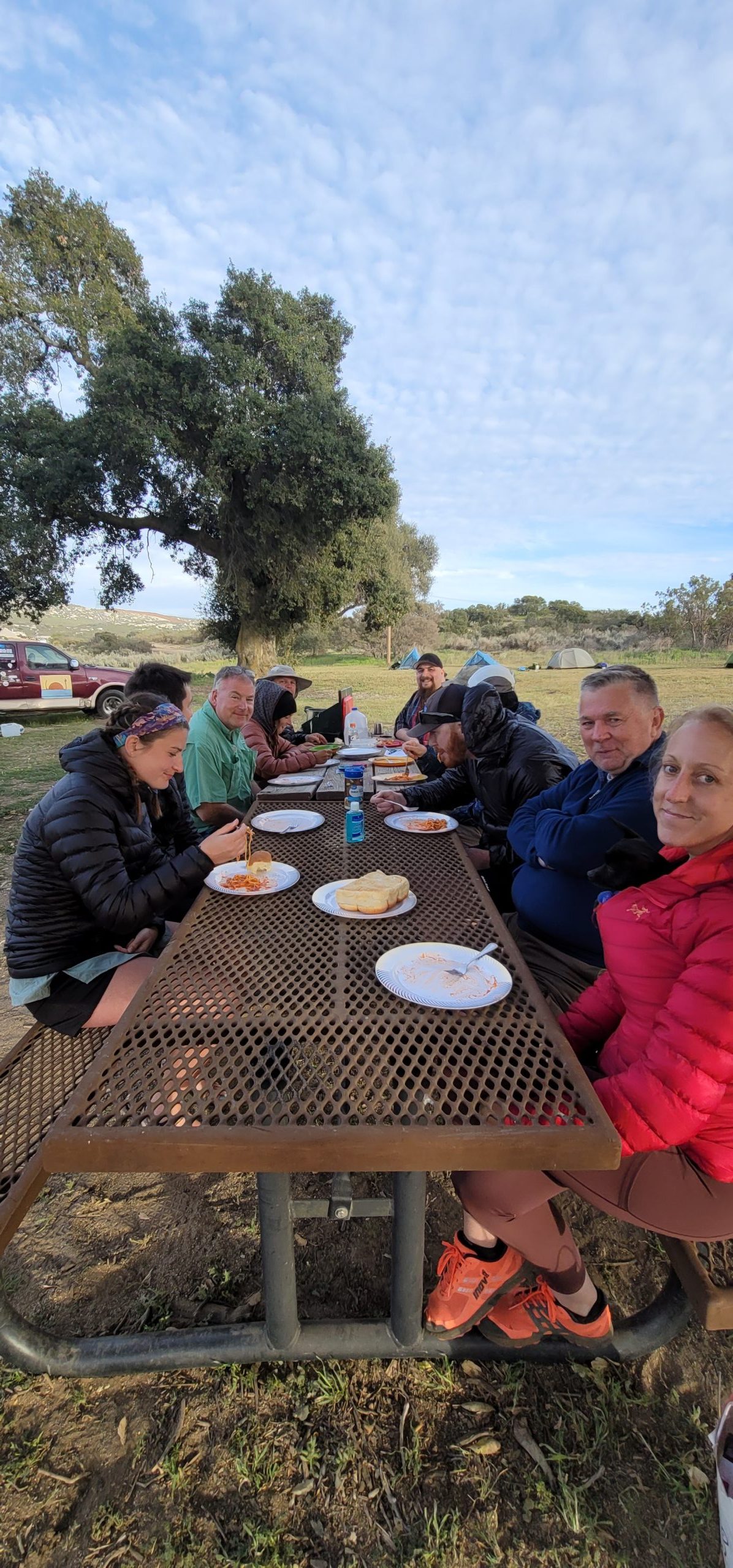 Day 1
I woke up at dawn to maximize my first day on trail. I packed up quickly and headed 0.5mi to the monument at the border for that moment I had been anticipating for so long. I tried a few angles, a few poses, and finally, some other hikers came along to snap a photo of Chip and me as we sat atop the monument.
I wanted to stay but I was so excited to get moving that I bounded down the trail on my own, with my little black shadow in pursuit. I guess I imagined I would start with other people, but everyone seemed to do their own thing, so off I went.
The trail starts off not very pretty. It's a typical desert landscape passing lots of dirt roads and signs of civilization. But it's amazing because it's the beginning. Around 6 or 7 miles in I stopped to take off some layers and someone passed me. When I started again I caught up to him and we just started hiking the same pace. And that's how I found my first hiking partner.
We move quickly as both of us are fast hikers and we cruised into Lake Morena around 2 pm. We got a snack and some cold soda at the Malt Shop and back on the trail. We wanted to get a bit further out of town before setting up camp for our first night. We settled on a nice campsite at a ridge above town so we had lots of time at camp, almost too much time really. I usually like hiking until an hour before dark, trying to take advantage of all the daylight possible. But a slow start was fine by me. My feet were hurting anyway as I'd gotten my first couple of blisters on day 1, bummer. Time for journaling and sleep.
Day 2
We got up at sunrise for a nice cool start to the day.  Early morning miles are always the easiest – your body is rested, it's cool, the sun isn't intense yet, the miles roll in. It wasn't the easiest start today because my feet were hurting, but at least it was cool out. Down into a valley and field to Boulder Oaks Campground where we refilled at a water spigot and had a snack. We only take short breaks, just enough to refill or catch our breath, and then we keep going. No long breaks, no lunch, we mostly keep moving until we camp at night.
We got our first 10 miles by 10 am today and made it to Mount Laguna by 2 pm for lunch at Pine House Cafe. The break was much needed because my blistered feet had been getting worse over the day. After a large pasta Alfredo shared with Chip, we got a move on.
On our way out of town, we tried to fill up at the last water spigot but it was turned off so we had to backtrack to the store to get the water we needed to make it to the next water source.
Coming out of Mt. Laguna the trail has its first real views. You can start to see the mountain ranges to the north where we are headed. It's beautiful.
We finally found a campsite but the was only big enough for one tent, so I climbed around the thorny brush until I found a large enough clearing, removed the rocks, and set up my tent in the most beautiful view at Fosters Point.
Day 3
Another early start for more easy miles. I don't understand how people sleep in when camping. I'm always up with the sun and it's definitely the easiest time of day to start hiking. The more miles before the sun gets intense, the better. The trail weaves down and then up to a white bridge walkway at a Cliffside with spectacular views.
The next miles are the most beautiful on trail so far – Day 3 was far prettier than 1 and 2. I couldn't stop taking photos and videos of the gorgeous trail weaving through boulders and flowers on the mountainside where you get your first look at San Jacinto, the first real mountain on the PCT.
We bumped into a local mountain biker who gave us some good tips on the long water carries and also some local news.  It turned out Montezuma Market, where my hiking partner had sent a package, burned down the day before. Fortunately, no one was hurt, but that's devastating.
My blisters are brutal at this point. At least 5 on each foot and I'm practically hobbling but my early trail mindset has me excited and moving. We arrived at an intersection to a water source and had some decisions to make. Either we hike a mile down to water, a mile back to the Trail, and camp out as far as we can get,  or we try to push on the last 8mi to town.
We meet some other hikers who were staying there for the night who graciously gave us the last of their water so we felt obligated to keep going. Those next 8 miles were brutal. The worst by far on trail. It was hot, intense sun, my feet were wrecked and every step was like hot coals. I also had to carry Chip for many of these miles – the hot sun and sand was too much for him too.
Finally, we made it to scissors crossing and I practically collapsed in the shade under the highway overpass. There was plenty of water left by trail angels so we just sat in awe of what we did – 31.5 miles on day 3. We're idiots.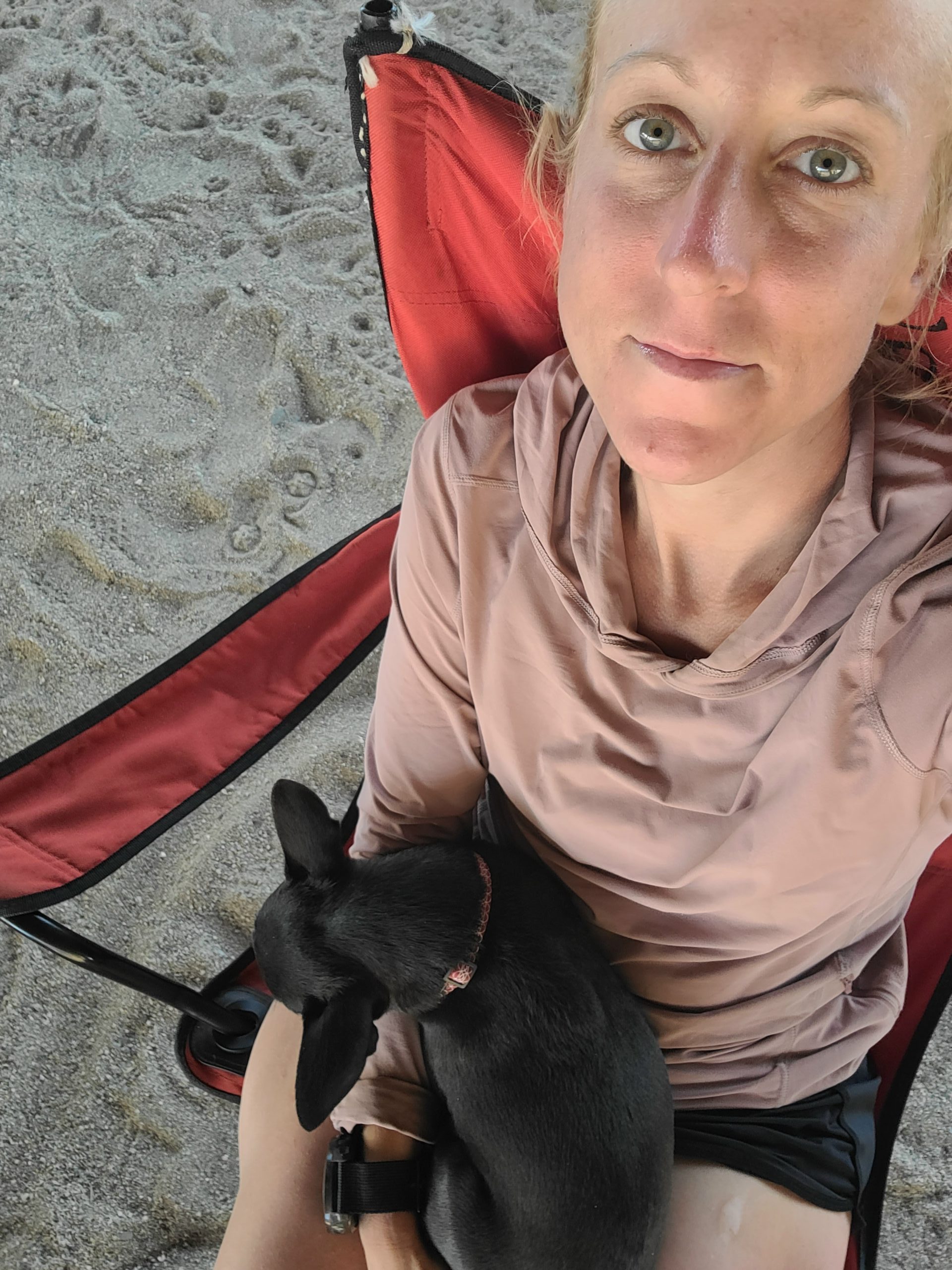 We found out you can camp in the nearby town Julian,  a must-visit on the PCT, so we got on the road for our first hitchhike of the trip. It was late on a Sunday but finally, a young couple took us the 10 miles into town where we're got some pizza and set up tents on a grassy area in town.
Everyone in town was so nice to us, holding tables for us, asking us how it was going, how we eat and drink, where we started,  and were we going all the way to Canada?
Most importantly, I would get to visit the foot guru and owner of 2 Foot Adventure tomorrow for some new shoes and foot care advice. I couldn't wait.
Affiliate Disclosure
This website contains affiliate links, which means The Trek may receive a percentage of any product or service you purchase using the links in the articles or advertisements. The buyer pays the same price as they would otherwise, and your purchase helps to support The Trek's ongoing goal to serve you quality backpacking advice and information. Thanks for your support!
To learn more, please visit the About This Site page.