Fire On The Mountain (Days 102 to 113, Mt Shasta to Ashland)
Day 102
Start: Interstate 5 / Mt Shasta
End: Dirt Road Just Past Shasta-Trinity Gumboot Trailhead
PCT Miles Hikes Today: 25.4
Whew, I really needed that zero in Mt Shasta. After pushing pretty hard for the preceding 300 miles through record-setting heat waves, my body was toast. Our time in Shasta was spent doing as little as humanly possible, and I'm dang proud of the fact that I didn't leave the motel property at all yesterday. Mango, Bushwhack and I were all reluctant to leave our comfy motel beds this morning, but we set our alarms for 5am to catch the 6am bus back to the trailhead.
As we climbed on to the bus, we saw about a half dozen other hikers. One waved me down as I passed and asked "Hey, are you Slice?" This was longtime friend of the blog Otter, who had followed my AT journey in 2016 and was now also thru hiking the PCT this year! After a few online exchanges earlier this year, I was wondering when we would run into one another! Since the bus took what felt like an extremely circuitous route back to the trailhead, we had an hour long drive to catch up, getting to hear about each other's journeys so far. Otter and his hiking partner Anchor are hoping to do 6 days to Seiad Valley, skipping right over Etna, so they quickly outpaced us when we got to hiking. Still, it was awesome to meet you at last, Otter!
Our first 9 miles were a little choppy, but under some great tree cover. Whenever we broke out of the trees, we were greeted by amazing vertical views of crags shooting up out of the treeline. We're hiking today through Castle Crags Wilderness.
We hit the 3,500 foot uphill at the hottest part of the day, and it was beautiful, but super exposed. I found myself hopping from shade to shade, and sat for a quick break to catch my breath every 800 or so feet of gain.
As the trail leveled off, we reached what we thought would be our last water source of the day around 2:30, and ate a late lunch in what little shade we could find. Normally we don't like to block the trail when we're eating, but today we had little choice – the ridgeline was pretty sparse.
It was around 3pm when we left lunch. Against my better judgement, I let Mango and Bushwhack peer pressure me into pushing for another 25 mile day today. "Come on, let's camp near water! Dry camping sucks!" We pushed to Picayune Spring 10 miles further on to refill on water for the night. We were happily surprised to find Otter and Anchor at the campsite as well, and set up right next to a dirt forest service road.
It feels weird to set up a different tent than our Duplex! We picked up a Big Agnes Copper Spur in Shasta to use while our Duplex is repaired, and it's… way skinnier than I remember it being. Mango and I are bumped right up against each other tonight. Maybe time to try out cowboy camping again?
I swear that I feel worse the day after a zero than I did before the zero. It's like my body got a chance to heal a little bit and get those nerves firing again, then the day I head back to trail I get to kill them all off again. Or, maybe this is just the low-level of pain that I can expect for the next 1,000+ miles until we reach Canada. I can only hope that I kill off these pain receptors for good at some point.
Day 103
Start: Dirt Road Just Past Shasta-Trinity Gumboot Trailhead
End: Bushcamp near Cooper Meadow Junction
PCT Miles Hikes Today: 25.3
We climbed up to 6,600 feet over the course of yesterday, and the elevation meant we had a beautifully cool evening – this was the first time I've zipped up my sleeping bag in weeks.
The days are definitely starting to get shorter again. When my alarm went off at 5, we were still mostly in darkness, despite the light tree cover. As we started to hike at 5:45, we could do it without headlamps, but I see that changing quickly over the next month.
Lots of ridge walking today. The elevation profile was almost completely flat, with some very slight bumps as we trotted along among the tall pines. Along the way we had great views of small lakes and ponds nestled into the mountains, and there was plenty of flowing water coming from the mountain via ice cold little springs. I filter all of my water, but if I were a gambling man, I'd say most of these little springs along the ridge were safe to drink right from the source.
Around midday we pulled into Parks Creek Trailhead, excited because we heard that there was a nice privy available for use and we both had nailed our bowel timing for the day. As we finished up, an older man walked up and introduced himself as Steve. Steve was a former crystal and mineral dealer from Arizona, and had spent time as a search and rescue volunteer for Mt Shasta. He regaled us with stories from the field, as he force fed us fresh fruit. It was wonderful trail magic, and as we waved goodbye, he gave us both quartz crystals that he said would help guide us safely home.
As we stopped for dinner, we met back up with Bushwhack, who has been having some serious foot pain today. He told us he was cutting the day short to let his feet rest, and that he'd catch up with us tomorrow.
Today was a very unstressful day, since we did all of the climbing yesterday. Most of our hiking was on a smooth, slight descent. We rolled into camp around 7:30, and had a nice leisurely evening together. We're the only ones at a beautiful exposed campsite, with epic views to both sides. A very nice end to a nice day.
Day 104
Start: Bushcamp near Cooper Meadow Junction
End: Bushcamp just before the descent to South Fork Scott River
PCT Miles Hikes Today: 24.8
A whole slew of evening hikers passed by our campsite last night – this must be the next wave of fast hikers doing 30+ miles per day, because we don't recognize any of them. One stopped at our site, tried to pitch his tent, immediately snapped one of his stakes (our site was on a huge slab of rock), then lay down and cowboy camped.
We got moving around 5:45, and our first 6 miles were super cruisy. We covered the miles in 2 hours, then took a nice long breakfast break at our first water of the day, a spring bubbling out from under a big downed log, just under the trail.
As we approached Highway 3, we saw another hiker we peripherally know trying to hitch into town. This wasn't where hikers typically try to hitch into Etna, so we asked him what's up. He told us he had Giardia and was really sick. This was the same hiker who had bragged to a group of thru hikers right before we reached Chester that he had not filtered any water since Sierra City. I guess it finally caught up with him – No one can roll the dice forever. Also at the road crossing was a nice foam cooler full of cold beer, but neither of us are big drinkers, so we kept on cruising.
We had a nice toasty climb out of the gap at the heat of the day. The climb was surprisingly exposed, and we felt the heat pounding down on us as we climbed. Fortunately it was only 4 miles to the top.
As we came to the top of the climb, we were both feeling good, so we made the call to push farther today and try to get into town tomorrow night. I know what you're thinking – Slice, in your last blog post, you seemed like you were on the verge of a physical breakdown, and you promised you were going to let up on mileage. Now you're pulling 4 straight 25 mile days? Unfortunately, you are correct – I am a hypocrite and a liar. Please don't tell my boss (when I get a new job).
We ate at a little spring about a mile before our planned campsite, then slowly made our way down to a nice little secluded spot among the pines. As we hiked down, we were struck by how smoky it became. Earlier in the day we had seen what looked like a haze off in the distance, and now it had moved in to the valley. We went from sweeping views to having trouble seeing the trees across the hill. I don't know what fire this is from, but I assume it's one of the big ones burning nearby – maybe the Lava fire near Shasta, or maybe the Salt fire burning just south of us?
I'm happy to have set ourselves up for town tomorrow night. It's a hitch from a trailhead in to Etna, and trying to nearo in early in the morning seemed risky to me. Much better to hit that trailhead at 6pm than it is to hit it at 7am. Even if all we do is get to town and go right to sleep tomorrow, we will have a full day after we wake up to get our town chores done. Hopefully the air is clear tomorrow when we wake up, and we can hike hard to get to town at a reasonable hour.
Day 105
Start: Bushcamp just before the descent to South Fork Scott River
End: Etna Summit Trailhead / Etna
PCT Miles Hikes Today: 23.0
This morning we awoke to a smoky sky. We sighed sadly and set off, knowing that we'd be sucking smoke for the entire day, but excited to reach Etna later today.
For most of the past 2 days, we have been running straight west / southwest, a frustrating direction to be heading as Northbound thru hikers. As we hiked today, the trail turned North again, at last. Each mile we hiked West made the smoke worse, and each mile we hiked North seemed to (maybe?) make it better – At least, the sky was clearer to the North, and we could see patches of blue sky. We ascended and descended sharply this morning, and Mango mentioned how the smoke was affecting her ability to breathe on the climbs. Not great hiking conditions. I'm not sure if the terrain was actually hard, or if the smoke is just making it seem hard.
We stopped for lunch in the middle of an older burn zone, then pushed on quickly, anxious to get to the trailhead before dark so we could get a ride to town. As we reached the trailhead, we realized just how remote this trailhead is – cars were passing at a rate of about 1 per 5 minutes. Dang, this could be harder than we expected.
We saw a truck pull up to the other side of the road, and a few hikers hopped out. Mango walked over and spoke with the driver, and he pulled over to where I was sitting and told me to hop in. Success!
We told our hitch driver that our plan was to camp in the town park, which the town encourages. After starting the drive down the mountain and chatting with us for a few minutes, our hitch driver grinned mischievously and said "I know exactly where to drive you two!" He drove us up to a beautiful house just outside of town, knocked on the door, and announced to the lady who answered the door that he'd brought her two hikers for the evening. The lady laughed and welcomed us inside. We entered an amazingly refurbished old home, built over 100 years ago, with red hardwood floors and plenty of space for us. Over our protests, she generously gave up the master bedroom for us, and even let us borrow her truck to get to dinner!
Our evening ended with a surprise reunion with a whole slew of our friends. Meals, Sorority Steve, Knockout and Polenta Pants had all tried to hike out, but turned back after 10 miles due to the smoke, and hitched back into town. We were surprised to hear this – maybe the smoke gets worse as we get further north? The smoke was annoying, but it wasn't something I'd turn back over. But, we met several other hikers in town who were struggling with the smoke. Our friends were going to shuttle around to Ashland to see if the smoke was any better, and if not, it kinda sounded like they were willing to go all the way up to where the smoke starts to clear up – which is Bend, but then there's the Lionshead Fire closure north of Sentiam Pass. So, they'd have to go all the way to Mt Hood. Mango and I talked about it, and I would be really disappointed to need to skip that kind of mileage at this point in our hike, and skipping the California Oregon border would be heartbreaking. So we decided that will hike out tomorrow evening, and if the smoke is bad, we will turn back and reevaluate – and possibly try to skip to somewhere that makes sense.
Day 106
Start: Etna Summit Trailhead / Etna
End: Bushcamp on a ridge, half a mile from Cub Bear Spring
PCT Miles Hikes Today: 6.9
What a great night of sleep at our trail angel's house! We snuck out this morning before she awoke, but we left her a very nice note thanking her for her generosity. We were able to do laundry at her place instead of making a side trip to a local laundromat, and were able to shower in a luxurious home shower instead of paying for tokens at the timed local park showers. She showed us some true small-town hospitality. And, we got to play with her dogs!
We had decided the night before that we would wait out the heat of the day here in town, so we swung over to local breakfast spot to try to regain some calories.
We met up with the same folks from last night, and they told us they were leaving in an hour to head to Ashland. And, they were taking Bushwhack (who had just hiked in this morning) with them! What a coup – we thought we had Bushwhack all to ourselves. We said our tearful goodbyes, but quickly forgot all about them as more of our friends hiked in, and we sat with Sunny B, Dirty Rice and Treeboy while they ate and we enjoyed the air conditioning and free WiFi.
All the hikers could talk about today was the smoke. Is it going to get better? Will the winds change? Does hiking with a mask on make it any more tolerable? Is hiking in the smoke dangerous for your lungs? There were about a dozen of us at the breakfast shop trying to cobble together a coherent opinion of the smoke situation. The biggest unspoken question was this – What happens when there's smoke, but no fire? If there's a fire closure from an active fire, it's an easy choice – you shuttle around the closure, and keep on cruising North. But there's no closure here – it's entirely up to each individual hiker to make a judgement call. Sunspot, Mango and I are hiking out. Steve, Knockout, Bushwhack, Polenta – they're all shuttling around. It's a weird situation, and I'm not sure anyone is feeling great about their decision.
Mango and I resupplied, then went back over to Denny Bar Co. for lunch. Denny Bar could be comfortably transported to any hip city like Chicago or Seattle and it would be packed every night – we were surprised by how beautiful and nice it was on the inside, with extremely professional staff mixing drinks and a full distillery operation visible through windows in the back. A very cool spot to hang for a few hours!
Around 4, we decided to stop being lazy bums and get back to trail. We stepped outside onto the main street back to the trailhead, and immediately started sweating. We got picked up 30 very hot minutes later, and when we got in the car, the thermometer read 102.
Our hitch driver was unfortunately living out some kind of speed racer dream, because he was flying around every corner of the very windy road. When we arrived at the trailhead and started hiking, Mango and I both commented that we felt woozy and sick to our stomachs. Still, we were psyched to be back to trail at a reasonable hour. We picked our way slowly along an extremely rocky ridgeline, and eventually reached an epic campsite right on a ridge overlooking a very smoky valley. We picked out dinner from town, and we happily ate our sandwich and watched the sunset over the mountains.
As we were hiking on the ridge earlier today, the smoke seemed better. I'm feeling more confident in our decision to hike on through this section. We could even see clear blue sky way up above us – the smoke is clearly settling into the valleys, but hey, that's better than the smoke being all around us at all times, right?
Day 107
Start: Bushcamp on a ridge, half a mile from Cub Bear Spring
End: Saddle about 3/4 mile from Tyler Meadows Junction
PCT Miles Hikes Today: 24.0
We slept great on the ridge, but as we were packing up, we discovered that some rodents (?) had gotten at my trekking poles in the night. Damn, they were tucked pretty much under the tent, about 6 inches from my head! They must have been very sneaky. Regardless, my straps are totally gone now, which is a huge bummer – I rely on those wrist straps to absorb a lot of weight as I head downhill.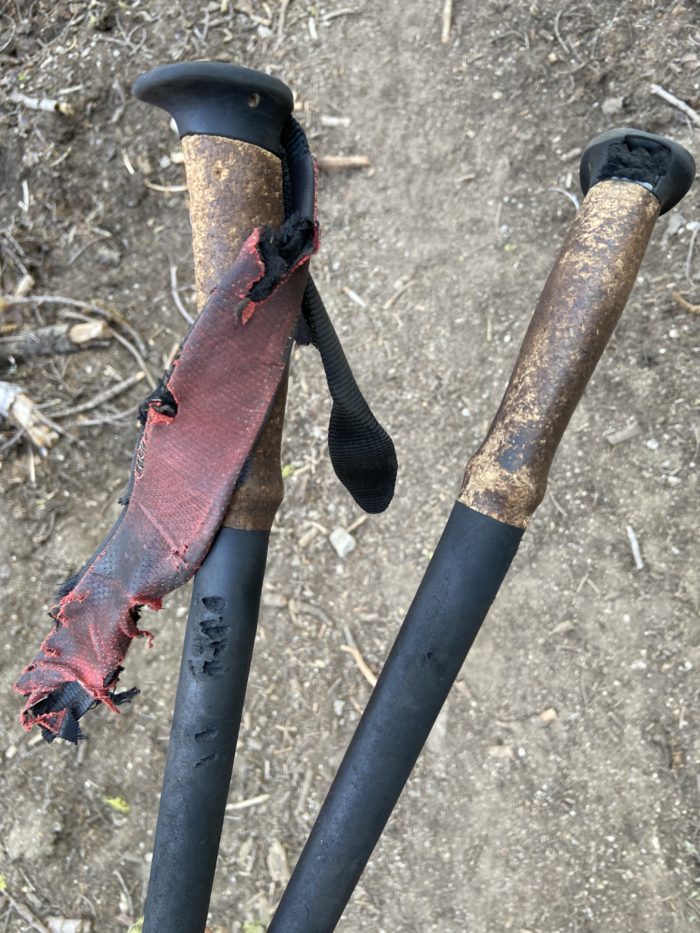 We hiked through a burn scar this morning, and after a few miles, we heard… bells? Soon, a big group of cows came into view down the hill from us, and when they saw us, they hoofed it out of there pretty quickly (pun fully intended). It was pretty funny to see them all scamper away from us as quickly as they could. The local ranchers must drop them up here to graze on the vegetation.
The day turned surprisingly hot, and the terrain was surprisingly rocky and exposed. I think we were both expecting to move faster than we did early in the day, and by lunch time, we had covered only 11 miles. Still, we got some beautiful views of the white ridges and little lakes nestled into the mountains.
The deer in this section have been absolutely fearless. As we stopped for a snack break near an old closed ranger cabin, 3 deer loped out and started hanging out with us. Not sure if other hikers have been feeding them, but it was fun to see them flicking their ears and tails and staring at us, not afraid. It is definitely not good for them to be this bold around humans, but I suppose their are no hunters around here to instill some healthy fear in them.
We finished our day around 7:30, at a small saddle with a few flat spots and great views to both sides. It's far windier here than I usually like, but we were both tired, and this puts us 25 miles from Seiad Valley tomorrow. So, we set up the tent (being very careful not to let it take off like a sail in the gusting wind), and happily lay down for the night. I guess the tent flapping in the wind is good white noise (or at least that's what Mango tells me to make me feel better).
It seems like the smoke has mostly cleared out. We can definitely see it settling in the valleys, but at our elevation, the impact is minimal. What a relief – I was worried there for a few days that we would be stuck in smoke for this section. Knock on wood, it seems like we made the right decision to hike out here in Etna, when most of our friends skipped ahead to Ashland.
Day 108
Start: Saddle about 3/4 mile from Tyler Meadows Junction
End: Wildwood Tavern / Seiad Valley
PCT Miles Hikes Today: 25.8
We woke in the night to rain for the first time on trail! No lightning or crazy winds, but the steady patter of rain woke us both up around 1am. We quickly fell back asleep, and woke at 5 to some crazy storm clouds to both the east and the west of us. We quickly packed up and headed out, anxious to get back below treeline in case those clouds headed our way.
As we hiked along the ridgeline for the first few miles, we played a fun game called "Smoke or Rain?". The valleys showed lots of haze, and we were getting quick 5-minute showers of rain as we hiked, so we expected it was mostly rain, with some residual smoke. Either way, it provided some great views.
The sky brightened as we began a 17.5 mile / 5,500 foot descent to the valley floor, and we shed our rain gear. It felt about 15 degrees cooler than yesterday with full cloud cover. The downhill trail was easy on the lungs, but hard on the legs – there were massive blow downs, and brush was way overgrown on the trail and constantly slapped at our faces and arms. We also kept a wary eye out for poison oak, which is rampant in this area at lower elevations. All in all, it was a bit of a battle to get down to the valley floor.
After the 17.5 mile descent was the 6 mile road walk, first along a dirt road, then a rural paved road, and finally along a busy state highway. My legs were shaky from the descent and the road walk was actually really difficult for me. My ankle tendons were screaming and my calves were cramping. The road walk was made only slightly more tolerable by the millions of blackberries growing alongside the road.
Seiad Valley (Population: 350) is an interesting little town. It's little more than a general store, an RV park, and a volunteer fire department, all surrounded by farmland. The PCT took us straight through the bustling downtown district, where we saw a total of zero other people, unless you count the several cows hanging out in one house's yard. It's unclear if this is where the cows live all the time, but they were definitely pretty comfortable chilling by the main road.
You may think we're still stuck in California, but little did you know we're now in the heart of the State of Jefferson. In 1941, dissatisfied with the representation of rural California and Oregon in the state governments, locals organized a movement to secede from their states and organize into a new state called Jefferson. Per Wikipedia: On November 27, 1941, a group of young men gained national media attention when, brandishing hunting rifles for dramatic effect, they stopped traffic on U.S. Route 99 south of Yreka, the county seat of Siskiyou County, and handed out copies of a Proclamation of Independence, stating that the State of Jefferson was in "patriotic rebellion against the States of California and Oregon" and would continue to "secede every Thursday until further notice." Though the independence movement eventually failed, the independent spirit clearly lives on – the main road is packed with Jefferson memorabilia.
We made it to the local restaurant for dinner, and knocked out a few chores like laundry and showering before bed time. We're camping on the lawn of the restaurant tonight (with the owner's permission, of course). It's a bit noisy next to the road, but hey, we'll only be steps away from breakfast tomorrow morning!
Day 109
Start: Wildwood Tavern / Seiad Valley
End: 5.5 miles up the Seiad Creek road walk
PCT Miles Hikes Today: Technically zero, but we did hike up a road for a while, so we won't count this as a zero, eh?
It turned into a beautiful night, camping on the lawn of the Wildwood Tavern. The nearby road quieted down around dark and it felt great to sleep in this morning until past 7, when we couldn't ignore the sun any longer and packed up.
Breakfast at the cafe was later than we expected. The cafe has been opening 2 hours later than usual because they are preparing meals for around 300 firefighters working in the area each day. We unexpectedly had another hour to burn, so we resupplied in the surprisingly nice little shop attached to the cafe. We chatted with the owner (working behind the cash register) and found out the building and business are up for sale for a mere 750k. Over the next hour a ton of hikers arrived in town, and we all sat on the stoop, waiting for food.
Around midday we hoofed it back to the comfy porch of Wildwood, where we hung out on the porch for a few hours with Forest Gump. Forest started an app called Hiker Feed, which is a private and public journaling app focused on thru hikers. I continue to be very frustrated with using the WordPress app for my blogging, and I do wish I had heard of Hiker Feed before the trail – it sounds like an amazing tool for hikers and an easy way for folks at home to stay connected to those on trail. Our friend Otter is a huge fan of Hiker Feed and uses it for his own journaling. If you plan to hike in the next few years and are looking for a journaling tool, I highly recommend Hiker Feed. Forest got a booth at PCT Trail Days in Cascade Locks this year and I'm really looking forward to connecting with him again and seeing the app in action again – he's hustling to make it a perfect tool for thru hikers. He also took us through the finer points of running a business, and man, sometimes I'm glad to just be a simple W2 employee.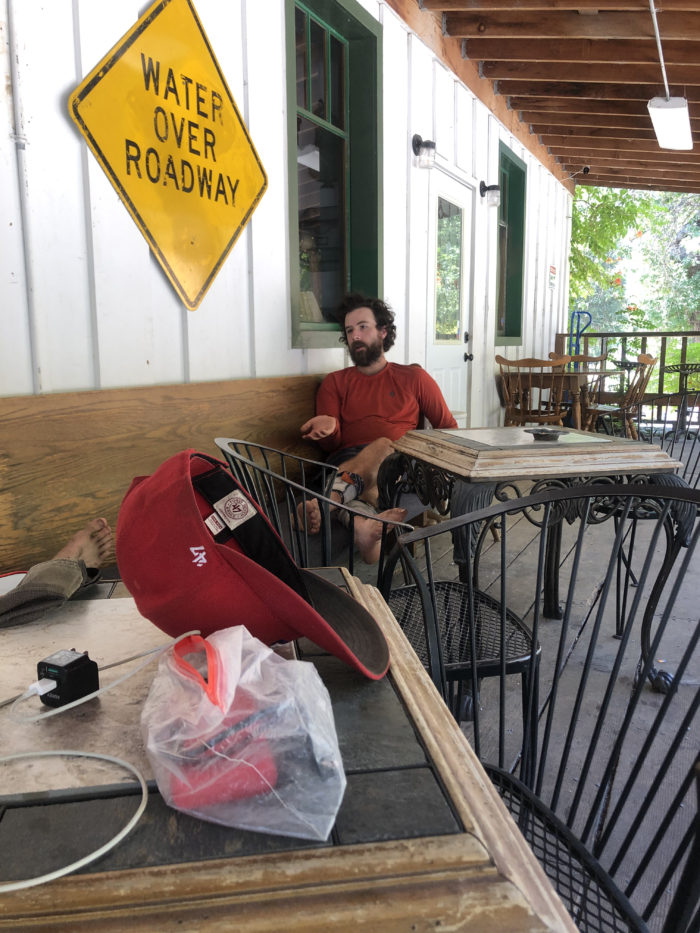 At 2, Wildwood opened for lunch, and the hikers poured in to enjoy the air conditioning and excellent food. I highly recommend that future hikers check out Wildwood on your way through town!
Mango mentioned to me a few days ago that there was a 12-mile forest road walk option that reconnected with the trail and skips all the dense vegetation and poison oak that hikers have been reporting coming out of Seiad Valley. The crazy blowdowns on our descent yesterday were fresh in my mind, so I agreed that the road walk would be a good choice. We hiked out at 5 and were pleased with the amount of shade and easy grade of the road – and, because we weren't technically on a trail, I didn't feel bad playing some Phish out of my phone speaker. Phish is great music for a thru hike – long meandering jams for a long meandering trail. We jammed along those 4.5 miles, and found a great little flat spot just off of the road.
(I look like a crazy person in the above photo, but a mosquito had gotten into the tent, and I was in hunting mode, not photo mode.)
Mango downloaded a new app today called Seek that lets you take pictures of plants in the wilderness and it'll tell you what kind of plant it is. She tried it out on the plants around our campsite, and the app happily informed her that we are surrounded on all sides by Pacific Poison Oak. Better be careful if we wake up in the night and need to pee.
Day 110
Start: 5.5 miles up the Seiad Creek road walk
End: Donomore Cabin Remains 0.8 shy of the Oregon border
PCT Miles Hikes Today: 20.2 + the last 6.5 of the dirt road walk
Nice spot next to the dirt road last night – this far up the mountain, it's all just forest and brush on all sides, so unless a forest service truck rumbles by, I doubt we will see anyone drive up. We are treating ourselves to lighter mileage today and tomorrow, so we let ourselves sleep in until 5:30. What luxury – packing up without headlamps!
Since we hike slow, the rest of the road walk crew we were hanging in town with yesterday quickly flew past us. Dirty Rice lingered, and we hiked together for a few miles until we met back up with the trail. We saw a few other hikers we know at the intersection, who told us the climb out of town really wasn't that bad, and that there was very little overgrowth or blow downs. Ah well, hopefully hikers behind us will read this.
We continued to climb on trail, from 4,750 feet up to just about 7,000 feet. It was hot on the ridge and it felt like a big struggle to get up the gentle incline. I just focused on putting one foot in front of the other and trudging along.
Around 4:30, we pulled up to our second to last water for the day, and as we were filtering, big rolls of thunder started to sound in the distance. The nervous hikers among us (including me and Mango) tossed up our tents and braced ourselves for the coming storm. We ate snacks and generally yelled to each other about how bad the thunder was. But, the rain never materialized, other than some light droplets. The thunder continued to rock us every minutes or so.
We hiked on after it became clear that heavy rain wasn't in the cards. After 4 more miles we arrived at what should have been our last water for the day before we camped with Dirty Rice. But, as we were filtering and preparing dinner, Zoomies let us know that the lightning earlier had sparked a small wildfire very close to the trail. In fact, he could see it as he hiked along a ridge a few miles back. And just like that, our plans changed from "set up camp early and relax" to "keep hiking and try to outrun the new fire".
We hiked out with Link, a triple crowner with much more wildfire experience than we have. As we hiked, he found some cell service and confirmed there was a new active fire reported 3 hours ago. We could hear helicopters buzzing back and forth. As we turned a corner, we finally got a good view of the smoke and helicopters – this was all happening within a few miles of trail, maybe closer. Most concerning, this was west of us, which meant if it spread, it would be coming right for trail.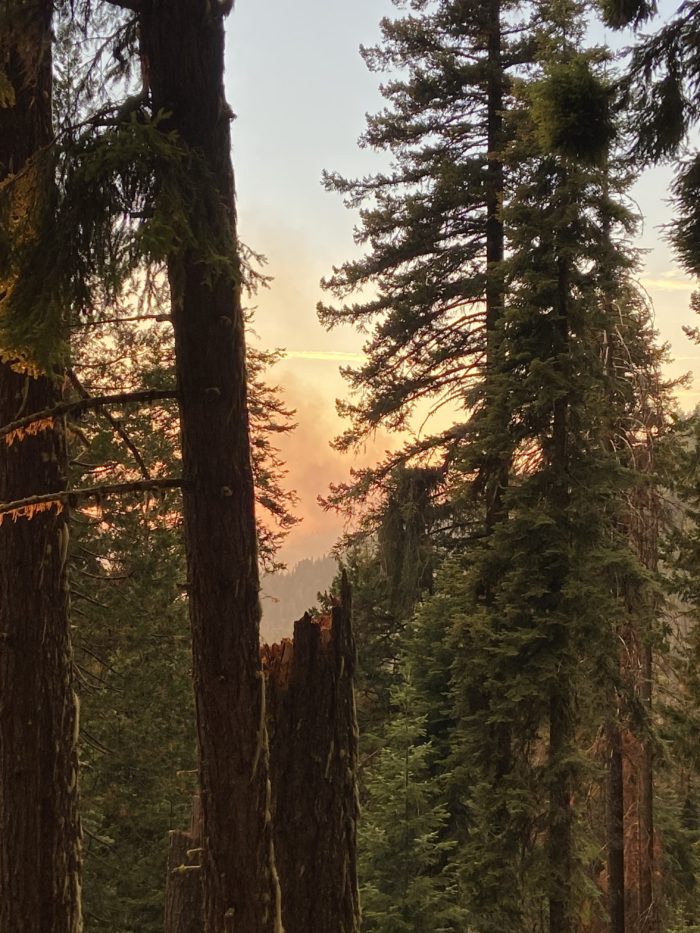 Mango and I debated what to do. Part of me wanted to just keep hiking, hard and fast, to outrun the fire while it was small. The trail is heading mostly North / East at this point, so the more miles we put up tonight, the farther we would be from the fire. Another part of me wanted to be near the group we've been hiking around, so we weren't by ourselves. Safety in numbers, right? At the end of the day, we decided to hike another 4 miles, and camp at some old cabin remains with about 10 other hikers. We're near a big open field, and Link let us know that if we need to be helicopter evacuated in the night, this would provide the helicopter a great spot to land, whereas if we were in dense forest, it may be tough to find a spot. We trusted his judgement of the situation.
So, we go to bed tonight in limbo. We can see a smoke plume to the West, which seems to maybe be curling south of us. I can see stars above me, so maybe that's a good sign? And the helicopters have stopped buzzing overhead. Maybe they dumped enough water to put it out. Lots of little lightning fires start every year, and most of them get put out quickly. We will find out in the morning… this will not be a good night sleep for me…
Day 111
Start: Donomore Cabin Remains 0.8 shy of the Oregon border
End: Bushcamp near Mt Ashland Road
PCT Miles Hikes Today: 18.9
We survived the night! I woke around midnight and checked the sky, and could see a million stars clear as anything I've ever seen. So, I figured the smoke couldn't be blowing our way, and I slept like a baby the rest of the night. We slept in to treat ourselves (yesterday was a big mileage day!), and all left camp around 7:30.
Less than a mile from camp, we finally reached a massive, massive milestone in our hike – the California / Oregon border. I actually got much more emotional here than I did at the halfway point. Wow, we hiked all the way up California. We cracked our Dr Peppers as all the other hikers around us cracked beers, sipped whiskey and generally yelled and shouted and celebrated. Emotions were running high and many people were hugging and crying. We did it! We made it to Oregon!!
Tree Boy treated us to a rousing rendition of a song he and a buddy wrote with lyrics that relate to hikers – by the end we were all hollering the words – "Too many miles walking in these feet, I gotta get myself a goddamn seat!"
What a rowdy group to cross the border with – amazing, it was a huge celebration. One state down, and two to go!
Our buzz was slightly diminished when within the next mile we saw two new plumes of smoke within a few miles of the trail. But, there were already a ton of planes and helicopters flying around, and we were heading in pretty much the complete opposite direction. So, we pushed on. Though Mango noted that it feels like the walls are really closing in on us recently – we dodged the Dixie fire by under 1 week, with lots of fires around Mt Shasta, and then yesterday's fire mayhem – and now this? It's an insane fire year. This one will go down in the record books.
As we hiked through the early afternoon, storm clouds rolled in again, and we began to hear the same big thunder that we heard yesterday. It all reached a crescendo when we got towards the top of our afternoon climb, and the lightning started flashing. We waited out the worst of the lightning while thinking of funny sports for the Thru Hiker Olympics. Events that made the short-list include: Backpack shot put, Water filter speed challenge, Trekking pole javelin throw, and Trekking pole and balled-up darn tough slow-pitch softball. Mango and Dirty Rice also listened to music and danced.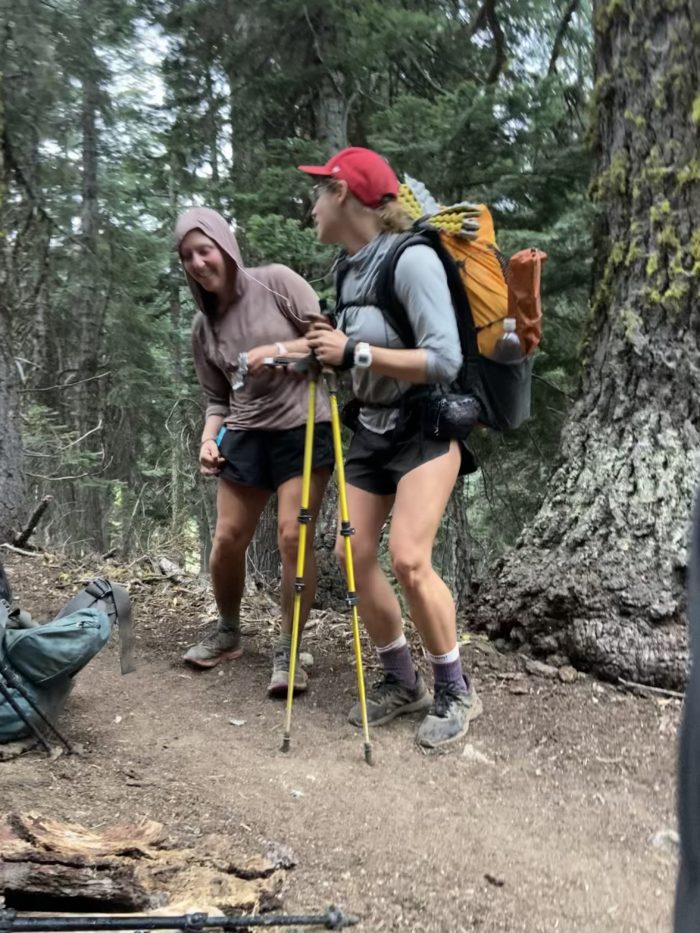 We rolled in to camp around 6:30, having done far fewer miles than we typically do. But who cares? We slept in, then had an awesome party at the state border for over an hour. And despite our low mileage day, it's only 8 miles to Callahan's tomorrow morning. I hear they have an all you can eat pancake special, and Dirty Rice, Mango and I can't wait to stuff our faces.
Days 112 and 113
Start: Bushcamp near Mt Ashland Road
End: Interstate 5 / Ashland
PCT Miles Hikes Today: 7.9
End of the section! We woke at 5:30 and raced downhill, not knowing when they stop serving breakfast at Callahan's and anxious to get as many pancakes as we could stuff inside ourselves. Dirty Rice, Mango and I rolled in at 9:30 and met up with Chucks, Soda Pop and Bitchin' for breakfast. We didn't even need to see the menu – each of us was having the hiker special! All you can eat pancakes, with some fresh fruit, eggs, and bacon, for only $15.
To save ourselves a trip to Medford, we got a variety of packages mail dropped Callahans – including new trekking poles for me (to replace the ones the animal chewed through last week), and NEW SHOES!!
Our hitch into town was quite easy, and we hung out for about an hour at the small outfitter in town, where I spent far more time playing with the store puppy than I did browsing the store.
The hotels were very expensive in Ashland, but we wanted to spend a night or two alone with each other to celebrate getting to a new state, so we booked a room at the Relax Inn near the highway for $100 a night. When we showed up and checked in, the room was one of the grossest and most depressing rooms I've stayed in – and I stayed at the Hiawassee Budget Inn in Georgia on the AT, so that's saying something. Flies everywhere, and the air conditioning wasn't working on a 100 degree day in Ashland. We got a refund and called everywhere in town, but the cheapest decent hotel in town was $250 per night. We sighed sadly and bit the bullet. Then, once we moved in to the room, showered and unpacked, we discovered the air conditioning didn't work in this room either. We sadly packed up again and moved to a new room again. At that point I was so tired and ready to relax, we got to the new room and just collapsed on the bed, ordered a pizza, and watched a fast and furious movie to turn off our brains for the night.
The next morning we were very, very lazy, watching the olympics from bed and doing some bathtub laundry. Bathtub laundry is a hiker tradition. Some hikers use a trekking pole in the bath tub with a bar of soap, but I found the ice box in our room to be an excellent tiny washer, as long as you don't mind washing one pair of socks at a time.
And that's it for this section! Our friends Joe and Jenni from Chicago are meeting us at Crater Lake next weekend, so we'll have a nice relaxed pace out of Ashland, and then another zero (or two?) exploring one of the most beautiful places in the country, assuming the smoke doesn't spoil the views. I think we'll ask for late checkout from our hotel tomorrow and nearo out – really milk our time in town, you know?
Until next time, happy trails!
-Slice
P.S. If you like this post, check out Mango's trail podcast, Take a Hike!, now available on all major platforms (except Apple for some strange reason, probably due to that 100 degree day in Cupertino, where I opened the fire hydrant so all the neighborhood children could play in the street. Well, we used all the water from the well, none of the toilets would flush, and the whole campus ended up smelling like a pit toilet for the next few days while the well replenished. Tough to code for the new iPhone when every cubicle smells like the handicapped stall.) https://anchor.fm/takeahikepodcast
Affiliate Disclosure
This website contains affiliate links, which means The Trek may receive a percentage of any product or service you purchase using the links in the articles or advertisements. The buyer pays the same price as they would otherwise, and your purchase helps to support The Trek's ongoing goal to serve you quality backpacking advice and information. Thanks for your support!
To learn more, please visit the About This Site page.