Going Off On My Own – PCT Day 19 – 21
Day 19
This morning we set off with only 8 miles downhill to the Acton KOA. I had a package arriving by 9pm so I realized I'd probably have to stay there tonight to wait for it.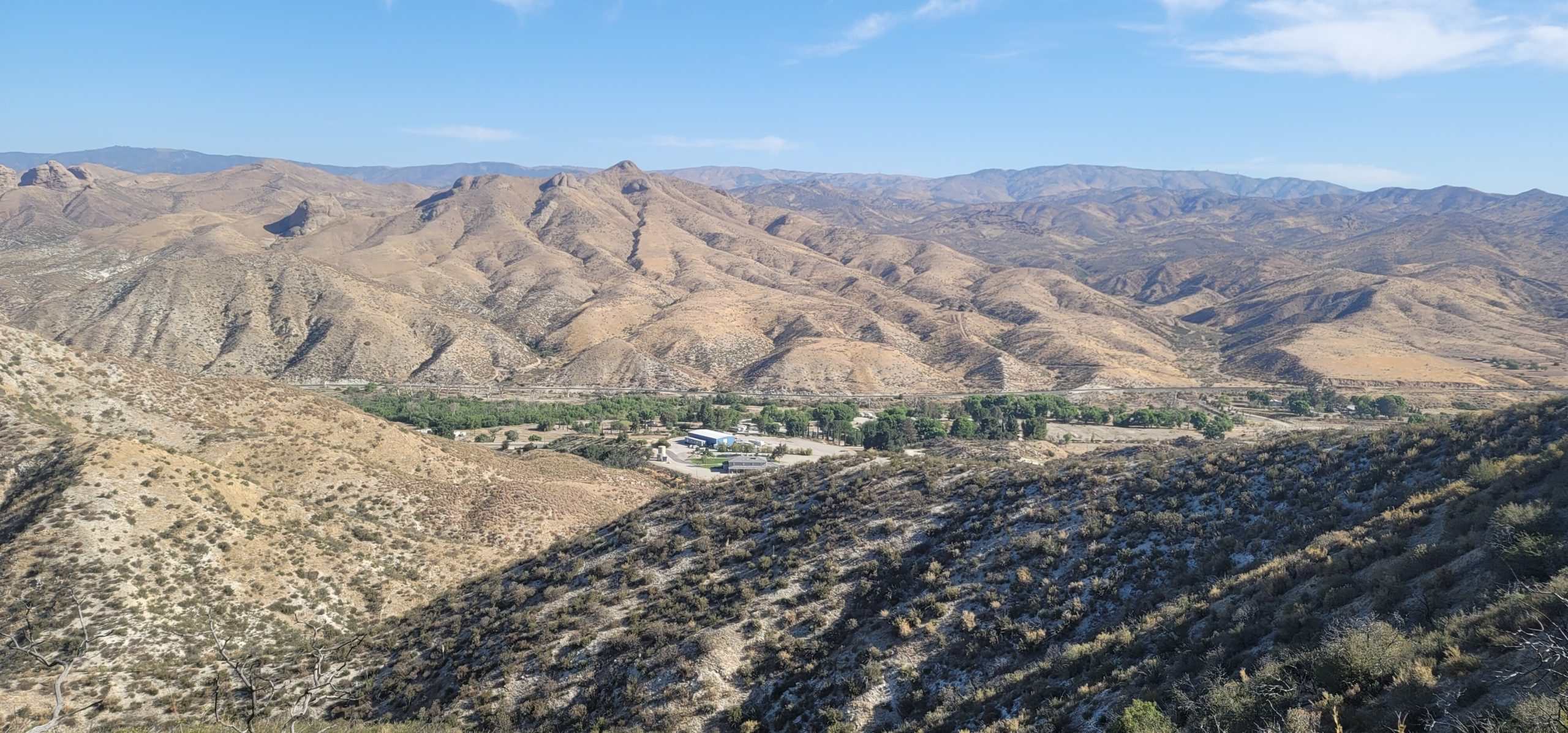 We'd heard mixed reviews about the KOA. Some said it was rude to PCT hikers, saying they charge you for just hanging out there. Others said they had a great experience, so we'd just find out for ourselves.
Finally, we arrived at the KOA and it was a wonderful sight. It's a bit run down, but there are big trees with lots of shade, picnic tables, beach volleyball court, tetherball, darts, and a little store. Best of all, there's a swimming pool!
The pool had just been filled a few days ago so it was clean and cold.
We did see a sign out front saying PCT hikers can hang out free for 1 hour but must pay $10 to be here for 4 hours or more. The woman inside was super friendly and didn't say anything about this so I think you could hang out here for the day no problem and they wouldn't hassle you for the $10. Showers were $3 and coin-operated laundry but if you download their app you can get a load of laundry for free. There's wifi that doesn't work so well, charging stations, plenty of people offering rides into town, and you can order food delivery as well. It was clean and quiet, so our experience here was very positive.
We set up our tents in the backpacker area and immediately ordered pizza. More and more hikers started to trickle in and soon our numbers grew to over 20. This was most PCTers I had seen in one place on the trail and we made our own little tent city.
We spent the day lounging in the pool, eating, doing laundry, and charging electronics. It felt very lazy but my package still hadn't arrived so I couldn't do much else anyway. I was also hoping the rest would give my ankle and blister on the ball of my right foot some time to heal up.
We had lots of time to chat with other hikers and plenty of food was being passed out from over-stuffed resupply boxes.
By 9 pm my package still hadn't arrived, so I had to start thinking of alternative plans. I decided that I could keep hiking at least to Agua Dulce, and try to get a hitch back to the KOA to get the package.
In other difficult news, I started to have some issues with my hiking partners. Before getting on trail everyone talks about their tramily (trail family), how wonderful everyone is, and the bonds you make. What they don't talk about is not everyone gets along. The trail is for everyone so there are people from all walks of life – which is a good thing, but not everyone gets along.
My partner from day 1 had been saying comments that were bothering me, but I decided to bite my tongue so we could continue to hike together in peace. I was ashamed I did not stand up against his discrimination; that's not like me. It was nothing horrendous, but there was frequent yet subtle racism, sexism, and homophobia. I pride myself as someone who stands up against discrimination of any kind, so staying silent was very difficult for me; I felt like I was going against my core values. Over time, the rhetoric worsened significantly and I finally came to the realization that it was time to move on.
I am sharing this experience not to complain about it, but to advise fellow hikers that when your trail family isn't working for you anymore, it's OK to move on. If they're going too fast or too slow for you, partying too much or not enough, or for whatever reason. You will meet new people, many, many people. There will be good people, and not so good people, people you mesh well with and ones you don't. So don't stay with a group because you're concerned about being alone or you think you won't meet other people, you will. It's most important that your mind and body are happy; you're in it for the long haul so take care of yourself. And sorry for the cliche, but, hike you're own hike.
Day 20
I left on my own for the first time since day 1. It felt amazing. And liberating. Just Dirt Devil and I, just like we started.
The 10 miles between the Acton KOA and Agua Dulce are nice and easy. First a mountain to climb, as there always is, then a creepy underpass tunnel,
and lastly some cool rock formations at Vazquez Rocks.
Once in Agua Dulce my mother and I spent many phone calls with USPS, but the package could not be located. I decided to grab some breakfast and wait for a bit.
I walked into a restaurant and 8 elderly men at a table ushered me over and practically forced me to have breakfast with them, in the kindest way possible. They were smart, cultured, well-traveled and a joy to talk with. A couple of hours of brunch later and my package was still nowhere to be found. I decided to hike on.
Agua Dulce is not a good place for resupply. There's only a liquor store that's been essentially ransacked by hikers before me.
Empty shelves left me with chocolate rice crispy treats, spicy gummy worms, and other strange snacks that would be my food for the next few days. There isn't anywhere to get dog food, so a woman from the hardware store was kind enough to drive home and bring me some of her own dog's food so I could keep hiking. People are so kind. But Chip did get some ice cream before heading out.
I collected enough food for the next leg and left once it was cool enough in the afternoon. It's another big hill coming out of Agua Dulce with full sun exposure. At one point I tried to find shade under a boulder only to be startled by a large rattlesnake. I guess I'll keep moving.
I hiked until I couldn't see without my headlamp, about 8:20 pm, and then set up my tent at the next spot I saw.
Day 21
I got up as early as I could to try and avoid the heat today.
It was an easy 12 miles to the Green Valley Fire Station where I was able to fill up my water
before heading back up another hill.
I hadn't seen anyone all day, and the trail was a monotonous desert mountainscape that felt very slow going.
The blister on the ball of my right foot was hurting considerably more at this point and I was having difficulty walking. It was only 8 miles to Lake Hughes Road, but it was very difficult and painful for me. Luckily some wonderful trail angels left a bucket of first aid supplies at the road next to the water cache and it helped me make it the rest of the way.
There's another trail closure here that you can either hitchhike around or do a 14-mile road walk.
My plan was to go to Lake Hughes where my package was now being forwarded, hang out there for the afternoon, and then do the 14-mile road walk that night.
Unfortunately, Lake Hughes is now dry, and there's no public park or place to hang out. I noticed a closed community center so I decided to lay out my tent and sleeping bag and take a nap in a small grassy patch. No one told me to leave so I guess it was OK. I felt like real hiker trash now.
The package finally arrived thanks to an extraordinarily kind postal worker who personally picked up the package and drove it to Lake Hughes. Package received, I could finally start my road walk.
I left around 7 pm and started off on my own down the road. Some cars stopped and offered me a ride but I wanted to do this road walk – It's all a part of the trail experience.
It got dark soon enough and there were no cars on the road so I started to walk right down the middle of the highway.  I found I didn't need a headlamp if I followed the yellow lines in the middle.
A couple of hours into my walk I started to see a string of lights moving across the sky. It was the strangest thing I've seen in the night sky. I'm not one to believe in aliens so it was pretty freaky. Fortunately, I had cell service and Google informed me that many people had been seeing them the past few nights between Los Angeles and Las Vegas. Turns out it's Elon Musk's Starlink satellite launch! It was pretty cool to be out in the dark, on my own, watching hundreds of these satellites launch. Definitely another strange PCT experience for the books.
The walk was long but I finally made it back to where the trail resumes, found the first flat-ish spot, and set up my tent by 11 pm. 37 miles done for the day.
Affiliate Disclosure
This website contains affiliate links, which means The Trek may receive a percentage of any product or service you purchase using the links in the articles or advertisements. The buyer pays the same price as they would otherwise, and your purchase helps to support The Trek's ongoing goal to serve you quality backpacking advice and information. Thanks for your support!
To learn more, please visit the About This Site page.