Thru-Hike Anxiety: Taking Impostor Syndrome in Stride
I've gotten a lot better at managing my stress. I used to have anxiety that would stop me from doing basic tasks: going to the bank, making phone calls, being a functional adult. It felt like I spent most of my time bordering on panic.
Then, of course, there's the state of our nation and the world. When you think about it for too long, existential dread can send you spiraling into a vortex of hopeless nihilism of cosmic proportion so immense, it can be heard far away in space (thus bringing you out the other side, back into meaningful purpose). Thankfully, I've learned to manage of lot of that, and I only occasionally find myself in that place.
But since realizing there are fewer than 100 days until my start date, I've found myself plunged into an inescapable descent into madness. Now, not only do I have to wrestle with quiet, harrowing 3 a.m. thoughts such as, "What is my purpose?" "Does anything matter?" and "Will Trump tweet something that will embarrass the nation, again?" they are now accompanied by, "Jesus Christ, what have I done?"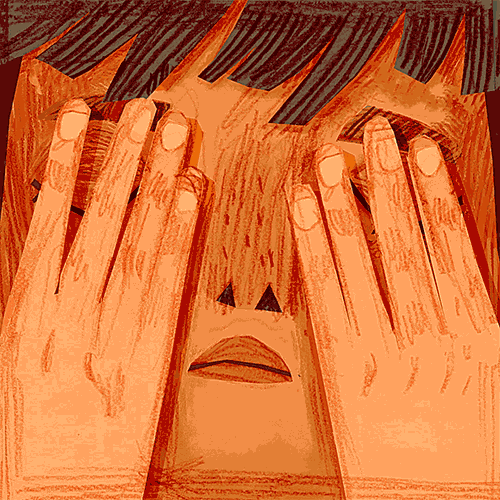 Recognizing Impostor Syndrome
I never realized the extent impostor syndrome would affect me outside of a work environment, but here we are. I knew that I would have to face doubt from the people around me, but I didn't realize that most of the doubt I'd be facing would be self-inflicted.
Every time someone asks me how I am or what I'm up to, inevitably we talk about the hike. People have been surprisingly supportive, but there's always a barrage of questions. OK, let's be honest—I'm a woman. It's really just one question.
Are you taking a gun? Why aren't you taking a gun? Are you taking mace? What about a dog?
I do my best to not let these questions make me defensive, but when you're already having worst case scenario nightmares every night, it can become trying. What if I do need a gun? What if I actually can't do this at all? And worse, what if I'm the last to know that there's no way I can do this?
Leaning Into Inadequacy
Now, this might seem counterintuitive to some, but the only thing that has ever helped me feel better about not feeling confident is owning the fact that I'm not confident. Hubris and self-importance delude—I've got to face the facts.
I'm definitely not in shape for this. I'm virtually clueless. I have exercise-induced asthma. I hate dirt. I hate when my scalp is itchy. I don't trust my mother to water my plants (my true love in this world). Once I admit to myself that it's possible I don't know everything, I can enter into a posture of receiving.
Don't get me wrong; I don't mean I don't prepare. I am doing everything in my power to learn and exercise as much as possible in preparation, but there are so, so many things that I cannot yet know.
And this fact has been comforting to me—I can't know everything. I have no idea what I may encounter. I don't know how my plans will play out. It keeps me teachable. And if there's one thing I've gathered from reading hundreds of thru-hiker logs, it's that the trail will teach me.
There are so many things outside of my control, but if I can remain humble and flexible there is nothing I can't accomplish. So even as I wake up to a flurry of uncertain thoughts and Trump does indeed tweet out a typo that becomes the newest meme of the day, I take comfort in the fact that the only thing I can really rely on is uncertainty, and push forward another day.
Affiliate Disclosure
This website contains affiliate links, which means The Trek may receive a percentage of any product or service you purchase using the links in the articles or advertisements. The buyer pays the same price as they would otherwise, and your purchase helps to support The Trek's ongoing goal to serve you quality backpacking advice and information. Thanks for your support!
To learn more, please visit the About This Site page.