Improvisation (Days 30 to 39, Wrightwood to Tehachapi)
Day 30
Start: Highway 2 / Wrightwood
End: Bushcamp 3.5 miles south of Angeles Forest Highway
PCT Miles Hikes Today: 12.2
I was so happy to take a zero in Wrightwood – during the long stretch from Big Bear, our trail family started to push mileage a bit, dropping multiple 20 mile days. My body hurt heading into town, and I definitely felt (mostly) better on the way out.
We decided when we got to town to skip around the Bobcat fire closure. The Bobcat closure starts at Dawson Saddle (mm 380), but there's no way to get off trail there. So, you'd have to backtrack all the way to Vincent Gap at mm 374 and road walk Highway 2 for 22 miles to get to where the trail reopens at Three Points trailhead, mm 403. We decided that road walking 22 miles on a dangerous, windy 2-lane highway wasn't the trail experience we were looking for, so we made the call to hitch ahead from Wrightwood to Three Points, and come back in a future year to make up for what we missed.
We booked a shuttle around the closure, and the first available time was 11am, so we allowed ourselves to sleep in and have a slow morning. We drank multiple cups of tea, went out for a breakfast burrito, and generally bummed around for a few hours until it was finally time to pack up. I always feel a little guilty not hiking early in the morning – like, I could be using these hours more productively! When Carol showed up at 11, Songbird, Mango and I piled into her small truck for the 45 minute drive.
The second half of our trail family (Sorority Steve, Bushwhack, and Redline) caught a hitch from the highway and arrived just before us. Highway 2 actually reopened a few days ago after an extended closure, so the traffic has picked up substantially and it was a surprisingly easy hitch for the boys. It also cut our shuttle time in half! We were hiking around noon.
The trail was super smooth, continuing the trend from our last section. I'm thankful that the terrain has evened out over the last 100 miles. Even if the elevation continues to swing around wildly in the coming weeks, hiking on stable ground makes it all so much easier.
We got one water source today, a nice spring right on the trail. We took 15 or so minutes to chug a liter and eat a snack, then continued pushing. The goal was 10-15 miles despite the late start. Thankfully, it wasn't too hot at 6500 feet, and there was a nice cool breeze blowing. I didn't mind hiking through the heat of the day.
My left calf right under my knee has been bugging me since I left Big Bear, and the pain returned today. Not enough to slow me down, but enough for me to notice it with every step. I'm annoyed that a zero in Wrightwood didn't seem to help, and I'll have to keep an eye on it over the coming weeks to make sure it doesn't become a bigger issue.
We cruised in to a nice campsite a little after 5, and decided to call it a day. The views were too good to pass up, and there's no sense in rushing this section – it was 42 or so miles to Acton from the trailhead, and with the late start today, we knew this equates to 3 days. So, we will pull a big day tomorrow hopefully, and set ourselves up well for an easy day to the KOA. I was in bed before 7:30 – a perfect evening.
The hiker hunger is definitely settling in. In addition to my usual tuna / cheddar cheese / avocado wrap, I've also been cold-soaking a package of ramen for dinner. Stepping up the calories is so important. I see a lot of people out here struggling with low energy and bad moods because they don't force down enough calories. We run a serious calorie deficit while on trail – it's impossible to eat enough to stay even on the day. A few days ago, my Apple Watch told me I burned 5,935 calories on the day… No way am I carrying enough food for that. But every little bit helps, including going crazy in town. Last night before bed I ate a pint of Ben and Jerry's ice cream, forcing it down for the calories. It's hard work out here, people, make no mistake.
Day 31
Start: Bushcamp 3.5 miles south of Angeles Forest Highway
End: North Fork Ranger Station
PCT Miles Hikes Today: 21.0
We enjoyed a warm night last night at the campsite, and almost no wind. This was a really exposed spot – these types of campsites always provide the most beautiful views, but if the wind is gusting, watch out. Thankfully it was a calm night and we slept great.
Somehow, Mango and I have gone from the earliest risers to the latest risers in our group. We usually do a half hour between wake up and walk out, which is a bit faster than our friends. So they've started waking up 15 minutes before us so we can all hike out at the same time. Except, today they were all ready 15 minutes before us! We felt like the slackers as we left last.
It was a fast and easy 3.5 miles downhill to the water spigot at the Mill Creek fire station. Getting water from a spigot is such a treat on trail – and the bonus of this one is there was a pit toilet right next to the spigot! Let's just say I crushed my timing this morning.
Bushwhack, Songbird and Steve flew ahead for most of today, while Mango, Redline and I were moving a little slower. The trail quickly became an absolute mess, as bushes were overgrown and we were getting scratched to all hell trying to get through the brambles. Every plant in the desert is surprisingly thorny, and it was not fun getting all torn up for the next 10 miles.
We took a nice break around 1 pm at a small spring. Bees buzzed all around us because of the water and mud nearby, but as long as we didn't make any sudden moves or swat them away, they pretty much left us alone.
The best news of the day is that my new sun umbrella works! It made hiking through the heat of the day tolerable. It's gonna be an invaluable tool over the next 30 days until we get to the Sierras.
We pulled into a beautiful campsite near the North Fork Ranger Station, where there was (gasp!) another pit toilet, and (double gasp!) a cooler full of ice-cold soda! We sat and sipped Coca-Cola while we tried to plan out the next few days. There's another fire closure, this time from the Lake Fire, coming up this weekend, and we decided that we could do the 14-mile road walk if we planned our mileage right over the next few days. It'll mean hiking out of the KOA tomorrow instead of spending the night, but the planning and diligence are a small price to pay to avoid paying for another annoying shuttle. I also feel like this road walk will be safer than the highway 2 road walk out of Wrightwood to avoid the Bobcat fire closure. We'll see how things look in a few days, once we get a little closer.
Before bed, another hiker named Shame did 10 minutes of stand-up comedy for us, speaking into a blow-up microphone he brought on trail. A perfect end to a great day!
Day 32
Start: North Fork Ranger Station
End: Agua Dulce
PCT Miles Hikes Today: 18.3
Another very warm night last night – we slept 2000 feet lower than last night, and we keep going down today. I think we are actually hanging out below 5000 feet for the next 50 miles or so… we better get used to those early morning starts again!
As we hiked the 8 or so miles down to the Acton KOA road crossing, it heated up extremely quickly. I was sweating something vicious at 7:30 am, and we were heading downhill all morning. This heat is going to get brutal, I can already tell. Still, amazing views of the low desert, we could see forever.
We got to the road crossing and quickly hiked the 0.3 over to the KOA. We had heard mixed reviews of the place, but found a very lovely campground, with picnic tables, fast WiFi, ice cream for sale, showers, and laundry. There was even a swimming pool! Y'all other hikers must be spoiled or something because this place is an oasis. We picked up our resupply boxes and exploded them all over the picnic tables.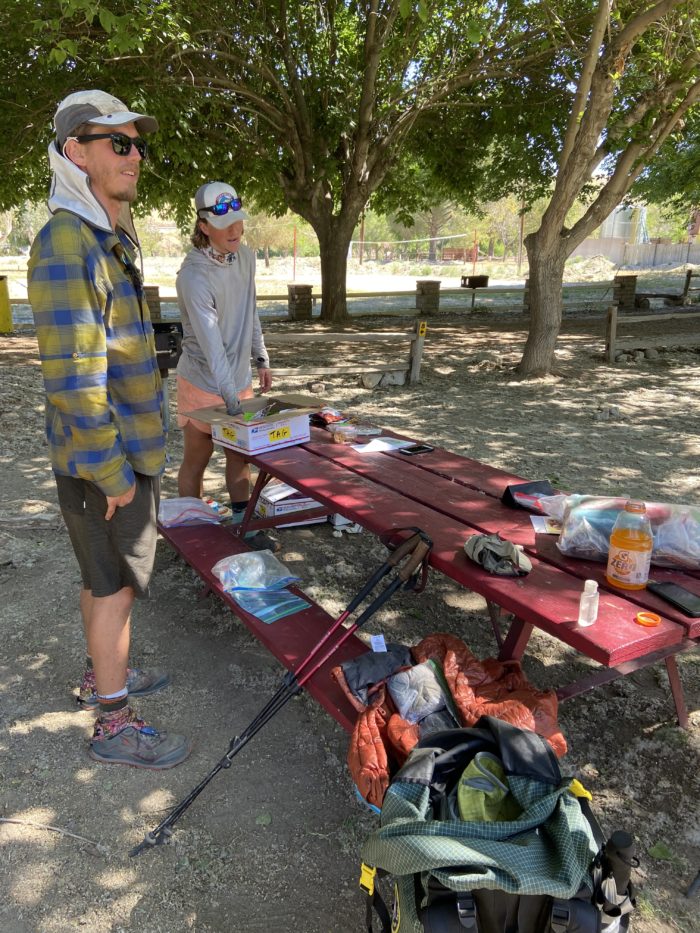 I also picked up a new sleep pad (mine had the dreaded slow leak, and a patch didn't solve the issue) and NEW SHOES. Beautiful, flawless new Brooks shoes. It's amazing what 450 miles of backpacking can do – my old shoes were so beat up.
For the next 8 hours, we lounged in the shade, enjoying ice cream and soda. Our plan had been to hike out quickly, but the heat of the day made it impossible. We quickly revised our plan to wait until end of day to hike out, even if that meant hiking late into the evening. Anything earlier would just be a sweat lodge.
As we relaxed in the shade, many other hikers came off the ridge, looking awful. Squeaks came in and said she had to stop in a shady spot a half-mile up the road because she thought she was going to be sick from the heat exhaustion. The sun is merciless at lower elevations.
We hiked out around 4, and the day was noticeably cooler. I loved hiking under my sun umbrella for the rest of the day. It took down the temperature considerably. Redline actually had to stop for about a half-hour because he felt dizzy from the heat, even this late in the day. There was no shade.
We walked under a highway and near Vasquez Rocks, a very cool rock formation that looks very alien – it has been the scene for tv shows and films, most notably Star Trek.
We walked into the town of Agua Dulce as it was getting dark. Agua Dulce is a very small community. The local bar lets hikers fill at a spigot nearby, and we are allowed to camp beside a closed-down supermarket. This is definitely the latest we've rolled into camp, but it ended up working out perfectly – we missed the hottest part of the day. I'm loving how this section has more improvisation. 24 hours ago I figured we'd cruise through the KOA and head right to Agua Dulce. I had no idea we'd shuttle around the Bobcat fire until we sat down in front of the grocery store in Wrightwood and talked it through. Things are becoming less linear – less planned – we are making changes and decisions in the moment that have ended up being excellent changes. Despite the late hour, I'm going to bed happy tonight.
Day 33
Start: Agua Dulce
End: Bushcamp 4 miles shy of San Francisquito Valley Road
PCT Miles Hikes Today: 19.8
We had a pretty awkward campsite last night – literally an abandoned lot next to a supermarket that went out of business in the middle of town. I used my Tyvek under the tent as a groundsheet, as I saw a lot of broken glass in the area and was worried the bottom of the tent would get destroyed. Still, beggars can't be choosers, and camping in the middle of town did let me go get the last 3 slices of pizza from the local pizza place right before closing. We fell asleep to barking dogs and cars buzzing by on the nearby road.
Five am came far too quick. We got to bed late last night, and I got less than 8 hours of sleep. I'm usually tossing and turning in the hour before my alarm, but this morning I awoke out of a dead sleep.
We heard that the first and only water source of the day, Bear Spring 8 miles into the day, may have dried up in the last few days. Sighing, we prepared ourselves for a massive water carry out of town.
It was a few miles of road walking out of town, and we eventually climbed a dirt road up a mountain and found the trail again. As we sat and ate breakfast, two dogs tore around the corner and immediately began running laps around us, barking, playing, and coming in for pets. Hershey and Roxie were a lot of fun, and they sure did love licking Mango's face.
Songbird, Bushwhack and Steve jetted ahead, while Mango, Redline and I brought up the rear. The first climb of the day really wasn't that bad – a few thousand feet early in the day is easy peasy.
We reached the water source around 10, and it was indeed mostly dry, although there was a very small trickle of water into some small pools, with bees buzzing all over the mud nearby. I took the opportunity to chug a liter and refill a liter, figuring that 4 liters for the remainder of the day and early tomorrow morning would be plenty.
The second climb of the day we hit around 11:30 am. Although only 1000 feet, and mostly excellent terrain, it completely slaughtered all 3 of us. The midday sun has been merciless. The sun umbrella is definitely helping, don't get me wrong, but even with the sun umbrella, I feel like I'm roasting. We plodded our way up the mountain. I saw another rattlesnake, and even he looked like he was cooking on the hot trail.
We took a nice long break under some shrubs at the top of the climb around 1:30. After realizing I was actually losing track of what Mango was saying to me, I actually closed my eyes for about 15 minutes and took a quick nap to recharge for the afternoon.
The afternoon was uneventful, other than finding a cool bench in the middle of nowhere. We cruised down to our campsite, having pulled an almost 20-mile day. Our little break in the shrubs is just barely big enough for our tent. We all hurt and feel like crap from the heat, but we've set ourselves up nicely for the coming days.
We've been speaking to a few other hikers on their plans for the upcoming Lake fire closure, which we will hit tomorrow. A disturbing number of hikers appear to be hiking through the fire closures in this part of trail. This is not only illegal and risks damaging some delicate ecosystems, it's also dumb as hell. Part of the reason these areas remain closed for (sometimes) a few years after the fire is put out is that the trees have weakened from the flame damage, and need to be assessed for safety so they don't fall on someone hiking or camping nearby. I understand the desire to hike the whole trail, but come on guys… and other hikers, please help police these types of bad actors. It gives all thru hikers a bad name.
This fire closure is only a 14-mile road walk to avoid the closed portion of trail, and because this looks a lot safer than highway 2 out of Wrightwood, our group decided to road walk this section instead of trying to hitch around. The problem is, the closure begins 11 miles from where we're camped tonight. So, do we pull up short, or do we suffer the road walk in the middle of a hot day, with no probable campsites until 14 miles later? Fortunately, Redline may have solved our problem, as he found out there's some kind of Ostrich farm that allows hikers to camp along the road walk, so we may be able to put up some miles of road walking tomorrow and finish the next day. We'll have to see how things develop tomorrow!
Day 34
Start: Bushcamp 4 miles shy of San Francisquito Valley Road
End: Quail Run Ostrich Farm (3 miles into the Lake Fire closure road walk)
PCT Miles Hikes Today: 11.6 + 3-mile road walk
We were so beat after yesterday's heat. Both Mango and I went to bed in a bad mood, and woke up feeling a million times better. She and I quickly packed up and continued the smooth ridgeline walk towards the road crossing.
There is a small fire station near the road crossing that lets hikers fill up water – but I guess all they had for the spigots were fire hoses because it came out like a rocket. I put the valve on trickle and tried to catch whatever I could out of the hose with my dirty bottle.
After the road crossing, it was an easy 1,000-foot climb out of the gap and back to the ridgeline. We both felt great, so we didn't take any extended breaks for the whole ridge, until 7 miles later when we reached Lake Hughes road, the start of the fire closure.
The road walk is 14 miles total, with 1.5 miles up to Pine Canyon Road, then 12.5 long miles up to where the trail reopens. Mango, Redline, and I were way ahead of where we thought we'd be at this time, even after taking a nice long break in the shade near the road, so after the first part of the road walk, we detoured 3/4 of a mile to go to a restaurant for lunch. We ran into Songbird, Steve, and Bushwhack out front, and all had an amazing few hours eating, drinking, and hanging with the very nice workers. The waitress even gave Mango and Songbird double dessert! Two thumbs up for the Rock Inn, this place is worth the stop for sure.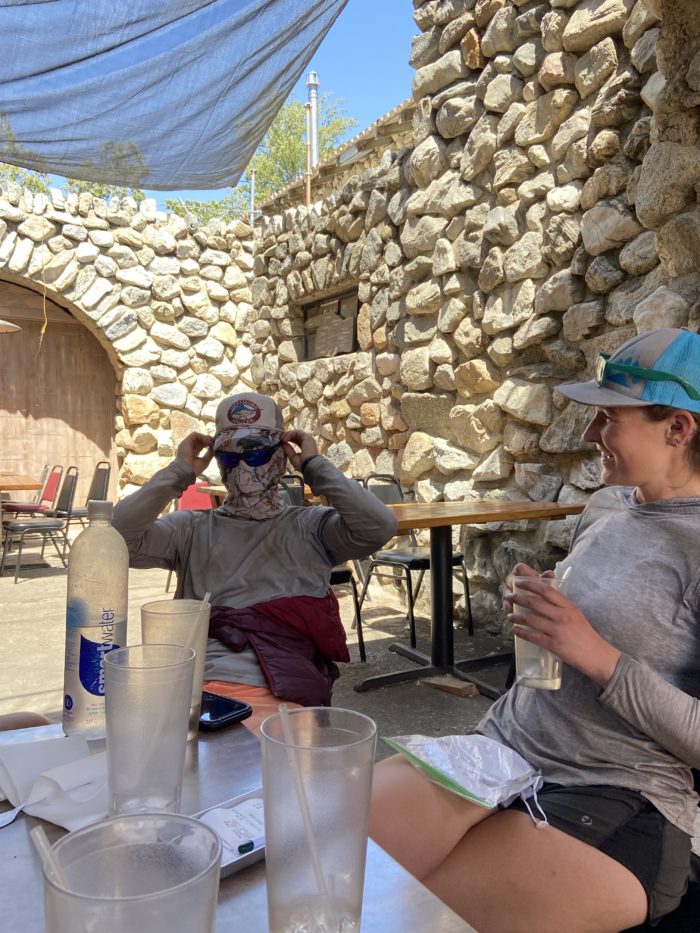 We walked out around 4 and had a few easy road miles until we got to the ostrich farm. They do indeed welcome hikers and seeing the ostriches was well worth the $5 they charged each of us to camp on their land. The staff taught us to curl our finger around and let the ostriches nibble on our knuckle – everyone who did it had the same laughing facial expression afterward, it was a bizarre feeling!
Many of us are cowboy camping tonight in the small outdoor theater they built. Beautiful day today, and so much unexpected fun. Talk about improvising – who the heck plans to stop at an ostrich farm on their thru hike?
Day 35
Start: Quail Run Ostrich Farm (3 miles into the Lake Fire closure road walk)
End: Hwy 138 / Hikertown
PCT Miles Hikes Today: 6.6 + 11-mile road walk
Well, cowboy camping gets a big thumbs down. I thought the little outdoor theater we set up in would be protected from the wind, but I was wrong – lots of wind last night. Before we went to sleep, our stuff was actively blowing around, and I found my bag of extra ziplocks over by Steve – they weren't properly secured last night in my bag, and had clearly taken flight at some point. We set off around 5:15 am to start the 11 miles left on the road walk.
Overall, this road walk wasn't bad at all. Maybe a half dozen cars passed us with plenty of room on the shoulder. We blew through the 11 miles before 9am, and took a nice long break once we got back to the trail. Since we missed the 500 mile marker in the fire closure, we decided to put together a distinctly unofficial 500 mile marker.
We headed back up into the mountains but quickly started walking down towards the desert floor. We're approaching the world-famous (or at least PCT-famous) LA Aqueduct walk, following the Aqueduct for around 20 long, flat, hot miles as we skirt the edge of the Mojave desert.
We walked into Hikertown early in the afternoon. Hikertown is a really interesting little hiker oasis near the highway, with a caretaker named Richard who cooks breakfast and dinner for hikers, along with providing water for the upcoming dry stretch, and giving us all a place to camp for the night. It also had a distinctly western vibe to it, which I was not expecting!
Mango and I grabbed our mail drop from the store down the street and started strategizing for the Aquaduct walk tomorrow. Luckily, it seems the weather may be unseasonably cool and windy tomorrow – a high of only 65, when usually it's 85 or 90. Because of the heat, many hikers night-hike the Aquaduct. Since the weather tomorrow is going to be cooler, Mango, Songbird, Redline, and I decided we want to hike this section during the day tomorrow so as to not throw off our sleep schedule. Sorority Steve and Bushwhack will bum around Hikertown tomorrow during the day, and night hike to catch up with us. Plan set, we headed to bed around back of the property, against a giant forklift, in an attempt to have a windbreak.
Day 36
Start: Hwy 138 / Hikertown
End: Tylerhorse Canyon
PCT Miles Hikes Today: 23.9
My 4 am alarm was painful, but we still got up and quickly started the hike, not wanting to get stuck in any afternoon heat. We were all in headlamps for the first few hours, and as it slowly got lighter out, we started to see the sky's reflection in the uncovered Aquaduct – very cool.
It was an amazing morning. Besides hiking right next to the flowing water, we passed many Joshua trees. The hiking was boring (on what was effectively a dirt road), but it was so smooth and easy. We cleared 3mph for most of the morning, a blistering pace for us. The open Aquaduct soon turned to a concrete-covered Aquaduct, so no more flowing water, but it did make a convenient flat road to walk on.
We soon wound our way through a wind farm, and the surprisingly loud HUM of a few hundred wind turbines churning away was our companion for most of the rest of the day.
We took a long lunch break around 11, having cleared 17 miles in 6 hours. There was a very curious little squirrel begging for trail mix – this must be a popular spot for hikers to stop because clearly, he was interested in our almonds.
Lots of aches and pains today from walking on hard cement / repetitive movements. First, Songbird felt like she developed shin splints, and then my right ankle felt like someone was swinging a baseball bat into it with every step. It was a much slower afternoon, as we wove our way out of the windmills and back up towards the mountains.
The wind really picked up around 1 pm, and we all got absolutely blasted by wind and sand the rest of the day. The gusts were enough to make you lean into them in an attempt to not be blown backward. Poor Redline lost an empty water bottle to the gusts, it blew right out of his backpack and sailed away across the desert – not good to lose water carrying capacity in the driest section of the whole trail! The wind was getting under my sunglasses and making my eyes tear up, which was making the sunscreen run into my eyes, which was making my eyes tear up even more – it was a vicious cycle. We were not happy hikers for the last few miles.
Our campsite tonight is in a canyon, which provides marginal wind protection. It still feels like our tent is going to sail away with each gust as I write this. For now, I'm just happy to be lying down. A 24-mile day was so tough, even on relatively flat terrain. I'm not sure how hikers routinely crush this type of mileage, but I guess I'll get there at some point too. (Just not yet.)
Mango's backpack frame snapped on one side today – our first major gear mishap on trail this year. So weird, her backpack is basically brand new, other than a few weekend trips in NC to test out the gear pre-trail. She is reaching out to Zpacks when we get to Tehachapi to see if they can fix it, but in the meantime, she's unfortunately carrying her backpack at a 30-degree slant, which looks really uncomfortable.
It's 25 miles from here to Tehachapi. Songbird might cruise ahead and try to get to town tomorrow, but Mango and I plan to get around 20 miles done tomorrow, then pull a Nero + Zero the few days after that. We're already so far ahead of schedule that there's no need to keep pushing mileage at this point, and Tehachapi is the last big town we're going to hit for a long time. We're already going to get to Kennedy Meadows in late May, which is a few weeks earlier than we'd planned to get there. So I'm looking forward to letting off the accelerator a bit heading up into the Sierra a few weeks from now.
Day 37
Start: Tylerhorse Canyon
End: Tehachapi Willow Springs Road / Tehachapi
PCT Miles Hikes Today: 17.0
Ugh, the wind last night was horrendous. The tent was whipping everywhere. Sorority Steve and Bushwhack arrived around 11, and by midnight the wind had snapped one of his guylines and his tent collapsed on him. Thank god for earplugs, I only woke up every hour, instead of being up all night.
Everyone emerged from their tents bleary-eyed when the 5 am alarms went off. Everyone's gear inside their tents was covered by a thin sheen of dust that had blown through their big netting overnight. We brushed our stuff off, packed up, complained about the wind (which was still gusting just as strong), and headed out.
Today was all about the windmills, which were all spinning strong generating that clean electricity for California. Mango's pack was also listing dangerously to one side all day. She's going to have to get that fixed quickly, this type of irregular load distribution can really mess up your muscles and lead to weird injuries.
7 or so miles into our day, we came across the strangest thing – a small cafe in the middle of absolutely nowhere. It wasn't a real cafe, of course, but someone had packed up folding chairs, a patio umbrella, and cabinets (along with many gallons of water) up the mountain. We were miles away from the closest access point – where did this come from? Too funny. We all sat down, drank some water, and had a laugh at the absurdity of it all.
We all felt like we were running at 25% of our usual mental capacity today, due to the tough Aqueduct walk and winds last night. There are two roads where you can hitch to Tehachapi – one at 17 miles and one at 25 miles into our day. We had planned to do around 20 today, then nearo into tomorrow, to make our next section 8 miles shorter. It's the logical thing to do. But, as you know, logic doesn't rule a thru-hiker – the thought of a restaurant meal, a shower, and a hotel bed tonight had us all salivating, logic be damned. Nobody's feet would let them do a 25 today (other than Songbird, who was so frustrated with the winds that she started hiking at 4 am), so we all decided to bail at 17 miles and head to town. Steve had the incredible idea of slackpacking the other 8 tomorrow, then doing a true zero the day after. BRILLIANT, STEVE! We happily cruised down the last 10 miles, ready to get to town and relax.
When we arrived at the road, nobody would pick us up for our hitch. So we ended up calling a local taxi service and getting dropped at a local restaurant, where we gorged ourselves on a late lunch. Monday's special was a NY steak, mashed potatoes, beef barley stew, veggies, cornbread, and fudge sundae dessert – for $15. I was so satisfied.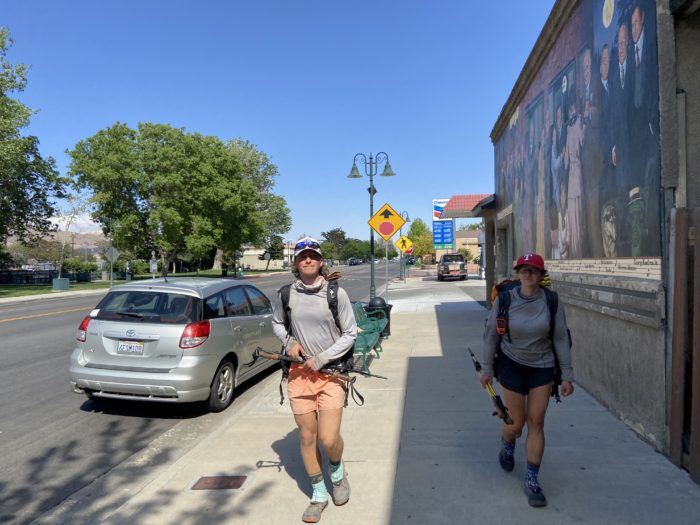 Tehachapi is a cute town – it walks the line between Idyllwild and Big Bear. Not too big, not too small, it's just right. We split a room at the Marriott and are living in luxury for the evening, getting most of our town chores done now so we can enjoy the next two days. Tomorrow we will need to figure out how to get to trail and back – but, that's a problem for future Slice. For tonight, I relax in a hotel bed and enjoy the feeling of being full up on great food.
Days 38 and 39
Start: Tehachapi Willow Springs Road / Tehachapi
End: Hwy 58 / Tehachapi
PCT Miles Hikes Today: 8.0
Waking up in a hotel room bed is SO GOOD. After how brutal that windy night was, I think we all woke up feeling a million times better today. We bummed around for an hour, then packed our backpacks up, dropped them in Songbird's room next door, and called a taxi service to take us back to the first Tehachapi exit.
Let me tell you about the joys of slackpacking. For those who don't know, slackpacking is leaving most or all of your backpack behind for the day and basically becoming a day hiker. It turns out, hiking with no weight on your back is way easier than hiking with 40 pounds on your back! As we left the trailhead, Bushwhack turned and said "Eh, I think I'm gonna run it." – and off he jogged! Steve and Redline quickly speed-walked after him, and Mango and I trotted at the back of the pack.
We just… didn't stop. All 8 miles, we just kept walking, drinking occasionally from the water bottles we carried, but it all felt so effortless. Wow, this is when I can clearly see how fit we've become, compared to pre-trail – not that we were bad hikers before leaving North Caroline, but my goodness, we are becoming hiking machines. This could be addicting! I need to figure out how to slackpack more often, even if it costs a bit of money. I could see easily posting a 30-mile day like this. 
We quickly cleared the 8 miles to the highway, and as we were approaching the highway on-ramp where we'd need to hitch back to town, a trail angel named Ted was waiting there – he had just dropped off another hiker, and seen us hiking down, so he waited to see if we needed a ride to town. Amazing! This community is so cool – I love the folks who take the time to help out hikers. 
We grabbed our packs from Songbird's room and made our way to the local German bakery for lunch, where we ate a massive lunch of sandwiches, lox bagels, and cheesecake. Check out how big this sandwich is – the outer bread is literally a loaf. And the fresh-baked cheesecake was to die for. What a spot for hikers! 
While eating lunch, a hiker we hadn't seen in hundreds of miles surprised us at the table – Steve Irwin, aka Spaceman! He is hopping off trail for a bit to get his COVID vaccine and take care of a few errands in his hometown. His girlfriend had driven from Oregon and they were taking a few days in Tehachapi. Lucky us, they offered to drive us around on a few errands, and we were thrilled to take them up on their offer, as the post office was a mile walk from the restaurant! I'm not in the business of doing bonus miles. It was fun to catch up with him after losing touch for a few weeks. He is apparently hiking with a group of 20+ affectionately known as "the blob", and they all cowboy camp in a line next to each other every night. Bizarre how whole communities pop up only a few days ahead or behind us, and we have no idea. We live such insulated lives while hiking. 
We all went to the movies to see the new Disney movie Raya and the Last Dragon (not good, but the extra-large popcorn and soda were excellent), and then broke apart for the rest of the evening. 
Our zero day the next day was everything a zero should be – we didn't leave the hotel bed for almost the entire day. Mango and I are treating ourselves with a private room. Looking ahead, it doesn't look like many more hotel stays until we get out of the Sierra, so we are milking every last moment of comfort (and every last cup of hot tea) while we can! Enjoy these last few photos from town. 
Ok, we are nearing the foothills of the Sierra – as strange as it sounds, the desert section is almost finished! Just 6 more days to Walker Pass / Ridgecrest and then 3 more days to Kennedy Meadows. Incredible that we will be seeing snow soon. But for now, we face what is traditionally the hottest, driest section of trail. Mango says it looks like the weather will be unseasonably cool for the next few days – maybe we will luck out. Either way, I'm really looking forward to 2 weeks from today, when we will be ascending to the Sierra Nevada mountain range!
Until next time, happy trails!
-Slice  
P.S. If you like this post, check out Mango's trail podcast, Take a Hike!, now available on all major platforms (except Apple for some strange reason, probably due to that time I accidentally tripped over Tim Cook's dog while walking in San Francisco. I swear, those tiny purse dogs are so hard to see sometimes.) https://anchor.fm/takeahikepodcast
Affiliate Disclosure
This website contains affiliate links, which means The Trek may receive a percentage of any product or service you purchase using the links in the articles or advertisements. The buyer pays the same price as they would otherwise, and your purchase helps to support The Trek's ongoing goal to serve you quality backpacking advice and information. Thanks for your support!
To learn more, please visit the About This Site page.
Comments
2
So glad you are well. I'm in the Antelope Valley now, headed for Tehachapi.Great to have your blog as a guide. Happy trails!

Oh my gosh, it sounds like so much fun and pain…thank you for posting…stay safe and strong.