Magic in the Mountains, and Betrayal in Town
Well, we made it through Stevens Pass before the fire got too bad. Hiking through ski resorts is very strange, and this is the type of area where I always get lost. I can find my way through tricky trail sections, even when it seems like the trail disappears altogether, but I will always get lost when we go to town or even approach a civilized area. Weird, right? But that's a side issue. My real struggle this leg was with my shoes.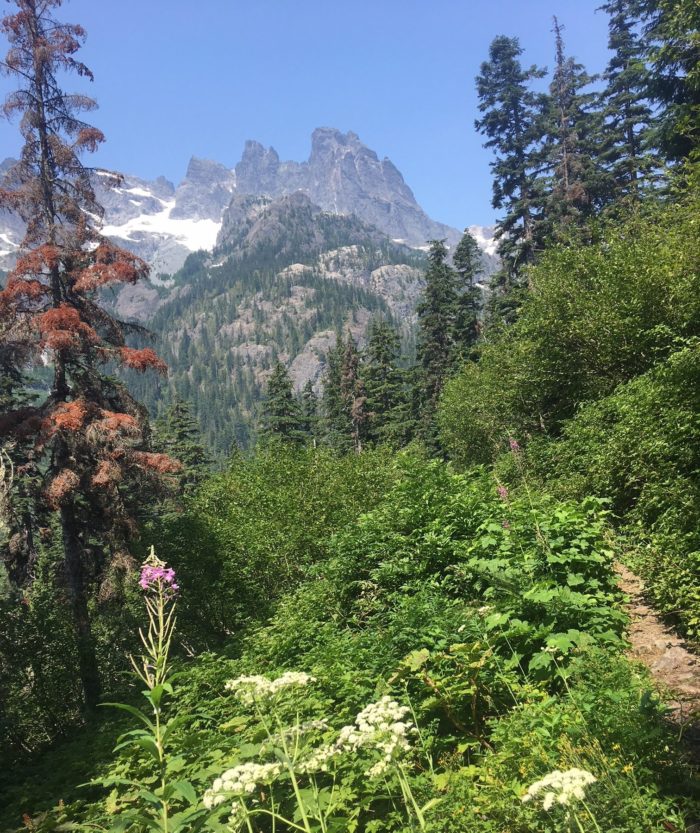 I've been trying out these barefoot hiking shoes because I thought they'd be a nice change from my regular trail runners. All I can say about them is that I admire the ever-loving daylights out of anyone who can thru-hike in shoes designed without any cushion. You guys are hardcore. I was OK for a few days, but as we started upping our mileage, it felt like all of the bones in my feet had broken and like I had to continue walking on them anyway. I consumed very large quantities of good ol' vitamin I (Ibuprofen) this leg and, as we passed through recovering burn area after burn area, Snoqualmie couldn't get here fast enough.
It's amazing how quickly you can hike when you get close to town, even when your barefoot shoes make you feel like you're walking on shards of broken glass. Snoqualmie was calling, new shoes were waiting, and we had heard the pizzas were worthy challenges to the thru-hiker appetite, so the race was on.
That night PB and I decided we were close enough to Snoqualmie to get there in time for lunch the next day if we night hiked another six miles. No big deal, right? Turns out those last six miles were all through epic talus fields, tricky, misleading switchbacks, and pretty darn fiddly if I do say so myself. As the sun set, we didn't even realize there would be an issue. The mountains were silhouetted in the fading light, casting great purple shadows down into the valley. We could occasionally hear water roaring below, so loud we thought it was traffic for a moment. Then, one by one, the stars and planets emerged and we were walking along the rim of the earth. And then, we hit the talus.
Night hiking through talus fields is not my favorite activity. The stars were so bright and clear without light pollution interfering, us being so isolated and all. But I couldn't keep glancing at the sky because then I would fall off the mountain. Well, shoot. I also couldn't help but wonder about the potential of mountain lions. They hunt around now, right? To be honest with you, I got a wee bit paranoid and kept whipping around to try to catch any creepy, stalking cats. You won't catch me unaware! We eventually made it into camp, a beautiful spot right on top of the mountain in a hidden field by a small pond, and crashed, hard.
The rising sun woke us as light slithered over the mountain top, and we boogied on down to town, just in time for lunch and new shoes. O frabjous day! Callooh! Callay! We chortled in our joy (thank you, Lewis Carroll).  And then ordered enormous pizzas. They even had gluten free ones! We loitered, interneted, chugged a Big Gulp each, and kept running back to the counter to purchase other random things we needed for our resupply, then got our pizzas. Sweet laws of mercy, they were delicious! That's when the killer stomachache hit. At first, I thought it was because I had essentially chugged two liters of soda on an empty stomach, which really wasn't a great idea, but certainly seemed like it at the time. Over time, though, it didn't go away. Even with the magic of real food.
Despite the growing discomfort, we hiked the few miles out of town to the next campsite and hunkered down for a rainy night. But the stomachache didn't go away. It just kept getting worse. As the pain got worse and worse, I finally figured it out. The pizza hadn't really been gluten free.
So, two days later, after some vomiting (which I did away from the campsite and buried like any good sicko in the woods should do) and lying, moaning in the tent as it poured rain, I could move again and eat something other than the delicious huckleberries lining the trail. All was well with the world again and now I know why that pizza was so delicious. Unfortunately, nothing that good is ever gluten free.
Despite a nasty two days and my lingering hurt over being betrayed by one of my favorite town foods, everything was OK. The weather cleared up, the sun made an outstanding appearance, and we experienced the most random and glorious magic.
An ultrarunning group was out for a training run, and when ultrarunners train, they do it seriously. They had a guy with a  truck full of food following them from road crossing to road crossing feeding them chips, cookies, and soda. They were pretty well set on snacks and "only" had another ten miles out of 30 to go, so they shared their snacks with us. And then, as they left, Baconsquatch appeared.
I was on the phone with my family, an enormous group call that consisted of four people on the other line, when a shirtless man in reflective blue sunglasses appeared holding what looked like a giant Frisbee. But it wasn't a Frisbee. It was a giant plate full of freshly cooked bacon and it was for me. He appeared out of nowhere, handed me an actual fistful of the stuff, and walked away without saying a word.
For a few minutes, I wasn't certain if it had been a dream or not. PB was off in the woods planting yams, so I was alone and the only proof it had happened was the bacon. I'm pretty sure it wasn't an elaborate hallucination because, when I went off to plant my own yam, the same thing happened to PB. Baconsquatch only struck when we were alone. Off we went with our tasty treats, and the magic just kept coming.
Two days later, after we had been delayed by fields upon fields of huckleberries (fresh berries each day keep the scurvy at bay), we came across a small ski cabin filled with food. We were running low on food and it looked like the next day was going to be a hungry one, when we came across a cooler full of chips, hotdogs, ramen, vegetables, hot cocoa, and a million other delicious things. We were saved! Who are these angels feeding poor, hungry hikers in Washington? Because I love you. And we packed out all of the trash.
So there we stayed, all bundled up in a quiet little cabin… that at night was filled with ninja mice! The lesson was enforced: bring earplugs with you everywhere. I'm developing a deep set hatred for Therm-a-Rest Neo Airs. Sure, they're extremely light and very comfortable. They also sound like someone trying to sneak through a potato chip factory in the dark. But it's OK because there was Mountain Dew in that cooler, and that can wake me up after anything.
Also, did you know some people sleep pant? I guess Matteo (a wonderful and kind Swiss man we're hiking with) must have been dreaming of Jack Johnson and dragons climbing mountains because of his soundtrack today. He was definitely playing something out in his dreams last night while working on that chip factory. Well. It's time to go meet the marmots and hop over the little ant highways that run across the trail on their way to the aphid farms they have set up on spruce trees. It's incredible! The ants are organized! They rotate the aphids on a feeding schedule and patrol their flocks. Nature is so stinking cool.
Affiliate Disclosure
This website contains affiliate links, which means The Trek may receive a percentage of any product or service you purchase using the links in the articles or advertisements. The buyer pays the same price as they would otherwise, and your purchase helps to support The Trek's ongoing goal to serve you quality backpacking advice and information. Thanks for your support!
To learn more, please visit the About This Site page.