Pacific Crest Trail: Stuck in a blizzard on Muir Pass
Hello lovelies. Here is a new post about my adventures in the High Sierra mountains. This week was full of climbing mountain passes and being stuck in a snow storm, in June! Kearsarge pass to Mammoth Lakes, here we go!
Kearsarge Pass, again!
Going up Kearsarge Pass for the second time, this time with a full bear canister with 8 days of food, was not much fun. I tried to forget the weight on my back and look at the scenery around me. One side of the mountain is the desert, the Nevada. Then you climb over the pass and you're back in the magical land of the Sierra Nevada mountains. As the famous John Muir called it; 'the Range of Light' and oh boy, he is so right! The glistering lakes & snowy passes. I feel at home here. The trail is basically hiking one mountain pass a day, which is hard but so beautiful. A few miles before the second pass of the day, Glenn Pass I am pooped. Didn't sleep so well with 7 boys in a 2 person apartment. What to do? Hike on? or do my own thing. 'Hike your own hike' wins and I tell the boys I'm camping here for the night. To my surprise I'm not the only one and Birthday Boy and Pickles stay with me. I wake up feeling fresh again and ready to rock and roll. Rea Lakes are stunning. Pickles mentions that this is what Paradise would look like, I couldn't agree more.
Pinchot Pass kicks my ass
Only in Paradise climbing would be easy right? Pinchot Pass is kicking my ass. It's a 7,5 mile climb (12 km) up up up! Especially on the last switchbacks I'm very close to throwing my bear canister down the mountain. How come I struggle so much today? I guess I underestimated this mountain, which I will never do again. When I'm finally at the summit the boys are there waiting for me. 'Fireball?' Bday Boy asks with a grin. I take a swig of the cinnamon whiskey and start laughing, the burn of the alcohol also burns my grumpiness away. The views makes me forget I even climbed a pass! (or it's the Fireball?)
Up & Down & repeat
That's our life now. Climbing mountains every day. It's so great to climb a pass and enter a whole new valley, new views around every bend. We get a trail family name from a dude who passes us and sees us jumping in yet another lake. 'You guys are from the Polar Bear Club!' he shouts at us. We accept the name. Taking ice baths is trending back home in The Netherlands, this is even more fun. Peddle around in a lake full of snow melt. Freezing cold but so refreshing! The fatigue of hiking is washed away and we go on. The butterflies in my stomach have multiplied, how lucky are we to be here?
The snow storm
It was a day like any other day. Another Pass to climb. So far the snow hasn't been bad, it is a low snow year in the Sierra's. I love the snow traverses, we only need our micro spikes a few times. We heard Muir Pass could be a bit more sketchy but we are relaxed about it. Then the first snow flakes start to fall. First we joke around that it's Christmas in June, a few minutes later it becomes serious and we have to put our heads together to make a plan. What to do? Make camp and wait for the storm to pass? It's only 2pm and I don't feel like putting up my tent, afraid that my tent won't hold and that I will be cold. There is an emergency cabin at the top of Muir Pass and that sounds perfect. A few other guys (we met up with the group again) want to camp. Bday boy, mastermind and me decide to hike on until we don't trust it anymore. It's early enough to try and turn around. It is a whole new experience.
Step by step
The higher we climb the more snow. Luckily the wind doesn't become too strong so we feel confident to push through. Its nothing I have ever done before, I love it! Due to the new snow we don't see the trail so we have to make our own trail going up the mountain. It is hard but incredibly cool to do this! I feel the adrenaline going through my body. At one point I get a bit anxious, are we getting close? Not even a few minutes later the snow stops and we can see again. We climb up a snowy ice wall and the cabin comes into view. We made it!
How many people can fit in a cabin?
When we arrived we expected the emergency cabin to be packed. But apparently the people hiding there left the summit when the snow stopped. We have the place for ourselves and change out of our wet clothes into dry ones and crawl into our sleeping bags. It's already late, the climb took way longer then we expected. More and more people enter the shelter and in the end we sleep there with 13 people! People where spread out everywhere. I didn't sleep that much but it was definitely an experience I will never forget.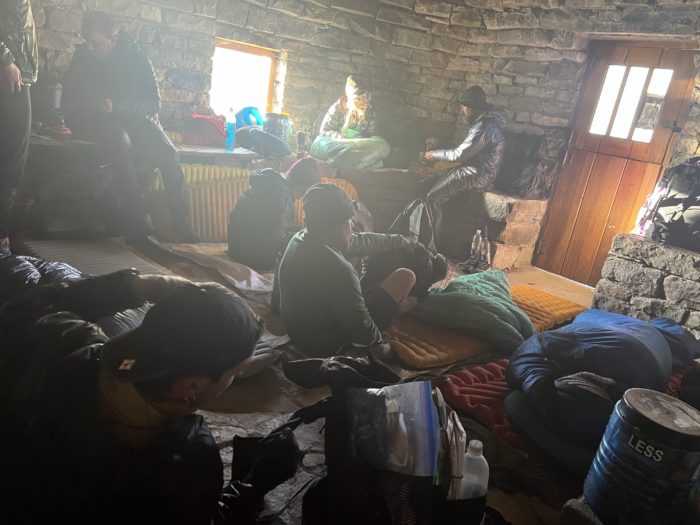 Famous in Mammoth Lakes
Many days and many mountains and river crossings later we arrive at Reds Meadow where we can get a bus to Mammoth Lakes. When Miso and I exit the Von's supermarket there is a journalist who asks us about our experience in the Blizzard! News spreads fast and she is interviewing PCT hikers, of course she recognizes us. Hiker trash! Just now we found the article. The journalist made one little mistake, she mixed up our names, but I don't blame her, those weird trail names can be a bit confusing. See this link for the article. Have a good one! And remember; always listen to yourself when doing new things in the mountains, are you capable? Do you feel safe enough doing it? Safety first, sexy forever!
Affiliate Disclosure
This website contains affiliate links, which means The Trek may receive a percentage of any product or service you purchase using the links in the articles or advertisements. The buyer pays the same price as they would otherwise, and your purchase helps to support The Trek's ongoing goal to serve you quality backpacking advice and information. Thanks for your support!
To learn more, please visit the About This Site page.