PCT Week 4ish: Big Bear to Wrightwood
This stretch of trail has had the usual highs and lows that we've come to expect after a month (!) on trail.  Amazing hot springs, being flanked by two rattling rattlesnakes, jaw dropping views, my insulin pump controller having a memory corruption…just another week on the PCT!
The biggest challenge for me was a bad flare up of anterior tibialis pain hiking into Wrightwood. It had started 4 days prior but culminated in a very painful, limpy walk to Hwy 2. When it had not subsided in the morning, I let my husband know that I needed a ride home for some days off and promptly booked a virtual appointment with Blaze Physio who specializes in treatment of thru hikers.  She was amazing and I'm on track to resuming trail in a couple days!
Day 25: Hwy 18 (Big Bear) to Campsite, 9.45 miles

Wearing packs heavy with a resupply, we hiked out of big bear in the afternoon to a beautiful, huge campground. I even had rare time to paint!

Day 26: Campsite to Bench Camp, 20.96 miles
We followed the length of Big Bear Lake through the morning before turning away to hike into the hills.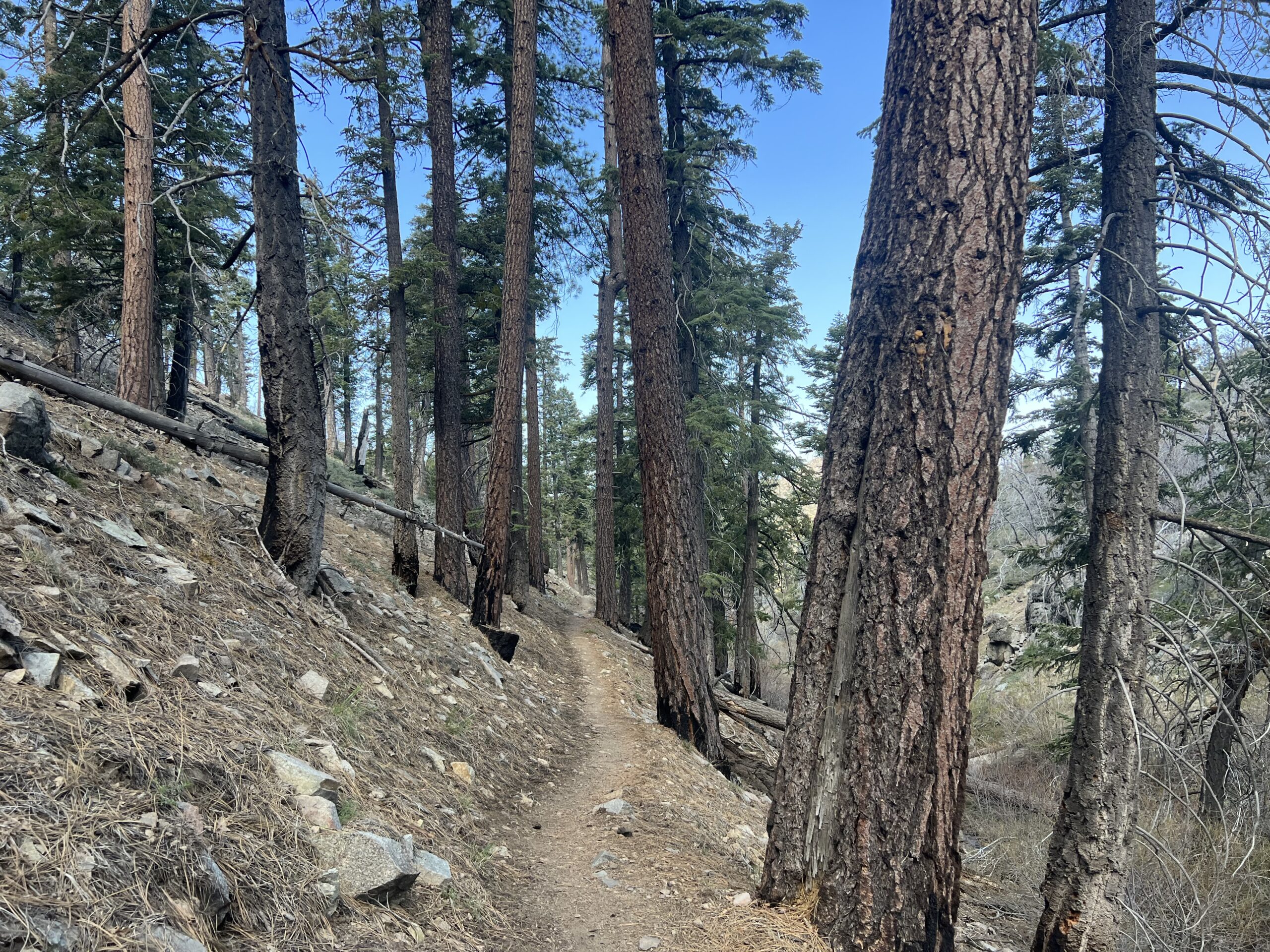 After so much desert hiking, tall trees (and a lot of them) is such a treat.  They also lulled me into a false assumption that there would be less snakes.


Dark clouds threatened rain but we managed to stay just before or behind them until the evening.  Brief periods of cloud cover were welcome in the heat.

I almost stepped on the first snake of the day. Luckily he was harmless and wanted nothing to do with me.


I've figured out what Lupine smells like- grape candy!

Snake #2 was nearly stepped on as well. Luckily he was another harmless guy, although this one had no interest in vacating the trail.
We made it to camp just in time to set up our tents while the rain started. No blood sugar graph today- the rain rush distracted me and I totally forgot to take the screenshot!
Day 27: Bench Camp to Deep Creek Hot Springs, 13.17 miles
We passed 300 miles! Crazy where walking all day every day will take you…


We spent the very hot and exposed day winding around ridges in the canyon that is home to Deep Creek.  "Creek" is an understatement for this particular water flow.


We decided to stop early at the hot springs and camp there. The hot water felt amazing on our sore muscles. Totally worth the early camp!

Day 28: Deep Creek Hot Springs to Sand Pit, 15.61 miles

Leaving the hot springs, we continued to follow the creek and its canyon. My husband was meeting us at the road for some trail magic so we hustled!

We were very thankful for the several impressive bridges spanning the canyon and huge creek.

My husband texted us that he would meet us at the highway 6 miles out and do trail magic, so we hustled.
Seeing him and my dog was awesome! As soon as I sat down on the camp chair, however, my insulin pump controller started making a sustained, horrible sound that I had never heard before.  When I looked at the screen, it informed me that it had experienced a memory corruption and needed to fully re-install the app.  Thankfully this happened at this exact moment because the app reinstallation would not proceed without wifi, which…is not readily available in the backcountry.  My husband set up a hotspot on his phone and I was able to proceed.  As a heads up to any other Omnipod 5 users, a reinstallation like this not only wipes all of the AI learning that it has done but also all of your setting and you need to manually re-enter all of them.
This whole debacle definitely stressed me out more than I realized.  That combined with the intense heat of the afternoon as we hiked out on the exposed trail, plus a new painful blister that was making me walk funny plus the start of my tendon pain resulted in us finding a campsite before reaching our original goal.  We found a small sandy spot in a wash and shared a tent.
Day 29: Sand Pit to Cajon Pass, 22.10 miles
We left our sad sand pit and hiked towards Silverwood Lake. We knew it was going to be a long day to Cajon Pass and tried to make as many miles as possible in the not-cool-but-not-crazy-hot-yet morning heat.  During a water break down by the lake, I scratched my head and found…A TICK.  So much no and so much yuck.
This day was really hard physically and mentally.  We ended up doing over 22 miles, which is a lot for us so our feet were pretty angry.  On top of that, a small blister on my heel that was not yet pop-able (and I would the next day realize was infected) was incredibly painful and my shin pain was getting pretty bad.  Most of the afternoon was spent hiking through tall grasses, which became its own nightmare after we got rattled at by not one but TWO rattlesnakes on either side of a narrow, cliff trail.
But if this was easy, we probably wouldn't be doing it.
We finally reached the road to turn off to McDonalds as the sun started to set.  We immediately ran into a really nice guy who had been doing trail magic and was packing up.  He offered us cold drinks and oh man was that the best Coke I've ever had in my life.
We acquired an ungodly amount of burgers and fries and walked along the highway to stay the night at the Cajon Pass Inn.
Day 30: Cajon Pass to Ridge, 11.13 miles
We took our sweet time leaving the hotel.  The weather was noticeably cooler than expected, which bode well for our coming 6k+ feet climb to Wrightwood (which also happened to be devoid of water sources).
We grabbed a small resupply and more water bottles from the gas station, and some questionable gas station Del Taco (RIP my stomach), and set out to follow a wash along the train tracks to meet back up with the trail, avoiding walking along the highways a second time.  The trains were very active and we got to cross both over and under the tracks.
It was sunny and exposed but a healthy wind kept the temperature manageable for the climb.  My little heel blister was becoming near-unwalkable so I made a final attempt to pop it, even though it wasn't really above the surface.  I eventually was successful and and after a fountain of very not clear liquid, I realized that this sucker had been infected.  The relief was immediate!
We tackled a good chunk of the climb and set up camp on a ridge with near-360 degree views.  This was definitely one of my favorite camp spots so far.
Day 31: Ridge to Wrightwood, 17.41 miles
We woke up in clouds and resumed the long climb up to Wrightwood.  We turned on and off truck trails that paralleled the PCT to avoid long, exposed snow fields.
We eventually made it to the Angeles National Forest boundary, which is really special because those are my home mountains.
Similar to previous portions of the trail, there were many blowdowns to navigate around/above/under.  The hard winter has prevented a lot of trail maintenance that would have otherwise happened at this point.
My parents met us at Hwy 2 to bring us a resupply box and gawk at how much Mexican food we could put away.  Even though my shin had been incredibly painful the last several miles, I assumed that a night of rest (at a coworker's cabin – thank you!) would be the fix.  Spoiler: it was not.
Is she a zombie? Are her feet rotting? She's a thru hiker.
Day 32: Rest
After limping in pain the entire 1.4 miles into town the next morning, it was clear that another 40+ miles to where I was originally going to be picked up was not the right plan.  I let my husband know that I was coming home a couple of days early and we hung out at the coffee shop with some other hikers.  One nice thing about having your life in a pack on your back is that you always have your sun umbrella for shade!
Rest + compression + exercises/stretches from the PT have me feeling like a new person.  Or at least a person with a new tendon.
Affiliate Disclosure
This website contains affiliate links, which means The Trek may receive a percentage of any product or service you purchase using the links in the articles or advertisements. The buyer pays the same price as they would otherwise, and your purchase helps to support The Trek's ongoing goal to serve you quality backpacking advice and information. Thanks for your support!
To learn more, please visit the About This Site page.