Secret Sierra Season Part 2
Here is my long overdue second post about my experience in the Sierras in this record breaking snow year on the PCT.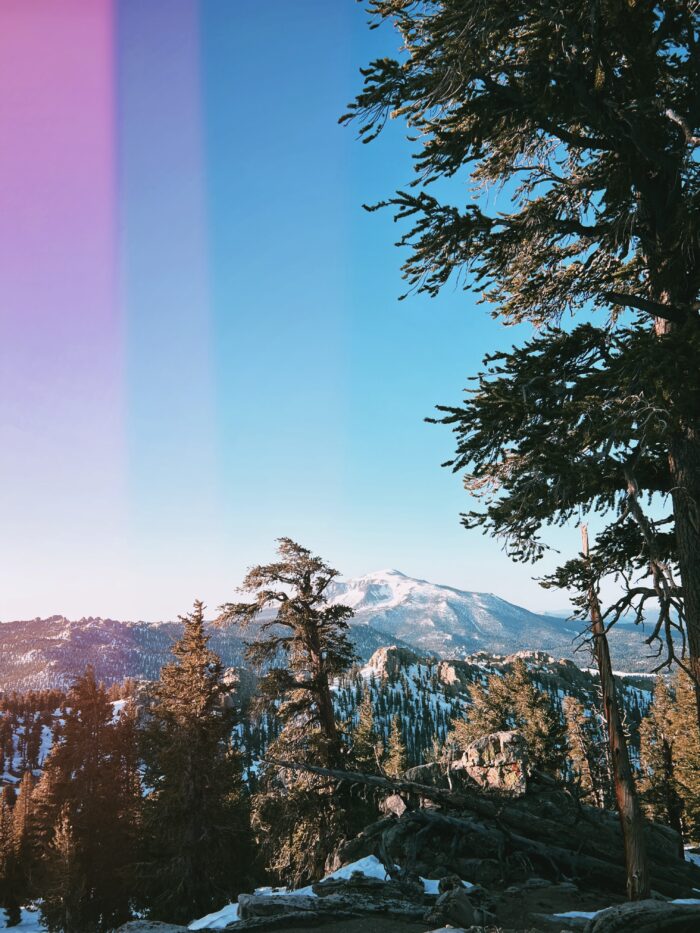 In the last post I covered gear changes, the "talk of the town," the "secret season" meaning, team dynamics, schedule, timing/planning, snow navigation, water crossings, weather in the mountains, and mindset.
In this post, I will cover 10 more topics which I believe will be helpful to get a full view of my experience in the Sierra, which can hopefully help other hikers in years to come, especially in a high snow year.
1. Nutrition and Calories
It's super important to be eating enough up there. I talked to many people who lost a lot of weight by being in the Sierra.
This is due to a couple things. Some people experience a lack of appetite from the altitude. Another explanation is your body is going through a lot more than it's used to (fear, hard snow travel, extreme exhaustion, new schedule) and therefore goes into a survival mode of sorts to keep you going, which decreases hunger.
Because the snow travel is slow and hard, it's important to get almost double the calories you would typically need. This is nearly impossible due to weight and the bear canisters that are necessary up there in the range.
Eating more actually keeps you warmer, which will be extremely helpful when you are snow camping at the high altitude with extreme temperature drops.
Food rationing up there is crucial; It takes a lot of pre-planning and strict rationing to not run out and simultaneously get enough fuel. Again, this all becomes difficult when you are trying to strike a balance between weight and enough food to fit in that bear can. It's a struggle for sure.
Bottom line… eat a lot more than you think you need. Your body will thank you.
2. Forester and Kearsarge Pass
Forester Pass
Terrifying to say the least… but gosh, I am so glad I did it. This is the first major pass you will encounter in the Sierra.
I dreaded and anticipated this pass for days because I knew it would be the hardest and scariest thing I have ever done. That was an odd feeling that I had never experienced before.
The approach to the pass was steep as we climbed in a line through the darkness up a sheer face of compacted snow. The conditions were ideal, and the boot pack was strong.
Looking back down at the approach was horrifying once the light finally shone to illuminate what I had just climbed.
The ice chute was the worst of it, but absolutely doable. It's a no-fall zone for sure. My legs were shaky but sure-footed, and my arms were tired, but I was determined to get across this pass.
Once at the top, I felt as though I could conquer the world… and finally breathe again. We were all alive and well.
Kearsarge
This pass was straightforward- it's the first bailout point after Whitney Portal and after Forester. We made the decision to get out here instead of Bishop like we were planning because of a number of small factors that compounded (running out of food, weather, water crossings). It's important to be flexible- you never know how the weather could turn, how someone in the group might feel, or a number of other variables.
For both of these passes, I would recommend to do your research and know what you are getting yourself into. Be prepared, have the right gear, have a strong mindset.
I learned on these passes just how capable I was of things I never imagined being able to do.
3. Dehydration
This was an interesting challenge out here. There's copious amounts of water… it's just all in snow form. Dehydration, in general and especially up there, is quite dangerous and important to keep an eye on.
Finding snowmelt near tree wells was essential, and we took advantage of that whenever possible.
If that was not possible (which above tree line became quite difficult), we melted snow with our gas stoves or melted the snow in our water bottles in the sunlight. I found if you have a water bottle with half water and half snow, it melts much quicker and easier. When I took my nap in the afternoon after I set up camp, it was a prime time to melt the snow in my bottles because the sun was so shockingly hot in the afternoons.
4. Pace
Drop your desert expectations of cruising at 3-4mph at "desert speed" to about 1mph. This one mile an hour is the standard for snow travel like this.
Double your food and cut your mileage in half. Easy.
Going a half a mile at a steep grade is exhausting beyond belief and it's important to not feel like you are a wimp or something is wrong… that's just how it is up there.
Take snack and breathing breaks often, and conserve your energy when you can. Take lots of picture breaks too (I'm certain this played into the slow pace too 😉
5. Dealing with exhaustion
Snow travel, waking up at 1am, and the mental awareness that you must have all day certainly results in exhaustion.
Walking in the snow activates the mind in a different way than brainlessly trudging through the desert dirt. This requires sure-footed steps and concentration. It's a mind-body relationship and it keeps you engaged… but also makes you much more exhausted.
It's important to know that this will be a reality. Sleep as much as you can, eat sufficiently, and take the rest breaks that are necessary.
We practiced a "rest step" where you lock your knee and put weight on that leg to give your body a rest while climbing steep pitches. Simple fixes like this became essential to our trek.
6. Making the Decision to Bail and Flexibility
In the beginning, my group and I were planning on going only from Kennedy Meadows to Lone Pine. We completed that stretch, LOVED it, and wanted more… we did all the planning and prep, and we went back in.
We planned for Lone Pine to Bishop Pass as our bail-out point, which we packed around 8-9 days of food for.
There were lots of rumors about the river crossings coming up… I hate river crossings, and they are especially scary for me, being so short and small. One group member was running out of food, which wasn't great either. Then the weather was apparently turning… we had Garmin-messaged friends who were telling us about an impending storm.
All of this combined ended with us bailing at Kearsarge. I felt satisfied with my time up there, and I am happy that's what I ended up doing.
An important lesson here was that you never know what might happen or how the group/yourself may feel. Take it day by day and be flexible with your mindset and conditions and all other variables.
7. Hazards and Conditions
I will say that sun cups were one of the more unexpected challenges I dealt with. They are little (or often quite large) ankle breakers, and you have to carefully step on the higher part of the snow in an attempt to not sink. The sun cups often can mimic a boot track which can also make navigation quite tricky.
Other snow hazards included snow bridges which were rapidly melting, cornices, actual snowstorms that could have come in, and the risk of the snow not freezing overnight.
Post-holing was probably my main concern, especially in regard to injury. It happens in a split second, and you can sometimes but not always predict when it will happen. We called out to one another in line "stick" or "bush" or "tree" if someone saw it further up in the line.
Sunburns: I had no clue that my lips and under part of my nose could burn and peel. It was absolutely excruciating, especially when it would be cold in the morning and my nose would run and… you get the idea. Not pleasant; wear sunscreen.
Overall, I was blessed with awesome conditions. It did hail/rain in the afternoons sometimes, but overall the snow was still freezing overnight, and we received no fresh powder to cover up boot tracks.
8. Challenging Myself
This wasn't easy, and I'm sure by getting this far into the article, you get that idea pretty clearly. I have so much more confidence in myself in general and especially in my hiking skills after this. Snow travel further up north has been much less daunting after completing this section.
Doing something hard like this where it was never comfortable (unless I was asleep in my tent) and pushing myself out of that zone is such a growing and learning experience.
Leaning on the people around me for support and encouragement brought us closer as a group.
This ultimately showed me just how capable I am. It has given me the confidence to go alone moving forward in my hike. It has allowed me to make decisions for ME, not based on a group or anything else. I am thankful for what the Sierras brought to me in such a short time.
9. The Beauty
I probably don't even need this point, but my GOODNESS, the beauty of the Sierra is shocking. This was such a huge reason for going in there for me. Seeing the stars and the Milky Way in such a striking way was absolutely incredible. The peaks are jagged and harsh, and the snow sparkles in the sunlight. The bright blue hue of the newly melting alpine lakes starting to show their color is absolutely stunning. It's all so captivating.
10. KNOW YOUR WHY!!!!!
I would say this is important in a thru-hike in general but ESPECIALLY out here in the Sierras.
Why are you out in these conditions? When your shoes are frozen and you can't get them on, why do you persist? When your hands feel like pins and needles and you can't even open up a protein bar, why do you keep walking further into these mountains? When it's 1AM and that alarm goes off and you shiver in your sleeping bag. Or when you post-hole up to your thigh. Or when you can't breathe because of the slope you just climbed. Or possibly when you are shaking out of control because you are terrified to keep pushing up that ridge.
Why do all of this? Glory? Proving something to yourself? You want an adventure?
I can't tell you YOUR reason, but it's important to know before going out.
Remind yourself of that reason when it gets hard and all you want is the comforts of not being up there. Something I say a lot out here is "The only way out is through," and it rings true, especially in the Sierra.
None of this is meant to be fear-mongering or scaring anyone from having an adventure, solely informative of what my experience looked like. Go kill it out there, you guys! You are capable of more than you could imagine!!!!
Affiliate Disclosure
This website contains affiliate links, which means The Trek may receive a percentage of any product or service you purchase using the links in the articles or advertisements. The buyer pays the same price as they would otherwise, and your purchase helps to support The Trek's ongoing goal to serve you quality backpacking advice and information. Thanks for your support!
To learn more, please visit the About This Site page.