The Final Push (Days 140 to 148, White Pass to Stevens Pass)
Hey there! It's been a few weeks since I last posted an update from the trail. Spoiler alert – Mango and I reached the border on September 15th! The internet in northern Washington was nonexistent, and I couldn't upload my pictures during our brief stays in town. Now that we're back home, I'm catching up on my last few blog posts. Enjoy! 
Day 140
Start: White Pass
End: American Lake Trail Junction
PCT Miles Hikes Today: 22.3
Coming off of a cold, rainy section, it felt good to wake up to clear blue skies this morning. Just the slightest hint of smoke in the air as we headed over to the White Pass Kracker Barrel to pick up our mail drops as the store opened at 8.
I wonder: How many hikers hike in to White Pass thinking they will find a real Kracker Barrel? Like, the restaurant and store that we see of highways nationwide? I have no idea how it's not a trademark violation, but the gas station and store has somehow stolen the name. We were happy to grab a few breakfast sandwiches along with our mail drops. We also picked up our last pair of shoes for the trail! This marks the 5th pair since we began the hike. It's always fun to see how discolored and beat up the shoes get over the course of 500 miles. Our mail drops for shoes have worked perfectly – look in our guidebook to find a store or hostel every 500 or so miles where the mailing address is the same for USPS, UPS or FedEx (harder than it seems – so many of these rural spots have different addresses or the post office doesn't deliver), then hop on Amazon and have them delivered. No problems the entire trail!
The hike out of White Pass was a nice gentle incline. I feel like we're really getting into the rustic Cascades now. Between Trout Lake and Stehekin, it's 350 miles of resupplying at only the small stores attached to 3 ski resorts (White Pass, Snoqualmie Pass and Steven's Pass). We're pretty far out there!
Halfway up our final climb of the day, as we were passing 2 section hikers heading the opposite direction, we heard a sudden, high-pitched whistle that made us jump. Then we heard it again. I initially thought the section hikers were messing with us, but looking around, we could see a marmot standing on its hind legs and whistling loudly at us. It was protecting its territory! I could see it's little marmot mate hanging out right behind it.
At the top of the climb, we looked back and saw the smoke plume for the Schneider Springs fire, burning pretty much directly to the east of us. The PCT is the western boundary of the fire closure zone – everything east of us for 100 trail miles is closed as of today. Thankfully the usual winds carry (most of) the smoke east, and the trail doesn't seem to be in immediate danger.
As we were eating dinner at the top of the climb, we found out there is a 12 mile burn zone tomorrow to end the day, from the Norse Peak fire years ago. Camping in a burn zone is a big no-no, since 1) all your stuff gets super ashy and black, but more importantly 2) all of the burned trees in the area can fall at any time, so there is literally no good place to camp. Some patches of trees always seem to make it out of burns ok, so maybe there could be a spot to camp that would be safe, but it's a gamble we didn't want to be forced into. We looked at our map and calculated that if we did 6 more miles tonight, we could set ourselves up for a 25 mile day tomorrow to fully clear the burn section. We sadly packed up, knowing that we'd be hiking in full dark tonight.
Night has been coming earlier and earlier, and from the ridge we watched the sun set behind Rainer. It was headlamps on for about an hour or so, before we got to the magic spot on trail, a junction with a few campsites nestled into the trees. Our friend Old Soul was camped here with her brother and were still awake chatting, so thankfully we didn't wake them up as we set up our tent. Exhausted, we quickly fell asleep around 10. Way past our bedtime.
Day 141
Start: American Lake Trail Junction
End: Bushcamp deep in the heart of the fire zone (oops)
PCT Miles Hikes Today: 19.8
Another gorgeous morning, not too cold and clear blue sky. A section hiker told me yesterday that the 10 day forecast looks totally clear – if that holds, what a coup that would be – I'd love to see central Washington with beautiful weather! We decided that we will push hard to catch as many nice hiking days as we can. After hiking through a soggy southern Washington last week, I realized that I'd much rather be dry and tired than wet and well rested.
Within the first 4 or 5 miles, we started passing tons of beautiful lakes. Then we started passing tons of beautiful people. Only joking, but seriously, lots of day hikers and they were much better groomed than all these thru hikers we've been around recently. I must have passed 30 day hikers in a 2 mile stretch. As I reached the top of a crest and started winding down, I saw why – this was Chinook Pass, with a giant parking lot. Today is Sunday and it was packed!
The day hikers shook out over the next few miles as we climbed up to Sourdough Gap. It was a surprisingly sweaty climb! We took a nice long break at the top to enjoy the views and chat with a few of the more ambitious day hikers who made it all the way up.
The trail became much easier this afternoon as the hiking mostly returned to flat-ish ridge walking. The trail has turned slightly northeast since yesterday, so we could see the giant smoke plume of the Schneider Springs fire directly south of us. For the first time, we could see the plume moving and shifting. Spooked, we turned and continued hiking North, happy to be putting miles between us and that massive fire. Thank goodness it's east of the trail and (hopefully) not threatening this area.
The view of the plume was inside the burn zone, as you can see from all the torched trees. It was eerie hiking through the dead trees. The ground was covered in fine black and grey ash that poofed up as you hiked by. If the wind was blowing at your back, you actually ended up kicking up enough dust to make you cough as it rose from your footsteps to head towards your face. Blech.
We somehow moved way slower today than we expected to. As 6pm rolled around, we realized that we didn't have the energy to make it another 6 miles out of the burn zone. Fortunately, we stumbled across a little haven with unburned pine trees surrounding a few beautiful sites. Half the sites were already full of other hikers, and we made a snap call to stop a little early and claim a safe spot, because who knows what's up ahead in the next 6 miles and if we'd find a safe spot. It also feels good to lie down early after last night's late hiking! Tomorrow we plan to do a big day to offset the skinny day today, starting with the last 6 miles of the burn. We've set our alarms for 5am so we can hit the ground running.
Day 142
Start: Bushcamp deep in the heart of the fire zone (oops)
End: Bushcamp near dirt road at Tacoma Pass
PCT Miles Hikes Today: 27.1
When the alarm went off at 5, I really didn't want to get up. It was cold and dark, and I considered snoozing for another half hour or so to let the sun start to come up. The knowledge of the 11 mile dry stretch to end the day later today prodded me awake much better than the alarm, though – if we wanted to get to our planned campsite, we needed to make our miles early. So, off we set at 5:45, headlamps illuminating the way.
It was a cold, windy, foggy morning. We were totally socked in and hiked in rain jacket and gloves for warmth. Washington has been a little bipolar recently – yesterday was an amazing day, and in fact I remember describing a midday climb as "surprisingly sweaty". No sweat at all today, though – we could see frost on the grass as we set off, and my fingers were frozen.
As we finished up the burn zone we started yesterday, it was eerie walking through all the dead trees with the fog surrounding us. The flowers and huckleberry bushes, however, were absolutely thriving in the wet, sunny environment. It was pretty to walk through the flowers, but they were overhanging the trail and carrying a lot of moisture – all of which ended up soaking through my pants and shoes. Did I mention I was cold? And this is still August!
Late in the morning we came across the Mike Urich Cabin, a large log cabin constructed and maintained by a local snowmobile club. A dirt road runs nearby, and there were a surprising number of non-thru hikers hanging out for a Monday. An elderly mother and her grown daughter had packed in fruit for hikers! And someone else had left a cooler full of Mountain Dew. Perfect, I had fresh food and caffeine pumping through me to help with the miles.
The afternoon cleared up slightly, but it never warmed up. The wind was bitter cold and we hiked in our rain jackets for the entire day. The good news is that the trail was smooth as butter and mostly downhill today. We cranked out a 10 by 10 and were 16 miles into our day when we ate lunch at the final water source of the day.
Since the day was freezing cold, we didn't dawdle during any of our breaks. We arrived at our planned campsite after 26.5 miles at 6. Unfortunately it was starting to drizzle, and the weather was so nasty that other hikers had decided to stop early for the day. So the only spot we could camp in was a sad, slanty spot – the type of spot where you know you're going to wake up at midnight having slid off your pad, all scrunched up down to the bottom of your tent. We sighed, collected water, and moved on down the trail until we found a bushcamp about a half mile later. So, hooray! A 27 mile day instead of a 26.5 mile day.
This may be the last time on trail that we put up a 1% day (where you complete at least 26.5 miles in a single day, which equates to 1% of the total PCT). As we approach the end of trail I may get sentimental about doing things for the last time, but I don't think I'll be sad to leave marathon days behind for good.
Day 143
Start: Bushcamp near dirt road at Tacoma Pass
End: Mirror Lake
PCT Miles Hikes Today: 20.2
We woke at 6 to another big puddle of water in our tent. Mango's phone and anker battery were both sitting in the puddle. I'll tell you, this zpacks tent is going straight in the trash the moment we get home. We've been beyond frustrated – we made sure last night that nothing was affecting the condensation vents at the top and bottom of the tent, but instead of dripping out of the tent, it clearly dripped right onto the floor all night. I can only hope future hikers don't make the same (expensive) mistake that we made. Go get a double wall Big Agnes tent instead. I've got close to 5,000 miles of backpacking experience, so you can trust me – sometimes you should carry something slightly heavier for the assurance that you can trust the gear.
After we grumbled for a few minutes about the types of creative destruction we will inflict on this tent after we finish, we got moving. It was another chilly, overcast day. We alternated between putting on layers for flats or downhills, and taking them off again for uphills. At least it wasn't raining any more.
Oh glorious huckleberries! The trail was lousy with them today. We could hardly make any mileage this morning because we kept grabbing handfuls and stuffing them into our mouths. At this point I've seen a ton of other hikers munching away at the little dark blue berries, and no one has gotten sick, so I decided to relax my "no berries" policy and join in on the fun.
We heard more very sad news today. As I mentioned a few posts ago, the fires in NorCal prompted the forest service to close all national forests between the Oregon border and Sonora Pass, which meant poor SOBO hikers were skipping from Ashland all the way down to the northern Sierra, missing 600+ trail miles. Well, yesterday the news got immeasurably worse: ALL national forests in the whole state of California are now shut down for a period of at least 2 weeks. I fear that this will effectively end the SOBO season.
I'm so sorry to all the hikers who have had their dreams snatched away by these wildfires. I understand that to even attempt something like a thru hike, you need to put everything else in your life on hold. In many cases, people save up and plan for years and years. Now it's all gone, and for reasons completely outside of their control. Maybe they can head over to the AT and go from Virginia SOBO. It's a small consolation plan after a very big punch to the face. Mango and I got very lucky that we chose to hike this year, in this direction, starting early April.
The afternoon warmed up a bit, and we weren't quite as sad as we bounced from ridgeline to ridgeline, water source to water source. We saw our friend Triple Threat for the first time in a while. He told us that in Oregon he had gotten out of his tent to pee in the dark but had accidentally kicked a rock, breaking a toe, and had since been jumping around a bit because he couldn't pull the type of mileage most hikers do at this point in the trail due to his injury. Fun catching up with him!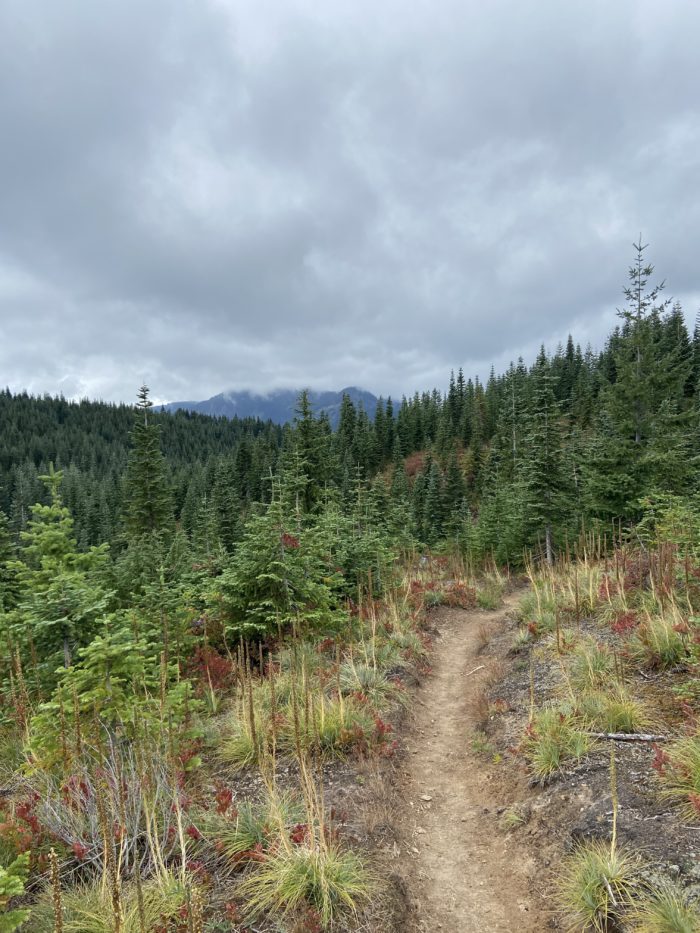 It was just brutally cold as we unpacked and set up camp near Mirror Lake, with the breeze coming in off the lake. We ate with the other hikers but we were all chased back into our tents around 7:30 by the cold air and on-and-off drizzle. Only 8 miles to town tomorrow, it'll be a genuine nearo! Maybe we can even make breakfast at the pancake house if we hustle.
Day 144
Start: Mirror Lake
End: Snoqualmie Pass
PCT Miles Hikes Today: 8.9
Whew, what a cold night. I woke at 4:45 shivering and couldn't get back to sleep before the alarm went off at 5. As we were packing up Mango's glasses frame broke, so we had a fun 5 minutes trying to fix her glasses under our headlamps. We ended up doing a patch duct tape job, and started hiking in the dark shortly thereafter.
The morning sky was crystal clear, but any time we found a patch of trees out of the rising sun, there was serious frost on the ground. Definitely in the low 30s this morning. Gloves and fleece hat were necessary.
We took no breaks, and trotted down the Snoqualmie Pass ski slopes towards the highway at 9:30, very pleased with how quickly we got to town. Waiting for us was the Summit Pancake House!
And we found a Bushwhack!
Bush was on the second day of his double zero, and we quickly switched our room at the Summit Inn to a double room so we could all crash together.
What a nice nearo today. The hotel was beautiful, the rooms were perfectly satisfactory, and there was even a hot tub! Well, if I'm being honest, it was more of a tepid tub – the water was barely lukewarm. But we still all hung out and drank a beer, and caught up with another hiker we hadn't seen in 1,000 miles, Joker.
We grabbed pizza and salad from the grocery / pizza place next door, and retired to the hotel room to watch a Scrubs marathon for the rest of the evening. A perfect, relaxing day.
Day 145
Start: Snoqualmie Pass
End: Lemah Creek via the Pete Lake Trail alternate
PCT Miles Hikes Today: 19.9, plus 0.6 along the Pete Lake trail alternate
We grabbed breakfast with Bushwhack, Uncle Possum, Pepe and Triple Threat at the pancake house, then set off to walk under interstate 90 and begin the ascent back into the mountains.
I've been looking forward to this section of trail for months now – 6 years ago, as a younger and much dumber man, I hiked from Snoqualmie Pass to Steven's Pass. I knew absolutely nothing about backpacking and made a comedy of errors, culminating in literally almost killing myself via an accidental self-inflicted knife wound.
Right away, we started winding our way up a 2,500 foot ascent into Alpine Lakes Wilderness. We had excellent tree coverage, and I had two cups of coffee and a slice of last night's leftover pizza fueling me, so I quickly raced ahead of both Mango and Bush. As we broke out of the trees, we could see thousands of feet below us into the pass, at the tiny cars moving along the highway. It's always cool to see visual progress.
This is clearly a very popular section for both casual backpackers and trail runners. We were constantly passing and being passed on the way up.
We had some very cold and rainy weather since we entered Washington, but as we were hiking with Bushwhack today, we heard that his weather has been nothing but beautiful through the whole state so far. Maybe if we stick with him, we'll catch some of that beautiful weather!
We ate lunch next to Ridge Lake, hanging out with some day hikers and weekenders. One of them had packed up an apple specifically to give to a thru hiker, and Bush was that lucky hiker!
Almost the entire rest of our way was spent on exposed, rocky ridgeline. Just incredible views in all directions. Unfortunately we couldn't enjoy them as we hiked, because the rocks were constantly trying to turn our ankles. Mango had two falls, and Bush almost lost a trekking pole down the side of the mountain.
I'm pretty much the only NOBO still carrying their sun umbrella, and I was happy to have it today! I expect we'll see some sunburned hikers rolling by tomorrow.
I was very relieved as we crested the final saddle. My relief turned to delight as I joined a group of other NOBOs watching a black bear scampering around down at the bottom of the scree field. (It was cool to watch, but if I were camping at that lake, I'm sure I would feel otherwise…) Mango, Bushwhack and I posted up on the saddle, enjoyed the views and ate our final snack of the day.
As we trotted down the final few miles, we all decided we wanted to take the Pete Lake alternate to the PCT, which would allow us to 1) see the spot where I almost killed myself 6 years ago, and 2) put us right at the beautiful south side of Waptus Lake tomorrow for lunch. We put on our crocs for the final river ford of the day (so cooooold), then set up camp just as it was getting dark.
Day 146
Start: Lemah Creek via the Pete Lake Trail alternate
End: Bushcamp 0.2 miles before Deception Pass
PCT Miles Hikes Today: 10 miles on the Pete Lake Trail alternate, then 11.5 more PCT miles
The night stayed warm, and we rolled out of camp feeling good this morning. We quickly reached Pete Lake, the location of my infamous self-inflicted knife wound, and I meditated briefly on my own mortality before turning North up the very, very steep climb towards Waptus Lake.
As we reached the ridgeline, we could very clearly smell smoke, and the views were cut off. Seems like smoke is coming in from a fire elsewhere in Washington. Or, maybe it's even smoke from the fires in Canada – I heard some of that smoke has been drifting into the USA. I commented on it to a weekender, who mentioned that this was all supposed to blow out tomorrow. Excellent! To celebrate, we stopped and picked huckleberries and blueberries for 15 minutes.
After our descent to Waptus Lake, the one barrier between us and reconnecting with the PCT was fording Waptus River. Fortunately this was a very shallow (but impressively wide!) river, and it was easy to toss on the ol' Crocs and scoot across.
A few thousand feet of ascent later, we had some incredible views of Deep Lake.
We rolled into camp around 7:30, quickly ate dinner and hopped in the tent. It's now full dark around 8:30. I'm completely exhausted from the constant climbs and descents in this section. No more ridge walks – if you're not going up, you're going down. I guess this is the north cascades – beauty, but boy do you have to earn it.
Slowly but surely, the soreness of my body has been moving from an easily-managed background nuisance to something that's always on my mind. My neck and back have been hurting pretty badly lately, along with my ankle tendons. We're so close now. I just need my body to hold out a little longer, then I can finally rest.
Day 147
Start: Bushcamp 0.2 miles before Deception Pass
End: Steven's Pass summit ski lift
PCT Miles Hikes Today: 19.5
We had another very mild night last night, and got rolling around 7. It's getting harder and harder to start early since the sun is coming up later and it's so cold. Bushwhack will actually wake up, check to see how cold it is, and if it's super cold will just delay getting up for the next hour. Since Mango and I hike slow, we try to tough it out in the mornings. The miles gotta be done one way or another, and I'd much rather do them early than be stuck doing them after dark in the evening!
Aside from the joint and muscle pain, I've been feeling increasingly tired, especially over the past few days. This morning I was really dragging, so I broke out the Walmart Insanity Stick, which has 120mg of caffeine. Most of these little flavor packets have around 50mg, but Walmart really decided to channel their inner Red Bull with this product. I've been carrying them since Oregon as a "break glass in case of emergency" drink, but with less than 2 weeks left, it's time to dip into the reserve.
Instead of climbing to Piper Pass, we chose to take an alternate up Surprise Pass instead, which hits the same elevation but does it much quicker (and so is unsuitable for horses). We had pretty epic views from the top, including being able to see all the way to Glacier Peak. That glacier mountain you see is 1/3 of the way to Canada from here!
The descent was super rocky and steep, and towards the bottom Mango slipped and took a bad fall on her elbow. Thankfully it was just scuffed, but we were both shaken once again with the knowledge of how quickly an injury could pop up and derail our plans. Maybe next time we should just stay on the PCT.
Towards the end of the day we approached Steven's Pass and a parking lot, so we began to see a million day hikers and weekenders. So many people! So many dogs! We took some time to pet most of the dogs we passed, and this cutie of a border collie was super friendly as we were eating lunch. We miss our dog Uno so much!
The views today did not disappoint. I can see why this is a popular section for people to hike – stunning views of the mountains, and so many lakes to explore. And the huckleberry blueberry bushes continued to be bursting with ripe berries. Some of the bushes were almost comical – close your eyes, reach your hand out randomly, grab and pull out a handful of delicious berries. Truly this is nature's bounty.
Our campsite tonight is at the very peak of Steven's Pass ski area, right next to a chairlift. We found a power outlet up here, so we got a jump start on charging our battery packs for tomorrow. The word from other hikers is that the lodge is completely shut down due to COVID, so better to take the outlet in hand rather than hope for one tomorrow!
Day 148
Start: Steven's Pass summit ski lift
End: Lake Janis
PCT Miles Hikes Today: 11.7
Sleeping under the ski lift was super cool, but it came with a few drawbacks. 1) Our tent was near a big electrical box, so we had a nice loud hum all night as background noise. And 2) Sometime in the night an emergency light came on from the ski lift, and it was shining directly into our tent. I actually woke up at midnight and thought it was morning. Oh well, I can't complain – at least my Garmin was fully charged when we woke up. We slept in and had an easy downhill walk to the lodge.
The Steven's Pass lodge was amazing when I visited 6 years ago. Full restaurant, clean bathrooms, everything a thru hiker could want. This year due to COVID the lodge is completely shut down, with no food and no access to anything indoors. We hung out outside of the lodge in the shade, charging our phones and chatting with Uncle Possum and Bonono. At 10, a security guard came by and let us know that if we had a mail drop, he could go grab them for us. We spent a few hours organizing food and resting our feet, while Bushwhack hitched 45 mins into Levensworth to grab some groceries and a new pair of shoes. In another world maybe we would have gone to Levensworth, and maybe even zeroed there – I've heard amazing things about the town, it's all Bavarian themed, which could have been tons of fun. But we see a clear (if cold) 10 day forecast for Stehekin, and we know we have the opportunity to finish before the snow flies. So, onward we press.
Bush got back around 2, and we hiked out with Uncle Possum and Bonobo. We cruised down some super easy trail that used to be a railroad. Rails to trails are my favorite trails to hike – so flat, so good. We know it won't last. The North Cascades look to be quite choppy, based on the elevation profile.
I expected to be impressed with Bushwhack's haul from town – after all, if you went to a real grocery store, wouldn't you buy some good stuff? But then Bush breaks out five pretty gross looking self-made peanut butter and Nutella sandwiches in ziplocks. Those are gonna get so soggy by tomorrow. Huge mistake.
We're at a really nice little tent site next to Lake Janis tonight, along with Bush, Possum, Bonobo, Obi and a section hiker named Platypus, who has done the AT as well. I gotta admit that I have really been enjoying the little bubble that we're hiking with right now. It's nice to know the other hikers around you, to be able to take snack breaks with people you're familiar with, and to hit town and see lots of friendly faces. And I'm really proud of the mileage that we did out of town today! Almost 10 miles! That sets us up for around 20 mile days every day for the next 5 days, and hopefully we can catch the last bus into Stehekin on Friday. After that it's only 6 days to the Canadian border and our finish. This really is the final push! Insane to be so close after months of hiking, the end is in sight.
Until next time, happy trails!
-Slice
Affiliate Disclosure
This website contains affiliate links, which means The Trek may receive a percentage of any product or service you purchase using the links in the articles or advertisements. The buyer pays the same price as they would otherwise, and your purchase helps to support The Trek's ongoing goal to serve you quality backpacking advice and information. Thanks for your support!
To learn more, please visit the About This Site page.