Wedding Bells, Part 2 (Days 77 to 86, South Lake Tahoe to Sierra City)
Day 77
Start: Echo Lake Chalet / South Lake Tahoe
End: Bushcamp overlooking Middle Velma Lake
PCT Miles Hikes Today: 17.0
We were so impressed with Mellow Mountain Hostel in South Lake Tahoe. The clean bunks and good company from all the other hikers were exactly what we needed, coming off of a pretty exhausting 300+ miles since Kennedy Meadows South. We woke up this morning, messed around for a few hours drinking green tea and trying (and failing) to finish all of the town food we had bought at the grocery store. Mango ate three bowls of Cinnamon Toast Crunch. We eventually decided we should probably get hiking.
Meals' dad Frank gave us a ride back up to trail. Meeting Frank and Eva were a highlight of our time in Tahoe! It's always cool to meet people who are reading this blog – I always assume it's only my mom reading it, but it seems like people are enjoying the pictures and the stories. We were dropped back off at Echo Lake, made a quick pit stop in the store for a Coca Cola (one last taste of civilization!), then set off into Desolation Wilderness.
We hiked out on a Saturday morning, and it seems like half of South Lake Tahoe also decided to go hiking today. We found ourselves hiking behind a line of people with Jansport backpacks along Echo Lake, and our first few miles were pretty slow.
Mango and I were happy to be hiking with Meals again, after she pulled heroic mileage to skip Kennedy Meadows North and bomb straight to Tahoe so she could meet her folks. The three of us were definitely NOT happy, however, with the terrain for almost all of the day. Rocks rocks rocks. My ankles hate me right now, as I had to balance in weird positions as I hiked, and I rolled my ankles at least 3 times each.
I think this is our last taste of the Sierra-style lakes. We enjoyed passing many lakes today, including Aloha, Dicks, and Velma. The weather was amazing – a little on the hot side, but the sun umbrella cooled me right down, as we left the dayhike crowds behind and emerged into true wilderness.
After a long but surprisingly well-graded ascent up Dick's Pass, we took a nice long break in the shade. Our next 16 miles are all flat or downhill!
We were shooting for Dick's Lake at 15 miles, but we all still felt good, so we cruised 2 more downhill miles to a beautiful site overlooking Middle Velma Lake. We pulled in close to 7, but still had enough daylight left to throw down dinner and get in our tents before the sun set. I love these long days – so much time for hiking.
We all decided to shoot for 23 or so miles tomorrow, to set ourselves up for 20 miles into Donner Ski Resort on day 3 of this section. They have a restaurant, and Spam tells me they give a free malt-liquor 40 to hikers? I'm not sure what I'd do with a 40oz beer, but I'll at least eat the food. And who knows, maybe I'll be feeling frisky, and drink down the beer as well.
Day 78
Start: Bushcamp overlooking Middle Velma Lake
End: Five Lakes Creek
PCT Miles Hikes Today: 25.6
It was so warm last night – no need for a sleeping bag! We woke at 5, which is quickly becoming our trail norm. We need all the hours of daylight if we want to pull mid-20s mileage, since we are slower than most other hikers out here right now.
We had great shade and downhill trail to start the day, so we surprisingly were able to pull our first 10 by 10 (10 miles before 10am) since the desert. We stopped for a nice long break to filter water, then pushed on, knowing the true heat of the day was still to come.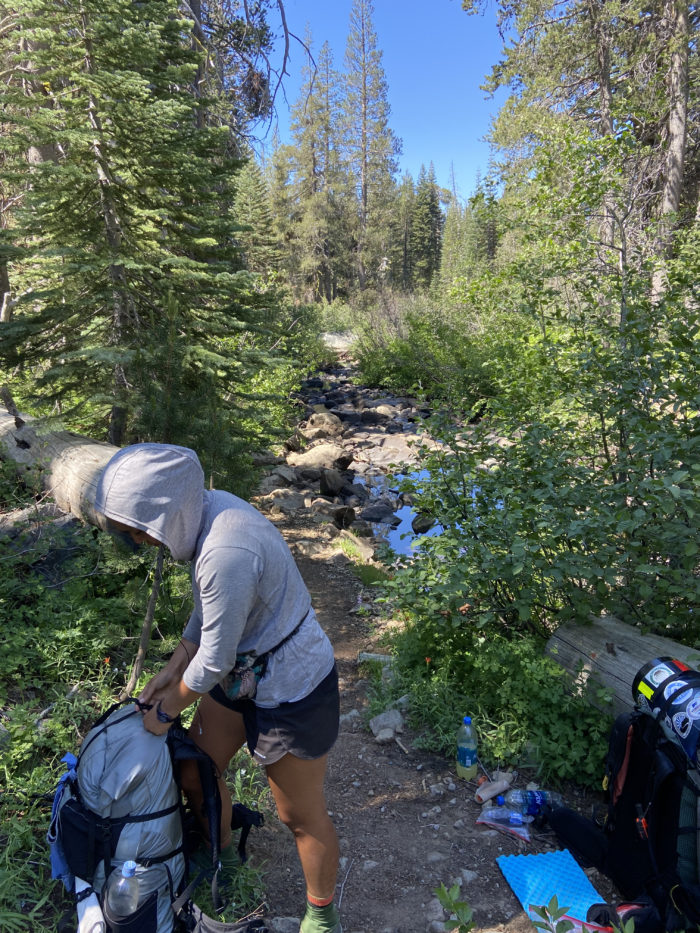 Today and tomorrow, the temperature almost all up the west coast is breaking records. Many towns are 30+ degrees above average for this time of year. I read a Trek article in South Lake Tahoe that many trail towns north of us (and lower in elevation) have highs between 100 and 110 degrees. Definitely feeling fortunate to still be at a high enough elevation to be missing these extreme temps – I'm not sure what I'd do if it was 110 during the day, maybe night hike? But I thought I left that kind of nonsense behind in the SoCal desert…
Even being at 7000+ feet for the entire day, it was scorching hot in the sun. Unfortunately the good shade ended, and we ended up walking through some beautiful (but hot) meadows, filled with flowers and these cool green twisty plants.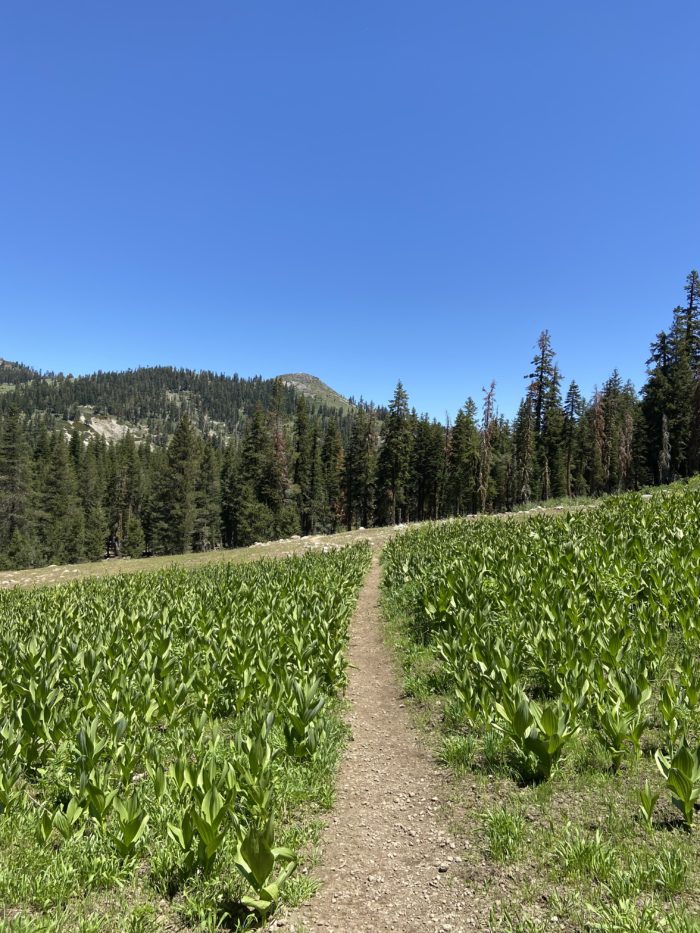 By far the coolest thing we ran into today were two women thru-hiking the Tahoe Rim Trail with four pack goats. What is that even called? Thru-goating? The goats carry almost all of the gear, and they set up an electric fence at night to deter predators. The goats were swarmed with mosquitos but happily munching away on the ample vegetation. The white one was named Jon Snow. I spent a few minutes petting them, but eventually the mosquitos drove me crazy and we decided to press onward.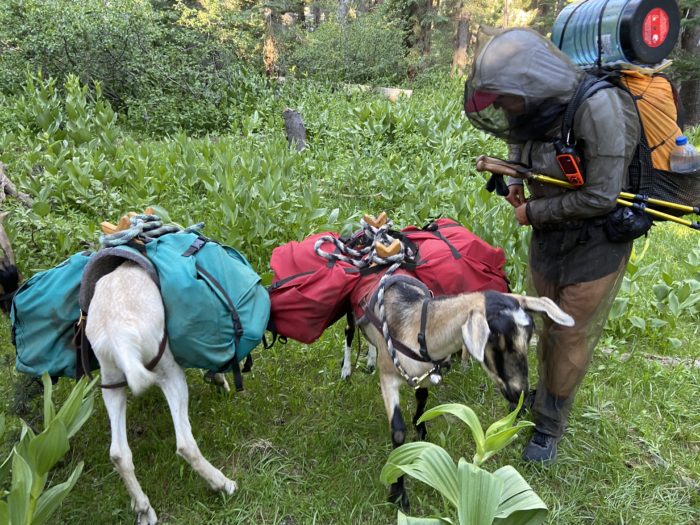 We spent the late afternoon ridge running along some beautiful trail, near a ski resort. We could see glimpses of Lake Tahoe at times. It's amazing that we are already almost North of the lake in just two days of hiking. We had been planning for 23 miles today, but once we got up on the ridge, there was nowhere to camp, unless we wanted to hike down the ski mountain and set up on the bunny slope – we had to push onward.
About a mile from camp, my body pretty much just gave up. I don't think I'm meant for these 25 mile days. I stumbled down the last mountain to the creek, and ate dinner in a daze. Thankfully the food breathed some life back into me, and I got to soak my feet in the ice-cold creek for 10 minutes before bed. Beautiful campsite tonight, but I'm totally torched right now. We were banking on mid-20s days in NorCal and Oregon, but based on how I feel now, maybe we need to dial that back to 20s.
Day 79
Start: Five Lakes Creek
End: Donner Ski Ranch
PCT Miles Hikes Today: 17.2
I was still sore from yesterday as we packed up this morning. Confirmed, 25 miles still sucks, even after doing 1,100 miles!
As we began to hike, we saw bear scat in the middle of the trail. Then, Mango saw shredded tree bark with what looked like horizontal claw marks. Definitely still bears hanging around this area – we are glad we held on to our bear cans for this section.
We passed through Squaw Valley, under ski lifts and near more backcountry boundary markers. Views of Lake Tahoe would come and go as we pushed further North.
On our way up to Tinker Knob, we ran into a trail runner, who asked if we knew a thru hiker named Hot Spring – this was her boyfriend, a former thru hiker named Sticks! We snapped a picture and texted it to her. The thru hiking community is so small.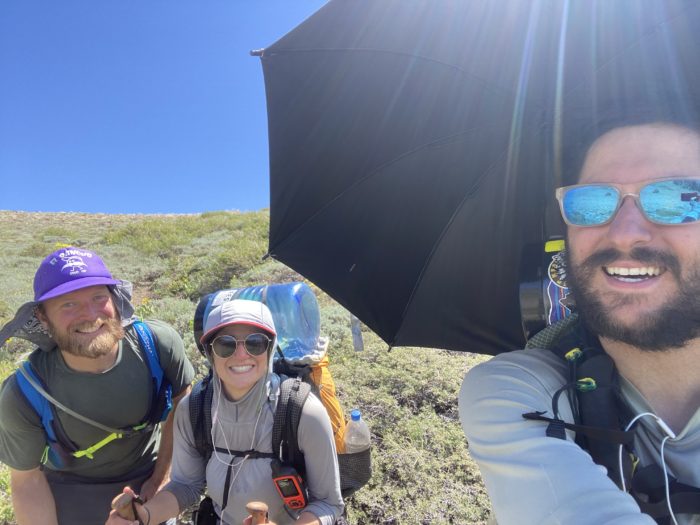 Mango told me while we were in Tahoe that Donner Ski Ranch was just a few hundred yards off trail, and offered meals and a bunk house to hikers. It was a great place to shoot for today – 17 miles away. After yesterday's high mileage, I was ready for a lighter day. We hiked through the crazy heat, passing more and more day hikers as we got closer to Highway 40. We passed 3 ladies who told us that it was 115 today in Portland! It was probably 90 today out on trail, but the breeze helped keep the temp down and the mosquitoes away. We got down to the highway around 3, and walked over to the ski ranch.
Turns out that hikers really do get a free 40 of beer if they show their permit! My beer was 6%, so I apologize if today's post isn't quite up to my usual standards. We got burgers and a side of nachos, then ice cream, and a slice of pie, along with a side pizza. Full and happy (and, in my case, a little bit drunk), we tottered over to the hiker bunkhouse next door to the lodge.
Tonight we are crashing in a bunk room with 9 total hikers and their stinky packs squeezed in. Definitely hiking around the bubble right now! Though, all of our friends seem to be just slightly ahead or behind us. Spam and Meals decided to hike out 7 miles to a campsite (I should note, they did this after each drinking a 40 – pretty wild), and based on their pace and our upcoming quadruple zero for the Colorado wedding, this might be the last time we see them. Bush, Steve and Knockout are a day behind us, after they didn't get out of Tahoe in time to put up serious miles that first day. So, it's just me and Mango at the moment, along with a ton of partyin' hikers.
Day 80
Start: Donner Ski Ranch
End: Bushcamp 2.7 miles past Meadow Lake Road
PCT Miles Hikes Today: 20.9
I slept terribly in the bunk room – it was hot, and the 40 I drank before bed certainly did me no favors. Still, I woke before my alarm, ready to hike. Only a few more days to Sierra City and a big break! Mango and I decided to push two 21ish mile days to get to Sierra City a day ahead of schedule, so that we could have a full zero before our quadruple zero in Denver.
The first 5 or so miles was rocky but generally flat. We could hear interstate 80, a major highway, growing closer, and eventually we reached a metal tunnel to scoot underneath the busy highway. I always appreciate not having to frogger my way across these types of roads.
After an easy climb, we reached the Peter Grubb Hut, a backcountry ski lodge maintained by the Sierra Club. They even had solar powered lights inside! I think this is a popular spot for thru hikers to camp, but we were here way too early, no matter how cool the cabin was.
The recent heat wave broke a bit today, but it was still crazy hot in the sun. Water was key – we stopped to filter more often than we usually do, and we both made sure to put electrolytes into our bottles of water. Mango uses Propel packets, and I use Nuun tablets. Lots of hiking this afternoon outside of tree cover. Once again, the sun umbrella kept me cool and allowed me to keep my hat off, and I enjoyed the breeze on the ridgeline. I'm not sure how hikers stay cooped up in their sun hoody or sun hat all day. I think I would cook pretty quickly.
The terrain is definitely flattening out considerably. Where the distant mountains used to look jagged and intimidating, they now look gentle, rolling and green. Our climbs today were all under 1,000 feet, up and down, running ridgelines and making our way steadily North towards Sierra City.
One sad moment today – our friend Odysseus got to the spot where we were filtering water 17 miles into the day, only to realize that he had dropped his expensive raincoat somewhere in the last 7 miles. He sighed, and trotted back up the trail to find it. Going backwards is such a bad feeling, especially this late in the day – all you want to do is get to camp, eat dinner and go to sleep. Fortunately he only had to backtrack 1.5 miles before another hiker (who had found it 7 miles back) gave it back to him!
The final 5 miles of the day, my right calf / peronial tendon was on fire – no idea what happened, maybe just overuse from the rocks yesterday catching up to me? I limped into camp, stretched, took ibuprofen, and now I just hope it heals up in time for tomorrow.
We have set ourselves up well for tomorrow – only 20 miles to the Sierra City turnoff!
Day 81
Start: Bushcamp 2.7 miles past Meadow Lake Road
End: Hwy 49 / Sierra City
PCT Miles Hikes Today: 20.2
Mango woke me around 10:30pm last night because she heard animals in the campsite – at first we feared it was a bear, but the steps were too light – it was probably just a few deer. We woke at 5, both very groggy and tired, and were hiking by 6.
Our day was almost entirely downhill to the highway. The day began with more beautiful rolling hills, with views down into the valleys. We had fun trying to figure out which valley we would be hiking down into.
Around 10 miles into the day, just as we began really heading down below treeline, I noticed my right ankle was starting to hurt again. Sharp pain would come and go every few minutes. I would stop to massage it, and each stop helped ease the pain, but it always came back. I think this upcoming 5 zeros for the wedding weekend in Denver is coming at a good time. My tendons are clearly screaming at me for a nice long rest. Even if we weren't heading to this wedding, I would probably double zero in Sierra City to give my ankles a chance to chill out and heal up.
We ended our downhill at 4,600 feet of elevation – the lowest trail elevation we've seen since Kennedy Meadows, 500 miles ago. We got to the highway (which in rural California really means a 2-lane road) at 3, and by 3:15 a truck has stopped to pick us up and drop us off in Sierra City, 1.5 miles away. We immediately went to the general store and grill, which is exactly where every hiker in town was hanging out. To our surprise and delight, Meals was there! We all sat at a table enjoying the air conditioning, while I ate a burger, fries, and a pint of ice cream.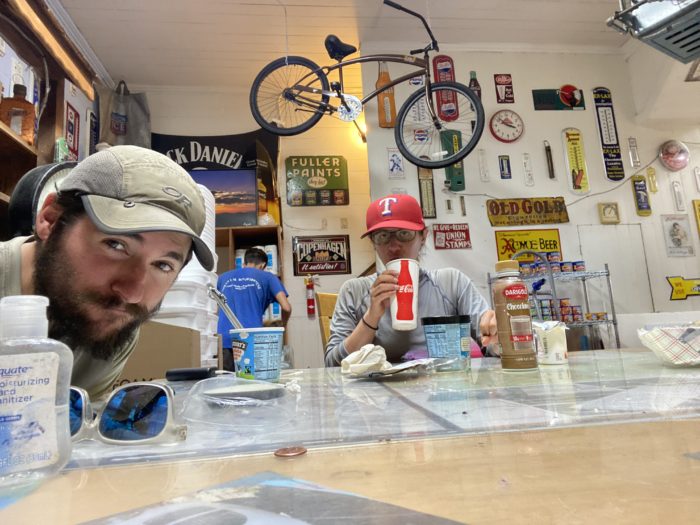 Around 5:30 we checked in to our hotel, which is an old 1800s-era hotel with no air conditioning or televisions. But, the price was right at $60 per night, and the bed was exquisitely comfortable. We cleaned ourselves up, did some laundry, and settled in for the night!
Day 82
Start: Hwy 49 / Sierra City
End: Hwy 49 / Sierra City
PCT Miles Hikes Today: 0!
Whew, unexpected zero day today! We had originally penciled in the Tahoe to Sierra City section to be 6 days, expecting to Nearo in on the 6th day. But, the 25 mile day in the middle of the section let us knock it out in 5. So we were able to spend last night in our own private room.
Sierra City is a one-road town where everything is a stone's throw away. We slept in, and walked over to the Red Moose for breakfast with Meals, who decided to spend the day here resting her sore feet and looking for a way to get to any other town with a shoe store. The Red Moose is a family restaurant where the owner is working the bar, and his daughter is waiting tables. They also had some slightly expired soda available for free. The food was really good! The soda was not good. Mango was the only one of us brave enough to try it.
We mailed home our bear cans (finally!), then hung out on the balcony of our hotel, enjoying the breeze and the company of other hikers. Knockout hiked in, and let us know that Bush and Steveo would be hiking in later today. Her foot is still really messed up (maybe stress fractures), so she may hang out in town for a few days. Man, lots of injuries popping up for everyone right now. Meals with the foot nerve problems, Knockout with the stress fractures, and me with the ankle tendon problems. I think this is all accumulated depreciation from the last 1,200 miles coming to the surface. All I can hope is that we all last another 1,450 miles. Can't believe we're not even halfway through yet… that's exciting, because we have so much more trail ahead of us. But damn, this hurts.
A local told us about a nearby swimming hole near the river, so Mango and I hiked down and spent over 2 hours soaking in the cool waters. What an amazing way to beat the heat of the day.
Bush, Steve and Detour showed up late in the afternoon, and we all took a few hours to eat, drink and chill outside of the store. The owner of the store was really nice and supportive of hikers. He had set up a patio and charging station for the hikers – super nice.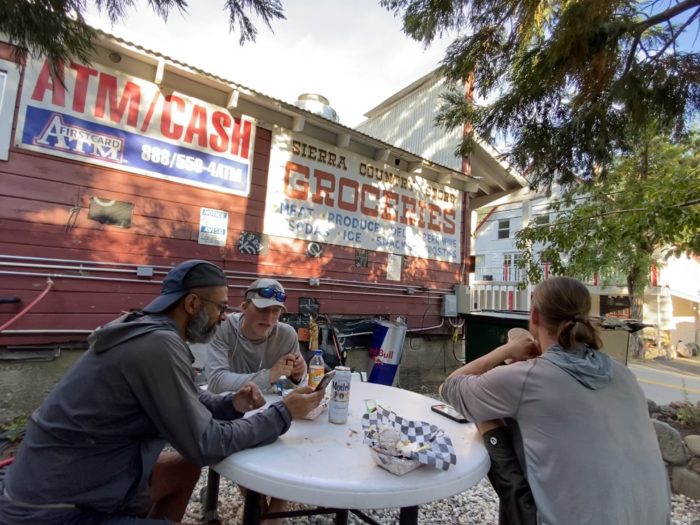 Before we knew it, it was already 9pm, so we cleared all the other hikers out of our room and crashed for the night. So much fun to hang with Knockout, Meals, Bush and Steve all evening. Everyone is off on their own pace out of here, but it's cool to have one last night sitting around, cracking jokes and reminiscing about the last thousand miles.
Days 83 to 86
Start: Hwy 49 / Sierra City
End: Hwy 49 / Sierra City
PCT Miles Hikes Today: 0!
Another scorching night in the hotel with no air conditioning. Most of our friends cowboy camped out on the porch of the hotel, which was cooler, but they say a family was partying at an Airbnb across the street until 2am.
We all swung back over to the Red Moose for a spectacular breakfast when they opened at 8. Steve, Bush, Knockout and Meals' plan of "hike out after breakfast" quickly became "eat ice cream on the hotel porch and hike out tonight", which Mango and I were more than happy to join. So we got to spend most of the day with them!
There are no busses that run through town, so Mango booked a shuttle service that caters to the elderly, so we got a ride in a handicapped van over to Reno to catch our flight. After a substantial delay and many, many, many jokes about Frontier Airlines charging you $10 for a bottle of water and requiring quarters to use the bathroom, we were off to Denver for Holly and Terrance's wedding!
Longtime readers of the blog will remember my affinity for Chipotle – during my double zero in NYC while on the Appalachian Trail, I ate three Chipotle burrito bowls in one 24 hour period. So of course while in Denver, as Mango was doing bridesmaid stuff, I took a side trip to Chipotle and stuffed my face for a few hours. The cashier was a backpacker, and kept swinging over to the table to ask me questions about the PCT when he had breaks in the line. I swung over to the nearby park to put my feet up on my pack and digest.
Rental cars were insane for the weekend here in Denver ($250/day for a little Mazda Miata?!), so we hopped a ride from another wedding guest from Denver to Brekenridge. Somehow, despite my best efforts flying across the country, I ended up back in the mountains for most of our zero days. And not a Chipotle in sight up here. Damn!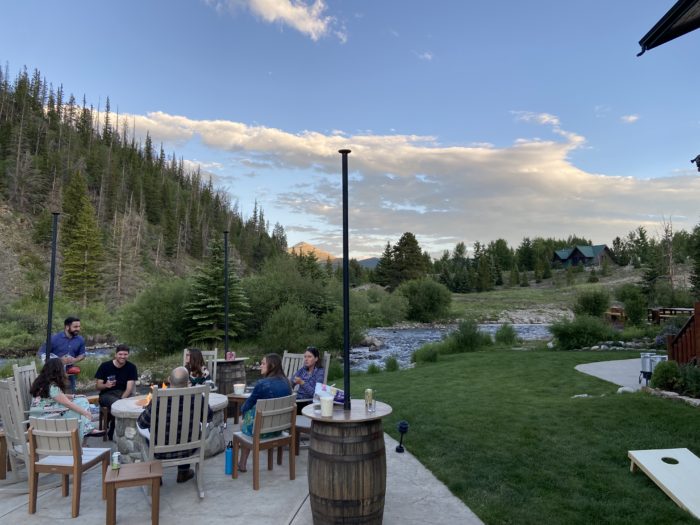 In all seriousness, it was so cool seeing Mango in her element as a bridesmaid to one of her childhood best friends, Holly. Whereas I always have trouble adjusting back to the real world after being on a thru hike, Mango hit the ground running and played the perfect social bridesmaid all weekend. I'm calling this post "Wedding Bells, Part Two" because while on the AT, I flew across the country to be a groomsman in Goose's wedding, an experience I wouldn't have traded for the world. It's so cool for her to have the same experience with her best friend. By the way, Mango cleans up way better than I did in 2016 – Must be her lack of unruly facial hair.
Both Holly and Terrance went on a backpacking trip with us in 2018 to Maroon Bells outside of Aspen, CO – and Terrance even got a trail name on that trip, Two-Pack, because he would get to the top of the 12,500-foot passes, then jog back down to Holly (who was struggling with a knee injury for part of the trip) and take her pack up as well. What a gent – although I worry he is setting an unrealistic standard for men out on trail! Holly and Terrance, we had an amazing weekend with y'all. Cheers, here's to you!
(Notice the Brooks trail runners? 😁 The clothes were borrowed from Mango's brother – thanks Dave!!)
We feel confident heading into NorCal. Despite taking 5 days off trail for this wedding, we are still in front of where most hikers are in an average year. We are probably halfway home, from a timing perspective – we will hit the official halfway point in the coming week or so, but since we're pulling bigger miles now, I'd guess that we are already on the back 9 of this journey. The two wildcards will be 1) fires (this year is shaping up to be a bad fire year), and 2) our joints (my ankles feel better after the past few days off, but the accumulated wear and tear is clearly catching up with me…)
Until next time, happy trails!
-Slice
P.S. If you like this post, check out Mango's trail podcast, Take a Hike!, now available on all major platforms (except Apple for some strange reason, probably due that time I desperately needed a flight to Atlanta for a New Years Eve jam band concert. I conned my way onto Apple's corporate jet, and I've been on the run with the pilot, who is a huge Phish fan, ever since.) https://anchor.fm/takeahikepodcast
Affiliate Disclosure
This website contains affiliate links, which means The Trek may receive a percentage of any product or service you purchase using the links in the articles or advertisements. The buyer pays the same price as they would otherwise, and your purchase helps to support The Trek's ongoing goal to serve you quality backpacking advice and information. Thanks for your support!
To learn more, please visit the About This Site page.