Te Araroa Part 10 – the final adventure week: crossing the Rakaia and Rangitata
Ed. note: The Te Araroa Trust considers both the Rakaia and the Rangitata unsafe to cross even at low flow rates. As a result, it has declared both rivers to be hazard zones that do not form parts of the trail. The Trust recommends that thru-hikers go around the fords in a vehicle.
The next section was always going to be a bit challenging due to the TA associations recommendation of two river detours, one of which is 100 km off trail. We decided as it was our last section to turn it into adventure week! Could we do 250km in 7 days and try to ford the two rivers on foot instead? Only one way to find out.
Luckily getting back to the trail head wasn't an issue as the owner of the backpackers we were staying at offered free lifts to all TA hikers staying with him.
Our first day involved 11 hours of walking as trail conditions and 7 days of food made the 36kms slower going. We combined what most hikers do over two days into one, making this our longest day on trail yet. When we got to the campsite we had caught up with Noor, Jens and Connor who were excited, yet a bit confused, to see us as they hadn't seen us since Hanmer Springs, having left the day before us.
The Rakaia
After breakfast we said our goodbyes again as Jenny and I had decided we were going to try the river crossing of the Rakaia River. Now, when I say river crossing, this river was over 5 Km from shore to shore but due to lower water levels and geography had turned to a braided river that involved many crossings, 24 to be precise.
Jenny and I hadn't slept that well the night before as we had been thinking about the rivers. The TA expressly states not to attempt to cross the river due to its danger. Were we being stupid?
I'm usually a very cautious person and had done a fair bit of planning, so this wasn't just blind stupidity. We had heard it should be doable from fellow hikers (though had yet to meet someone who had actually done it), it hadn't rained in weeks, I had checked the flow reports online, spoken to a few locals who suggested a route, and we both had some experience with strong rivers so we decided we could try it. We both agreed we would turn back if it didn't feel safe.
Setting off the opposite way from the crew, we hit the riverside at 10am where we met a maintenance worker for the waterworks who said, "Well it'll be an adventure that's for sure". That didn't fill us with confidence.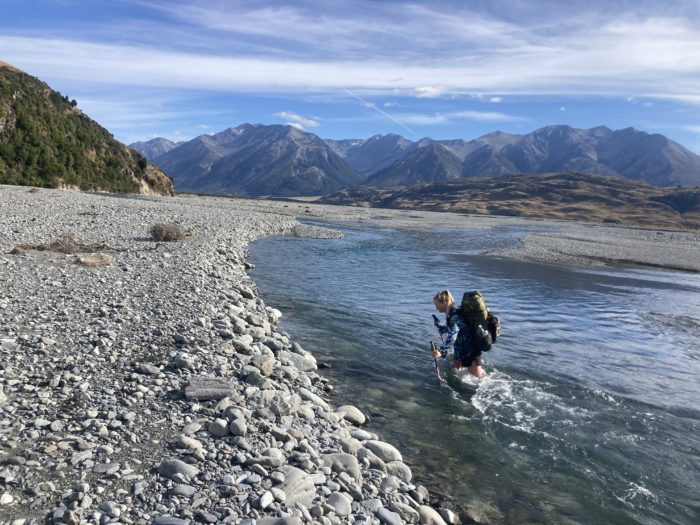 In order to maximize our chances of crossing successfully I'd decided we would cross before the confluence of the Wilberforce River and the Rakaia River. Our route was a half moon shaped path across the Wilberforce and Rakaia using a headland in the middle to split the effort. This more than doubled the distance but was inevitably a smart move as all braids of the Wilberforce river we crossed were below hip height.
It was then onto the main event, the Rakaia. By now we had already crossed about a dozen rivers so we were feeling strong. We were three quarters of the distance across when after some thorny bushwhacking we reached crossing number 20. The distance to the other side was immense and the river was flowing fast. I unclipped my pack and started to wade. Immediately I knew it wasn't the right route, already submerged up to my hip less than a fifth of the way across. The current was far too strong to keep pushing.
I turned back slowly and deliberately with every step taking a lot of effort and energy. Back on the river bank Jenny suggested lunch and regrouping. We realised we had been so fuelled by adrenaline all day we hadn't stopped to eat or drink and it was already 1.20pm.
Lunch was a good idea as it slowed us down and made us think about how to best tackle the river. We ate in silence, both in our own thoughts about how we were going to tackle things. This was the hardest river crossing we had ever attempted, with nothing in the Sierras on the PCT coming close. After lunch we repacked our bags making doubly sure that phones, clothing and bedding were as waterproof as could be in our packs, stuffing them into a pack liner and our ziplock bags, normally reserved for food, for extra protection.
We walked downstream for about 40 minutes and then picked a spot which looked best. It was more shallow than the rest of the river with a submerged bank in the middle, but a very strong current. We both put one of our hiking poles away and stood side by side holding each other's unclipped packs for support. I was upstream for anchorage and would take a small step forward which Jenny would then copy. Shouting comfort and advice to each other over the roar of the water we made it to the middle part of the river. We then walked downstream for a while until we could see the bottom of the next part we wanted to cross. 'This looks like our best option', I said to Jenny. We gingerly pushed forward, with the force of the river pushing strongly against us. The current was now above Jenny's hips and she stumbled her footing. Luckily as we were holding onto each other we stayed upright and a few strides later were standing on the other shore beaming at each other. The fun wasn't over yet.
A few crossings later and we were at the final crossing, crossing number 24. Unfortunately due to the steep hard bank on the other side the water here was flowing faster than any other section. Again we stopped, assessed the river and picked the line we were going to take. Unlike the other crossings where the riverbed had been stony, here it was silty and sandy, sinking in as we stepped. We linked arms around packs again and stepped out. The closer we got to the far bank the deeper it got. Approaching the shore I was up to my belly button. Getting stuck on a submerged mangrove branch Jenny fell forward. "Stop," Jenny yelled and untangled her foot. Two large steps later and we were pulling ourselves up onto the bank of the other side. We had made it across the Rakaia after 20 kilometres and 5 hours of hard graft!
Getting back on track we then had 15 kilometres of uphill to get us to the A Frame Hut. It reminded me of the huts built by the cults in Oregon featured on the Netflix series wild wild west, and it was a very welcome sight to see we were the only occupants for the night. We had had the most epic day together, fueled by good mood and awesome teamwork.
Waking up as nature called, I was gifted an awesome night sky complete with shooting stars and a pronounced Milky Way. The sky is so dark here in the middle of the mountains and it's jaw dropping to see just the number of stars in the sky vs. what we see back home.
Intrepid explorers
When I woke up I checked the Te Araroa trail notes for a preview of the day. For the first few kilometres the route would be easy but from Comyns Hut they read as follows "16km / 6-8 hours of hiking. This part of the track is rough and unformed. Trampers are required to pick their own route between markers which (…) may not be visible from one to the next. The physical and navigational challenges rise accordingly". Based on our experience in the Southlands we knew not to take this warning lightly. What followed was indeed very difficult terrain. It started by following the Ashburton River up the mountain. Now when I say follow, the markers jumped from one side of the river to the other, as it made its way up a steep gorge at times. The water was white and loud as it rushed down the mountain in the opposite direction to us making the kilometres slow work as we battled the river and ensured our footing was secure on the slippery rocks. Once we rose above the river, 7km later it was then onto dense tussock grass which hid the ankle-breaking holes in the ground below it. All this meant the 500 meters of elevation would take us the majority of the day as the track conditions made going a slow process.
It was then over a scree field before we started to descend down the other side of Clent Hills saddle. Here we were presented with all the spikiest of New Zealand's plants, from speargrass, to thorny nettles and bushes. I started to get audibly grumpy at the trail conditions as we were forced through dense brush that cut open my legs and drew blood.
Then, 4 km from Double Hut, our resting place for the night, we noticed an ominous grey cloud rolling in. You could smell rain as the valley became quiet yet gusty. We picked up the pace as the trail improved and were almost at a jog for the final kilometre as the rain started to get heavier. Luckily we reached the hut before the heaviest drops hit the tin roof.
The hut was a basic hut, on an old stone floor, with an old fireplace and tin roof. It had a stunning view out to the valley floor, but what made up for the 1km off trail was its history. I don't normally appreciate graffiti in the huts, as it is against "leave no trace" principles and tagging a name is normally unsightly. In this hut though sir Edmund Hillary, the first person to summit mount Everest, had tagged his name back in 1951! It took a while to find amongst the hundreds of other names but was cool to see once we spotted it. As we headed to sleep we heard the rustling of mice and were glad we'd hung up our bags.
Cruising
We were up and off early the next day, as this would turn out to be our longest distance day on trail. Luckily for most of the day the terrain was relatively easy following an old quad bike track.
The day was stunning: blue sky, glistening off the lakes we passed. For once on this trail ensuring we had enough drinking water was a consideration with a 17km dry stretch through the middle of the day.
We pushed on past Clearwater Lake as conditions became a bit blowier. Luckily this acted like a wind in our sails pushing us down the trail. Jenny donned her rain jacket as it started to spit as we continued down the trail. By 6pm we were arriving at the bank of the Rangitata River just as the clouds started to close in properly and the rain came down. We ate our backpacker pantry meals in our tent as they required the least amount of effort and tucked in ready for a colder night due to the inclement weather.
All in all we had done 48,000 steps and 40km of hiking. It was a challenging yet hugely rewarding day! As we were eating we had a proverbial knock on our tent "You haven't seen an 80 year old man on the trail today have you?". We hadn't, which was worrying as this man was doing sections of the TA and was dropped off just past our lunch spot in the morning.
We said we would keep watch and use our satellite phone in case we saw anyone. In the morning we woke to the sound of a low flying helicopter going over at 6.30 am. Just as we packed up we saw another helicopter come in but never found out what happened. It lingered on our minds for the rest of this section
The rangitata river
We headed out to the Rangitata River, crossing a large dry riverbed till the braids began. As with the Rakaia, the TA doesn't recommend crossing on foot, which is odd as the 14 braids of this river were at most knee deep, even though it had been raining all night. The bush stream we would end up walking up for the next few hours would prove much trickier, at times getting our pants fully submerged.
After the Rangitata River the trail immediately got busier, as those who had skipped the bits in-between the two rivers were back on trail. We saw more people heading south in the first few hours up Bush Stream than we had seen over the last three days.
We reached the first hut on this section of track at 2.45, having done a respectable 20km. It was busy, and knowing how many people we had passed on the way up, we decided to gamble and push to the next hut, another 500 meters uphill, 10km and 5 hours away according to the sign and trail notes. "It's adventure week, our final push!", I said to Jenny.
An uneasy sleep
We pushed into the clouds but we where rewarded on the other side of the steep scree saddle with sunshine and blue sky. Stone Hut luckily only ended up being about 3 hours away for us, and it was set in an epic valley and only had us and an American man as its occupants for the night. On the approach to Stone Hut I was a little confused by the name, considering it looked like it was made of tin, but that was just a restoration of the original hut that was here and visible from the opposite side.
The sign on the wall didn't fill us with confidence going to sleep as apparently the hut has been rebuilt twice due to avalanches. You could still see the rocks all around the hut from the last slip.
We went to sleep but on the eager recommendations of our hut mate we set alarms for 2.30, allegedly the darkest part of the night. When we woke we saw something spectacular. The stars just popped out of the sky in a way we had never seen before. This area is known for its dark sky and has protected World Heritage status for it.
A chilly half hour later we bundled back into our bunks and slept through to a leisurely 8am. Today involved a 1000 meter climb to our highest point on trail before dropping back down towards our final destination of Lake Tekapo.
The high point
But before that we passed Royal Hut, allegedly called that as King Charles and Princess Anne had visited it as children. It was nice, but not sure he would be keen to return, unless he really wanted to get away from things.
Now it was time for the saddle. We worked ourselves up for it, but in the end the trail was forgiving, going up in 200-300 meter increments, giving you a chance to catch your breath before the next assault. As we peaked we caught our first glimpse of Lake Tekapo. On this clear day we saw it in all its glory, having lunch at the top to nourish the views.
Walk the line

The afternoon involved a spectacular ridge walk which Jenny and I loved. We were belting our favourite tunes and asking each other about our best bits on trail. This part of the trail is always interesting, you have mixed emotions as completion is almost a guarantee, yet you don't want to curse it. You want to complete the course for its epicness, yet you kind of don't want it to end. Your body is sore from the months on trail, yet returning to normality isn't an appealing alternative.
The sun continued to beat down on us and the gradual downhill meant we hadn't realised that we hadn't stopped since lunch, or had any form of shade all day. After a very brief pit stop at an overcrowded tin hut we made a final push to spend our last walking night camped on a dried out river bed. Making dinner and conversation were slow going and we realised we had probably overdone it a bit, getting mild heatstroke in the process.
After a huge dinner we were regaining our energy, still in awe of how well this week had gone. Each day had been super challenging yet rewarding in a different sense. Even against our ambitious timeframe, we were tracking ahead of plan. We had just 33kms to go, 15 of which would be on a road.
We woke up earlier than usual with my watch alarm waking me at 6.30. The usual morning routine started: I got up and put the stove on, poured the instant coffee sachets into our pots, divvied up our mugs and turned around expecting to move onto my next step of rousing Jenny. But today was different. I didn't have to. The airpad was already down and rolled, the sleeping bags in their respective bags, and she was changed into the familiar Hawaiian shirt. It was our final day, and we were going to make it count!
The end of the road

By 11 am we were approaching the road that would follow the shores of Lake Tekapo for 15 km. We were flying! We hadn't had a single break so as we hit the road we stopped for a bit of water filtration and Scrogg. With packs at base weight, about 5kgs each, the miles were coming easy, made better by great chatter as we prematurely basked in the epicness of this week and the fact we had completed another huge life achievement. Several cars passed us and one even slowed to a crawl expecting to pick up some tired hikers. We had agreed we wanted to walk these final miles into town so we waved them on.
As we approached town we played our trail song through my tinny phone speaker: 'Still the One' by Orleans. We had made it through the trail together and had managed to make our honeymoon an unforgettable experience which had brought us yet closer.
Jenny asked me what I thought the trail had taught me. My answer: stronger teamwork, humility and a deeper knowledge of how to deal with adverse conditions like weather or challenging terrain. I finished the trail with an immense amount of pride. Not just in our ability, but in how well we worked together and had each other's backs when things got tough. We have a better relationship now than when we went into the trail, something I would have thought difficult with us having been together for 11 years already.
I guess the trail really does provide.
This post was updated on 2/27/23 to include the Te Araroa Trust's guidance on the Rakaia and Rangitata hazard zones.
Affiliate Disclosure
This website contains affiliate links, which means The Trek may receive a percentage of any product or service you purchase using the links in the articles or advertisements. The buyer pays the same price as they would otherwise, and your purchase helps to support The Trek's ongoing goal to serve you quality backpacking advice and information. Thanks for your support!
To learn more, please visit the About This Site page.